« Brian Williams Straight-Up Lies -- Again -- Claiming That the Mueller Report Did Not Exonerate Trump on Collusion
|
Main
|
The Morning Report - 5/3/19 »
May 02, 2019
Whom The Gods Destroy, They First Make Read The ONT
Well, tonight I have an assistant in writing the ONT. Meet JuneBug. 2 1/2 weeks old and abandoned by her mom: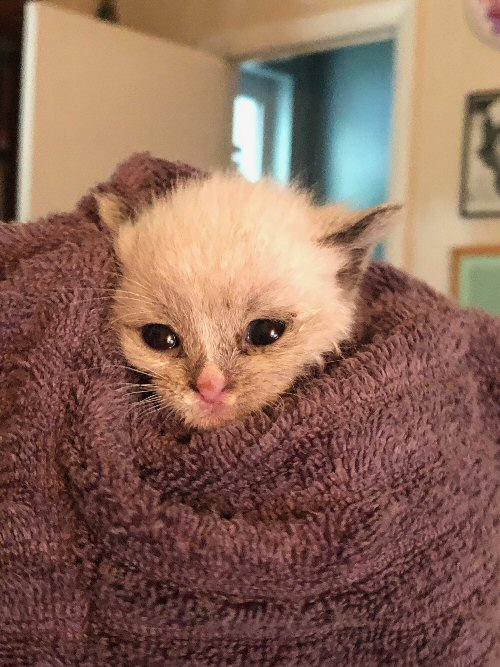 Any intelligent content is her work; the fart jokes are mine.
Happy May Day Comrades!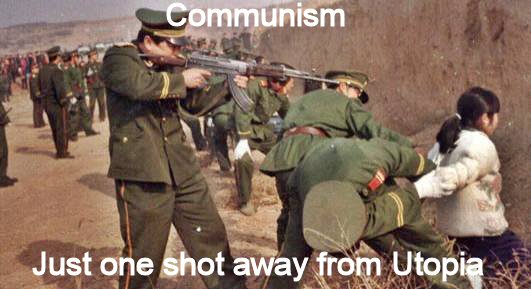 So, yesterday was May Day. Antifa marched/rioted in Portland, bringing only their best and brightest:
(Click through for a full report on the event, with pics and video)
Why do we put up with this? Good question: Why the Hammer and Sickle Should Be Treated Like the Swastika. Good article, if a bit simplistic, and the author utterly refuses to recognize that Nazis and Commies are 98% the same ideology. They fight not because they are opposed to each other, but because they are competing for the same members. There are only so many brain dead morons and petty tyrants to go around. Still, the overreaching point is spot on.
So what Ground is the battle to be fought upon? Multiculturalism . If we don't fight (and win) against it, then the Western world is deader than a dodo. Defend America—Defeat Multiculturalism
The Promises and Perils of Identity Politics
Reclaiming the ideals of America

I mean, come on guys, how hard can it be to beat this?


Mike Hammer had the right of it:
"I killed more people tonight than I have fingers on my hand. I shot them in cold blood and enjoyed every minute of it. I pumped slugs in the nastiest bunch of bastards you ever saw and here I am calmer than I've ever been, and happy too. They were Communists, Lee. They were red sons of bitches who should have died long ago..."

Sad Meals
Burger King takes on McDonald's with a range of 'unhappy' meals
Who are they marketing to? Judging by their promo, people who weren't together enough to make it to the Antifa march mentioned above:
It's sad, because I actually think BK's burgers taste better than McDonald's, and those losers aint me. But hey, now you know what to eat after you get triggered by a painting of George Washington at your school
I Meant To Do That

Musical Interlude

What Could Go Wrong?
D.C. housed the homeless in upscale apartments. It hasn't gone as planned.
The SWAT team, the overdose, the complaints of pot smoke in the air and feces in the stairwell — it would be hard to pinpoint a moment when things took a turn for the worse at Sedgwick Gardens, a stately apartment building in Northwest Washington.

But the Art Deco complex, which overlooks Rock Creek Park and is listed on the National Register of Historic Places, is today the troubled locus of a debate on housing policy in a city struggling with the twin crises of homelessness and gentrification.

Located in affluent Cleveland Park and designed by Mihran Mesrobian — the prewar architect behind such Washington landmarks as the Hay-Adams Hotel — Sedgwick Gardens was once out of reach for low-income District residents.

That changed two years ago, when D.C. housing officials dramatically increased the value of rental subsidies. The goal was to give tenants who had previously clustered in impoverished, high-crime areas east of the Anacostia River a shot at living in more desirable neighborhoods. 

Unexpectedly. Where does it all lead?
Now, I don't normally link hour long videos, but that one is excellent. It's also a top notch example of local media actually committing an act of journalism. If you have the time, you should definitely watch it.
Tonight's ONT brought to you by cowboy....sandals?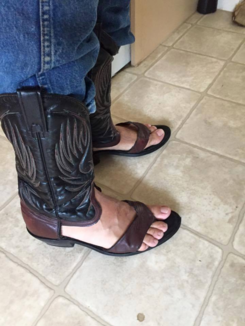 posted by WeirdDave at
09:46 PM
|
Access Comments