« Saturday Morning Coffee Break
|
Main
|
Saturday Gardening Thread, May Begins! [KT] »
May 04, 2019
Thread before the Gardening Thread May 4 [KT]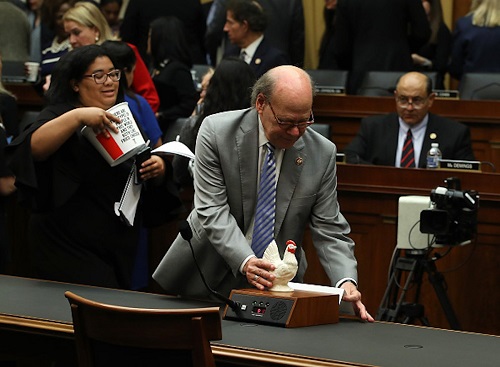 Serving your mid-day open thread needs
Obama told his side to bring a gun to a knife fight.
Not to bring a chicken to a knife fight.
Hello, Horde. I have been pretty much out of commission for a couple of days with a gastrointestinal bug of some sort. But I appreciated J.J. Sefton's links yesterday. Especially the first one.
When the Mueller Report was released on April 18th, most commentators focused on the "explosive" factual allegations. But other than the shocking revelation that the President once used an expletive in private, very few of those facts were novel; most were leaked long ago.

At the end of Volume II of the Mueller Report, however, there were 20 pages of genuinely new material.

There, the former FBI director turned Special Counsel Robert Mueller defended his "Application of Obstruction-Of-Justice Statutes To The President." These overlooked 20 pages were dedicated to defending Mueller's interpretation of a single subsection of a single obstruction-of-justice statute. . .

That's quite strange, but you know what's stranger still?
In June 2018, Bill Barr, then in private practice at Kirkland & Ellis, wrote a detailed legal memorandum to Deputy Attorney General Rod Rosenstein. This memo came to light in December, when Barr was nominated for Attorney General.

The subject was Mueller's interpretation . . .
We understand so little from the "news media".
Music
There is something about this piece that really seems to contrast with the artificiality of the political scene lately. My mother plays the cello, and she has a transcription of this piece for a small string group. Sometimes I played the piano part with them.
Mascagni (1863-1945), born in Livorno, Italy, composed two operas prior to Cavalleria Rusticana . . . After his dismissal from the Milan Conservatory in 1884 for his lack of application, he endured six years of poverty and obscurity touring as a conductor, then teaching and conducting in Cerignola, Puglia.

Here, in 1889, he heard of a competition sponsored by the music publisher Sonzogno offering a prize for the best one-act opera to be submitted. . . .

It took Mascagni two months to compose. Then, when the time came for him to submit the score, his courage deserted him. Fearing failure he put the music in a drawer, where it might have remained had it not been for his wife who sent it off.
Cavalleria Rusticana, with its stirring melodies, including the famous Easter Hymn, and tightly constructed plot was unanimously voted the competition winner. On May 17, 1890, it had its premiere in Rome where it received no less than 60 curtain calls; in less than a year it had been performed all over Europe.

Medals were struck in Mascagni's honour; Livorno welcomed him home as a hero; the King of Italy bestowed on him the Order of the Crown of Italy - an honour even Verdi wasn't given until middle age. On the strength of one masterpiece, the struggling composer became wealthy and famous overnight.

"It is a pity I wrote Cavalleria first," he said at the end of his life, "for I was crowned before I became king."
Some say he was particularly dissatisfied with this Intermezzo, and that his wife rescued it from the trash.
Sometimes struggle brings out the best in us. Don't give up.
Hope you have a great weekend.

posted by Open Blogger at
11:26 AM
|
Access Comments