ę Thread before the Gardening Thread May 4 [KT]
|
Main
|
Ace of Spades Pet Thread Ľ
May 04, 2019
Saturday Gardening Thread, May Begins! [KT]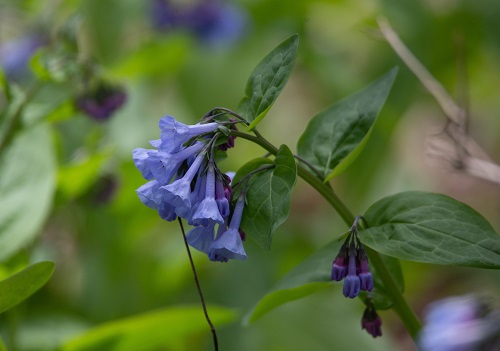 Our local Bluebells, blooming madly in NW Illinois. From Lizabth, a mostly morning reader of the Q.
Hello, Horde! Welcome to May! The photo above is in honor of our own Bluebell.
Foraging and Wildcrafting
From time to time, we include a piece on foraging here to remind Ace that he, too, could be a gardener. We have several foraging enthusiasts in The Horde, as well. Via Instapundit, wild, safe, non-organic greens.
So I hang out in several online groups intended to help people learn to identify plants. Some of those are tilted toward identification and determination of edibility. If there's one thing I've learned from my time lurking (and occasionally offering an ID) it's that people ought to be dead, a lot. Misidentification of wild edible plants is rampant. . . .

However, that being said, the thing that made me facepalm in the last little while was the cautionary addendum someone made when talking about eating backyard weeds 'did you use pesticides or fertilizers? It might not be safe to eat!'

Lady, not everything natural is safe and nutritious. Good on you for realizing that much. However, not everything organic is instantly safer and more nutritious than the green stuff you can pick in your own yard. Being available swaddled in Organic stickers at the high-dollar supermarket does nothing other than make your pocketbook slimmer. So yes, eat the dang weeds from your yard. Even if you did happen to use fertilizer and pesticides. Because if you used those according to the directions, and you wash what you pick, it's fine. Really.
Just make sure you know what it is.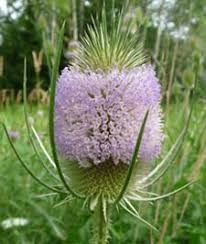 Does this plant look edible?
Check out this study of urban weeds, some growing in heavily contaminated soils, which were found to be perfectly safe when washed with tap water. Your yard, I can almost guarantee, is cleaner than San Francisco is. Organic growers also use pesticides and fertilizer, and you should wash that expensive produce, too, because a lot of what they use is likely to be more harmful than the 'non-organic' synthetic chemicals traditional farming relies on. Organic farms use animal manure for fertilizer, and if they do so improperly, fecal bacteria is going to be on your produce - even if they use it properly, your contamination risk is higher than with conventional growing methods. Improper fertilizer and pesticide use is always a problem, in any method. . .
For those in the still partly frozen north, another piece by the same author on "wildcrafting" while waiting for spring. The rest of us can read it in preparation for next year. Sounds like fun, if you're the type, which I sort of fit into. And who knows, it could be good preparation for the Zombie Apocalypse.
Here in Southern Ohio the green things are beginning to burgeon. Trees are blooming, birds are singing... wild things are still thin on the ground if you are hungry, however. The early spring greens I talked about last week are definitely here. Now is the time to start watching for teasel leaves peeping through the detritus, and about the only time of the year I'd eat them. They have little spines that get harder and pokier as they mature. The tall seedheads make them easy to spot, though.

Now is the time of year to start eyeing the wild places around you and taking note of signs that there will be goodies here later. . . .
It features, along with things like Teasel and Service Berry, Violets and Spring Beauty. I have actually eaten Teasel stems, but not the leaves. I had just read about their use as a survival food. They weren't bad. Peeled them. Never got to the leaves as they were first poking out of the ground. A few weeks back, we featured photos from Le Vieux Garde of violets and some white flowers which turned out to be Spring Beauty. I knew that violets were edible. I didn't know that Spring Beauty, AKA Claytonia virginica, (among other species) was edible. The Eat the Weeds guy's summary is informative. The Iroquois believed that eating the roots raw permanently prevented conception. Other tribes ate them cooked.
It is closely related to Miner's Lettuce, famous from California history. Botanists have moved the Claytonia genus from the Portulaca family to the Montiaceae (Miner's Lettuce) family, which also includes the beautiful Lewisia.
Anyway, there are several closely related species of Claytonia which are called "Spring Beauty" and which all have edible tubers and leaves. They come in pink (generally striped over pink or white) and white. There is a yellow variant in New Jersey. There are species in the Far North. They grow more slowly than Miner's Lettuce, so you should be careful about harvesting unless there are a lot of them, which there sometimes are. Here's a thorough piece on how to harvest the tubers and leaves. More work for an edible return than with, say, potatoes.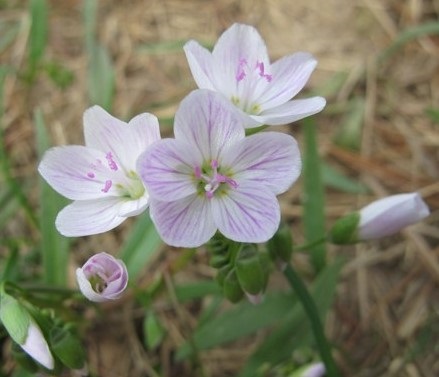 This piece from the Brooklyn Botanic Garden includes a fancy recipe with quail eggs.
Speaking of fancy, I don't remember which friend sent in this photo of morels. Have you ever foraged for morels? Cooked with them? Gathered other wild mushrooms? Caution is really, really in order.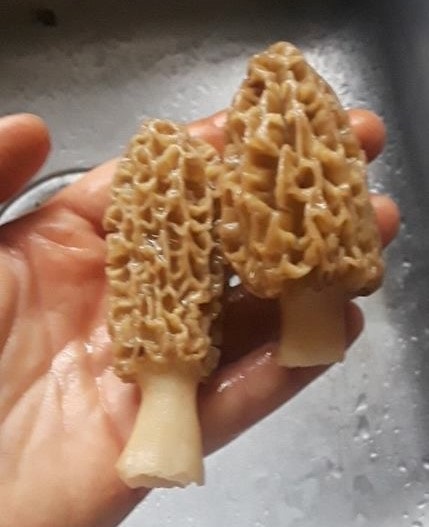 Critters and Photography
Illiniwek sent in some photos last month. We'll post some more when we have room:
A couple blue herons come around, but one chases off the other. Henbit is the purple backdrop, in soybean stubble. Cattails coming back to life also.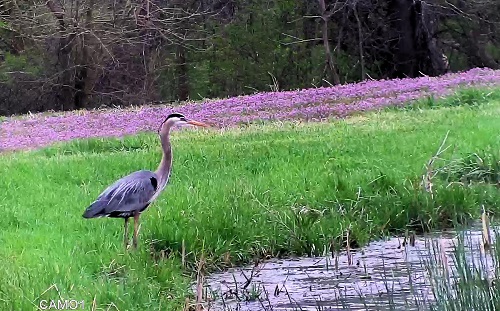 To me, here seems to be movement in that photo, somehow.
One way to take time-lapse photos of birds on the wing.
Keep the camera still (tripod), take a burst of shots, then use layers in photoshop to create the final image. As the bird slows down, the gap closes between each frame. Itís a lovely way to show the wings in flight.
On a larger scale, here are some of the wildflowers above Carrizo Plain: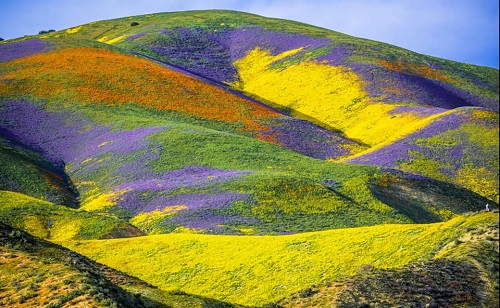 Azaleas and Rhododendrons
Last week, a lurker asked about some bushes in his neighbor's yard, saying he wanted some for his yard. We decided they were azaleas. We have had some great photos of azaleas in the past few weeks, as well as comments from members of The Horde who are fans of native azaleas. So this week, a few pointers for those who might like to grow an azalea or rhododendron.
The UGA Extension has a wonderful summary on selecting and growing azaleas and rhododendrons.
Botanically, azaleas are members of the Ericaceae (Heath) family, which includes blueberries and mountain laurel. All azaleas are rhododendrons, and both are in the genus Rhododendron. The term "rhododendron," however, is commonly used to refer to the group of plants usually with large, leathery, evergreen foliage, while "azalea" refers to those with smaller, thinner leaves. Generally, azaleas and rhododendrons have the same cultural requirements.
The first section makes sense of the many native azaleas plus groups of hybrid azaleas and rhododendrons. You can find similar information for types suited to the West in the Sunset Western Garden Book. Further down on the page is cultural information. Plant azaleas and rhododendrons a little higher than grade (there are diagrams) in acid soil, away from surface tree roots.
Check regional recommendations for the cultivar you like against those compiled by the American Rhododendron Society. Their "Plant Data" section includes lists of "good performers" by region. Gardenia.net has some fun information with photos, on companion plants, fragrance, bloom time, regional considerations, etc.
Callaway Gardens in Georgia even has an azalea watch. If you are planning a visit, here are some other things that bloom there during the year. Has anyone visited?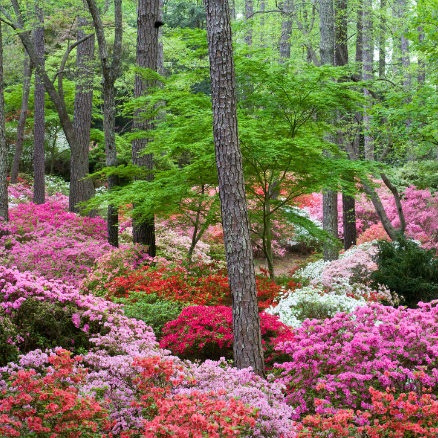 Flowering Trees
Gordon notes that the University of Minnesota is hosting bee-related events for home schoolers.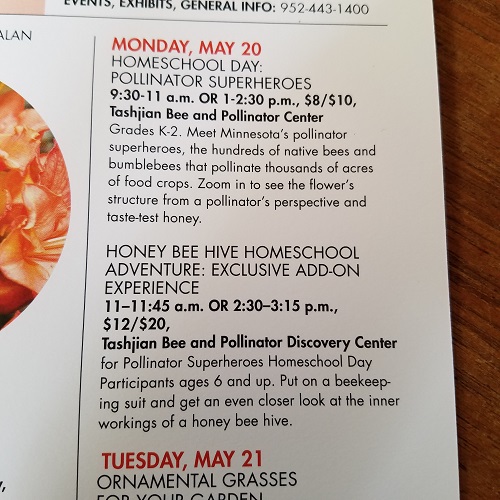 Interesting that a U of M facility recognizes the market for this. Crabapple bloom day is about May 9 so I will journey out for that. They have 135 taxa of crabapple.

I once walked outside at about 3 a.m. when our crab had just sent out a huge pollen burst. The wind was calm. It was like a magenta fog.
The Invisible Hand send in this lovely photo. Know what this Southern California tree is?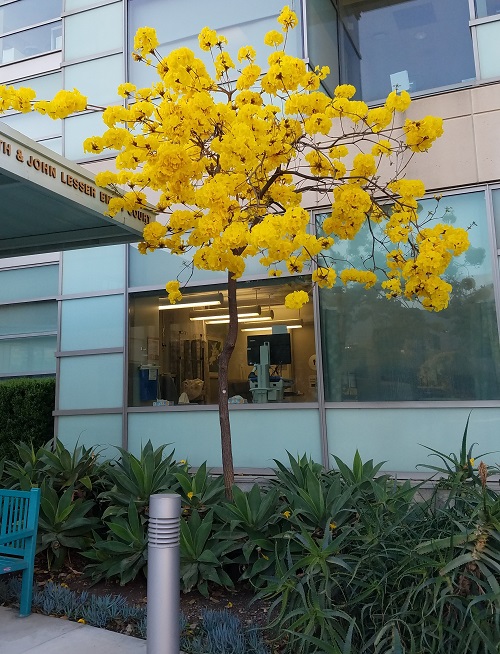 OK. This isn't a tree, but still:
Here is a wonderful wisteria. It is my favorite flower of all. I love the look and I have many good memories associated with it. This one vine is in an empty lot here in town (zone seven; northern Alabama)and has taken over two trees. Le Garde Vieux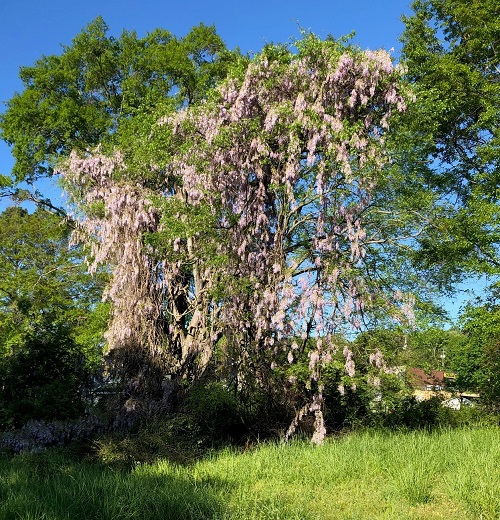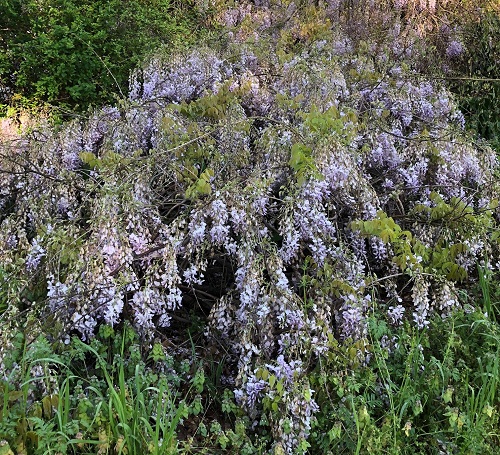 More Tulips
Highlights from the comments last week included the weekly summary from Pat* (a good reason to check back on the comments on Sunday) and a tip from kallisto about a big, spectacular tulip farm in New Jersey.
This allows us to segue back into tulips. A few weeks ago, our favorite Swiss garden dog, Rocky, welcomed some American guests, two young women, into his garden.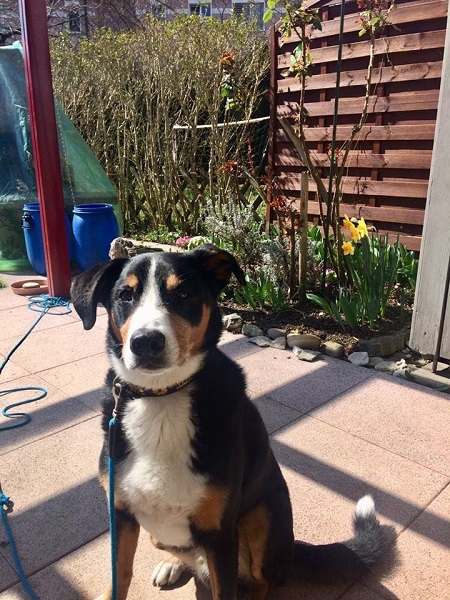 He had tulips.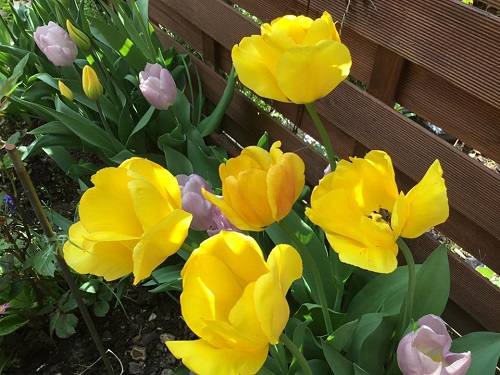 They visited Lugano, where the city had planted tulips along the lake.
And here is a nice rhododendron in Lugano, too.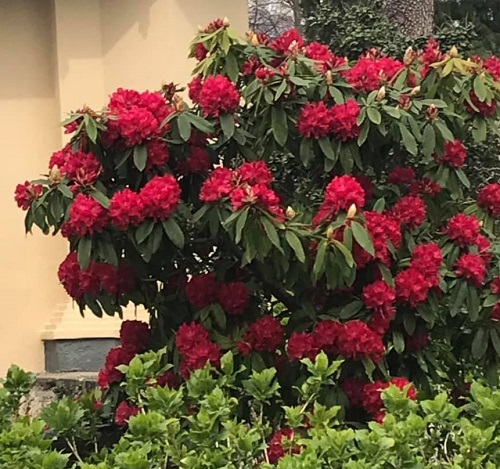 More tulips from Thanksgiving Point in Utah: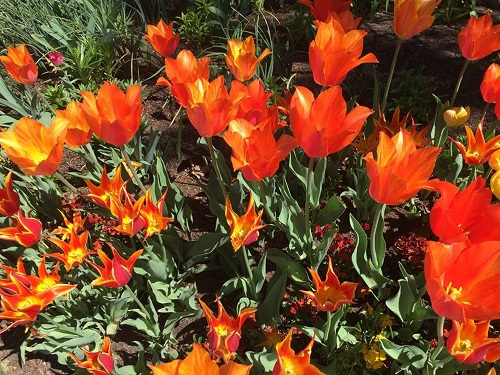 We appreciate the great photos we have waiting for next week. If you would like to send information and/or photos for the Saturday Gardening Thread, the address is:
ktinthegarden
at g mail dot com
Include your nic unless you want to remain a lurker.

posted by Open Blogger at
01:02 PM
|
Access Comments