« Saturday Gardening Thread, May Begins! [KT]
|
Main
|
Saturday Afternoon Chess Thread 05-04-2019 »
May 04, 2019
Ace of Spades Pet Thread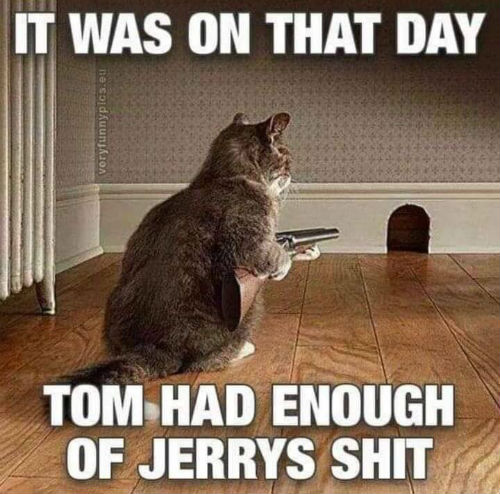 ***

Good afternoon and welcome to the almost world famous Ace of Spades Pet Thread. Please kick back and relax while we enjoy the world of pets.

Speaking of pets, how many of you sleep with your pet? Take the quiz. Which letter represents your dog? Or for that matter, your cat? H/T KT.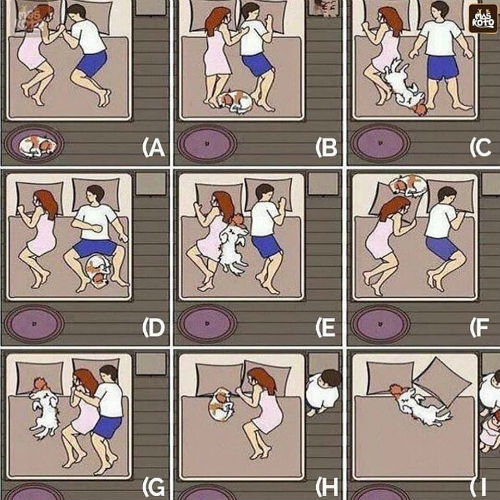 ***
A Little of This. A Little of That.

Move over Katy Perry.............


Would you like to have a pet that ages with you? How about a pet tortoise? It's 56 and still going.
***

Your cat can become a conductor. You may not be safe in your sleep however. H/T Hank Curmudgeon
***

Now here is an unusual pet. Hairless guinea pig or baby hippo?
***
Meet The PetMorons
This is Cooper. You have featured him once before with his sister, Greta, a Bernese Mountain Dog who sadly crossed the Rainbow bridge two years ago. Cooper is a Cavalier King Charles mix, we think. We picked him up from a rescue 8 years ago and he's one of the best dogs ever. He's cross-eyed but that doesn't keep him from being the best natured dog ever. I love the pet thread ... read it every week. Thanks for posting. - Becky
He's a handsome lad, Becky. Cooper looks pretty darn regal in this photo. Thanks for being a Pet Thread supporter.
***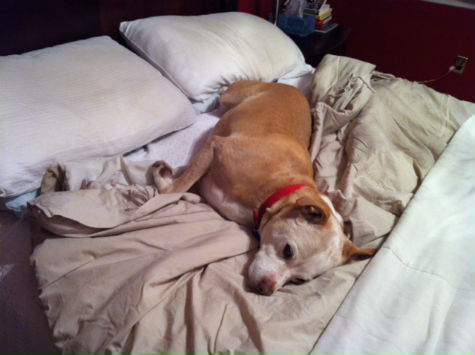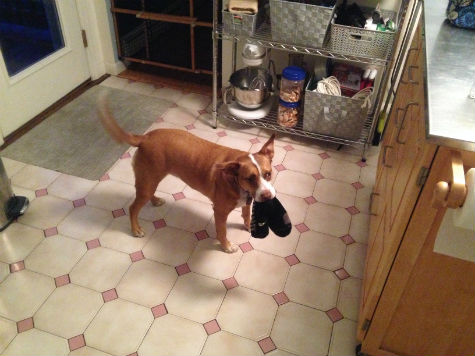 Romi, who joined us when she was about six years old. She did her fair share of couch-potatoing (which was supposed to be on the couch and NOT the bed, but sometimes she was able to nudge the bedroom door open), but her all-time favorite thing to do was fetch tennis balls. She'd do it for hours, and we got used to not being able to sit quietly and enjoy a cocktail on a warm summer evening without a a spit-covered tennis ball being dropped in our laps. She stayed with us until she was 16, and then went to doggy heaven where she can fetch all day long without arthritis.

Current lady of the house is Ginny, a five-ish year old terrier mix of questionable heritage, who came to us from Tennessee via North Shore Animal league. She is dumb as a post and has no eye-paw coordination at all, but she is a total love-bug and has managed to cure my husband of leaving his dirty socks on the floor. Love the Pet Thread!

Helen (Lurker)
It sure sounds like you and your husband have a wonderful home for the doggehs. Both Romi and Ginny sound like they were/are completely spoiled and lead horrible lives. :) Thanks for your submission.
***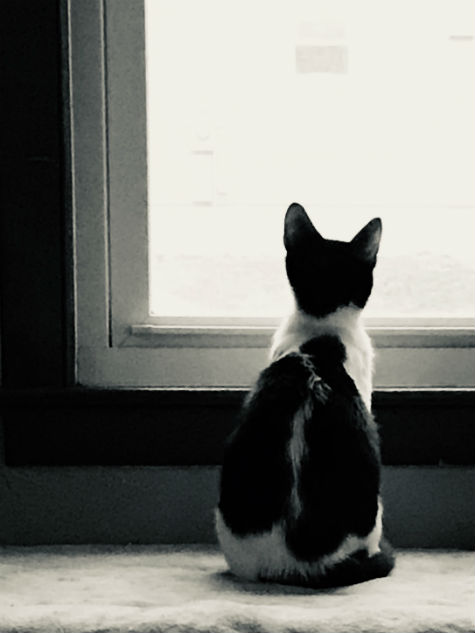 This is Selma wondering why it was snowing in Late March. She's a smart girl who likes to sleep under the covers and attacking people through the shower curtain. - Leonard
Selma the Attack Cat? She sounds like a hoot. Here's hoping that Selma is not looking at snow anymore. Thanks for sharing today.
***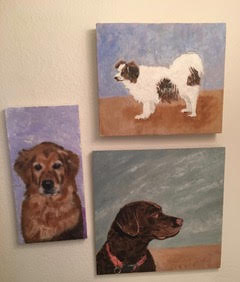 Hi;

Here are three of the eight dogs who have owned me over the last 35 years.
Tucker is on the right
Pinch (Sebastian) is on the top
Finn (Huckleberry) is on the bottom
They were all painted by me. More to follow

Thanks for your site - Todd
Beautiful renditions of your pets Todd. Hopefully, you are around today and you can tell us a little bit about them.
***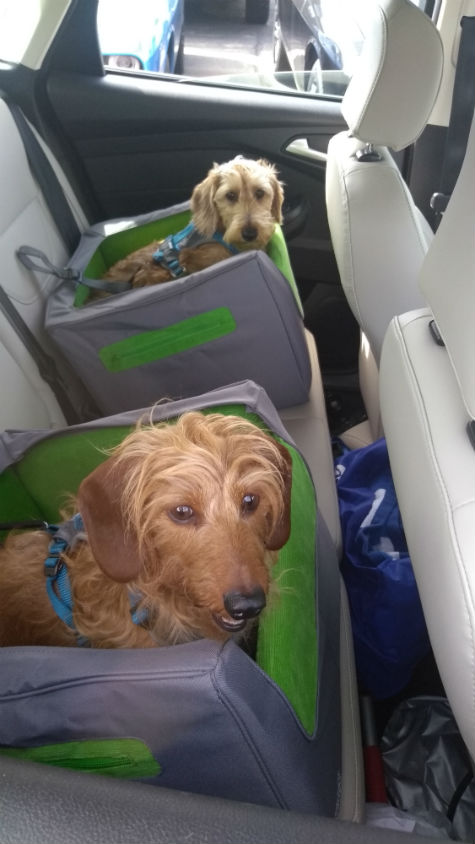 Eli and Bingo.....
We have discovered a miracle! Doggy car seats have saved my travel life and may (God forbid) save my dogs' lives, someday! I got so tired of both dogs on my lap/ arm, trying to see out the window! Believe it or not, they are so relaxed, now, they actually fell asleep in the booster seats! No more distracted driving for me!

Now they can come with us more often. I am happy to have a lap back and the use of my arms since I no longer have to try to envelope them for safety. - Lori/Rytis
That appears to be the look of "If I have to stop this car........" Cute photo and and an interesting tip for dog owners who enjoy traveling with "Rover". Thanks!
***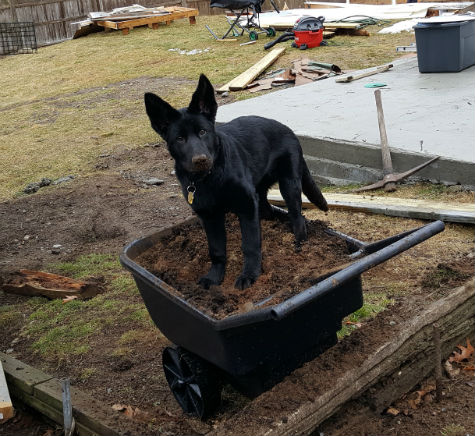 Kalan

I have owned 5 German Shepard Dogs in my life and this is the neediest one by far. I think she was weaned too soon. She will stop eating to follow me out of the kitchen. I can't turn over without paws on the bed checking me out. She was a great help digging the fish pond however!

Love your work.

Tom
Thanks Tom. Kalan certainly seems like a real go-getter!! That is a great photo. Was it by chance or is it a pose? Thanks again for contacting the Pet Thread.
***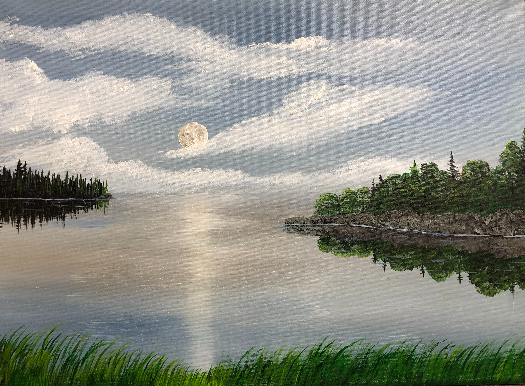 Another lurker here. Haven't commented in years, but I the HQ is part of my daily surfing.
You've been begging for pet photos for two weeks now--well here's some of my little goofball, Hannah (please pick one photo, I couldn't). She left us suddenly last month and I still miss her. She was an abused rescue, who never lost her fear of strangers, but loved us wholeheartedly. She had a good life, with us--aside from being mauled by coyotes three times in our backyard! Tough girl.

(So sorry to hear about your loss, MisHum--what a magnificent setter! She must have left a big hole in your heart.) -Tricia
First of all thank you for the condolences Tricia. We are so sorry to hear of your loss. It sounds like Hannah's departure has left a giant hole in your heart as well. We appreciate you sharing with us today.
***
Our opening meme was from our friend Ladyl. Thanks Ladyl.
What a great group of pets today! Thanks for filling up the In-box. We'll be getting to your pets soon, so please be patient.
Do you have a photo, story or something else pet related you would like to share? You can reach us at petmorons at gmail dot com.
Thanks again gang and have a great week!!!


posted by Misanthropic Humanitarian at
03:00 PM
|
Access Comments