« Saturday Morning Coffee Break
|
Main
|
Saturday Gardening Thread, April 13 [KT] »
April 13, 2019
Surreal Thread Before the Gardening Thread [KT]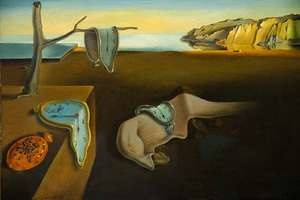 Serving your mid-day open thread needs
Surrealism
According to the Britannica link above, surrealism in art and literature was supposed to have been confined to the period between WWI and WWII, more or less. But I think that we still have some surrealism with us today. At least in terms of its emphasis on the irrational.
The image of melting clocks seems appropriate to a piece of intersectional scholarship picked up by David Thompson:
According to our feminist educator, time "doesn't feel linear" for black people - all of them, presumably - because, she says, they live with "the residue of past historical trauma." You see, for "African-American folks," the present "feels like the past" - specifically, "narratives of race that are rooted in violence and a lack of freedom" - i.e., slavery - "can become our reality again at any moment."
And the very concept of time is racially biased. "White people own time". Sometimes I have problems with time. Maybe I need to get some genealogical work done to find out why I have a tendency to be late.
Maybe if I became a leftist, I could start slacking for social justice.
Thompson also mentioned an article in City Journal about leftist theories of crime.

The gulf between numbers on a spreadsheet and the harsh realities of the world sometimes fosters a romanticised view of criminals as victims, making it easier for criminologists to overlook the damage that lawbreakers cause--and to advocate for more lenient policies and treatment. Evidence of the liberal tilt in criminology is widespread. Surveys show a 30:1 ratio of liberals to conservatives within the field, a spread comparable with that in other social sciences.
May be worse in California. But it reminded Thompson of:
a Guardian interview with lawyer and activist Clive Stafford Smith, who airily dismissed burglary as "really quite inconsequential," thereby implying that the wellbeing of burglars is more important than the wellbeing of their numerous, often very poor, victims. Especially if the burglar is a "young black person." According to Mr Stafford Smith and Guardian columnist Decca Aitkenhead - for whom, such things are largely theoretical and not a routine fact of life - anger at being burgled and the subsequent sense of violation are somehow trivial, plebeian and unsophisticated. And so, these enlightened creatures pretend to feel sympathy for career criminals who may prey on their neighbours for years, while disdaining the victims' expectations of lawfulness, and justice, as "idiotic attitudes."
As always, scroll through the comments to Thompson's post. There is a suggestion that the academics above probably have security systems installed in their residences, "indicating neither consider burglary quite as 'inconsequential' as they claim it is."
Though I guess it is possible that they leave their doors unlocked to prevent burglary damage. What do you think?
Meanwhile, there were some good links at Maggies Farm on Monday, including a security system recommendation. If you're not too worried about Google spying on you. There are a couple of troubling links about Google, too. Could you have predicted this dilemma 15 years ago?
Hope that you have a good weekend, free of burglars and spies. Closing question: Is this proof that white people own time? Or not?

posted by Open Blogger at
11:19 AM
|
Access Comments