« The European Union Feverishly Hammers Another Nail In Freedom's Coffin:
Honestly, Why Did America Bother With Two World Wars?
|
Main
|
Gun Thread: Handloading and Accuracy as a Training Tool [Weasel] »
March 31, 2019
Food Thread: Cooking For Fun And Profit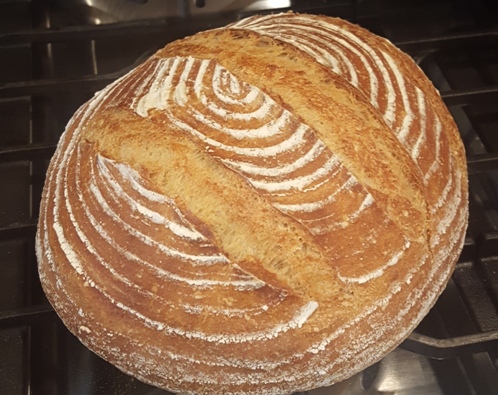 I love bragging about my cooking, as I am sure many of you have noticed. But this isn't going to be a brag. It is going to be a loud and aggressive suggestion that for those of you with any interest in both good bread and saving money that you start baking your own bread.
Why? Because not only is it better than anything you can buy except if you are near a great bakery, it is far cheaper than even a supermarket loaf that isn't marked down. That loaf in the photo is pretty big, and I used 85¢ worth of ingredients (assuming $3/bag of flour). And that includes the flour I used for the sourdough starter.
I have been playing around with the recipe...a little more rye flour, a different sort of fermentation, etc. But I now have a comfortable, pretty-much-foolproof way of baking a fantastic sourdough loaf with minimal effort. And the sourdough component adds additional steps that aren't needed for conventional loaves, so if you decide to jump into the fresh-bread world, you quickly can find a few recipes that are Moronically (that's the good kind!) simple and still produce wonderful breads.
Here's a simple recipe from King Arthur Flour for Classic Sandwich Bread which is just a standard white loaf. But the site is a great place to start, mostly because these folks take it seriously and are constantly revising and taking seriously the feedback from their customers. One suggestion though, don't bother with their expensive herb mixes and cheese powder stuff for their more elaborate breads. You can easily duplicate them for a fraction of their price. And, while their flour is wonderful, it is also about 75% more expensive than most other brands, so I would start with any good quality flour from the supermarket, and then if you feel like it give their flours a try.
Oh...one more thing. Don't buy those expensive packets of yeast. Buy this, put a few ounces of it in a jar, and put the rest in the freezer (sealed carefully).
******
White people's diets are killing the environment: study
Ask me if I give a shit what your study says. "White people" means Western culture, which has done more to feed the world than anyone else in history.
Norman Borlag was a "White person."
QED bitches!

******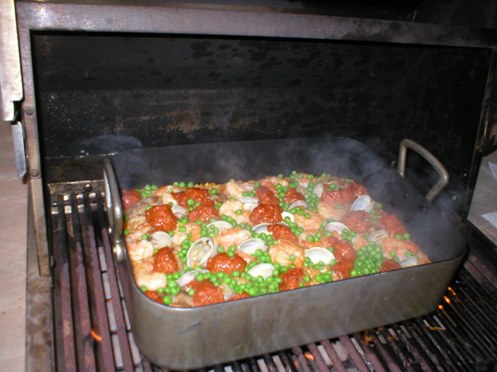 From reader "Wee Kreek Farm Girl," (love the nic!) comes a rather pleasant scene...

My stepdad is visiting and made us Paella last night on the grill, it is an annual tradition when he visits. He is fond of the Cook's Illustrated recipe and has tweaked it to perfection. We enjoyed a nice Cherry Lambic whilst it was cooking. The added bonus was that we had some apple chips left in the smoker on the grill from when we did pork butt the other day and that lent a nice little smokiness to the Paella. It was the best one yet.
I love this kind of cooking. "Come over; let's make something special and drink that cool bottle we got last month!" It is what elevates cooking to a social event that is pure joy. Notice however that our dear
Wee Kreek Farm Girl
didn't offer her stepdad's recipe tweaks. And I'll bet I know why! Because he keeps them carefully hidden from everyone. As would I!
******
Hi Tami!
******
What the hell is this shit? As far as I can tell it has been mentioned a grand total of once on this blog. And I don't like the sound of it! In general, the more bonus health effects a food or drink has, the more suspicious I am of it. That's why I usually sneer (either out loud or in private) at miracle foods and anti-oxidants and cleansing foods and all the other crap that holistic, naturopathic babbling fools shove out at unsuspecting Americans.
Why Baijiu Is the Liquor You Need to Know
Due to its distinct smell, baijiu is categorized by its bouquet; strong, light, sauce (as in soy) and rice aromas make up most of the market. Paojiu softens the Sichuan province's steady diet of strong aroma baijiu with sugar and fruit (sour plums, cherries, persimmons), medicinal herbs (ginseng, cinnamon, ginger), or more beastly additives, like ants, snakes, and animal penises. Aside from making baijiu more palatable—they often cut ABV percentages down to the level of a strong wine—these infusions often have bigger health benefits in mind, from balancing one's chi to aiding digestion after a marathon meal. Think of it as a tincture that gets you twisted, but everyone's writing their own prescription.
But what the hell, it might be fantastic!
Who's going to try it first?

******
There are thousands upon thousands of food and cooking websites, and most of them are desperately trying to pump out recipes that will keep them relevant and keep the hits coming. And that's okay! I like reading about food and cooking, and sometimes I stumble upon a real keeper; a site that provides quality content (not necessarily recipes) that I can use to improve my cooking.
But a lot of those recipes are just tossing some stuff into a pan, or in this case, tossing it into a pan along with some pasta. And that's okay too, because most of us do that quite a bit, and there is absolutely nothing wrong with it.
Caprese Pesto Pasta Bake
This chick obviously gets a big kick out of cooking and eating, and for that I will tip my hat. Her energy and enthusiasm is infectious, and it was fun to read her post. But let us not fool ourselves; this isn't original, inventive cooking. It is puttering around in the kitchen to make dinner. I just wish that more of these sites would call it like it is, and not put on airs. Nobody cooks great meals every day. Hell, go to YouTube and watch interviews of the greatest chefs on the planet, and they will talk about getting up on Sunday morning and being thrilled to wander into the kitchen and make pancakes and sausage for their wife and kids.
That being said, I have made something similar to the recipe above, and it works really nicely, so if you don't have nine hours to make dinner, give it a shot, or just use the idea and put whatever you damned well feel like eating into the pan.
PS. If anyone catches me being more of an arrogant, pompous asshole than I usually am, call me on it and you'll get a Platinum Membership with Troll-B-Gon. [One year...don't be greedy]


******


The conservative in me says kill it with fire!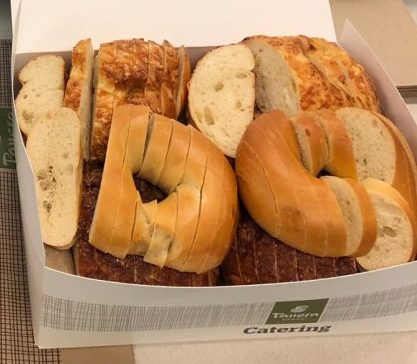 But it's not such a bad idea! I like eating bagels with cream cheese and smoked salmon (and a little bit of red onion) But I always cut the bagel in half because it's just too unbalanced with a whole bagel's worth of bread. So I'll give this a shot and see whether I am banned from the traditional bagel world.

******
Food and cooking tips, triple-cream cheeses, young wild pigs, Venison Steak and Eggs (Swiped from Garrett), thick and fluffy pita and good tomatoes that aren't square, pale pink and covered with Mestizo E.coli:
cbd dot aoshq at gmail dot com
. Any advocacy of French Toast with syrup will result in disciplinary action up to and including being
nuked from orbit.
&topic=world_news">

posted by CBD at
04:00 PM
|
Access Comments