« Food Thread: Smoke 'Em If You Got 'Em...Otherwise Just Grill!
|
Main
|
Sunday Overnight Open Thread (3/24/19) »
March 24, 2019
Gun Thread: Rolling Your Own! [Weasel]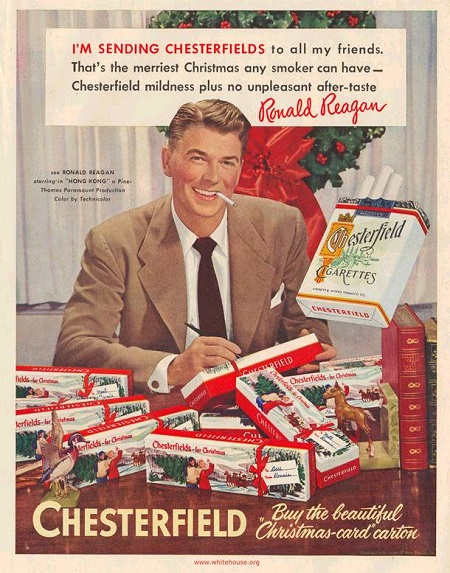 Our Pal R.R.
Last week in the comments we started discussing the benefits of reloading. Ronald Reagan was obviously too busy being a movie star and future president to roll his own - so what is your excuse? Let's take a look at some of these benefits, shall we?

If you were to ask someone who reloads their own ammunition why they go to the effort, you're likely to get an answer that is some variation of a few central themes; it's fun and interesting - really a hobby unto itself, with a little advance planning you'll never run out of ammo, and believe it or not it can be a hell of a lot more accurate than commercially made ammunition.
So let's examine each of the reasons in order.
Reloading as a Hobby
I honestly cannot remember why I started reloading in the first place, but once I did I quickly learned it's an enjoyable hobby unto itself. I work in an office at a computer all day, but I also enjoy working with my hands and that wasn't something I was able to do very often. With reloading, you're using tools to make precise measurements and to shape and fit metal to exact tolerances. There is a certain tactile gratification that comes with the process and the result is a very useful product. With experience, and by following some straightforward rules, you can vary certain components to make very specific custom ammunition for your particular application. Too much muzzle flash or recoil from your .44 Magnum snubby? With a little experience you can use a different powder or bullet to make shooting the same weapon for practice much more enjoyable.
Supply, Demand and Economics
Periodically, current events or changes in the political climate will cause commercial ammunition to be in short supply, and even during ordinary times, you're stuck with whatever your local retailer or online dealer has in stock. Commercial ammunition can be expensive and shipping costs for online orders significantly add to the cost unless you happen to find a free shipping deal. It's nice to know you can go to your reloading bench and in an hour or so produce a hundred rounds of whatever you plan on shooting without worrying about shortages or the UPS guy showing up on time. All you need to do is plan ahead and have the necessary components on hand.
One misconception is that by reloading you are automatically going to save a ton of money. In truth, after the initial modest investment of a few hundred dollars in basic reloading equipment, the cost per round does go down quite a bit, but most reloaders find themselves shooting more so for many it tends to be about a wash economically speaking.
You decide - let's take a popular round, the .38 Special, which is the cartridge I usually recommend people begin with. I just priced the necessary components (primers, brass, bullets and powder) on a popular reloading supply website and came up with a raw material cost of less than 20 cents per round, compared with a retail price of more than 30 cents per round for bulk loaded ammunition. You may end up buying reloading components online and incurring shipping and hazmat fees for powder & primers but without much effort you can realize a savings, in this case more than 30%, all things being equal.
Accuracy
In the reloading world, accuracy is synonymous with consistency. If you shoot the same weight projectile at the same speed without waving the gun around too much, the bullets will tend to go to the same place. That's clearly an oversimplification, but it's fundamentally correct. The practical difference between quality handloads and even the best commercially made ammunition comes from the scale of manufacture. Commercial ammunition manufacturers make a lot of ammo utilizing high-speed production lines. I'm just spitballing here, but I'd guess a decent size manufacturing line produces more in an hour than a typical reloader makes in years, or maybe even a lifetime.
Dispite a manufacturer's best efforts, commercial machinery is subject to wear and eventually goes out of tolerance which will inevitably show up as variations in consistency unless very carefully addressed and managed. To compound the problem, the ammunition in a single box may have been produced at different times on entirely different production line machinery with differing maintenance schedules. The attentive reloader is limited only by the degree of effort they wish to invest in the process. With a modest reloading setup and some experience, you can manufacture ammunition in virtually any caliber that is significantly more accurate than what you can buy in the store.
But is it worth it?
Do you want to invest a lot of effort reloading ammunition to go plink at beer cans on a fence for fun with your pals? Maybe and maybe not, but as accuracy becomes more important, the consistency afforded by quality reloads begins to pay off. As a general rule I know that my handgun reloads group tighter than commercial ammunition because I see the evidence on the target. I haven't bothered to measure the group sizes, but off the top of my head I'd guess the groups are 10% to 15% tighter on a good day.
Does that really matter in the casual shooting example given above? The improvement in group size for that type of shooting isn't always that important (to me) and I will generally use whatever I have handy, but with a preference for handloads. In this case the main value comes in the ability to produce ammunition if none other is available, as well as the simple enjoyment I receive from the process. Competitive handgun shooters I know use either handloads or commercial ammunition depending on the circumstances. While you may not experience a life-changing improvement in accuracy overnight, particularly at handgun distances, why not use the most accurate ammunition available? Yours!
So again - is it worth it from an accruacy standpoint alone? Do you exclusively shoot handloads? How about the value of greater accuracy in a developing shooter's training?
Next week - Measuring consistency and realizing the value of accurate ammo as a training tool!
***
What the Hell?
A Mossberg 9mm?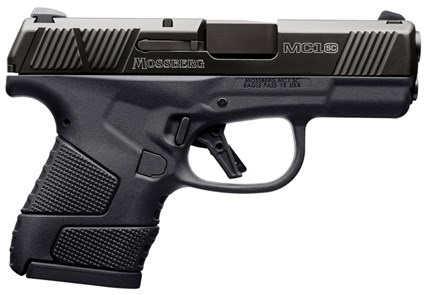 Mossberg MC1sc - click photo to go to product webpage
Click for American Rifleman Review
*******
Link-O-Rama
Guns are always loaded - h/t ibguy
[I'm not sure how this could happen, but it serves as a reminder to us all - Weasel]

Reloading Supplier - Berry's Manufacturing
Reloading Supplier - Midsouth Shooters Supply
Reloading Supplier - Sinclair International
Reloading Supplier - Powder Valley, Inc.
Reloading Equipment - L.E. Wilson
Midsouth Newsletter - Brass Prep Pt. 1
Midsouth Newsletter - Brass Prep Pt. 2
SurplusAmmo - Bullet Sale - h/t redc1c4
***Mail Bag***
This week's submission comes to us from our pal RI Red. This is how a reloading bench should look! For the rest of you slobs, note how everything is neat, tidy and the workspace is uncluttered. Thanks, RI Red! Very nice setup!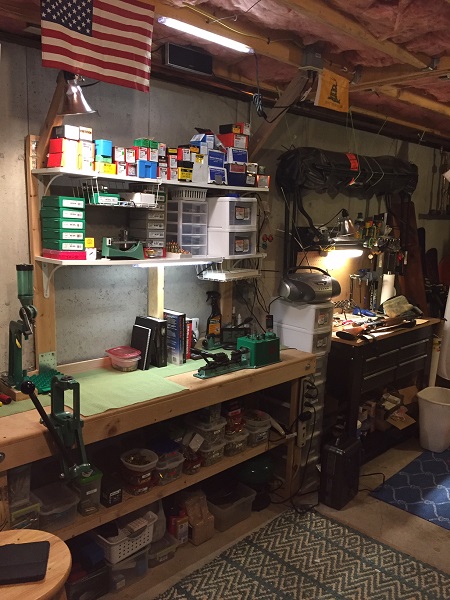 *************
Please note the new and improved gmail account morongunthread at gmail dot com. If you have a question you would like to ask Gun Thread Staff offline, just send us a note and we'll do our best to answer. If you care to share the story of your favorite firearm, send a picture with your nic and tell us what you sadly lost in the tragic canoe accident. If you would like to remain completely anonymous, just say so. Lurkers are always welcome!
That's it for this week - have you been to the range?

posted by Open Blogger at
07:31 PM
|
Access Comments