« "TOTAL VINDICATION:" Mueller Report Summary Finds No Evidence That Anyone In Trump Campaign or Administration Conspired With, Colluded With, or Coordinated With Russia
In Fact, "NO US PERSON" So Conspired, Either
|
Main
|
Gun Thread: Rolling Your Own! [Weasel] »
March 24, 2019
Food Thread: Smoke 'Em If You Got 'Em...Otherwise Just Grill!
My grill and smoker are no longer covered in snow, so it's time to ponder the first attempt of the year....smoked pork butt, pork ribs, beef ribs, smoked sausage, smoked leg of lamb (try it...it's great!), and one I am going to try this year...smoked beef clod (shoulder). The clod is a huge cut, so I will probably chicken out and try a smaller chunk.
But it doesn't really matter what goes on the grill or smoker...there is something about cooking over coals (or gas...I'm not a Luddite) that is pleasurable in an uncomplicated way. I think the smoker is the biggest lure, because once the meat goes on, that's it! No poking or prodding or flipping or basting or any of the many things we do when fussing with food. Smoking is a matter of faith. Keep the temperature where you want it (low and slow baby...low and slow!), make sure your meat has been seasoned correctly, and then put your trust in the low-temperature combustion products of wood and charcoal. No peeking and prodding, no constant stirring and tasting. It's just you against the collagen, and may the best man win.*
As you may have noticed (check the photo up top), I am dreaming of grilled sausages. That's going to be the first outdoor event at Chez Dildo, a casual late afternoon meal of beer, burgers and some of those great sausages from my local maker. I know that some of you swear by brats poached in beer, but I prefer them grilled. Yes, I am an iconoclast, but try it, you'll like it.
As for the burgers? I think small ones (about four-five ounces) on potato rolls is the best combination. It's not the Platonic ideal of a burger, and it's tough to get a nice char without overcooking them, but the size is important because of course you'll want at least one burger and one sausage. And potato salad. And beer. And bourbon...don't forget the bourbon while you are setting up the grill.
*What? No...chicks don't smoke meat! That's just silly talk.
******
Sorry about the obnoxious website...all too often food sites seem to revel in being as busy and complex as they can get, and it's a huge waste of time. But the recipe looks like fun! I haven't made it, but it's simple and quick, so i'll probably give it a shot.
Easy Pepper Steak Recipe
Oh...I probably won't use flank steak. It's pricey in my neck of the woods, and I think whatever is on sale will work. My local market has sirloin on sale about half the time, so I'll try that.
******
I have eaten Boudin, and it's pretty damned fine eating. I have also had versions that were a bit pungent and strongly-flavored, so be aware. Not as bad as the French anduillette, which smells pretty much just like shit, and tastes only slightly better.
Boudin: The Beloved Sausage of Cajun Country
It's a bit different than most sausages because it uses rice as a filler, and that adds an interesting texture and flavor that makes it unique. If you can get the real stuff in your neighborhood you are very lucky.
[Hat Tip: Curmudgeon]

******
Nice quick primer on how to hold your knife correctly. I can vouch for the importance of doing it right, and so can my fingers.
Without getting too graphic (no full-color photos please), tell us about your worst kitchen knife incidents.
[Hat Tip: artisanal'ette]

******
Thank God for Vox, because they are such a sure source for hilariously wrongheaded and stupid material!
How did home cooking become a moral issue?
Over the course of five years, the authors interviewed more than 150 low- and middle-income mothers and a handful of grandmothers, in and around Raleigh, North Carolina, all primary caregivers of young children. Ultimately, they focused on nine. It's not that foodie doctrine is wrong, exactly — home-cooked meals are great, we should eat more vegetables, it is nice when families eat together — but rather that the prescriptions of (mostly white, mostly male) public food intellectuals stop making sense when confronted with real life.

The mothers and grandmothers in the book do take food seriously. Across income levels, they care about how they feed their families, and across income levels, they feel like they're failing. Which they are, in a way, because the task is impossible. A societal problem requires a societal fix.
Look at the sample they used. One small region (really just a neighborhood) and a tiny sample. Yet they feel confident that extrapolating wildly is perfectly reasonable.
Well...here's my extrapolation. They are wrong. Completely and totally wrong, and I use my multi-year study at Chez Dildo, and before, at Chez Dildo's parents' house.
The smug tone of "We know what's best for you" is maddening, as is the even more offensive suggestion that family dinner is unrealistic because it is the purview of White middle-class families.
You know? Family dinner is great, mostly because it reinforces the idea that the family is a profoundly important part of a vibrant culture. Nobody gives a rat's ass that you serve cold pizza or day-old rice-and-beans. The idea is to increase the cohesion of the family...to make it axiomatic that family can be counted on and trusted and relied upon if necessary.
But that is antithetical to Vox's true love, which is overbearing, all-controlling government, so they dug up some bullshit "study" to justify their progressive agenda.

******
From a Moronette....I think I will respect her anonymity.
At a Star Trek convention in Las Vegas, my sister insisted on going to an extremely expensive "All You Can Eat" seafood buffet. We were determined to get our money's worth.

Obviously, alcohol was a factor...
******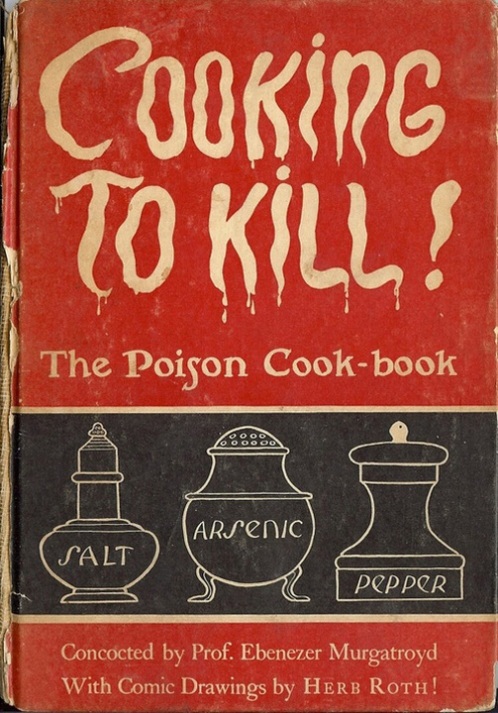 [Hat Tip: Curmudgeon]
******
Food and cooking tips, triple-cream cheeses, young wild pigs, Venison Steak and Eggs (Swiped from Garrett), thick and fluffy pita and good tomatoes that aren't square, pale pink and covered with Mestizo E.coli:
cbd dot aoshq at gmail dot com
. Any advocacy of French Toast with syrup will result in disciplinary action up to and including being
nuked from orbit.
&topic=world_news">

posted by CBD at
05:00 PM
|
Access Comments