« The architecture of Charleston, SC (An Open Thread) [KT]
|
Main
|
Ace of Spades Pet Thread »
March 16, 2019
Saturday Gardening Thread, March 16 [KT]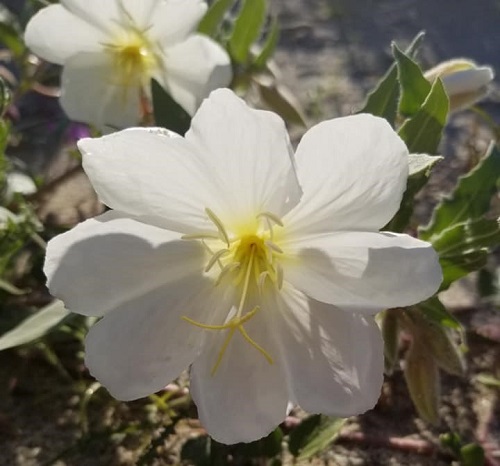 Hello, gardeners and garden observers. Wow. We still have some weather in the USA. But although the Sierra snowpack is very, very high in places, in other places people are reporting the start of the "Super Bloom" of wildflowers due to the increased precipitation this winter. One of those places is Anza Borrego, which my cousin and his wife visited a few weeks ago. The photo above and the ones below are from the badlands, not from the areas which now have sheets of bloom. Maybe you would like to try identifying the flowers.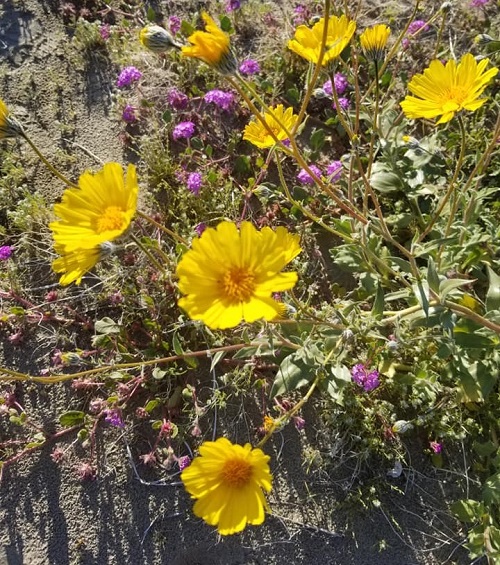 You can also check out flowering cover crops in wineries'' if you prefer wineries to wilderness.
Stuck at home in the snow?
Here's our approximately annual pick-up of a piece about re-growing veggies from the store or garden. Some of these seem more worthwhile than others. Ever tried this?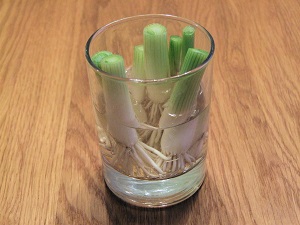 Gardening Legal Liabilities
If the neighbor's tree falls in your yard, who pays for clean-up? You do.
Hmmm.
Critters
Jake Holenhead sent in the following:
While visiting my mom in Spokane, WA I took these of the bird feeding area in her garden. The first one was in January and it was a busy day for birds. There are four feeders; two for sunflower seeds, a birdseed feeder, and suet cake holder. This day besides the normal songbirds, quail, doves, northern flickers, a pair of downy headed woodpeckers, and a tree rat (squirrel) in the right side feeder, there were several dozen redwing blackbirds and robins (six are at the birdbath gossiping) feeding on mountain ash berries.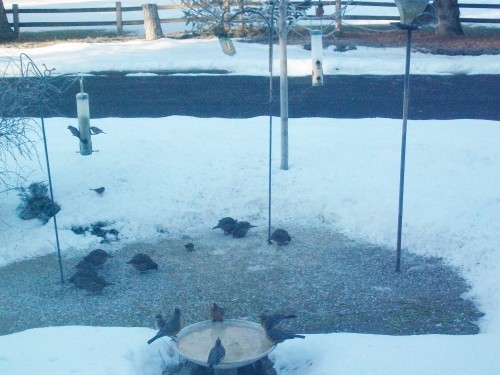 Every few years when there's a lot of snow, such as now (it snowed 30" in February), turkeys and pheasants will show up. The turkeys will fly up into her crab apple trees if they're really hungry. Occasionally a falcon or hawk will fly through hoping to get a snack, and sometimes they do.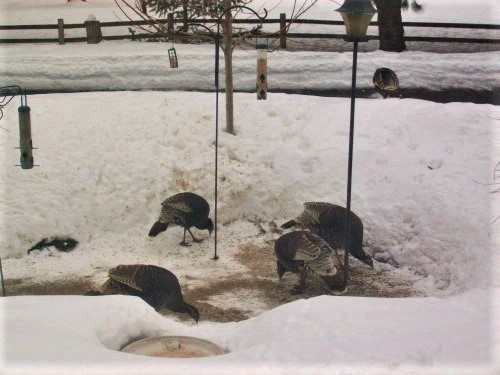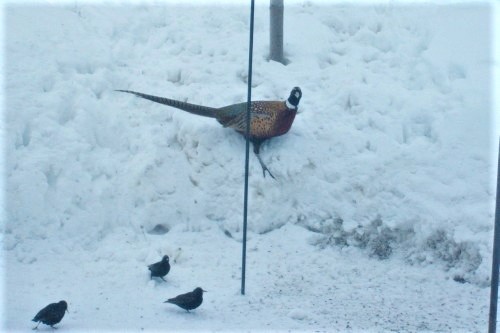 This brings us to a couple of hawks that By-Tor photographed on his trip to Utah recently:
A Sharp Shinned Hawk with Prey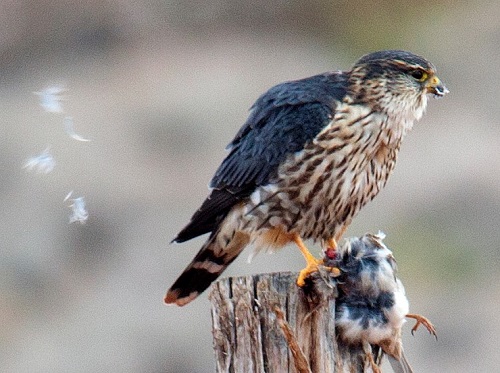 and a Juvenile Red Tailed Hawk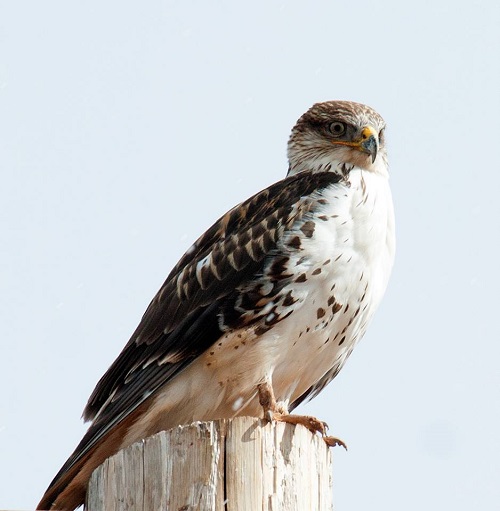 Gardens of The Horde
Summer Snowflakes and a plant I.D.
Le Vieux Garde send in a photo of some Summer Snowflakes, from Alabama, where they evidently bloom before summer.
Leucojum aestivum is a member of the Amaryllis family. They are tolerant of heavy, clay soils, even when damp, and are a good choice near ponds or streams. They are deer tolerant and can be planted near black walnut.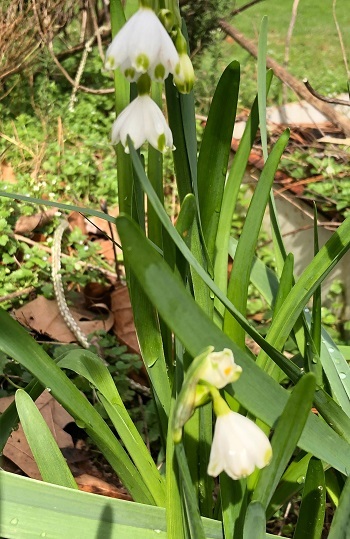 After flowering, the fruits develop flotation chambers but remain attached to the stem. In England, it has been recorded that flooding causes the stems to break and the fruits to be carried downstream and stranded in river debris or on flood-plains. The bulbs can also be transported during heavy floods and deposited on river banks.
Here is a photo of a Hairy-footed Flower Bee approaching some of the flowers.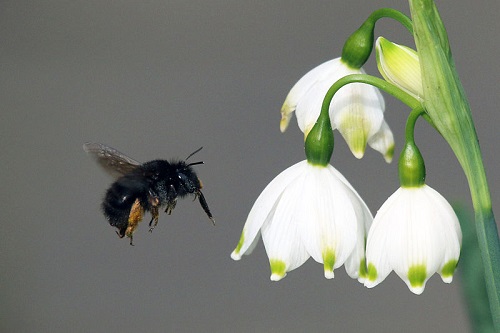 There are also Spring Snowflakes. They bloom at about the same time as Snowdrops. They also tolerate damp soil.
Ran across this cool chart of flower bloom times while looking up these plants.
By the way, these also bloomed earlier in Le Vieux Garde's neighbor's yard. Care to identify them?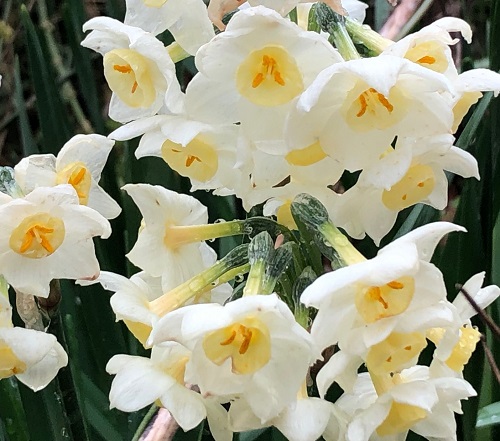 Peaches, Nectarines, Rosemary, Bees and a Cat
Back on February 8, when there were threats of frost in the low desert, Wee Kreek Farm Girl wrote this about her peach tree:
My peach tree is already starting to bloom. This tree is four years in the ground. It produces a ton of peaches every year. I do have to pick them before they are quite ripe or the birds get them, however they do ripen nicely inside. I included a picture of just some of last years haul. I end up having to freeze them for smoothies because they all tend to ripen at the same time.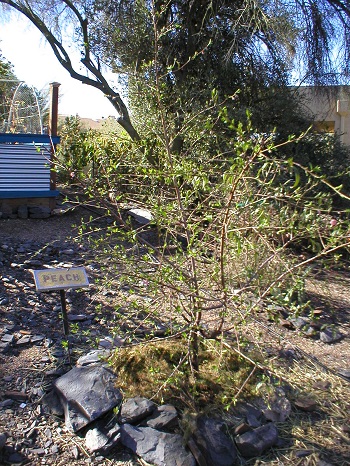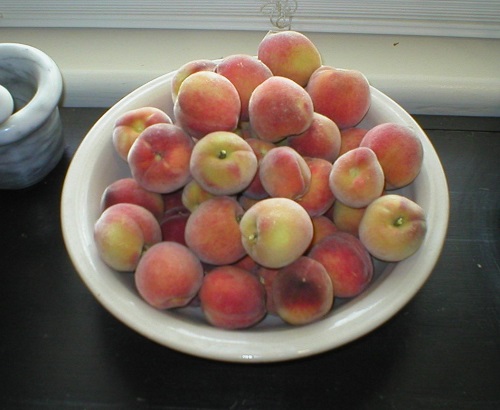 Any chance of keeping the tree short enough (summer pruning) that you could cover it with one of your chicken wire shelters to protect it from birds? Throw something over the top to protect from late frost, too.
Later update:
My Peach is in full bloom, I will take some pictures and send. February was one of the rainiest months we have had, we had almost 4 inches which for us is a lot. Many of the yards here appear to have grass growing but no it is just weeds and some of them are over a foot and a half high. It will make for a very brown and ugly summer when they all dry up but for now it is pretty.
Oops.
So I didn't realize in the freak winter storm we had on February 23rd when we got over 2 inches of rain on Thursday and then Friday morning the 23rd we woke up to snow.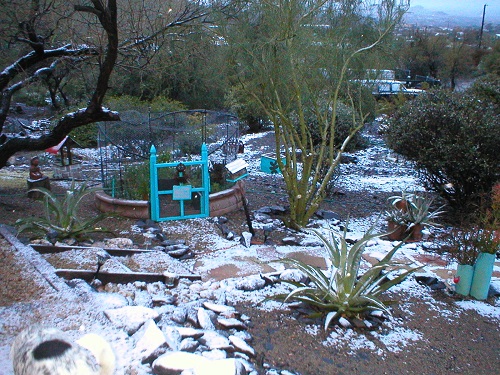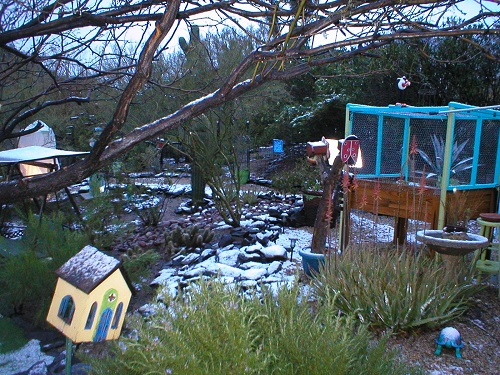 Snow in the low desert! Unusual.
My neighbor took a close up picture of my lovely peach blossoms in the snow.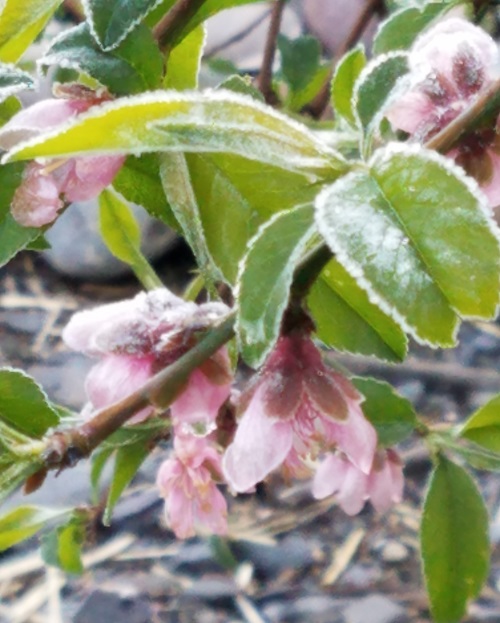 I thought they had done alright as they looked okay for the next week and paid no more attention to it. When I went to inspect this morning the damage became clear. I am not sure if you can tell from my pictures but most of the blossoms are drying up and falling off. There are a few healthy ones on there but VERY few. I am hoping it will try to push out a few more blooms otherwise my peach harvest this year will be extremely sad.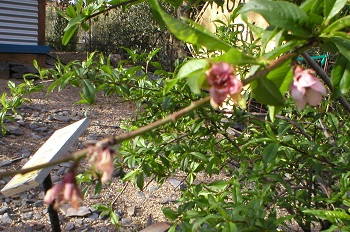 Gardening is full of risks. In this case, I don't know if the problem was the snow or brown rot blossom blight, which is a big deal for stone fruits around here. Precipitation during bloom makes it worse. Often treated with a copper spray, more dilute than during dormant spraying. At least in Calidornia home gardens.
Some of her other fruit trees fared better. More on those later.
My Arctic Star nectarine bloomed about the same time as Wee Kreek Farm Girl's peach tree. It is an early variety, recommended also for some desert climates. Moderately low chill. One of the Zaiger high-sugar, low-acid nectarines. This variety is earlier, with a lower chill requirement. If you live where frosts are common, you would probably want a higher-chill, later blooming one.
Nectarines are susceptible to more pests that peaches, partly because the fuzz on peaches protects against some insects. The climate range for nectarines tends to be more limited than that for peaches, too. A lot of them are grown here in the hot-summer San Joaquin Valley.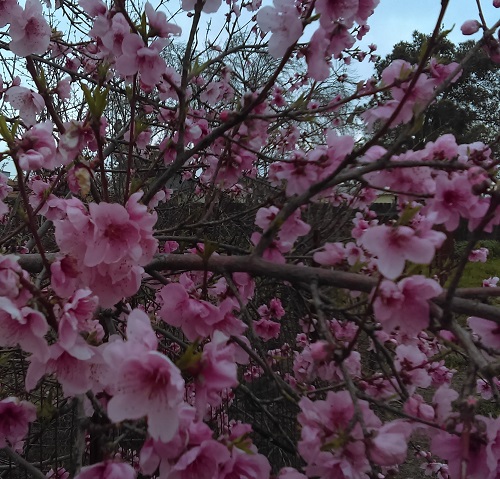 Jack of Spades, a favorite Gardening Thread Garden Kitty, helped me take the photo. It rained quite a bit soon after this photo, which was probably not good for the blossoms.
Our rosemary blooms at the same time as our early nectarine, pluots, apricot and aprium, attracting bees for pollination. It was one of the first things we planted when we moved to the edge of town, because gophers don't eat it. Some of the plants are pretty big now.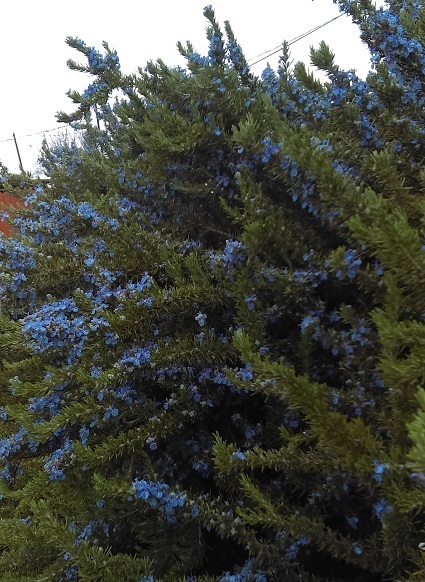 A while ago, Gordon sent in a story about Fresno as the capital of Russian beehive thieves. Big heists. The almond blossoms are mostly fallen for this year.
The last time I remember a story about Russian agricultural thieves, it was trucks full of walnuts. Don't know why Russians would be particularly attracted to this line of crime.
Crocuses
Diogenes has sent in another photo of his crocus. Did that first brave one back in February see its shadow?
After a month of snow and freezing temps...the crocus are really getting into the spirit of almost Spring.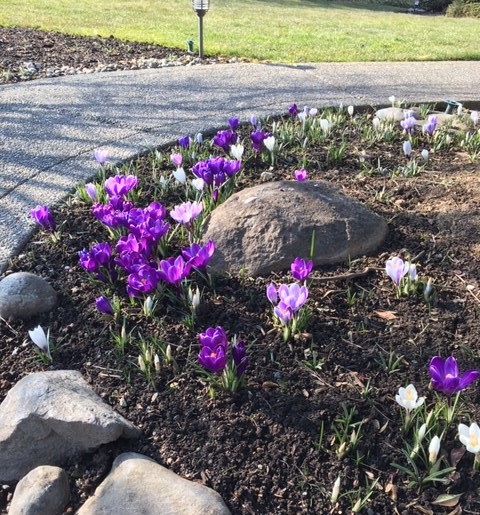 Thanks for the beautiful photo, Diogenes. It may give hope to some who are currently facing weather similar to the weather you faced recently. Still wondering if that brave first crocus last month was one of the "snow crocuses". These look like Dutch hybrids to me.
Weeds
There were some great comments about weeks in last week's thread. I am personally in the weeds. I will be working on foxtails and annual nettle this week. How about you? If you have any week expertise, please share it in the comments.
We will be looking for answers.
If you would like to send information and/or photos for the Saturday Gardening Thread, the address is:
ktinthegarden
at g mail dot com
Include your nic unless you want to remain a lurker.


posted by Open Blogger at
12:37 PM
|
Access Comments