« Saturday Morning Coffee Break
|
Main
|
Saturday Gardening Thread, March 16 [KT] »
March 16, 2019
The architecture of Charleston, SC (An Open Thread) [KT]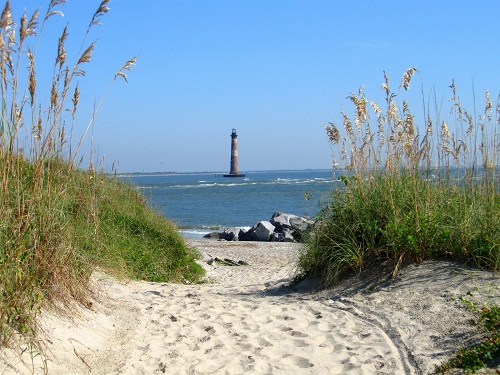 Morris Island
Kind of interesting that a promo photo for a law school features a lighthouse off an island. Law School Life.
Good Morning! I don't remember the last time I saw an architecture/open thread here at AoSHQ. Not up to anything deeper today. This idea came to me earlier this week when Bookworm put up an engaging post about a visit to Charleston, South Carolina. It includes a lot of great photos of historic buildings with some notes on architecture. Includes a home where George Washington partied after the Revolutionary War was over. Plus a nice, concise history of the city, flower photos (including a Lady Banks rose in a cemetery - cemeteries are a thing there) and harbor photos.
I just returned from my first visit to Charleston, South Carolina, and I have to say that I'm in love. I have traveled through most of Europe, whether western, northern, southern or central; wandered around the Baltic and the North Sea; dipped into North Africa; traversed the British Isles; spent time in Israel; and visited sizable parts of Southeast Asia; and even spent time traveling around here in the U.S., but I have to say that I've never seen a more beautiful city than Charleston. Whether the buildings are from the 18th century, the 19th century, or the early 20th century, they are just breathtaking. The erupting spring foliage is breathtaking. The harbor is breathtaking. And of course the history is fascinating.
And there's some Revolutionary War history, too:
Part of the Charleston trip included a visit to Cowpens National Battlefield. This was one of the most pivotal battles in the Revolutionary War. Not only was it a turning point in the war, but it also revealed Daniel Morgan's skill as a military tactician.
That battlefield is now graced with blooming daffodils.
This post is really worth a visit. And it reminds us that The Charleston came from Charleston, South Carolina (though the video there features Ginger Rogers):
I have a niece who lives in South Carolina now, and last year she and her husband visited Charleston with a friend, who is black. They went to the Old Slave Mart Museum, among other places. Didn't get too philosophical about that visit, because, you know Facebook.
Anyway, one of the things that impressed them was what was under some of the historic buildings. Including the Provost Dungeon. Don't see much architecture like that these days. Have you ever explored underground architecture in Charleston or in another city?
Here's a piece on eight styles of architecture, exemplified by 8 historic buildings in Charleston. One was:
Classical Revival, also known as Neo-Classical, emerged during a time when the US was establishing itself as a new nation. Before the Civil War, Charleston prospered and expanded, with many plantation owners building elaborate homes to show off their wealth - Classical Revival, with its large columns, high arches, and triangular roofs, is meant to emanate 'social prominence.' Although The Fireproof Building, now the non-profit South Carolina Historical Society, was built with minimal ornamentation, it is one of Charleston's best examples of Classical Revival. Built in 1827, the Fireproof Building held public safety records and, thus, was the most fire-protected building of its time. It was designed by Robert Mills, the first American-born architect, who worked with other important early American architects like Thomas Jefferson, and was responsible for the Washington Monument.
Which style do you like best?
And here's a piece about how the history of Charleston affected the evolution of architecture there. One interesting development was The Charleston Single House:
As Charleston's native high society became both more sure-footed and more pragmatic in addressing the heat and humidity of their climate, the Charleston single house style--one of Charleston's greatest contributions to American architecture--came about. This style is defined by its layout of rooms, with a street-fronting narrow facade boasting a gabled end but with an elongated side tracing often the length of the lot back from the street. This form allowed for positioning on narrow lots plus the use of open piazzas (porches) that provided for good air flow, as such was most welcome prior to air conditioning.
Something to keep in mind when AOC gets around to re-doing all the buildings in America and shutting off the air conditioning in Washington D.C.
Hope you have a great weekend.
Yes, this is the Thread before the Gardening Thread. You can continue to post comments here after the Gardening Thread and Pet Thread go up.
Serving your mid-day open thread needs

posted by Open Blogger at
11:17 AM
|
Access Comments