« Saturday Morning Coffee Break
|
Main
|
Saturday Gardening Thread, March 9 [KT] »
March 09, 2019
Restoring the West's Telos (an open thread) [KT]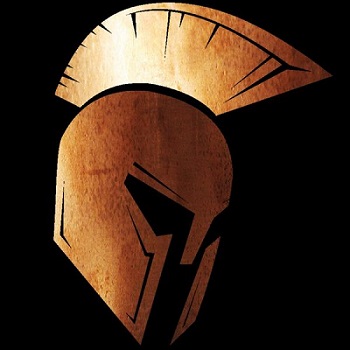 Telos Ammunition Logo
Definition of telos: an ultimate end
Use in a sentence: His telos--his endgame--is the destabilization, the overcoming, of the whole Western order. -- vanityfair.com, "The Secret Source of Putin's Evil," 10 Jan. 2017
Well. Happy Saturday. This post doesn't get around to the Word of the Day above for a while, but be patient, if you can.
Ace's post yesterday on newly-discovered racism in the knitting community demonstrated one area of social danger for Western people today (especially if they are white), namely cultural appropriation. Don't get too excited about another culture, you colonizers. A short excerpt about moral outrage over a planned trip to India:
The post, which discussed Templer's excitement about her childhood dream finally being fulfilled, praised India's culture and food and also noted Templer's "lifelong obsession with the literature and history of the continent."

Her innocuous comments about India were immediately attacked. One commenter, Alex, noted her "words feed into a colonial/imperialist mindset toward India and other non-Western countries."
Ace's discussion of the Peggy Noonan piece on "struggle sessions" similar to those during the Maoist period in China was very fitting.
If we are to follow the intricate, though fickle, rules of the SJWs, westerners (especially if they are white) must "stay in their own lane." Meanwhile, The Left is constantly working to make that lane narrower and narrower. This week, I learned that one clarion call now being used for the ongoing effort to remove most traces of Western Civilization from European universities is "decolonize the curriculum".
The campaign by left-wing student protestors and some faculty to force Western universities to "decolonize the curriculum" has been surprisingly successful. . . At its heart, the movement seeks to challenge what it characterizes as the dominance of the Western canon in the humanities and social sciences, as well as the under-representation of women and minorities in academia. It also, like many movements inspired by critical theory, maintains that a person's beliefs and worldview are largely determined by their skin color, sexual orientation and gender.
Critical Theory: What vestiges of civilization can't it destroy?
In the video below, decolonization reaches into the hard sciences in South Africa:
More from the link above the video, a piece from Quillette by Doug Stokes, a professor of international security and strategy, on re-thinking efforts to decolonize the curriculum, particularly at universities started by the British Empire:
In a bizarre turn of events, this movement now enjoys the endorsement of the British Royal Family. In February 2019, on a visit to a London University, the Duchess of Sussex, Meghan Markle, lent her weight to the movement, having had her eyes opened by a presentation about the relatively small number of Black and Minority Ethnic (BME) staff within the U.K. higher education sector. . .

The Duchess's call for British universities to "decolonize the curriculum" may well become the policy of the British Labour Party, and potentially the U.K.'s next government. . .
The Duchess has been in the news for other reasons, too. More on that later.
Like a modern-day secular religion, the decolonize movement emerges from a deeper strain within modern identity politics and Western culture: one of endless self-flagellation for sins that ultimately can never be atoned for and makes the West the font of all evil. . . .
He reminds us that in today's world, we still have things like chattel slavery to worry about. Outside the West.
This leads to my final point. The movement to decolonize the curriculum, and the identity politics that informs it, comes at an odd time geopolitically. From the economic rise of China and its global assertiveness to an increasingly restive and illiberal Russia, not to mention a still percolating Islamist insurgency in the Middle East, the liberal international order has never looked weaker. Although Western-created, this order, knitted together by a range of global institutions, has provided the context for worldwide economic development and the stunning rise of a new global middle class, mainly located in the developing world. . . .
Alongside this economic power comes military power, with China now expanding globally, not least in Africa, while asserting its military dominance regionally. Much like the decolonize movement, these states and their leaders all share a deep sense of grievance against the West, based on their understanding of modern history. These grievances run from China's desire to resume its natural place as a great power and correct the wrongs of British imperialism, Russia's interest in reversing the humiliation of the post-Cold War settlement imposed on it by the West, and the Islamists wishing to strike back against the West and forge a new global caliphate
So, they are the victims, right? Should we just allow them to become the new colonizers?
If we accept that one of the prerequisites for the rise of these anti-Western states and movements is a degree of confidence and civilizational purpose, or what we might call a "telos," what does the West now offer to counter these highly illiberal, often authoritarian and in some cases actively genocidal states and social forces? What is the social glue that holds us together with a common purpose to defend our shared institutional order, and upon which our rights and freedoms (all highly fragile and historically contingent) now rest?
You may want to read the whole thing. Of course, Stokes is not the first person to suggest that the West has lost its sense of confidence and civilizational purpose. Mark Steyn comes to mind. So does Dennis Prager, who makes the distinction between the Western Civilization of America and that of Europe.
Here is the closing of a statement concerning the militant French decolonial movement, from a translation re-published by Quillette:
The situation is alarming. The intellectual pluralism that advocates of "decolonialism" seek to neutralize is an essential condition for the proper functioning of our democracy. Moreover, the spread of this ideology in France's universities has come at the price of renouncing the centuries-old requirement of quality that earned them their prestige.

We call on public authorities, heads of cultural, academic, scientific, and research institutions, but also the judiciary, to pull themselves together. The basic criteria of science must be respected. Robust debate must be allowed to take place. The institutions for which they are responsible must no longer be used against the Republic. It is up to each and every one of them to ensure that this destructive misuse of the values of freedom, equality, and fraternity that underpin our democracy is stopped once and for all.
1968 keeps coming up in these discussions
More from Doug Stokes' piece:
I would suggest that the desire among the progressive professoriat to neuter the West, to reduce its power, to deconstruct its narratives, to challenge its philosophy and overthrow its institutional order, is an impulse rooted in an earlier and more geopolitically stable time when less was at stake. The West's long post-war boom, which helped fund the welfare state and universities throughout Europe, provided the post-1968 generation of left-wing intellectuals (the architects of today's Social Justice movements) with a false sense of security. . .

Be careful what you wish for, Meghan Markle. If the statues begin to fall, they may well fall on you.
British Royalty
Why do we keep hearing about British royalty, anyway? From a piece by Sgt. Mom:
It seems that Ruling Class lackey and unfunny comedian Bill Maher has unburdened himself of a particularly snide monologue this week just past, outlining what he sees as the difference between the residents of blue and red states - to the denigration of the red states, of course. . . There was also another laugh line, about how we all in flyover country were living in a state of frustrated envy, because the Blues are the British Royal Family, and the Red Staters are Meghan Markle's dad.
There has also been some news recently that Meghan Markle and her husband intend to raise their child in a gender-neutral fashion. Though the extent to which this is true is under question. Still, she seems to be rather captivated by The Left. And as suggested above, while her smile is charming, her support of the left is undermining the British Royalty which is allowing her to make glamorous trips and spend a whole lot of money on fancy clothes and home remodeling.
That is the model Bill Maher admires. The sophisticated, ultimately self-destructive European model.
Does this sound like "The Classics"?
Of course, we are not free from curriculum wars here. From a post by Neo about developments closer to home:
Consider the fate of Eidolon, an online journal that was started in 2015 to demonstrate the relevance of classics to modern life. It wasn't long before Donna Zuckerberg, the sister of the personal data magus and surveillance guru Mark Zuckerberg, engineered a palace coup and declared that henceforth Eidolon would "err on the progressive side," dedicating itself to "the spirit of bringing politics into Classics." Because, you know, the humanities have not been sufficiently tainted by signing up for every trendy progressive cliche going. From now on, Zuckerberg said, Eidolon would forgo objectivity--"often nothing more than a cover for upholding the status quo, and to hell with the status quo"--in its quest to become "a progressive, feminist publication with a commitment to social justice." And how was this goal to be achieved?

Well, this year, Zuckerberg noted, the magazine would aim to make sure that "at least [at least] 70 percent of our contributors be women and 20 percent of our writers be poc," i.e., "people of color," i.e., not white. (But isn't race merely a "social construction"? No, silly, that was last year.) And just how are those percentages going to be achieved? Well, going forward, Eidolon will ask people pitching stories for "demographics," i.e., are you black or white? Male or female? "I have no interest," Zuckerberg sermonized, "in providing bland and false reassurances that we only care about good ideas and good writing and not who our authors are." Who would doubt it? And what about merit? "[A]ppeals to merit," she said, are "often . . . white supremacist dog-whistles." So: "If you're white and we publish you, you will know, for maybe the first time in your career, that it was because of the merit of your idea and not because you're white."
So, this is how the SJWs make the classics relevant to modern life . . .
If you want to study something related to Western Civilization, you might want to look into Hillsdale College's online courses.
Compare to the curriculum at your local university. Or at one where your kid would like to go.
How do the curriculum offerings lead to a degree of confidence and civilizational purpose, or what we might call a "telos"?
Hope you have a great weekend.
Once again, this is the Thread before the Gardening Thread.
Serving your mid-day open thread needs

posted by Open Blogger at
11:17 AM
|
Access Comments