« Soyboy Beta Cuck Screams Like an Infant at Someone Wearing a Trump T-Shirt in a Vape Store
|
Main
|
Gun Thread: I Can't Hear You!! [Weasel] »
December 30, 2018
Food Thread: Egg Pie, And Other Things To Do With Leftover Pie Crust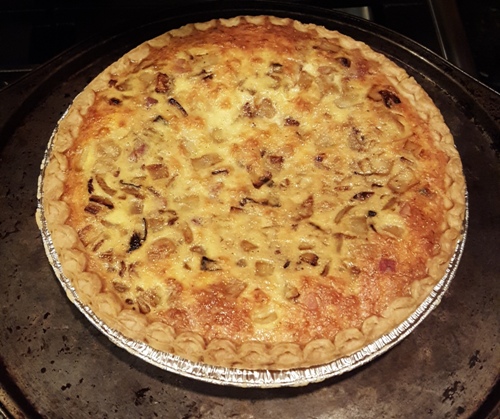 Before you pie purists eviscerate me and sling my guts over the telephone wires...that two-pack of pie crusts was purchased before Thanksgiving for a pumpkin pie, which deserves nothing more than a mass-produced, ersatz pie crust. My meager pie-crust making abilities were reserved for the chocolate-pecan pie, which was a marvel of on-the-fly baking, and damned good to boot!
I am reasonably competent in the kitchen, but my skills do not include rolling pie crust out to anything remotely round or of even thickness. On the other hand, when I trim the crust I have lots of dough left over to patch the holes, so it really does work out in the end.
Anyway, egg pie is a really easy way of using up extra crusts that would otherwise remain in the freezer until crushed beyond recognition by the many things that seem to get shoved in there when I am not looking. The catalyst was a dozen fresh eggs that I had just bought from the local poultry farm, and the thick slab of pancetta left over from the big pot of minestrone soup I made recently. Oh yeah, there was some Swiss cheese that I used for grilled cheese. It was domestic, and not particularly good (why can't we make good Swiss cheese...we make all sorts of other wonderful cheeses?), so why not cook with it!
And onions. Always use onions!
And anything else you might have in the refrigerator. Egg pie (some call it "quiche," but that is an affectation) is a great and easy way to use up some leftover vegetables or sausage or bacon or pretty much anything.
I used three jumbo eggs and a bit less than one cup of half & half. A teaspoon of salt, some nutmeg, cracked pepper, sauteed onions, grated Swiss cheese and a few ounces of pancetta that I chopped and rendered. Whip it all up and pour it into the pie shell. Bake at 375 degrees for 30-40 minutes, until it is just firm in the middle, and you are done. This is easy cooking! Try it....you won't be disappointed.
******
Okay. I lied. I can't think of anything else to make with an extra pie crust.
******
I might have mentioned this guy's NYC restaurant a few months (years?) ago. Jonathan Waxman can cook, and here is one of his signature dishes. I like his comfortable and relaxed tone, and while he is obviously not a technical wizard, he seems to know what he is doing.
How do those potatoes look? believe it or not, they taste even better than they look.

******
I tried this recipe a few days ago, and it was pretty easy, and pretty good.
Fondant Potatoes
I am going to try it again today, but this time I am going to cut the potatoes into shorter pieces so there is more crunchy surface area in each bite. And don't be stingy with the butter!
******
If you can tolerate the hipster aesthetic and the pomposity and the narcissism, you will arrive at a fun idea: shots of cocktails.
Skip the Negroni, Order a Fancy Shot Instead
. Obviously no bartender is going to make them fresh for each shot, but there are drinks that can handle being made ahead of time. I would enjoy a flight of cocktail shots made by a good bartender who wants to show his range. That would be interesting, and certainly a great way to decide what one wants to drink that evening, or morning.
******
I waded through this mass of bullshit and new Age dietary voodoo and SJWs hiding out in restaurant kitchens and food posturing and culinary virtue-signalling. Because someone had to. Well, the real reason is that the baker in the first photo is sort of cute. But I came across one that I just loved, and surprise! It's from a chef in New Orleans...one of the cities that knows how to enjoy food and drink.
New Year's Reset: 49 Chefs Share Their Best Food Tips and Rituals for a Fresh Start
11. Luxuriate in breakfast: "I reset for the new year by still continuing the celebration, normally with a fancy breakfast like soft scrambled eggs with brioche and caviar. I add cream salt and pepper to the eggs, cook on low heat with butter, my grandmother taught me to use a wooden spoon and never stop stirring. I add a little crème fraîche at the end and top with caviar and chives. A little Champagne never hurt either both while cooking and eating!"
******
Many of you folks send me links and notes and interesting cooking stuff. I appreciate all of it, and get a huge kick out of some of the weird stuff that people find on the internet or in their own kitchens. Sometimes I use the stuff in a Food Thread, and sometimes not, but please keep sending me stuff!
Happy New Year to all of you....may your souflles never fall and your French Toast be salted and buttered to perfection!
Cheers!
CBD

******
Food and cooking tips, Haggis, young wild pigs, Scotch Eggs, thick and fluffy pita and good tomatoes that aren't square, pale pink and covered with Mestizo E.coli:
cbd dot aoshq at gmail dot com
. Any advocacy of French Toast with syrup will result in disciplinary action up to and including being
nuked from orbit.
&topic=world_news">

posted by CBD at
04:53 PM
|
Access Comments