« Food Thread: Egg Pie, And Other Things To Do With Leftover Pie Crust
|
Main
|
Sunday Overnight Open Thread (12/30/18) »
December 30, 2018
Gun Thread: I Can't Hear You!! [Weasel]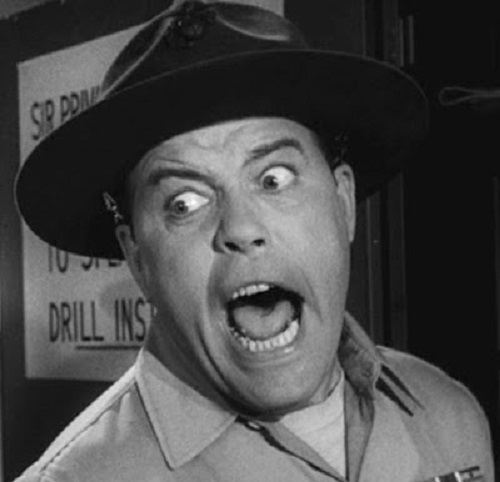 Shoulda' worn ear protection, Sarge!!
One thing we haven't talked about much is hearing protection while shooting. Actually, I'm not sure we've ever actually talked about hearing protection while shooting. So Gun Thread Staff did some research and ho-lee-krap is there ever a lot of scientific shit written on sound and noise and loudness and shooting. I mean there is a very serious amount of stuff on sound and how it works with most of it involving funny little squiggles and symbols in math equations. So I took one for the team and jumped right in to distill the topic to a few key points.
Summary of Key Points:
a) Guns are very loud and shooting them without ear protection can quickly mess up your hearing.
2) Use hearing protection and you won't mess up your hearing too badly.
Sound Pressure and Loudness
There are a number of ways to measure energy, and one such measure for sound is the decibel (dB), which is equal to 1/10th of one bel. The decibel can express the ratio of one value to another, or a change in values, on a logarithmic scale, and can also be referenced as an absolute value. Electrical signals can be measured in decibels, but that's a topic best left for bluebell's electrical engineering course. Anyhow, it's complicated, but I think I have this right; a 3 dB increase is a doubling in sound energy or intensity, while each 10 dB gain is a doubling of perceived loudness. This concludes my effort to understand these matters, but suffice it to say you really need to protect your hearing. Sound at 140 dB can instantly cause permanent damage to your hearing, and a .357 Magnum weighs in at nearly 170 dB. Indoor use can magnify the effect, while outdoor use allows the sound to dissipate with distance.



Loudness Perception, Sound Pressure and Intensity by Decibel Gain
Here's a nifty list of the decibel value of various gunshots by weapon and caliber. Remember, a gain of 10 decibels is a doubling in loudness.

The Basics
There are generally two types of hearing protection for shooters; the over-the-ear style, used for high frequency noise, and the plug type for low frequency noise. I'm not certain my ears are sophisticated enough to know the difference between high and low frequencies, however, most shooters have both types.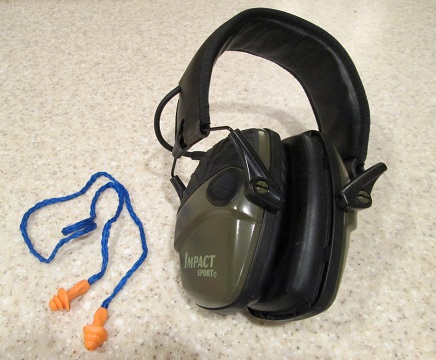 I prefer the over-the-ear, or ear muff type when I am shooting indoors, and usually the plug type when I'm shooting outdoors. Some shooters use both types at the same time for added protection (NOTE: Plugs go in first). Personally, I'm not a fan of the ear muff style when shooting rifles, as my cheek weld on the stock has a tendency to cause the pad to lift up, making them ineffective for that ear. They also make my ears hot, and who likes hot ears? At one time, for some reason, I invested in much more expensive custom fit plugs, but didn't care for them because I couldn't hear anything while I had them in. Absolutely no sound came through, including range commands, which is a bad thing if someone is screaming "cease fire!" I also cannot find them now to include in the picture which is more than slightly irritating. Anyhow, I have found the inexpensive and disposable plugs on a string work just fine (for me) outdoors to keep the sound of a gunshot manageable, while allowing other normal sounds to pass through well enough to understand. Some offerings in both styles contain electronics to 'cancel' the sound of a gunshot, and some can be pricey. I have a pair of earmuffs that incorporate this feature, but I'm not sure I can tell when they're turned on or off, so I'm probably not realizing their full design potential. Maybe time to check the batteries?
Decisions, Decisions...
Faced with a tremendous variety of sizes, shapes and styles, how do you make a selection? Well comfort and functionality as described above certainly play a big part, but hearing protection also comes with a rating for the degree of protection offered. This is the Noise Reduction Rating, or NRR, and the greater the number, the greater the protection. To receive an NRR, the product must be tested and approved by ANSI as prescribed by OSHA standards, with ratings varying from the low 20s to the mid 30s in terms of relative noise reduction in decibels. I say 'relative' because there is a formula used to express the NRR in terms of decibel reduction. Suffice it to say, the higher the number, the better.
Here is a supplier's webpage that explains the various factors, and allows you to sort hearing protection by style, manufacturer, and NRR. You will note there are models with the highest ratings that are very affordable, so a high degree of protection doesn't need to cost a fortune.
Have you damaged your hearing by shooting without ear protection?
Have you damaged your hearing even while wearing ear protection?
Which style of ear protection do you use and why?
Any significant preference for a particular brand?
What has your experience been with the elecronic type of ear protection?
*******
I would like to take this opportunity to thank CBD and Ace for allowing me to write this thread each week, and more importantly to thank all of you for stopping by, contributing, and keeping it interesting. Wishing you all a Happy New Year and a Very Happy and Prosperous 2019!
*******
Link-O-Rama
Hearing Protection for Shooters: A Much Better Article than I've Written Above
What is a decibel?
Hearing Loss in Shooters
Firearm Noise Exposure
Asymmetric Hearing Loss
More Noise Education
Not All Learning is Good learning - More than you want to know. More than you need to know.
Sengpielaudio Technical Website
Fiziks - MATH WARNING!
Article: Measuring Sound
Article: The Decibel Scale
Sound and the Decibel Scale
*******
***This Old Gun/Mail Bag***
This week's Old Gun comes to us from boating enthusiast and mostly lurker JR, who sends us this photo of a pristine Browning Hi-Power.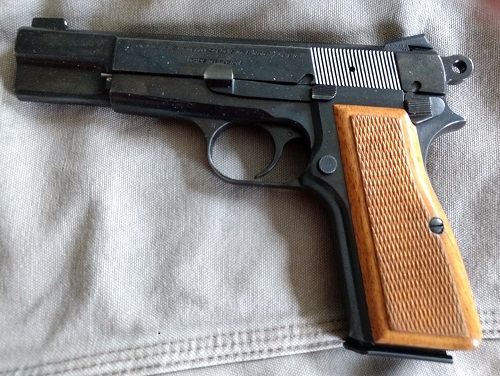 Browning Hi-Power
Captain JR tells us:

Attached is a pic of my recently lost-at-Sea Browning Hi-Power. It was a Belgian made, early Mk I, T-series serial number, with a replacement front sight. My eyes give me the choice of seeing target or sights, not both so it is probably capable of better accuracy than I can achieve. But, it's a battle weapon, not a target gun. It ate everything I fed it, with very few FTFs or FTEs. My adult daughters both shot it well and they are tiny ladies. My son called dibs when I ride on ahead, too bad it was lost at sea!
Thank you for sending this in Cap'n'! It was a beauty!!
*******
***This Old Cookbook***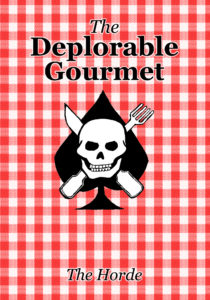 OK you clowns - buy a copy of the cookbook. If you already have one for your own bad self, then give one as a gift this season. Remember; it's only pennies per day, all proceeds go to charity, and if you don't buy a copy then bluebell will be sad.
And you wouldn't like bluebell when she's sad.
Yes! I want to be a WeaselWarrior and prevent sadness in bluebell!!
*************
IMPORTANT!
Finally Don't forget to mark your calendars for the NoVaMoMe on February 9, 2019. If you are interested, please email the organizers! There is also a link in the main page left sidebar.
*************
Please note the new and improved gmail account MoronGunThread for sending in stories and pictures. Again, that's morongunthread at gmail dot com. If you have a question you would like to ask Gun Thread Staff offline, just send us a note and we'll do our best to answer. If you care to share the story of your favorite firearm, send a picture with your nic and tell us what you sadly lost in the tragic canoe accident. If you would like to remain completely anonymous, just say so. Lurkers are welcome!
That's it for this week - have you been to the range?

posted by Open Blogger at
07:31 PM
|
Access Comments