« Thread before the Gardening Thread, December 29 [KT]
|
Main
|
Ace of Spades Pet Thread »
December 29, 2018
Saturday Gardening Thread after Christmas [KT]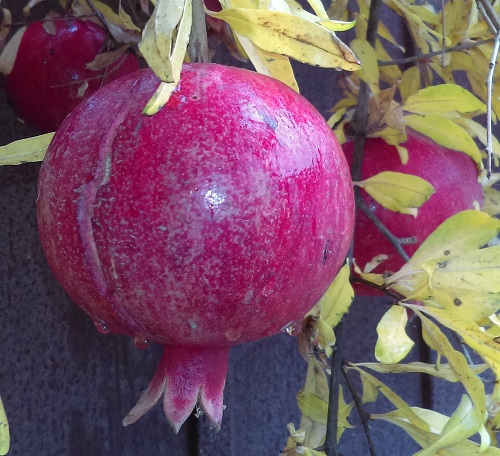 The Last Fruits of the Year
Hello, gardeners and garden admirers! It's kind of a hard season for gardens right now, but we have some unusual and interesting content today. Including some from an area where this is pretty much the prime growing season.
The pomegranate photo above was taken just as our fall rains started, at the home of a recently deceased friend. I think the pomegranate variety is the old standard 'Wonderful', which can develop bright yellow foliage in autumn. This is how it looked a couple of days earlier: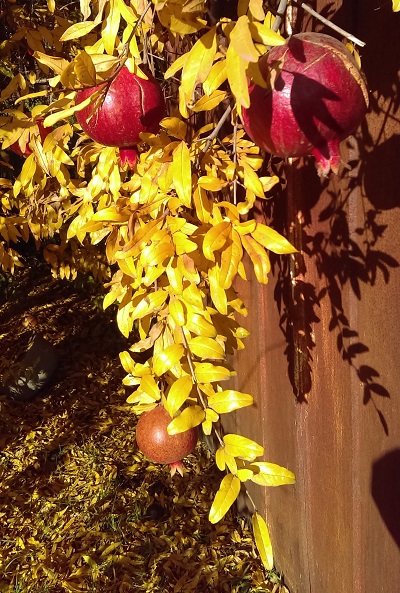 Dave Wilson has a nice Pomegranate selection. Some of the newer selections have softer seeds than Wonderful. And I had never hear of A.C. Sweet, said to be hardy at temperatures below zero (USDA hardiness Zones 6 - 10). The California Rare Fruit Growers lists additional varieties.
We live just outside California's citrus belt, so pomegranates are our latest-ripening fruit. Pomegranates also hold quite well in cool storage, so I picked another big bagful last night before our first hard freeze. The fruits that were allowed to hang on the tree into December have been delicious. It's risky to let them hang that long, though. Sometimes they split, and sometimes the weather ruins them.
Around here and in the desert, the main pest of pomegranates is the leaffooted plant bug, AKA the leaf-footed bug. Who would give an insect a name like THAT?
I like this description of adult and nymph leaffooted plant bugs from a gardener in Las Vegas:
We have a big pomegranate tree that has been doing great for a few years. Last year we had an infestation of nasty, prehistoric looking large gray bugs with really big thighs and smaller red ones that look like a cross between a carpenter ant and a mosquito.
The Galveston County Master Gardeners supply a photo pf the nymphs. I think they do kind of resemble a cross between an ant and a mosquito. Weird for a beetle: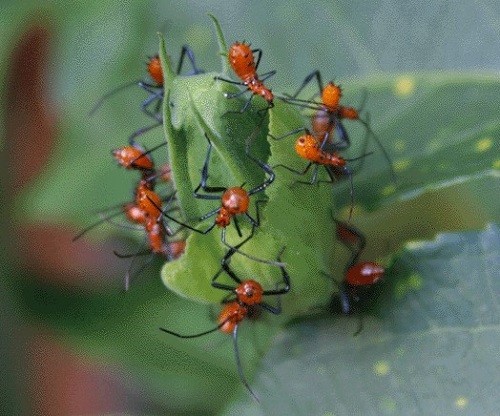 The leaf-footed bug in the nymph stage will tightly cluster as a family group to feed on a variety of plants including passionvine (shown above), pecans, ornamentals, citrus, as well as tomatoes.
Sounds like they can be a problem on tomatoes in Texas, too.
Hank Curmudgeon found management strategies. They still remind me of those nasty squash bugs, even though they move from crop to crop.
Here's a photo of an adult on one of our pomegranates in 2014. Don't you think it sorta looks like a skinny squash bug with big legs?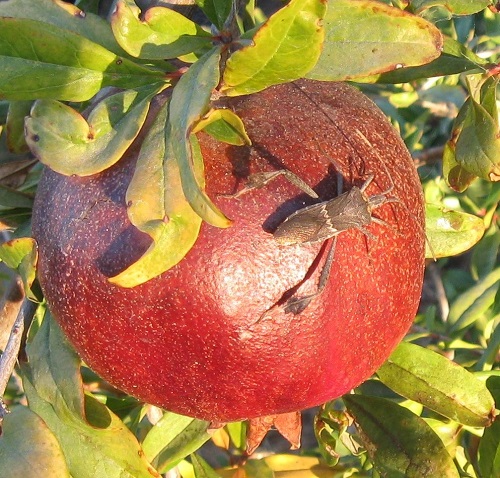 Leaffooted plant bugs are a frequent and highly damaging pest of pomegranate. Adult leaffooted plant bugs are large insects, 0.75 to 1 inch (19-25 mm) in length. The three leaffooted bug species are similar in appearance; they are brown in color with a narrow white zigzag band across the back,. . . The head appears pointed and the hind legs have an expanded area that superficially resembles a leaf, hence its name.

Leaffooted plant bugs overwinter as adults, typically in large groups in citrus orchards, or in protected areas, such as in woodpiles, barns, and under the bark of eucalyptus, cypress, or juniper trees. In pomegranate, leaffooted bugs feed on the fruit in the fall and may remain in the orchard through the winter. Pomegranate orchards with cracked fruit left on the trees are a favored overwintering site where they may cluster in plant debris, pump houses, or cracks along the tree trunk.
Guess it's time for some control measures, though I didn't see a lot of them this year. Need to get rid of their hiding places before bloom time. Pomegranate blossoms are also striking in spring. The blooms on 'Wonderful' are orange-red and large. These are the blossoms of the pomegranate variety 'Fleishman. from the Callifornia Rare Fruit Growers'. The fruits have pink skin and flesh.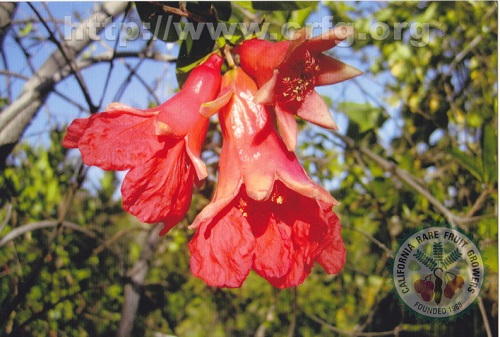 A fruit that makes me think of New Years Eve
Wee Kreek Farm Girl has reported in from Arizona with some fine information and photos from her garden. Some I am saving for next week, but I thought that I should post her information about the Australian Finger Lime before New Years Eve. I'm just amazed that this fruit has been around for so long and people didn't know about it.
I read about it somewhere and it was described as lime caviar. Here is a blurb about it from Wikipedia

The finger lime has been recently popularised as a gourmet bushfood. The globular juice vesicles (also known as pearls) have been likened to a "lime caviar", which can be used as a garnish or added to various recipes. The fresh vesicles have the effect of a burst of effervescent tangy flavour as they are chewed. The fruit juice is acidic and similar to that of a lime. Marmalade and pickles are also made from finger lime. The finger lime peel can be dried and used as a flavouring spice
It appears that they are growing a mixture of fruits from the wild and early hybrids. Finger limes are currently more available in Australia, where they are native and still under development. Varieties in various shades of pink and green have been developed, with skin colors including red and blue-green.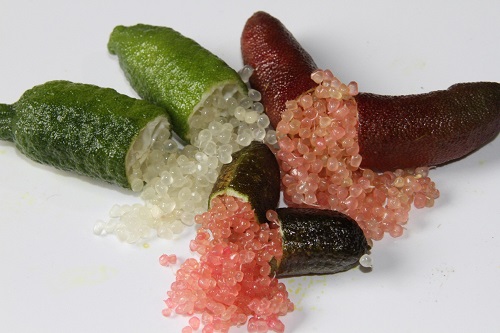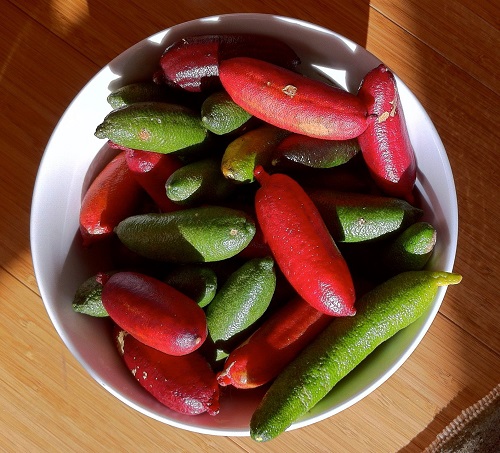 Well after reading that I just had to have one. I think it has about 16 finger limes on it and it is the first year I have had it.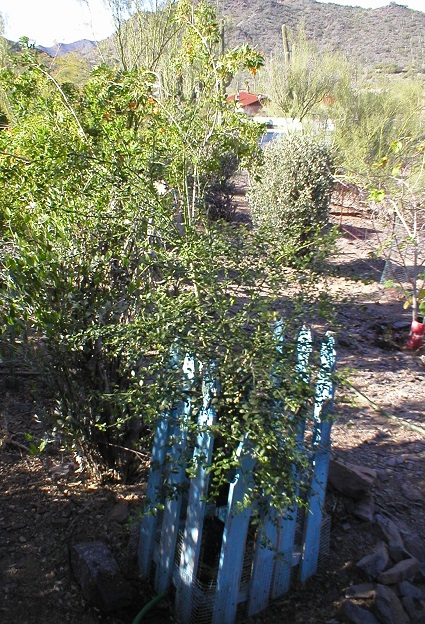 Sounds like they are thorny, but her plant still gets some protection.
I have harvested two finger limes already.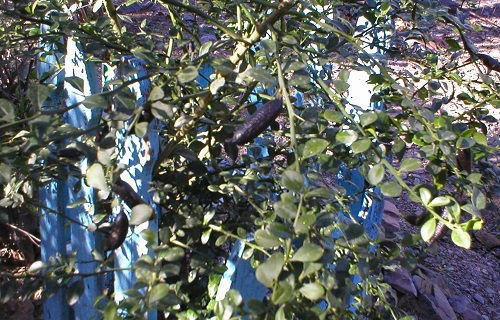 Those fruits have dark skin. The leaves don't look a lot like typical citrus leaves.
You can break it in half and squeeze the base and the little balls of lime come out. The first one I had I ate straight, in the morning before coffee. It was delicious but bracing. The second one I put into a bowl of Tom Yum Gai that I made and it was amazing. As you chewed it had little bursts of lime in the hot soup like fresh lime pop rocks. I can't wait to find all the ways to use it.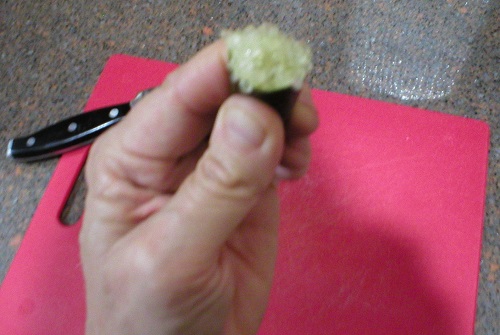 So fun, Wee Kreek Farm Girl! Thanks.
Photos for those whose gardens froze
Dr_No has been thinking about members of The Horde in the frozen North:
Found this little pictorial remembrance of warmer times tucked away in the files. Thought it might bring back memories of less wintry days for those Horders (see? I made a homonym!) in chillier climes this time of year. Been a bit o' the old 'Otherwise Occupado' since upgrading my OS. . . If there were a theme song to describe the sheer unadulterated joy for the past two weeks of upgrading an Operating System, it would be Crystal Gayle's 'Ready For The Times To Get Better' ... enjoy .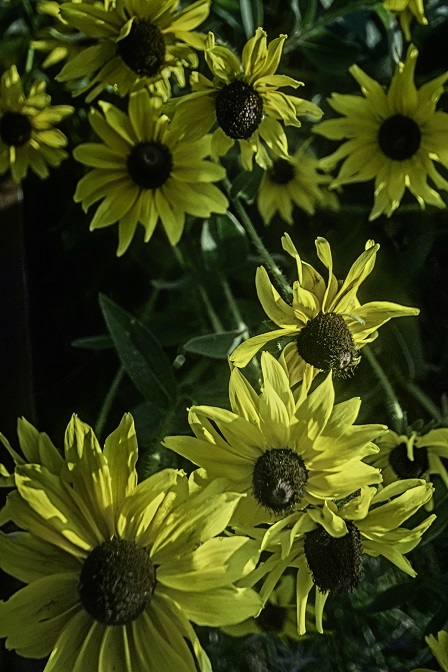 Thanks for thinking of us during the frustrating OS struggle, and for the beautiful photo, Dr_No. And may times get better for you and your operating systen in the New Year. I expect that many gardeners and garden admirers in The Horde are also ready for the times to get better . . . .
Found the music.
Incidentally, this is the kind of thing Dr_No sometimes does when his OS is cooperating:
As I was going thru some images that need just a 'little bit more' work, I came across this mini-pumpkin from 2017. It was one of the displays Farmers Market presents along with their annual 1,000+ pound pumpkins. This one was tucked in a bin of similarly-sized mini-pumps off to the side of the main display area. They're always for sale, too - I think ones this size were selling then for maybe fifty cents each. Too far back to remember. It was an interesting display that was transformable into something it never was and never will be - which made it a natural for subject matter. Enjoy ...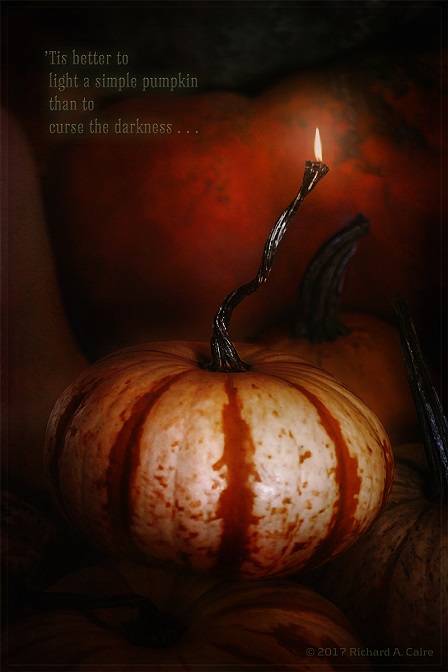 Art from the farm for a cold season!
Winter limits options in the garden, but some people make the best of it. Sometimes this is when you notice what is under the plants the rest of the year.
Hardscaping
Better Homes & Gardens has put up 10 winter garden delights. There is a lot of emphasis on non-plant elements of the garden. As well as leftover plants that might shelter birds, berries to feed birds and such. Though it is hard to say where they would get water if you do this to their birdbaths in winter. Still, if you don't have a heater to keep water un-frozen, this is cheery: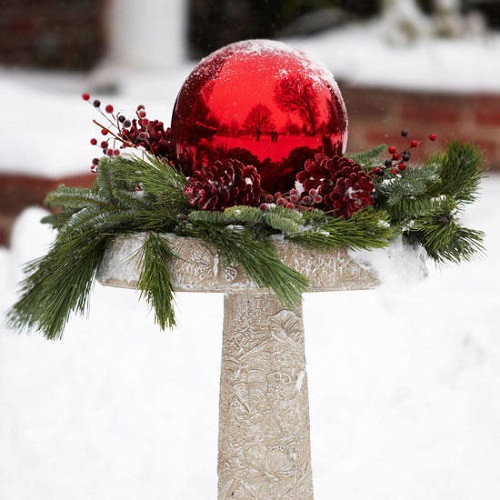 The Invisible Hand sent in an example of some small-scale hardscaping. Many members of The Horde have fond feelings for his dogs, Kaz and Darla. They enjoy their time in the garden. Recognize them in this indoor setting?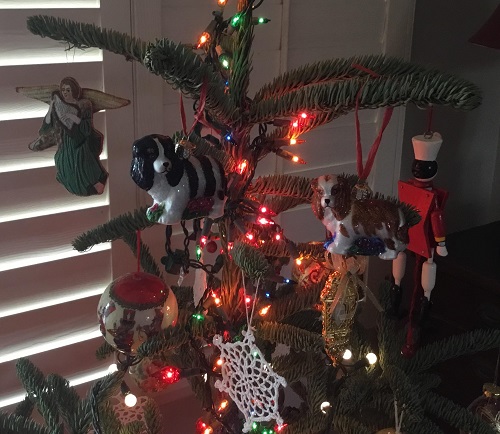 Gardens of The Horde
Anything going on in your yard or garden? Got plans? Seen any new, interesting varieties?
Have a nice weekend. Take some time to look around outdoors if you get a chance. Remember that for some people it's already time to start seeds for spring planting.
If you would like to send information and/or photos for the Saturday Gardening Thread, the address is:
ktinthegarden
at g mail dot com
Include your nic unless you want to remain a lurker.

posted by Open Blogger at
12:39 PM
|
Access Comments