« Thread before the Gardening Thread, December 22 [KT]
|
Main
|
Ace of Spades Pet Thread »
December 22, 2018
Saturday Gardening Thread: It's Officially Winter [KT]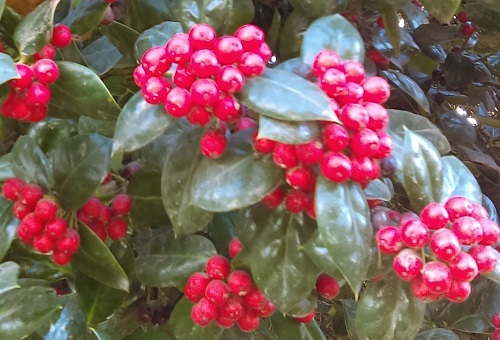 Tree Holly berries from our friend's house
Fall to Winter Photos
Looks like some critters are expecting Christmas treats at Illiniwek's farm this year. Some henweighs recently ventured into his yard. Exotic. To me, anyway.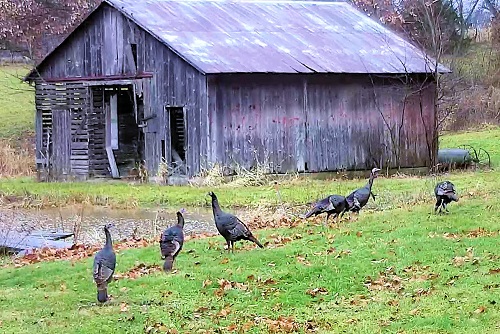 as God is my witness, I thought turkeys could fly ..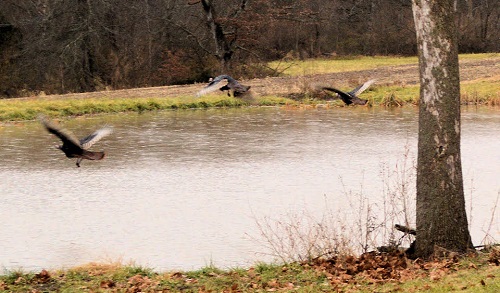 Earler this year, he saw a turkey hen with several chicks, maybe a foot high, so it's possible that the ones above are some of them.
Just noticed this trail cam pic from a month ago or so ... they seem to have more color, and that feather "beard", maybe older males.

Could just be different light and different camera, but that back lighter colored area maybe opens up for their mating display.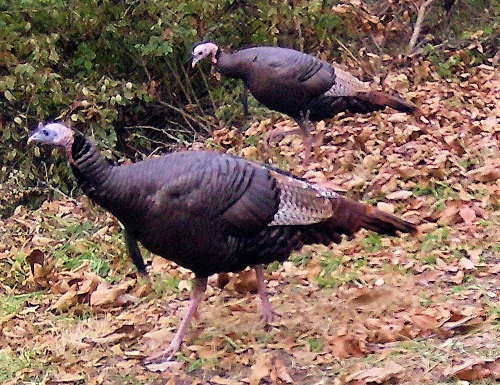 Illiniwek has planted some treats for visiting deer, or other wildlife. He sent in some photos (before yesterday, when winter started):
Feels like we already had winter here, with several record setting cold nights.

The turnips with fall leaves make an interesting mosaic.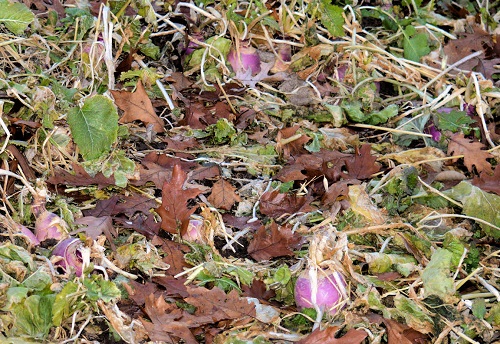 Can you still see the turnips here? Illiniwek may be seeing some slightly out-of-area deer on this hilltop come Christmas Eve.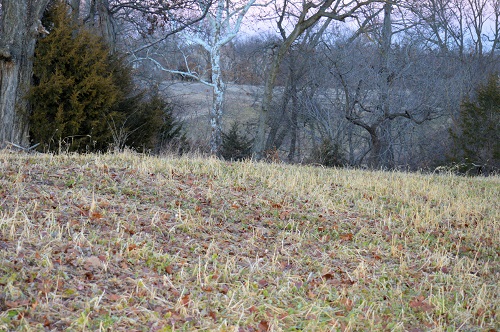 Anybody else plant something for wildlife? Big critters? Birds? Butterflies? Will you be putting out treats for birds in your yard this winter?
We didn't get a lot of fall foliage photos this year, but Illiniwek found this one for us: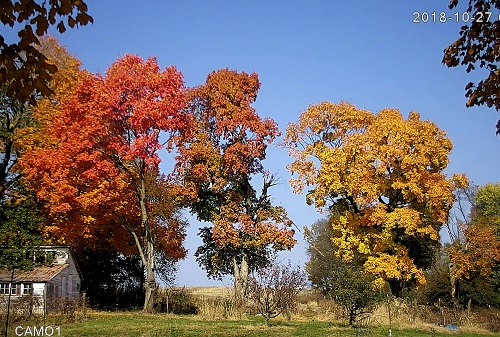 My cousin took this photo last week, in bare feet, from his patio. No, that's not his personal back yard. It IS the view from his back yard.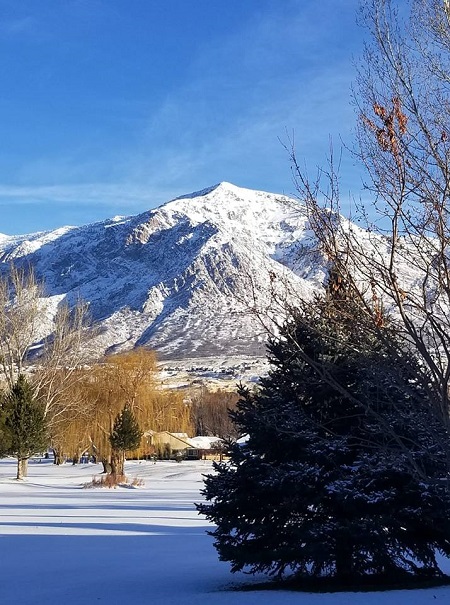 Those leafless deciduous trees still have some color. Especially next to evergreens.
I missed the maple photos that Don in Kansas took last month.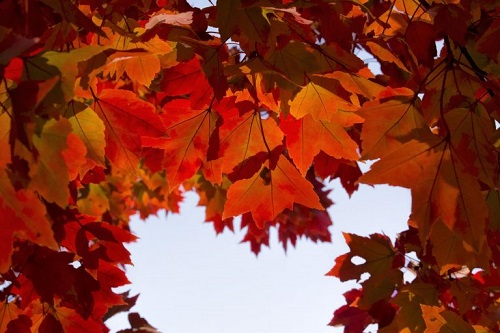 As he noted a few days later, it's winter now.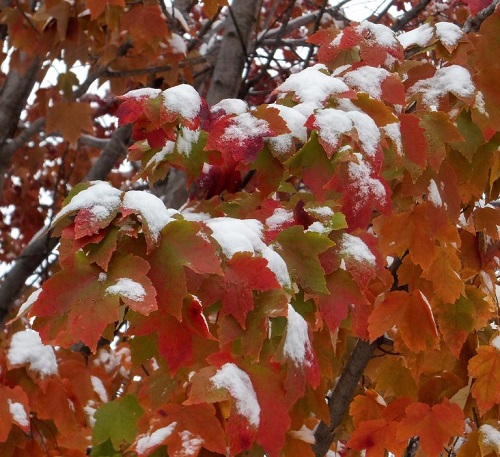 Plant Mystery Challenge
Long-time lurker, first-time participant Mongo has a request for plant identification:
I wonder if you or one of the horde can help me identify this plant. Someone told me it's a "friendship" Plant, but if you search for that what you get looks nothing like this.

My mom gave me the parent of this plant years ago. The first time a branch got out of control I cut it off and stuck it in water. Two weeks later it had a nice start of roots, so I stuck it in dirt. It grew like a weed. I now have about a dozen of them in different stages of growth.

I appreciate your help.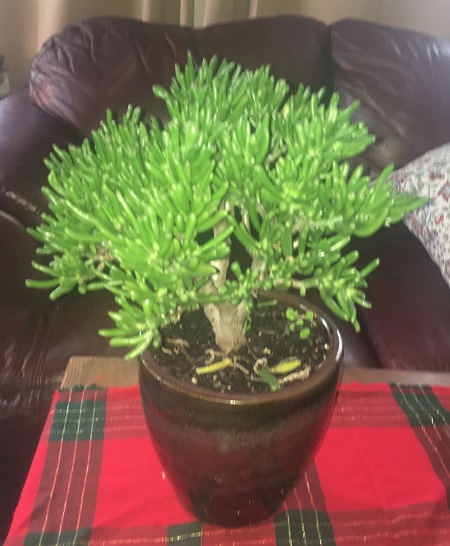 Nice plant. Here are some more clues:
From April to October, it sits outside where it gets lots of afternoon sun. From October through Mach we bring it inside and put it in a southwest facing window, where it gets whatever sun there is. We haven't tried putting it away from the window.

The "leaves" are not really juicy. The branches are moist but not really juicy. One interesting thing is that whenever a branch needs to be pruned, I just cut it off and put it in water for a couple weeks, it grows roots, and I stick it in dirt. I must have a dozen right now in various stages of development.
Mongo's Christmas presents are ready to go. Can you help him tell people what he is giving them?
Christmas, Gardens and Farms
Golfman didn't get around to reading the Gardening thread until late last weekend, but he sent in the following surprisingly fascinating video. You would want to keep the kids and pets away while doing this kind of tree shearing. Do we appreciate all the work that goes into those trees?
An example of the two knife side-shearing method for Christmas trees. The specie is Grand FIr in Snohomish Washington. The knives are long handled Brush-King.
And here's a competent youngster demonstrating the sword and the scissors method. On a hill. Creating the perfect tip for that top-of-the-tree ornament.
Do you prune evergreens to Christmas tree shape in your yard?
We have some Longwood Gardens fans in The Horde. This year, their theme is re-imagining Christmas trees. Here are nine things not to miss at Longwood. Below, 17 suspended trees.
That's one way to make them cat-proof.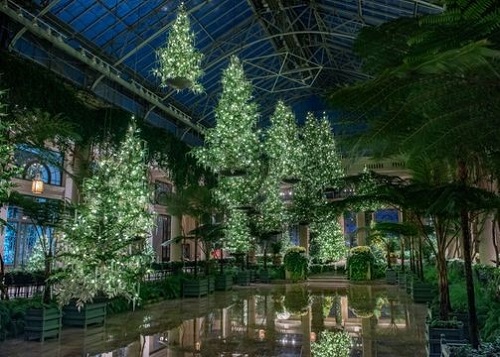 They are also featuring a Tumbleweed Tree. Not so exotic if you live in the Southwest.
Winter Gardening
I found a too-true take gardening after the winter solstice:
BRIGHTON, ENGLAND - DECEMBER 21: People carry lanterns at the Burning The Clocks Festival on December 21, 2011 in Brighton, England. The annual celebration is enjoyed by thousands of people who carry paper lanterns through the streets of Brighton culminating on Brighton Beach where the lanterns are burnt and the Winter Solstice is marked.
A tradition since 1993. Last night. So now we can turn our attention to gardening.
As gardeners, the short days of Winter cause us to look forward to the Spring planting season. One way we while away the short days until Spring is to peruse new seed and plant catalogs coming in the mail. As the days slowly lengthen, all seems possible in the upcoming growing season.

The problem with those colorful photographs and glowing descriptions is, of course, that we order much more than we can fit in our garden space or than we have time to tend.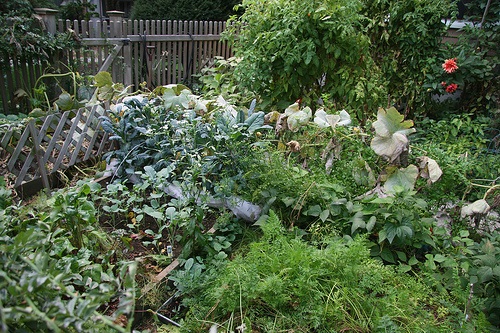 overgrown garden
Pinetree is offering Sea kale seeds for the first time this year. I bought seeds years ago and gave them to my sister-in-law, who grew the plant as an ornamental. Don't think she ever ate it. Probably native around Brighton, England. Wonder if they eat it there?
There are also some seasonal tips for southern and western gardeners at the link. Here in the Central Valley of California, it's already time to start tomatoes indoors! Next week! And slow-growing herbs and perennials, too.
Elsewhere, people can think about wintersowing. There are also books about winter gardening. And Hank Curmudgeon reminds us that winter is also a good time to take stock of last season's garden and plan next year's garden. A garden is way more fun if it is planned to fit your needs and capabilities.
He also sent two links on DIY Greenhouses.
The first includes 10 plans, all very different from each other, for relatively cheap greenhouses. Here's a garage greenhouse.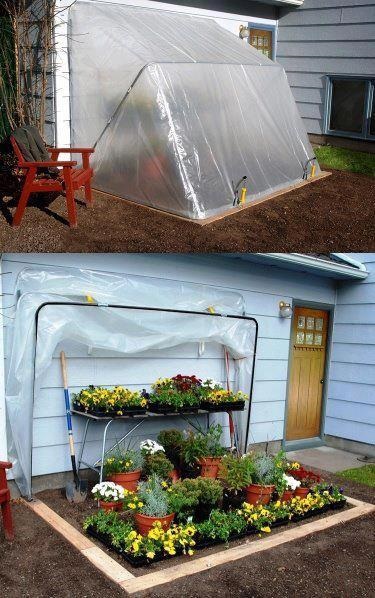 The greenhouse above would not provide a great deal of cold protection. Other designs would be more suitable to really cold climates. Hank's second link is about heating a greenhouse without electricity. Lots of ingenious ideas, and many factors to consider. Some interesting designs, too. Here's a simple design you can heat with compost: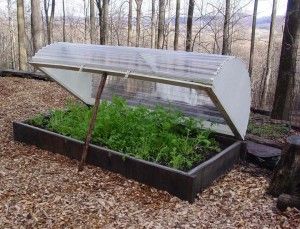 Gardens of The Horde
Let us know if you have any gardening activities going on. Or if you see something interesting.
If you would like to send information and/or photos for the Saturday Gardening Thread, the address is:
ktinthegarden
at g mail dot com
Include your nic unless you just want to be a lurker.
And remember, look up for wires when you plant a tree. Wild weather in washington State took down this one across a road. Took out some wires, missed others.
Be careful if you will be driving this week, too. Hope you have a great Dhristmas.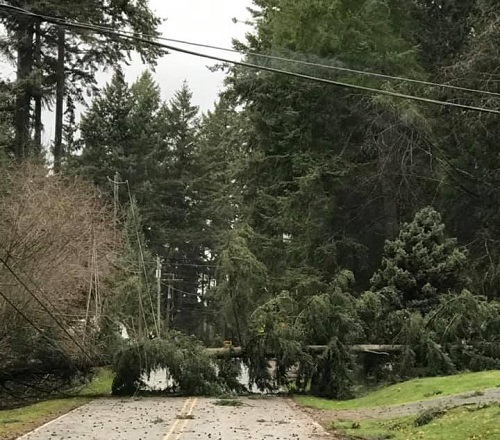 posted by Open Blogger at
12:50 PM
|
Access Comments