« Saturday Morning Coffee Break
|
Main
|
Saturday Gardening Thread: It's Officially Winter [KT] »
December 22, 2018
Thread before the Gardening Thread, December 22 [KT]
Serving your mid-day open thread needs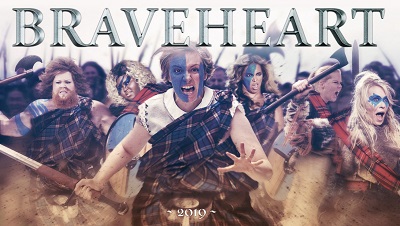 Lena Dunham leads the charge
Good morning! This week has been unusually full of news, for the week before Christmas. Anybody else feel a little perplexed? Whew.
I'm gonna do one riff off Ace's post yesterday on how Trump has turned The Anti-war Left into warhawks, then it's off to the Land of Satire for me.
Syria
Yesterday, Ace noted that "Even Rachel Maddow is now in favor of a war with no clear endpoint and zero authorization from Congress." But how did Trump's announcement that we were pulling troops out of Syria affect the general public?
Perhaps more people than were ever aware of the combat presence in Syria are outraged the US is leaving it and that is a good thing. The lack of awareness was the result of the breakdown of the national security debate and the abdication by Congress of its role in war making. The public is now like a man waking up in a strange city with a 3 week growth of beard with no memory of how he got there.
Glenn Reynolds noted that during the Obama years, war news was kept to the back pages if it was reported at all, because it sat awkwardly with that Nobel Prize.
Fernandez lays out a number of questions about our current foreign conflicts (including the topics of Afghanistan, Syrian, Yemen, Iran, and types of war other than conventional war) then writes this:
With any luck the Syria controversy will jolt the public awake and restart a debate on these issues. We must learn to re-recognize our world. One of the biggest dangers for a purposeless hegemon is getting tied down in outposts purely for legacy reasons. The MENA region probably still remembers how Lawrence of Arabia beat the Ottoman Empire. Lawrence's amazing counsel to Faisal to avoid capturing Medina is instructive even today:

"We must not take Medina. The Turk was harmless there. In prison in Egypt he would cost us food and guards. We wanted him to stay at Medina, and every other distant place, in the largest numbers. Our ideal was to keep his railway just working, but only just, with the maximum of loss and discomfort.... [His] pride in his imperial heritage would keep him in his present absurd position -- all flanks and no front."

The great danger is that someone -- there is an enemy right? -- is playing the same game on Washington's bureaucrats.
Here's The Babylon Bee's takeaway on Trump's announcement:
After Trump announced that US troops would be pulled out of Syria, the President was quickly criticized by leaders on both the left and the right for breaking with the longstanding American tradition of remaining in Middle Eastern countries indefinitely.

Trump drew ire from both sides of the aisle for his "careless and reckless" disregard for the beloved American custom of meddling overseas without a congressional declaration of war and then hanging around for another few decades.
Gender Wars
Classic historical drama film Braveheart is receiving a reboot by Paramount Pictures next year, this time with an all-female cast.

Lena Dunham will play the starring role of Willow Wallace, a "fierce Scottish she-warrior who don't need no man."

Co-stars include Melissa McCarthy, Amy Schumer, and Beyonce. The band of female fighters will go on a brave quest to topple the patriarchy in 14th-century England, attempting to establish an all-female commune in present-day Scotland.
See link under the image at the top of the post. Sounds like a blockbuster.
Meanwhile, the potential TERFs above need to make way for Titania McGrath, who is on the cutting edge of gender issues:
The word "bisexual" implies that there are only two genders.

The phrase "LGBTQIA+" is therefore transphobic.

We need to find an alternative. Fast.
Russian Collusion Probe
In a major breakthrough for the Mueller investigation, the head of the FBI's special counsel on Russian interference ordered President Trump to sit on a large golden scale in order to see if he weighs the same as a duck.

According to Robert Mueller, should Trump weigh the same as a duck, it will prove that he is made of wood, which will in turn prove that he is a witch working for the Russian government.
Glad he used an adult duck.
Music
I haven't heard too much about Russian reactions to American news this week (except for Eliot Spitzer smuggling his Russian ex-mistress into his apartment in a suitcase), so here are some Russian Songs, via Maggie's Farm. Mostly in minor keys.
Hope you have a nice weekend and a wonderful Christmas!

posted by Open Blogger at
11:22 AM
|
Access Comments