« Saturday Gardening Thread: It's Officially Winter [KT]
|
Main
|
Chess Thread 12-22-2018 »
December 22, 2018
Ace of Spades Pet Thread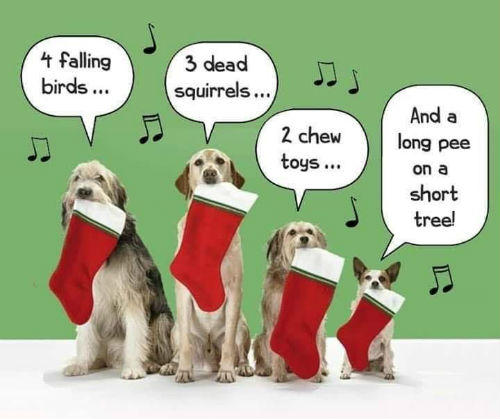 Good afternoon and welcome to the almost world famous Ace of Spades Pet Thread. It's that time of day where you should kick back and enjoy the world of animals.
From our friend and fellow Moron, Bitter Clinger and his doggeh Snickers.
***

Cute. Nighty-nite little kitteh.
***
A Little of This. A Little of That.

Squirrel and the UPS man. H/T Hank Curmudgeon
***

Do you live in coyote country? Coyote vest for your puppeh. H/T Hank Curmudgeon
***

What would happen if you "died" in front of your pet? The reaction is something else.
***
Meet The PetMorons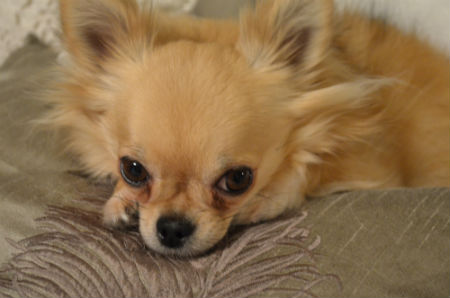 This is our senior Chihuahua, Souris (Soo - ree), which means mouse in French. She is seven and is the boss of the house. She keeps the others in line especially Levon the Terrible our naughty English Setter pup. My wife claims that Souris is a little fat but I tell her that she is a big boned gal. It's impossible to beat her to a crumb, however. Toast with peanut butter is her favorite thing.

Regards
Tom
A Chihuahua and an English Setter, playtime must be interesting at your house Tom. Thanks for sharing with us.
***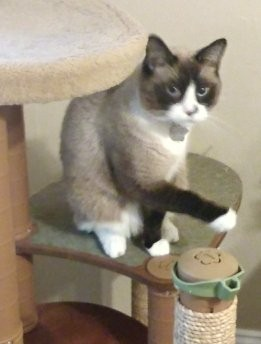 This is one of my four grand cats, York. Sorry for the fuzzy pic. I need a better phone.
I caught him in the act of being a cat. You can see the guilt in his eyes,
He's a good looking guy who is a bit neurotic. He likes to walk into another room and then
scream because you didn't follow him. But if he sees something new or exciting, he yawns.
Maybe someday I'll have actual grand children that I'm not allergic to.

From long time lurker dimuse.

Nice try dimuse for the new phone. You grand cat is quite a handsome guy. Nice photo thank you for sharing with us.
***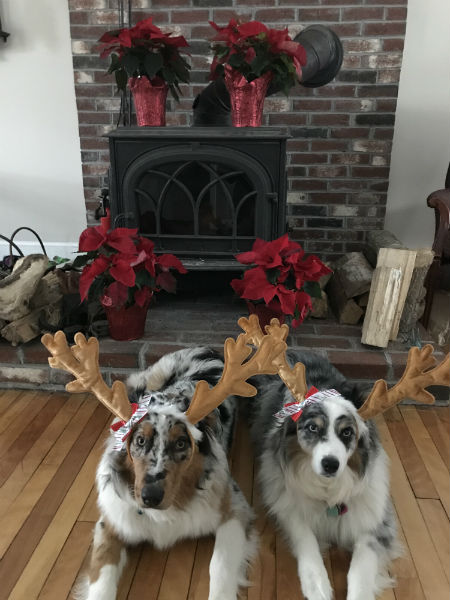 Merry Christmas!

I submitted a picture of Belle and Bilbo a few months back when Bilbo was still a pup.

Bilbo and Belle are ready for Christmas. Visions of dog toys that last longer than 5 minutes of chewing dancing in their heads. They love squeaky toys, but it only takes a few minutes until the stuffing is all over the house and the squeaker is being chewed.

Yes, it requires a few treats to get them to suffer the indignity of posing.

Merry Christmas,
Steve

A few treats? That sounds pretty subjective to us. Wonderful looking pups and the house looks nicely decorated as well!
***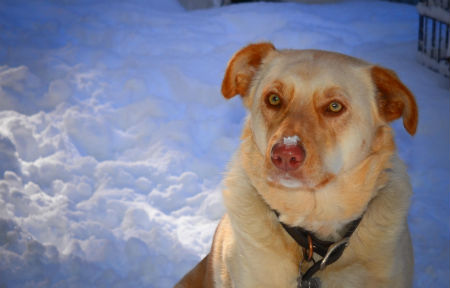 This is Tulip our 2 year old 1/2 Lab 1/2 Border Collie enjoying the first snow of the year. She's very sweet and bar none the smartest dog we've ever had. Thanks! Holly LeRoy
I recognize the Lab in Tulip, I don't see the Border Collie. Charming looking dog. A retriever and a herder in one, should be a fun house.
***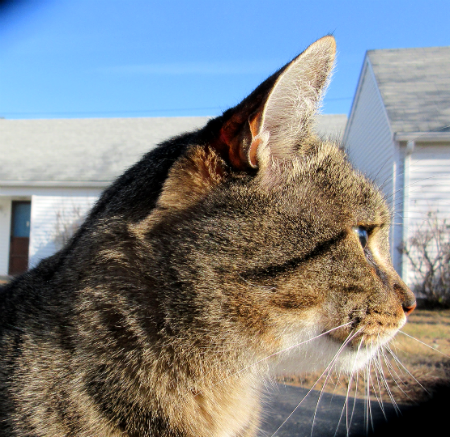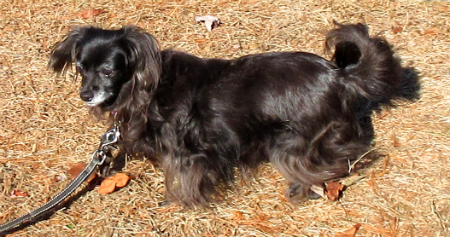 Hi MisHum, Corona here (currently The One Who Ends Comment Threads but Ima gonna change it back).

Anyway I'm sending you of some great neighborhood doggehs
and a kitteh I've gotten to know ampersand love these past few years.
Still a few I haven't gotten pics of yet but this round will do.
I've had pets most of my life but not recently, space and $ being factors.
So I glom off my neighbors' pets for hugs and squishies.


The long-haired black Chihuahua is Josie, around 12.

And Teh Kitteh of unknown origin has been named BuddyBoy, I'd guess around 3.

I love the Pet Thread every weekend. It's so nice to shake my head free of politics.
Thanks for all that you and Ace and the cobs do for the place. It's a great home.

-Corona
You must be an animal lover if you're sending in photos of neighborhood critters. Hope you can get your own in the near future. Thanks for your support of the Pet Thread.
***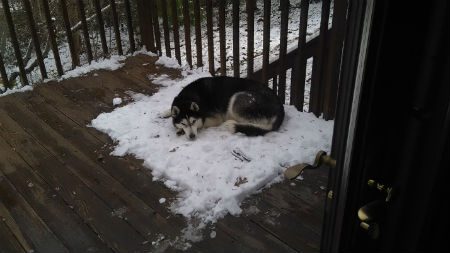 Long time lurker, rare commenter. Our Siberian Husky Skye, protecting her last bit of snow pile from the sun. Skye is our second Siberian. The first was also named Skye. Both were adopted with that name already attached. - Fritz
Quite the protective dog you have there Fritz. If Skye wants to protect my driveway, go for it. Thanks for lurking and sharing.
***
***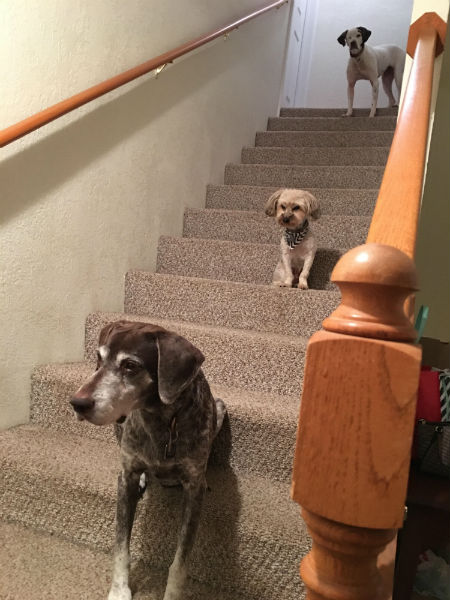 Here are our 3 dogs, in ascending order is Ziggy a German Shorthair Pointer, next is The Moose a mix of Yorkie and Bichon, Zig's sidekick. At the top is the shit stirrer outcast with the current name Gravy, an English Pointer. Zig was diagnosed with cancer but got to go out West on an epic bird hunting trip this fall with Gravy and then crossed the rainbow bridge a few days after arriving home. Both pointers came off the scrap pile and get to do what they were born to do. Zig was a hunting fool and full of power in his prime. - Clutch
Dogs on steps is one of my favorite doggeh poses. 3 of them at one time is awesome. Sorry to hear about Ziggy's passing. Thanks for sharing with us.
***
Merry Christmas to you and yours from the Misanthropic Humanitarian's PetMorons, Derry, Darbie & Dreamer.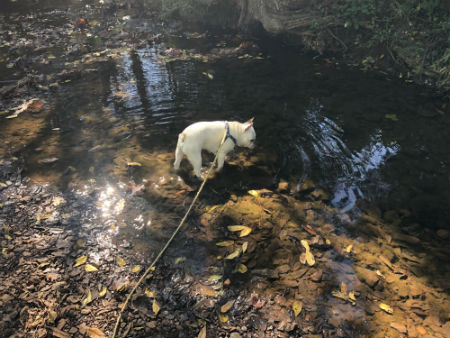 You can send your eggnog, doggeh treats and catnip to petmorons at gmail dot com.

&topic=world_news">

posted by Misanthropic Humanitarian at
03:27 PM
|
Access Comments