« Gun Thread: Mail Call! [Weasel]
|
Main
|
The Morning Report - 12/24/18 »
December 23, 2018
Sunday Overnight Open Thread 12/23/18 )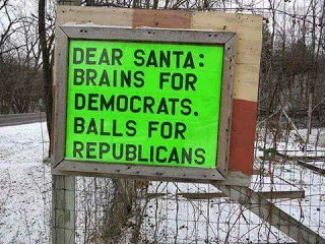 ***
The Quotes of The Day

Quote I

I've observed over the years that researchers tend to explain any gender difference in a way that makes whatever is true of women good. This is an interesting example of that. You can see that they're presenting the independence and courage of men as "risk taking," "deviance," and insensitivity to "morality." I'm intrigued by the presentation of women as pushed by the Democratic elite. Is being a follower regarded as a positive quality (when you follow the Democratic elite)? Ann Althouse

Quote II
"When you're working in an organization where we all have the same belief system … we all fight for the same thing, so when we have a disagreement we forget that it's the same as any other workplace. Yes, I'm part of a movement and a bigger thing, but I'm also an individual with rights, and if I feel they're being violated then I'm going to fight to see them respected." Veteran teacher and union field representative John Kugler
***

From double secret probation to keep your ass off of our property.
Four cafe workers have been banned from 50 branches of Costa Coffee after a staff bust-up.

They face police action if they set foot inside the shops "for any purpose".


The four had quit as a show of support for a manager who lost her job in Selsey, West Sussex.

Now, six months on, they have been told they are on a "company banned list".
***

Just how did those Christmas trees end up at the local grocery store, gas station or youth group sale? The harvesting of Christmas trees.
***

The odds are stacked against them. Yet Chick-fil-A continues to grow.

Privately held Chick-fil-A is not just growing fast, it's becoming a growing threat to a number of large publicly held chains, including the biggest of them all, McDonald's Corp.

According to Kalinowski Equity Research, Chick-fil-A could move into the number three spot on the list of largest U.S. restaurant concepts in 2018, which was held by Subway, the privately held sandwich chain, in 2017. That would be ahead of the 2020 projection made by others.
***

The richest neighborhoods in the USA.
***
The ONT Musical Interlude
&
***
I guess I'm showing my age. In our day 'smart toys' were ones that used batteries. They didn't track you.

Parents are realizing that it's not just Santa who's keeping tabs on their kids. Many popular high-tech gadgets that may end up being given as holiday presents can actually track, monitor and record children.

Because of that, there are some gifts Felicity and Alden Eute won't have under their Christmas tree. Their mother, Emily, has banned all tech gifts this season.

"My husband and I both agree kids don't really need to be on technology or on social media," Emily said. "None of these extra gadgets that just expose you to things kids shouldn't be exposed to at their age.
***

Bill Kristol, Marco Rubio, Nicole Wallace and Brian Kilmeade Quite the warmongering club.

Unless Donald Trump decides to reverse his decision to begin withdrawals from Syria and Afghanistan, cable news for the next few weeks is going to be one long Scanners marathon of exploding heads.

"Today's decision would cheer Moscow, ISIS, and Iran!" yelped Nicole Wallace, former George W. Bush communications director.

"Maybe Trump will bring Republicans and Democrats together," said Bill Kristol, on MSNBC, that "liberal" channel that somehow seems to be populated round the clock by ex-neocons and Pentagon dropouts.

Kristol, who has rarely ever been in the ballpark of right about anything — he once told us Iraq was going to be a "two month war" — might actually be correct.

Trump's decisions on Syria and Afghanistan will lay bare the real distinctions in American politics. Political power in this country is not divided between right and left, and not even between rich and poor.

The real line is between a war party, and everyone else.
***

Shoe0nHead
***
Risk vs. Reward. Genius Award Winner!

24-year-old Varcy Locklear was known to police in the US for jumping on trains without a ticket and has been charged numerous times with trespassing.

Authorities believe his dangerous habits led him to be decapitated as he journeyed on the top of an Amtrack train in Lumberton, North Carolina on October 30.

Locklear's headless body was found shortly after his death, while his skull was discovered on December 11 and formerly identified on Thursday (December 20).
***
Elderly and dying. Yet the Christmas spirit remains strong. Tonight's Feel Good Story of The Day.

Ken Watson may have passed away in October, but a simple act of kindness that he performed before he died has already resulted in a lasting legacy.

Ken Watson was the 86-year-old neighbor of the Williams family. Owen Williams and his wife first moved into their home in Barry, Wales three years ago, and Owen says that he first caught a glimpse of Watson while the octogenarian was nudging a 20-foot ladder across the front of his house, all while he was balanced at the top.
***

Tonight's ONT has been brought to you by Christmas Attire.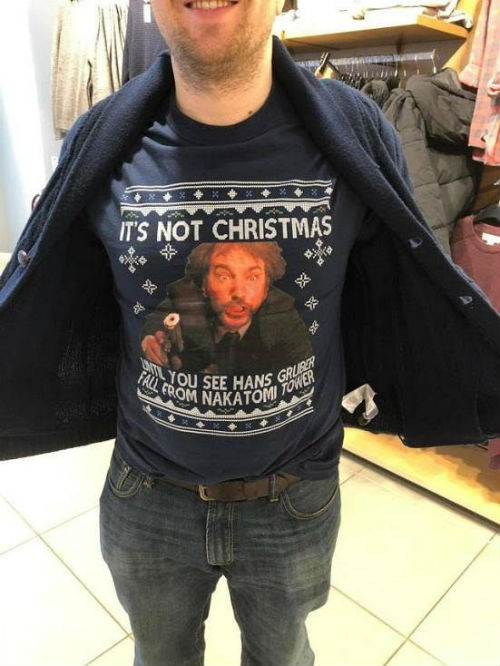 Notice: Posted with permission by the Ace Media Empire and AceCorp, LLC. Yippee ki yay Happy Morons.

posted by Misanthropic Humanitarian at
09:45 PM
|
Access Comments