« Sunday Overnight Open Thread 12/23/18 )
|
Main
|
Mid-Morning Open Thread »
December 24, 2018
The Morning Report - 12/24/18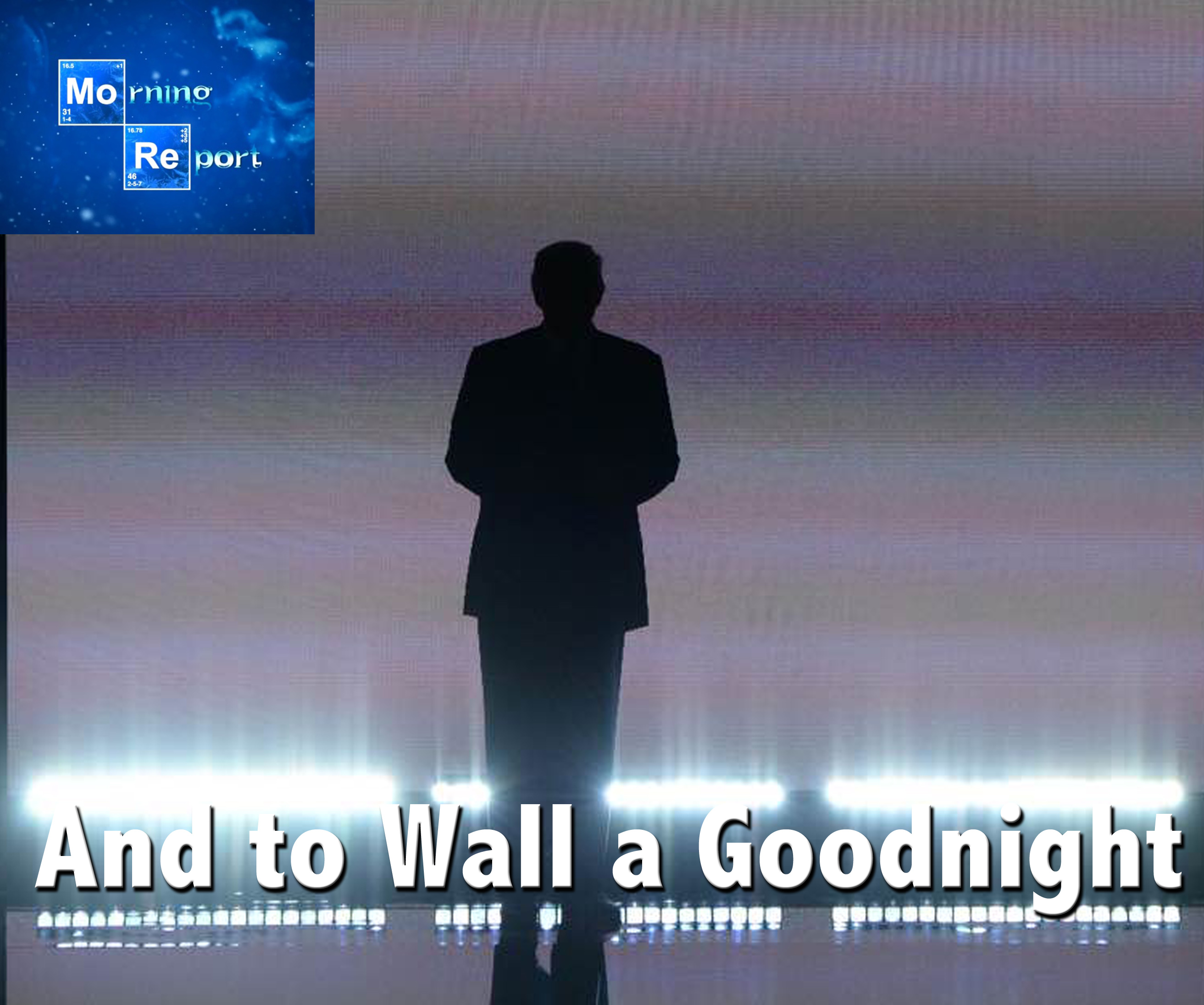 Good Christmas Eve morning kids. I'll attempt to be brief but we all know that that always seems to go south no matter what I do. In any case, as we head into the final week of 2018, the big stories are the so-called "government shutdown" as well as the departure of Secretary Mattis from the DoD over disagreement about the President's withdrawal from Syria and the Democrat-Left-Media complex's complete hypocrisy and obfuscation of facts about all of the aforementioned.
First up, the President and the Dems are at an impasse vis a vis the $5.7 billion in funding for the Border Wall and border security overall. The latter have dug in their heels despite the former having supposedly sent a proposed compromise involving less money and a different design (slatted steel sections as opposed to solid concrete). Some might still be freaking out that this signals a caving in from the President. I think it's a tactic knowing full well that the Democrats cannot under any circumstances give in. They have painted Trump as a combination tyrant/tantrum-throwing toddler. And 25th amendment talk is rearing its head again.
In any case, as we all know $5.7 billion dollars isn't even a rounding error in a $4 TRILLION dollar budget (.007%). And there are a couple of links that show the utter wastage of your hard earned taxes on all kinds of boondoggles, lucre and welfare that are greater by orders of magnitude than the wall. But, it's politics; the politics of the personal vis a vis opposing the will of the people and the mandate given to this President as well as the fact that a wall plus actual enforcement of our immigration laws is poison to the future growth and accrual of power of the Democrat-Left and the concomitant destruction of America as founded. And that cannot stand.
Also, a Honduran illegal alien used his Nancy Palsi-attributed spark of humanity to sexually abuse a 4-year-old girl and the Leftists are now calling on Hawaiian Judge Buch M. Danno to order a halt to the administration's policy of keeping potential asylum seekers on the Mexican side of the border. Lastly, Ol' Yeller (aka Mark Levin) puts all of it into a political/historical context as only he can - mostly with volume, NTTAWWT.
The other big story involves the surprise resignation of James "Mad Dog" Mattis as Secretary of Defense last week, which was supposed to be effective as of February. But the public and somewhat contentious nature of his exit, made all the more dramatic in the media has irritated the President and he has in effect now fired him as of January 1st, replacing him with second in command Patrick Shanahan. A few angles to explore here. First up is Mattis' departure/dismissal. The Democrat-Media-Complex is beside itself, conveniently forgetting that Obama fired Mattis as chief of CENTCOM because of his ripping the jug-eared Wookie-tamer's Iran insanity. As one of the links points out, Mattis and Trump disagree on strategy and tactics, while Obama and Mattis disagreed on policy and consequences. Remember all the media geschrei over Obama kicking Mad Dog to the curb? Funny, neither do I.
In the real world, my general feeling is that it seems to be a sound decision. We only have a couple thousand troops there anyway and again, the key question is what are our long-term goals there, what does "victory" look like and how do we really achieve anything remotely resembling that? That said, when Rachel Maddow is the new face of "neo-con," then I know it's the right move to bug out. And I'm in good company with the likes of Mollie Hemingway, Daniel Greenfield and others on this. I include a couple of links with the contrary position for your consideration as well.
Dang. Just lost the rest of this post and by the time I try to rewrite it from memory, New Years will have come and gone. In any case, just peruse the headlines and you'll see what's what.
Wishing all of you and yours a very Merry Christmas and a blessed holiday. Peace.
Anyway, links from around the world, across the nation and up your street. Have a better one and remain blessed.


BORDER WALL, MIGRANT INVASION, AMNESTY, IMMIGRATION, BORDER SECURITY


posted by at
08:05 AM
|
Access Comments