« EMT 12/16/18
|
Main
|
Angela Merkel's Legacy Will Be The Rise Of The Fourth Reich: Muslim Style »
December 16, 2018
Sunday Morning Book Thread 12-16-2018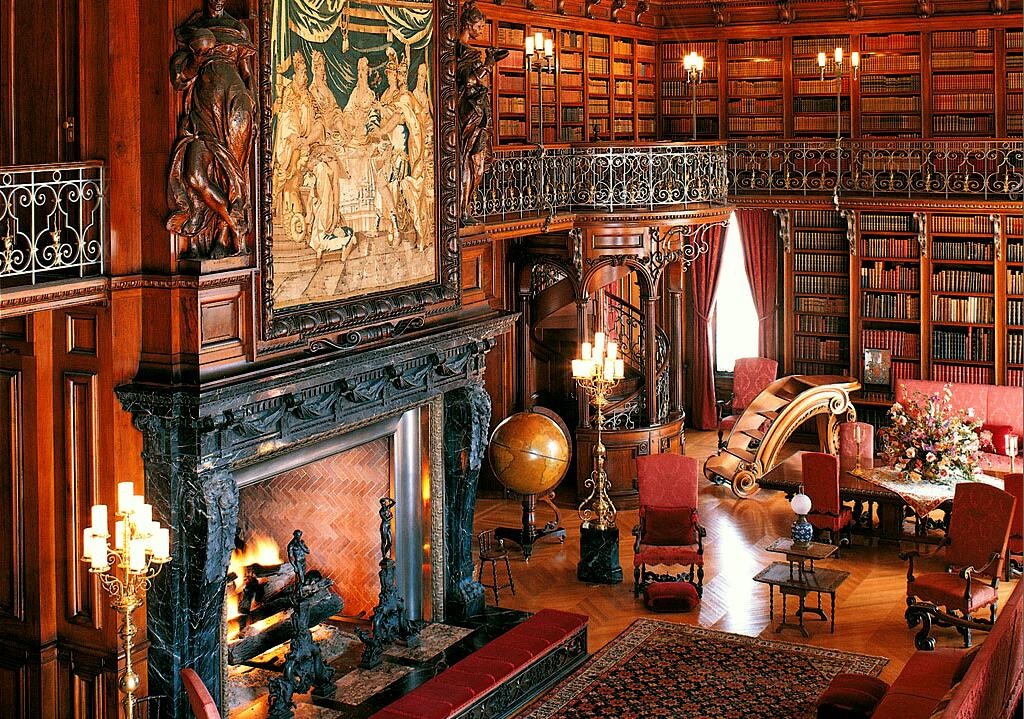 Biltmore Library, Asheville, NC

Good morning to all you 'rons, 'ettes, lurkers, and lurkettes, wine moms, frat bros, and everybody who's holding your beer. Welcome once again to the stately, prestigious, internationally acclaimed and high-class Sunday Morning Book Thread, a weekly compendium of reviews, observations, and a continuing conversation on books, reading, and publishing by escaped oafs who follow words with their fingers and whose lips move as they read. Unlike other AoSHQ comment threads, the Sunday Morning Book Thread is so hoity-toity, pants are required. Even if it's these pants which are advertised as Thanksgiving Pleated Drumsticks Pleated Pants, and you can see why. Ugh.
(h/t KT for today's library pic)

It Pays To Increase Your Word Power®



A Christmas Present For Mrs. Muse
I found a used copy of The Works of Anne Bradstreet for my dear wife this year. Mrs. Bradstreet was a woman who was born in England in 1612, emigrated to America in 1630, raised 8 children, and wrote poetry when she could. She was America's first published poet. Bradstreet was a serious Puritan and her Christianity comes out in many of her poems. Modern scholars try to make her out to be some sort of paleo-feminist because she wrote lines such as "I am obnoxious to each carping tongue/Who says my hand a needle better fits" which they interpret to mean she'd be all in on intersectional lesbian folk dancing and smashing the patriarchy if she were alive today. But
By using the lines, "These O protect from stepdame's injury", Bradstreet is calling for her children to be protected from the abuse of a future step mother. The fact that Bradstreet believes that God will grant her husband with a new wife if she dies shows how much Puritan women believed in marriage and how God provided them with this gift.
Bradstreet was a remarkable woman, whether feminist or not, highly educated and, in fact, her husband and her father helped found Harvard University in 1636. Her personal library reputedly contained over 9000 books, although she lost most of them when her house burned down. She even wrote one of her poems about it, "Upon the Burning of Our House July 10th, 1666".
I hope Mrs. Muse enjoys her verse.

Moron Recommendation
218 I finished "Cult City" by Daniel Flynn.
It was a compelling read, but a tough read.
So much local San Francisco history.
It all leads inevitably to the 900+ deaths at Jonestown.
Jim Jones was a sick bastard, and it was a shame how all the local pols sucked up to him.
Followed by Dan White, a Democrat, and Diane Feinstein protoge running on a gun control platform, goes all shooty at City Hall.
$9.99 on kindle.
Posted by: navybrat, obtuse by nature at December 09, 2018 11:02 AM (w7KSn)
See, you morons back east, you with your Philly and Baltimore and Cleveland, you think you've won the "Most Corrupt Sh*thole City in America" prize, but I tell you, you've got some competition from the West Coast, specifically from San Francisco, where AIDS got a major signal boost because the hapless municipal health officials didn't want to close down the bathhouses from where it was spreading, because the gays would get mad, and also, as this book details, we have psychopathic cult leaders who are tight with local politicians so they can carry on their madness unchecked.
Cult City: Jim Jones, Harvey Milk, and 10 Days That Shook San Francisco claims to set the record straight:
In life, Jim Jones enjoyed the support of prominent politicians and Hollywood stars even as he preached atheism and communism from the pulpit; in death, he transformed into a fringe figure, a "fundamentalist Christian" and a "fascist."

In life, Harvey Milk faked hate crimes, outed friends, and falsely claimed that the US Navy dishonorably discharged him over his homosexuality; in death, he is honored in an Oscar-winning movie, with a California state holiday, and a US Navy ship named after him. His assassin, a blue-collar Democrat who often voted with Milk in support of gay issues, is remembered as a right-winger and a homophobe.

But the story extends far beyond Jones and Milk. Author Daniel J. Flynn vividly portrays the strange intersection of mainstream politics and murderous extremism in 1970s San Francisco—the hangover after the high of the Summer of Love.
I still remember seeing the footage from Jonestown live on TV, hundreds of bodies lying all around on the grounds outside, it was one of the most horrific things I had ever seen.
Flynn is a conservative author who has written books that might be worth a read, such as Why the Left Hates America: Exposing the Lies That Have Obscured Our Nation's Greatness and also Intellectual Morons: How Ideology Makes Smart People Fall for Stupid Ideas
___________
283 Latest book I've read is Prize Money by Adam Hardy, part of the Fox series of sea novels. These are almost forgotten despite being quite good, and I've been slowly collecting them for more than a decade.

Posted by: Christopher R Taylor at December 09, 2018 11:39 AM (39g3+)
Never heard of this author, so I poked around a bit. According to Amazon,
Adam Hardy was a pen name used by Kenneth Bulmer (1921-2005). A prolific writer, Bulmer wrote over 160 novels and innumerable short stories, both under his real name and various pen names. He is best known for science fiction, including his long-running Dray Prescot series of planetary romances, but he wrote in many genres.
The novel referenced by Chris, Prize Money, appears to be the 3rd in a 14-book series featuring the 'Age of Sail' naval adventures of one George Abercrombie Fox. The first Fox novel appeared in 1973. I have no idea how good they are, but the Kindle editions are $2.99 each, so I'd say it's worth the risk. Here are the first three in the series:
1. Powder Monkey
2. The Press Gang
3. Prize Money
___________

Books By Morons
I am Richard, a long time Lurker...
[Everybody]: Hello, Richard!
I visit Ace multiple times each day, and revel in the content and comments. My wife and I are both artists, and I've been writing a blog for years attacking the corruption of Postmodern art and its corrosive effects on our culture. I've written a book on the subject I'd love to share with the Horde.
The book is Remodern America: How the Renewal of the Arts Will Change the Course of Western Civilization:
Postmodernism is dead.

Discover Remodernism, a new art movement of the people, by the people, for the people...

Art is a more enduring and vital human experience than the power games of a greedy and fraudulent ruling class. The story of the 21st Century will be the dismantling of centralized power. As always, this course of history was prophesied by artists--those who are intuitively aware of the path unfolding ahead. Their works become maps so that others may find the way. Enduring changes start in the arts.

Remodern America provides an historical overview of how art shapes society and politics. This book exposes how the contemporary art world is used as a tool of oppression. Most importantly, Remodern America provides the solution, and reveals how the power of art can be reclaimed as a force for liberty.
Richard's wife has created a book trailer for it as well. It lasts a little less than a minute.
Richard also blogs at The Remodern Review.
___________
I also heard from moron author Mark K this week:
I now have a Kindle version of my history of Medicine book that has been in print since 1998. It is "A Brief History of Disease, Science and Medicine.
From the Amazon blurb:
This introduction to the history of medicine begins with the evolution of infectious diseases at the end of the last ice age. It describes the origin of science and medicine in ancient civilizations, including China and India. The first third of the book covers the early period that is considered the "classical" history of medicine. The remainder describes the evolution of modern medicine and surgery up to the present. The final chapter is a history of medical economics and explains the origin of health insurance, HMOs and medical malpractice lawsuits, subjects explained nowhere else in the medical school curriculum. There is a 40 page index and over 550 footnotes, most of them references to the original articles described in the text. A bibliography of essential sources is also included.
It's a history of medicine intended for medical students, nurses and physicians. I think this mostly means it discusses its topics using medical terms and concepts that should be familiar to those in the field and probably doesn't provide much in the way of definitions for the general reader. Still, I glanced through the Kindle sample, and I think it looks like it would be an interesting read, even for non-specialists.
I think the same is true about Mike's other book, War Stories: 50 Years in Medicine, which is
A memoir of a medical career of 50 years. The memoir is chiefly about patients and their stories. What we did then and what we know now.
I first mentioned these books in 2015, but they were only available in dead tree editions> But now,
both books are available on Kindle and they're inexpensively priced at < $6.00.
___________
Dave Dubrow writes:
The short story anthology I've edited, Appalling Stories 2, is out and available at Amazon. It's the spiritual sequel to the top-selling short story anthology Appalling Stories, and carries on the tradition of ripped-from-the-headlines short fiction written to entertain, amuse, and even horrify.
The Amazon blurb says:
In these pages you'll read stories of humanity's terrifying First Contact with extraterrestrial life, the horrifying secret behind today's radical feminist movement, what happens when the wokest man you know discards the last of his White Privilege, and more. From a far-future history of America's decline to disturbing tales of gun control gone wild, you're sure to find something that will stick with you long after you've closed the book.

And the best part is that you'll be making an SJW so mad when you tell him/her/zir what you're reading.
Also:
And my standard offer applies: anyone who is willing to post a review on Amazon can get a free electronic copy if they email me at davedauthor at gmail.com.
Or, you can purchase Appalling Stories 2: More Appalling Tales of Social Injustice on Kindle for the appallingly reasonable price of $2.99. As is the first book in this series, Appalling Stories: 13 Tales of Social Injustice

___________
If you like, you can follow me on Twitter, where I make the occasional snarky comment.
___________
Don't forget the AoSHQ reading group on Goodreads. It's meant to support horde writers and to talk about the great books that come up on the book thread. It's called AoSHQ Moron Horde and the link to it is here: https://www.goodreads.com/group/show/175335-aoshq-moron-horde.
___________
So that's all for this week. As always, book thread tips, suggestions, bribes, insults, threats, ugly pants pics and moron library submissions may be sent to OregonMuse, Proprietor, AoSHQ Book Thread, at the book thread e-mail address: aoshqbookthread, followed by the 'at' sign, and then 'G' mail, and then dot cee oh emm.
What have you all been reading this week? Hopefully something good, because, as you all know, life is too short to be reading lousy books.

posted by OregonMuse at
09:00 AM
|
Access Comments