« Should We Take Occasional-Cortex Seriously?
This Guy Says, "Yes."
|
Main
|
Gun Thread: All I Want for Christmas Pt. 2 [Weasel] »
December 09, 2018
Food Thread: Set Aside Your Childish Ways And Come To The Savory Side (It's In The Bible!)
Why...yes! That is a stuffing waffle. And a damned good one too. As I may have related to you a few weeks ago, I made a lot of stuffing. Maybe three times what we needed, so I froze a lot and made this waffle with a bit.
Nothing much to it, although I thought it through a little and mixed the stuffing with egg, flour and some baking powder. It took more than 10 minutes to cook, but it ended up quite nice and moist, with a crisp exterior and some loft from the baking powder. The stuffing was savory and rich (yup...sausage!) and the waffle was an excellent accompaniment to some roast chicken. It didn't rise as much as a plain waffle, so be warned, you'll have to load up the waffle iron with lots and lots of the stuffing mixture.
I know that some of you deeply deluded and, frankly, wrong-headed people like bread and eggs with sugar, but it is time to leave your childish tastes behind and become adults. So put down the syrup and pick up the salt and butter and pepper and all of those marvelous grown-up flavors that separate the men from the boys.
Seriously, this worked out really well and was easy to make, so give it a shot. You'll thank me. Well, no, you won't, but still, try it anyway.
******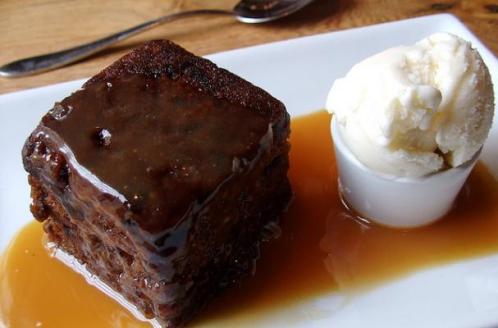 This dessert is why God created the British Empire. It really is perfect...a magnificent combination of wonderful toasty toffee sauce and dense, buttery vaguely fruity cakey goodness; all topped with some decadent ice cream and if done well some saltiness to put it over the top.
Gordon Ramsey does it best. And for fvck's sake, I can't find his recipe anywhere. Now, I don't have any of his cookbooks, so that might be part of the problem, but I demand immediate satisfaction from the internet!
He has a restaurant near Canary Wharf in London that makes one that is sublime. But it is a feature at many of his restaurants, and my guess is that he has been perfecting it for awhile.
I've never had a good version in the United States, and that is why I am frantic to find a good recipe. Oh, there are many of them out there, but I really want Ramsey's version.

******
I had one of these a long, long time ago. As I recall it made good coffee, but it took a bit longer than my trusty Melitta cone, and cleaning it was tedious, so I consigned it to the purgatory of the back of the upper cabinet over the oven, where it languished for years until I moved and it disappeared into the vortex of the moving company's interesting attitude toward delivering the correct boxes to each customer!
The Humble Brilliance of Italy's Moka Coffee Pot

The moka pot is a symbol of Italy: of postwar ingenuity and global culinary dominance. It is in the Museum of Modern Art, the Cooper-Hewitt Smithsonian Design Museum, and other temples to design. It is in the Guinness Book of World Records as the world's most popular coffee maker, and was for decades commonplace to the point of ubiquity not only in Italy but in Cuba, Argentina, Australia, and the United States. It's also widely misunderstood and maligned, with approval in the modern coffee world coming perhaps a bit too late, in only the past few years. Get one while you can.
Sort of cool website! As usual, I didn't find it.
[Hat Tip: redc1c4]

******
This woman is exactly, 100% correct! Read it...read it all! And get a chuckle.
Food Safety Confessional: Sheila says she is horrible
******
From long-time lurker "Harry," comes a rather nice idea for dessert following a rich meal of...oh...roast beef!
Gentlemen,
I greatly appreciate a well treated, some might say respectfully treated, piece of beef. That meals will greatly benefit from a proper dessert. I suggest a lemon pie whose sweet and tart notes follow the richness of the beef. Recipe follows. (reference the " Cordon Blue" cook book which I saved from the dumpster)


Pie crust for a 9" pie plate. Buy it premade or make your own; it is not alot of trouble.
Blind bake crust. (bake it) 350 degrees for 15 min or so.

Filling: 6 eggs. 1 cup sugar, one cup lemon juice, lemon zest if you wish 2t

Put all ingredients in a sauce pan and whisk over low heat for 15 min or until it thickens.

When it starts to thicken it happens quickly. Like making a roux for gumbo don't stop stirring or whisking in this case.

When it has thickened take the lemon custard off the heat and stir in one stick of butter cut into medium pieces.

Pour mixture into pie shell and chill. Enjoy

We only get citrus once a year on the gulf coast so we have to use it in season.
******
So...I am not going to make this dessert, but it certainly looks and sounds good. It's just that it requires a bit too much work for what will turn out to be something that is...good. Not great. Just...good!
chocolate caramel tart
That is not to say that one of you shouldn't make it and drop it off at Chez Dildo for a tasting.
******
Food and cooking tips, Haggis, young wild pigs, Scotch Eggs, thick and fluffy pita and good tomatoes that aren't square, pale pink and covered with Mestizo E.coli:
cbd dot aoshq at gmail dot com
. Any advocacy of French Toast with syrup will result in disciplinary action up to and including being
nuked from orbit.
&topic=world_news">

posted by CBD at
04:00 PM
|
Access Comments