« Food Thread: Set Aside Your Childish Ways And Come To The Savory Side (It's In The Bible!)
|
Main
|
Overnight Open Thread (12-09-2018 ) »
December 09, 2018
Gun Thread: All I Want for Christmas Pt. 2 [Weasel]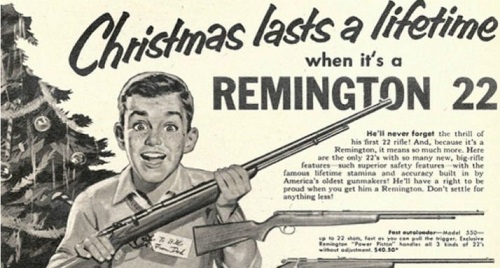 And who doesn't want Christmas to last a lifetime? Hmmmm? Commies and Liberals, that's who!
Last weekend we had some fun talking about BB guns, something many of us started out with as kids, and which several of you mentioned still having to this day. This week let's take a look at the next step on the gun ownership ladder which for many was a .22 caliber rifle. This is the time when the good lessons you learned in the backyard shooting BBs begin to pay off!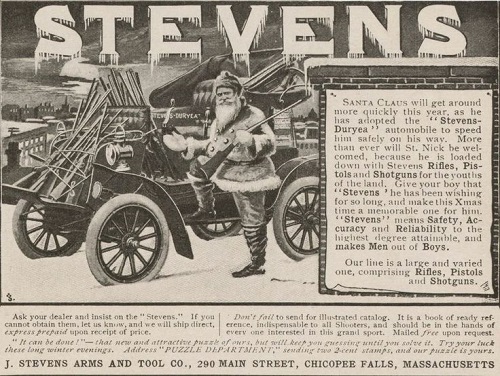 Santa delivering Guns!
At some point you probably put down your Daisy Red Ryder and started looking for something a little more powerful. Maybe a rifle to hunt squirrels or to shoot cans off or a fence rail. There are many possibilities with this great cartridge.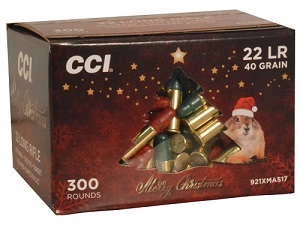 Pop some caps in asses for Christmas!

The 22LR cartridge was introduced by the J. Stevens Arms & Tool Company in 1887, as a hybrid of the 22 Long and 22 Extra Long cartridges, falling between the two at 1.0" overall length. Bullet weights vary from 20gr to 40gr with a wide range of velocities from subsonic to nearly 2,000fps, and with a maximum effective range of about 150 yards. The rimfire 22LR cartridge is extremely economical to produce and for this reason has become a favorite of shooters around the world. The same cartridge used in rifles is also wildly popular for handgun shooters. It's often the introductory choice for new shooters due the negligible recoil and is used for plinking, hunting, pest control, marksmanship training and competition at all levels. It is a truly versatile round, and is a great option for the young and old alike.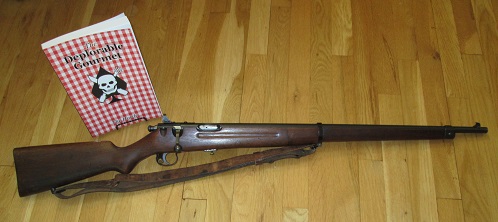 Savage 19 NRA Match c. 1920's
Here's an interesting rifle - the Savage Model 19 NRA Match. Designed to satisfy the demand from shooters trained on military bolt action rifles, the Model 19 was one of the first to capitalize on the civilian competitive shooting market. It's barrel and receiver are cut from a single block of steel and the apeture style rear sight is fully adjustable for windage and elevation. It's truly a competition rifle and is a lot of fun to shoot!! I have spent many an enjoyable afternoon plinking at a steel plate from 75 or 100 yards with this rifle and not worrying a bit about scores or group size or anything other than simply having a good time. It's also a great training rifle and some reports indicate several thousand were purchased by the military for basic marksmanship training purposes. In my opinion, these rifles are under appreciated in the collector's market and can sometimes be found for as little as a few hundered dollars.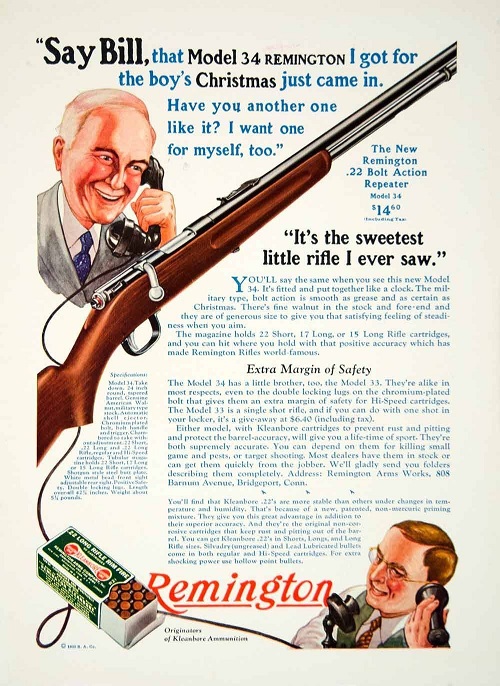 One for Dad, too!!

But what's a good choice today? If you're buying for a little Moron, something a little more in the "general purpose" category might make sense. Fortunately, many options exist and today's buyer will find offerings from nearly every major manufacturer; including Savage, Remingtom, Browning, Ruger and others. In fact, so many choices exist with regard to design and function, it probably helps to have a good idea of the most likely application before heading to the gun store.


Ruger 10/22

Here's a great choice - the semi-automatic Ruger 10/22. Available with an array of features, prices for this superb little rifle generally start around $250. This is a rifle that anyone would be happy to see under the tree! The examples I have seen are well made and are good shooters.
Do you have a .22 and do you shoot it often? How many of you have kept the rifle you had growing up? When was the last time you went shooting just for the fun of it? How about ammo? Do you have a favorite, what is it and why?
Here's a cool video from a couple of weeks ago on the manufacture of 22LR ammunition. Check it out! Cool Video: 22 Manufacturing Process
*******
Link-O-Rama
Shooting Sports USA Article: History of the Savage 19
Guns America Likes the Browning BL22
Guns America - Rimfires for Christmas
Article: Rifle for Christmas Tradition
CMP Bullseye Matches
NRA National Smallbore Championship
CMP Bullseye Pistol Matches
NRA Smallbore F-Class
*******
Reloading Bench
Can you reload 22LR ammunition? Why, yes - yes you can! Although it seems like a complete pain in the ass, it apparantly can be done if you're really out of other options or just have some time to kill.
*******
This Old Gun


Neon Madman bitch slaps us with knowledge!
This week's old gun is once again comes to us from our ol pal Neon Madman, after having read last week's BB gun thread, thought he'd share from his collection. Neon madman tells us:
This is my Daisy VL .22 caseless cartridge rifle, the first production rifle that used a caseless cartridge . Daisy manufactured it in 1968 and 1969, making about 23,000 units in three models. The cartridge is a .22 bullet with a chunk of solid propellant on the back, and is ignited by a jet of compressed hot air. It was an ingenious system, but between the gun control efforts in 1968 and the fact that Daisy wasn't licensed to produce firearms, the company dropped it. I purchased this from the hardware store where I worked at the time (1978) for $39.95, and later found a brick of 1000 rounds of ammunition. It has been fired three times, and in the safe since then.
Now how cool is that? I'd never even heard of this type of gun. Thanks Neon Madman!!
***This Old Cookbook***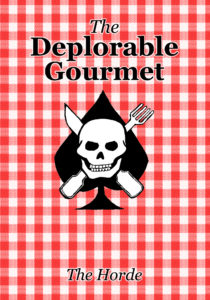 Greatest Cookbook Ever

OK you clowns - buy a copy of the cookbook. If you already have one for your own bad self, then give one as a gift this season. Remember; it's only pennies per day, all proceeds go to charity, and if you don't buy a copy then bluebell will be sad.
And you wouldn't like bluebell when she's sad.
Yes! I want to be a WeaselWarrior and prevent sadness in bluebell!!
*************
Please note the new and improved gmail account MoronGunThread for sending in stories and pictures. Again, that's morongunthread at gmail dot com. If you have a question you would like to ask Gun Thread Staff offline, send it in and we'll give your puny curiosity consideration. If you care to share the story of your favorite firearm, send a picture with your nic and tell us what you sadly lost in the tragic canoe accident. If you would like to remain completely anonymous, just say so. Lurkers are welcome!
That's it for this week - have you been to the range?

posted by Open Blogger at
07:13 PM
|
Access Comments