« Thread before the Gardening Thread, December 8 [KT]
|
Main
|
Ace of Spades Pet Thread »
December 08, 2018
Saturday Gardening Thread, Going Bold [KT]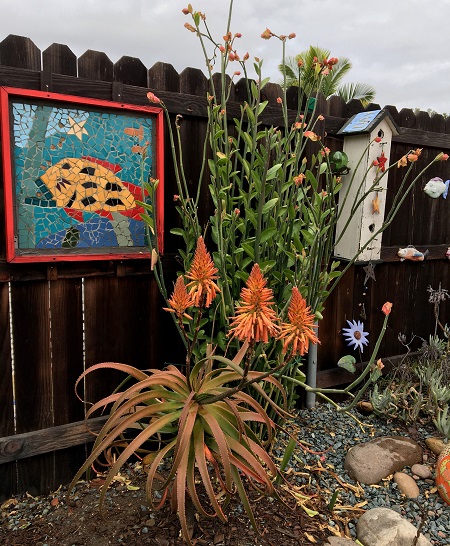 Lurker anonymous sent in the fun photo above:
Living in San Diego I look forward to my display of aloes and succulents blooming. They bloom late fall and add so much color to the yard. Sometimes it takes a year or two for them to start producing and in some cases even longer. This one only took a year.

In front is an Aloe cameronii, which I believe is in the red aloe family, and the taller succulent in back is a Pedilanthus bracteatus.

Once you get hooked on aloes you just want more!

PS really look forward to the garden thread and the pet thread each Saturday. Thanks for doing this.
I love how the succulents, artwork and birdhouse go together, don't you? The fence serves as a fine backdrop. I wouldn't be surprised if the succulents attracted some hummingbirds, too. Bet they are easily visible.
We have been discussing hardscaping and garden ornamentation off and on lately. Below, some examples of hardscaping and garden ornamentation from the largest private home in the United States. And a little information about a couple of guys who did some bold designing.
Completed in 1895, George Vanderbilt's 250-room chateau is as impressive today as it was more than a century ago.
My niece was there during the Chihuly exhibit during the summer. The Christmas displays are up now. I thought it might be fun to compare the seasonal displays.
Here are a couple of the outdoor Chihuly sculptures she saw this summer: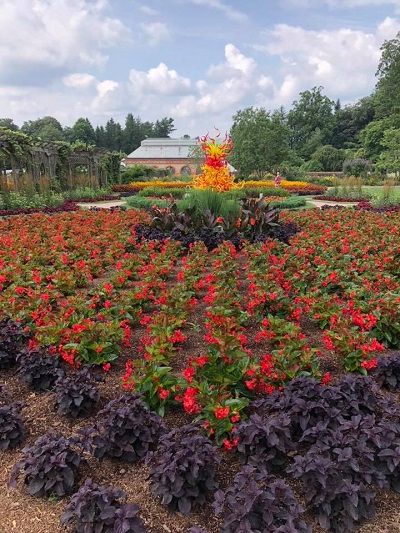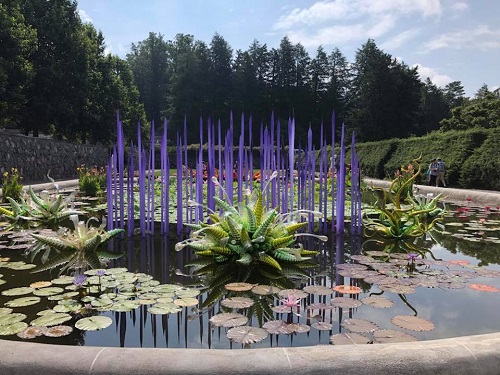 Here is an indoor one: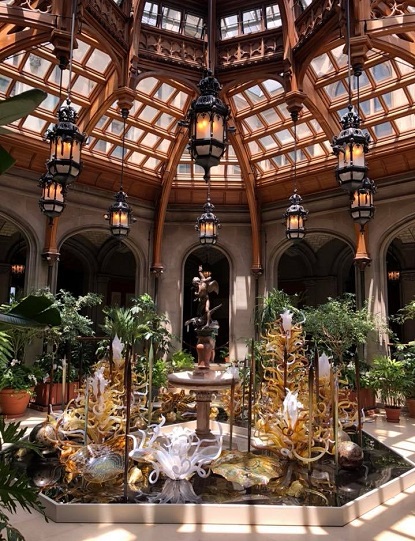 I think the "Indoor Winter Garden" may be in the same space now: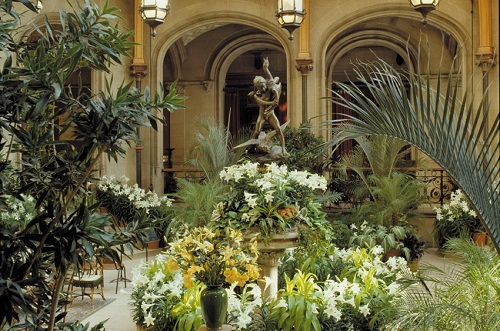 George Washington Vanderbilt was a grandson of Cornelius Vanderbilt. He was the youngest of eight children, and reportedly the favorite of his father. His two older brothers managed the family's financial businesses. He was quiet, interested in the arts, travel, books, horticulture and silviculture (forestry). He managed the family's northeastern farm holdings for a while.
He opened his "country home" to guests on Christmas Eve in 1895, with gifts for 300 to 500 guests, including estate workers and their families. He was still a bachelor at the time, and enlisted the help of the wife of a friend as hostess.
Today, they still hold a party for employees at Christmas. But the estate is open to the public (and kind of pricey). You may be greeted by a lion dressed up for Christmas: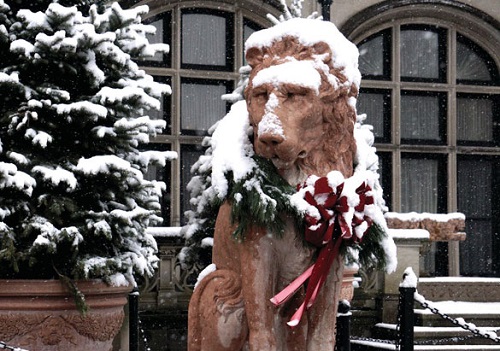 Or a fireplace dressed with greenery and ornaments: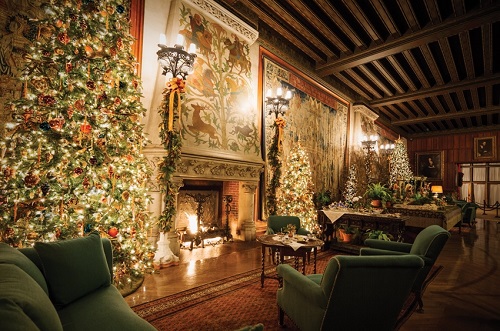 The estate includes a three-wing conservatory. Here is a view of one of them in the summer: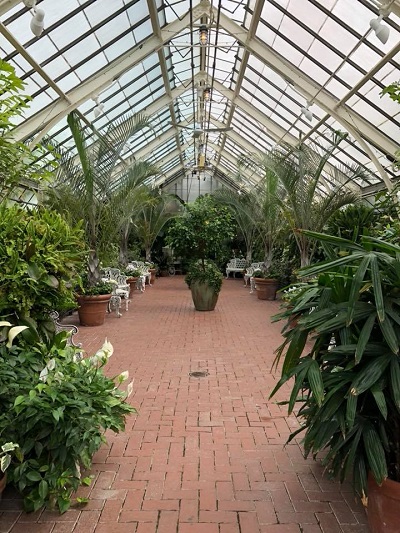 And another arrayed for Christmas: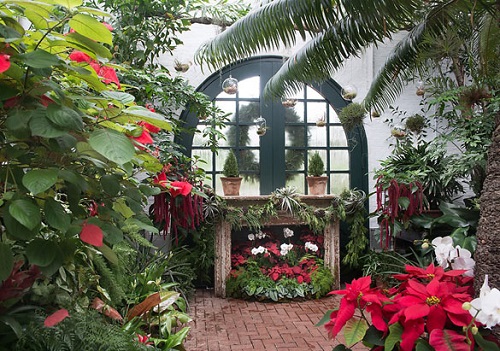 They have a website featuring information to entice visitors. Here's a little piece on how one of their decorators brings the outdoors in at Christmas: with Hygrangea macrophylla.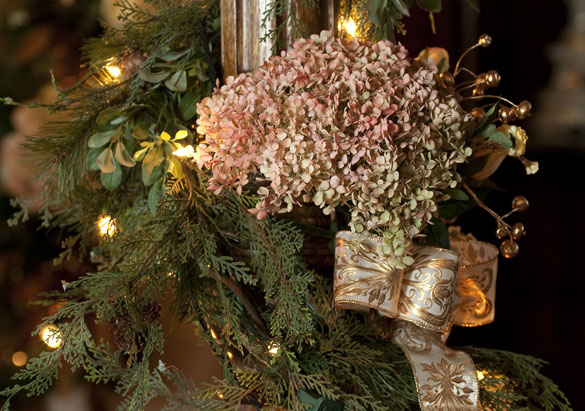 Southern Living has a more helpful piece on drying hydrangeas.
The Biltmore also has recipes on its website. Here's one for roasted sweet potatoes with dried cranberries and toasted pumpkin seeds. Growing any of those ingredients next year?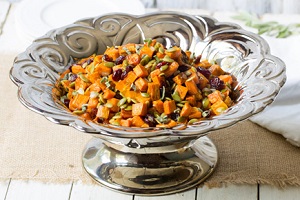 They have a nice fall salad recipe, too. Salad greens from the garden, apples from your tree, bacon, blue cheese, caramelized walnuts.
They also hold rose trials at Biltmore Estate. Here are a couple of the 2017 winners. It will be bare root season before you know it:
Anastasia was judged Best Hybrid Tea.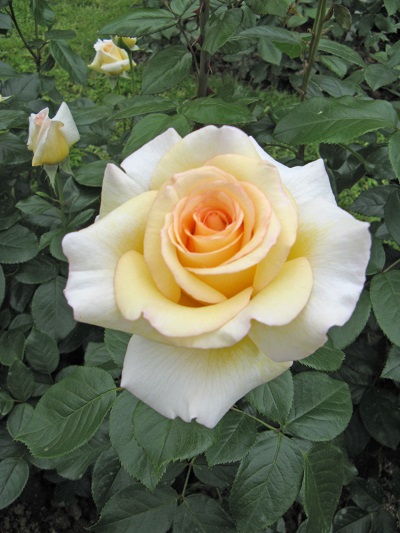 Screaming Neon Red swept four categories: Best in Show, Best Shrub, Most Disease Resistant and Best Growth Habit.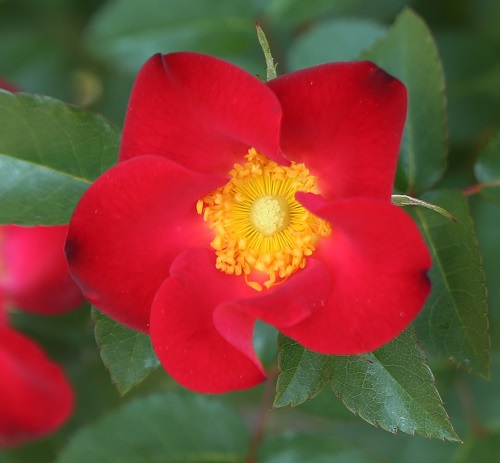 The Father of American Landscape Architecture
The landscape and forest historian, at Biltmore, Bill Alexander, recently retired.
"As a child, I didn't know that Frederick Law Olmsted designed the landscape, but it had me from the start," Bill said. "I loved the wilder areas. It's where I developed my interest in trees and flowers."
Thinking of adding a water feature to your yard? Olmsted's design for the Bass Pond dam and spillway are still functional today.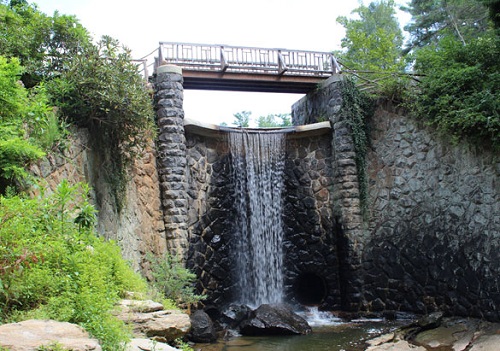 "After completing a book on the story of George Vanderbilt's Pisgah Forest as the 'cradle of forestry' in this country," said Bill, "I'm focusing on another project regarding documented accounts of the early settlers, farmers, and landowners prior to Vanderbilt's purchase of the acreage that would become part of his private estate."

Through his research, Bill has learned that much of the land encompassed by Biltmore is strongly connected to the early history of Western North Carolina, including an ancient Native American trade route that came through what it is now Biltmore's Lodge Gate on its way to Tennessee and Ohio. In addition, a village existed 1500-1800 years ago adjacent to that long-ago highway.
The landscape design for Biltmore Estate was the last major project of Frederick Law Olmstead, sometimes called the Father of American Landscape Architecture. He is best known for designing Central Park in New York City, but he was involved in some 550 projects during his career, including the design of the landscape for the Capitol Building, Stanford University, UC Berkeley and regional parks.
George Vanderbilt had wanted to plan his entire land holding after the model of the typical English estate, but Olmstead discouraged him, because the ground was not good enough and timber had been over-cut. Olmstead planned much of the land to be managed forest, and Vanderbilt established the first American school of forestry. After his death, Vanderbilt's wife sold much of the land to the US Forest Service, and it became the basis for the Pisgah National Forest.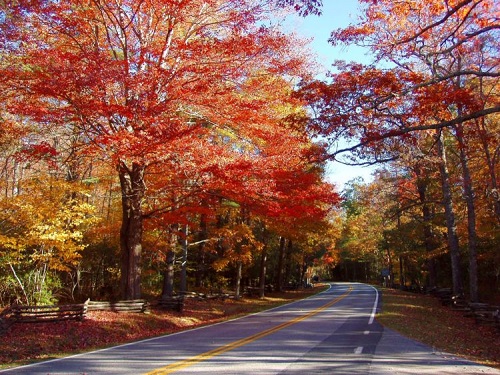 If you would like to send information and/or photos for the Saturday Gardening Thread, the address is:
ktinthegarden
at g mail dot com
Include your nic unless you just want to be a lurker.
Got any Christmas decorations up in your yard or garden?

posted by Open Blogger at
12:53 PM
|
Access Comments