« Saturday Gardening Thread, Going Bold [KT]
|
Main
|
Chess Thread 12-08-2018 »
December 08, 2018
Ace of Spades Pet Thread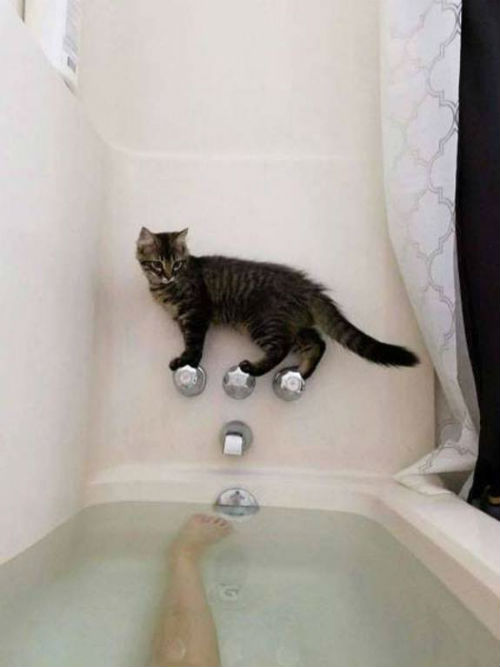 Will this end well?
***

Welcome to the almost world famous Ace of Spade Pet Thread. Give the pet a treat, grab yourself something and enjoy the world of animals.
***
A Little of This. A Little of That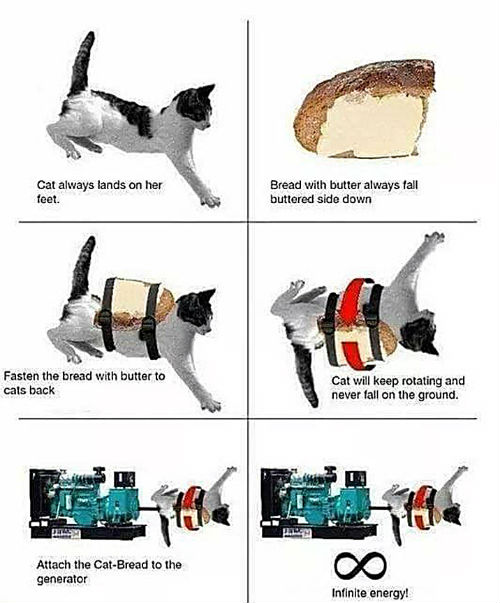 h/t Hank Curmudgeon
***

Somethings are just wrong. This is one of those.
***
Meet The PetMorons
I have sent in pictures of my boxer Zuke previously as a pup and about a year old. Here he is pretty much full grown at 2 ½ and a svelte 88lbs.

The picture is of him being very proud of himself for stopping 3 of about 80 leaves from blowing into the river. You can use either picture or both if you want. Love the pet thread.

Thanks Matt

You're welcome Matt. He's a handsome dog. Sounds like a funny dog. Thanks for sharing with us.
***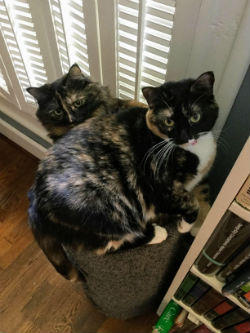 We introduced you to Cinnamon, the Matrix-loving cat, a couple of weeks ago. Here is her sister Ginger in all her "Personal space? What's personal space?" glory. She'll sit on her sister. She'll sit on me. She'll sit on Mr. CatalogingJointly. They look like they're about the same size, but Cinnamon is all floof and Ginger, well, let's just say she's all chunk. (We think she's figured out how to raid the fridge at night.) so when she leaps onto the couch (where your lap happens to be) you better tighten up those stomach muscles or you'll get the wind knocked out! Wouldn't trade them for the world, tho!

Thanks for letting us share our kitties!

~CatalogingJointly
Adorable sibs. Sounds as if you need some protective gear! Thank you for submitting the photo. Cute cats!
***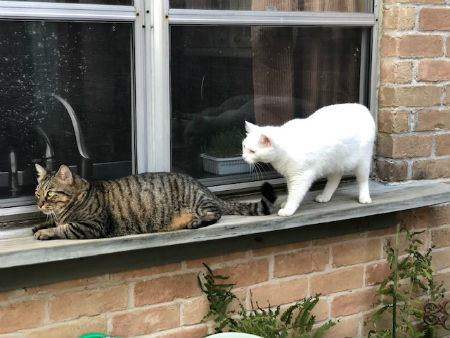 Jake the Brave and True is a six year old long coated Chihuahua and he just loves to sing and will sing upon suggestion or any time the phone rings. We don't know why but suspect it's Helen's voice on the answering machine. Now he does it in anticipation. This summer he chased a bear out of the yard. I'm not sure what he would have done if he'd caught him. He is our great protector.

Regards
Tom
Bear? OM Gosh, better keep him away from lions and tigers. Nice outfit he's wearing. We appreciate you submitting Jake's story.
***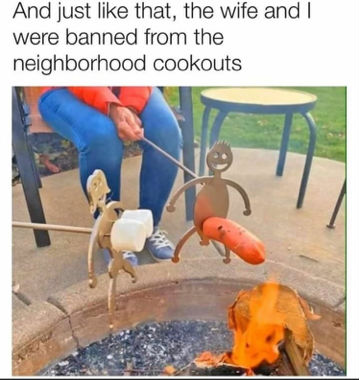 Attached is a pic of our four-month-old Italian Greyhound, Brady (wife insisted we name him after Tom Brady). In this pic he's fresh off attacking the pictured miniature tree and mauling one of the Misfits to the point it needs repair by yours truly.

Brady was preceded by Oreo, our Iggy of nearly 14 years who we lost to cancer just after Christmas two years ago.

Brady's a good boy who is already housebroken but is going through the "rebellious teen" stage right now with lots of selective hearing, growling and nipping at his daddy dog-owner for about 90 minutes every evening before settling back in to his usual gentle and loving Iggy persona.

Thank you for the continued good work and Merry Christmas to you and yours! - B1bbet

Why thank you. And a Merry Christmas to you, Mrs. and Brady. Ah the joys of a puppy. Thank you for taking time to tell us about Brady.
***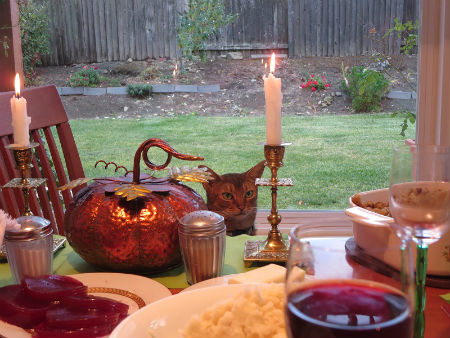 Hi all!

Here's a couple of shots of the fabulous Gizmo showing up for the Turkey Day feed. It was a small gathering, just us and the MIL and the Resident Abyssinian Cat. First, she inspected the table while my back was turned (the hubby snapped this photo). Next, she took her place and waited politely through the meal for the turkey tidbits which were her rightful due. (FYI, two years back we invited a friend over for Thanksgiving and Miz Gizzie was most put out when his profane behind was parked in HER chair and there was no room at the table!)

Stay warm,

Tankascribe

Nice looking spread there at the Tankascribe house. Gizmo appears to have quite the life. Thanks for sharing with us!
***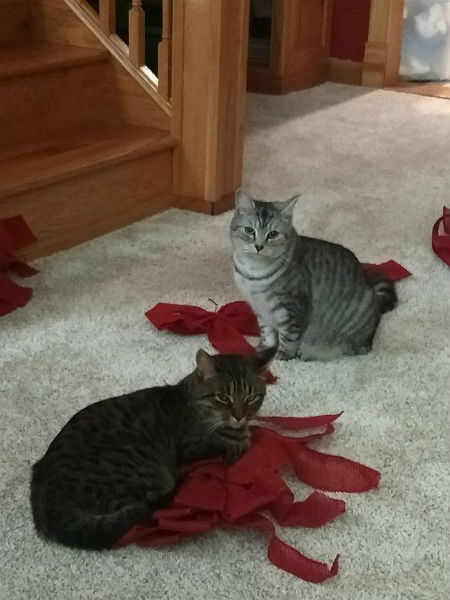 In the front, Dewey, the skinny Millennial beta male. In the back, Izumi, his heavy, loud, silver-haired feminist girlfriend. - Victor Tango Kilo
So you're an enabler are you? J/K, spiffy looking kittehs. And a nice photo, how did you get them to sit still for it?
***

Handsome critters today! Thank you for taking the time out of your schedule to submit photos of your pets. Great!
If you would like to submit a photo of your pet(s), maybe a tip or a funny story please forward to petmorons at gmail dot com.
Here's wishing you a great week!!

posted by Misanthropic Humanitarian at
03:00 PM
|
Access Comments