« Saturday Gardening Thread, Thanksgiving Weekend [KT]
|
Main
|
Chess Thread 11-24-2018 »
November 24, 2018
Ace of Spades Pet Thread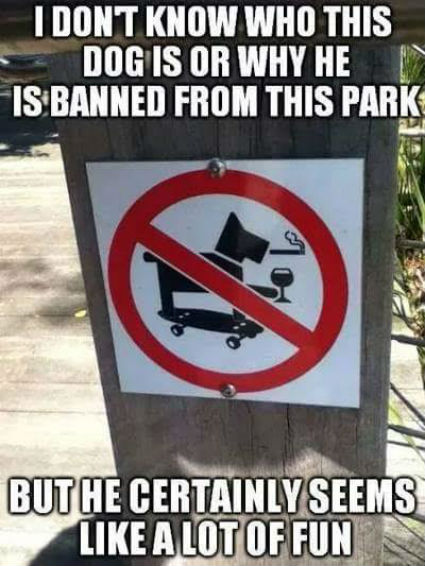 ***

Welcome to the almost world famous Ace of Spades Pet Thread. The dishes can stay piled up, your belt can remain unfastened. Grab that drink and turkey leg and enjoy the world of pets.
***

Puppies, They are the cutest!
***
Here is another example that dogs are truly indeed man's best friend. h/t Hrothgar
***

Do you believe emotion over science? Furious animal lovers in the UK accept emotion.

Animal lovers who don't accept that the Croydon cat mutilations were the work of foxes scavenging roadkill have launched a furious backlash against the police.

Some have accused the Metropolitan Police of dropping the case to save money. Others have suggested that blaming the scavenging animals was a "convenient" way to finally end the three-year-long investigation while justifying senior officers' enthusiasm for fox hunting.

The couple who first raised the alarm over the 'Croydon cat killer' have vowed to continue the search for a human culprit, and animal rights supporters have started a petition which demands the police reopen the investigation and tells officers: "Stop trying to turn foxes into evil creatures when they're not. You're making yourselves look like brainless idiots."
***

From our friend Hank Curmudgeon, A cute video of the world's greatest fetcher.
***
Meet The PetMorons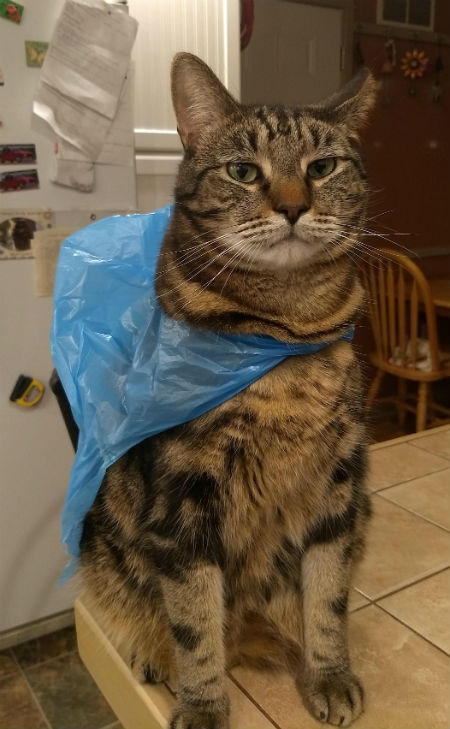 This is BB. King of the kitchen and always there to greet you when we come in. I'm not quite sure how this ritual between the missus and BB started but it is a given that BB must be dressed in a smart looking plastic bags when the wife gets home with groceries. Often times it is multiple bags and his level of pride increases with the number of bags. He then proudly struts around making a point of showing off to the other cats followed by sitting around with this very smug look on his face while I tell him he looks the fool.

BB and the missus have a bound that was forged when she was going through chemo and they spent great amount of time together. I do believe I'm second fiddle in the household.

I'm quite attached myself. The cat has about the nicest demeanor of any pet we have had. He's a damn happy cat, always up for a game of chase or just general silliness and will take great abuse as long as you are paying attention to him. Even took to leash walking the first time we put one on and will now whine with the cutest gentlest little meow to go out if he sees a collar or leash. - Don
It appears that BB is quite the companion! Just from your simple email one can tell BB is quite loved and is spoiled rotten. Good on you.
***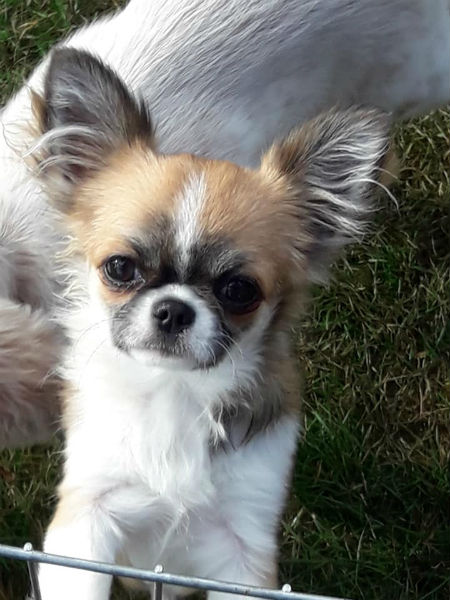 Fleur is the nicest little dog you could ever meet. Six month old long coated Chihuahua. Sweet, smart, calm but very feisty at playtime. She's the star of my wife's breeding program. She's also the only one who keeps Levon the Terrible in line. She's like a Ferrari and he's like a Mack truck. We're expecting exceptional puppies from her.

Cheers
Tom
Cute little pup. Thanks for the submission Tom.
***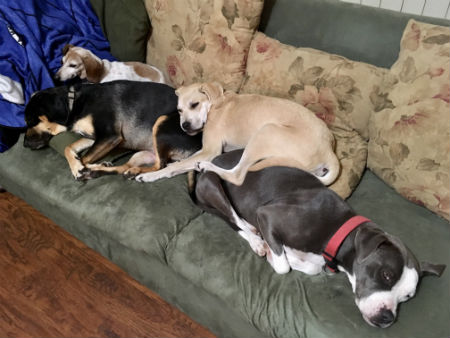 Last summer I posted here about our fostering a momdog and four puppies. We ended up keeping the momdog "Julie" and one puppy "Bryce". A friend from high school who lives in San Marcos Tx. called me a "foster failure" because we fell for them and couldn't give them up. She was half joking but I'm ok with that label. Julie is on the far right, Bryce is the blonde lying on top and our tenured dogs are Jackson (dachshund) and Carmen (Eastern Bulgarian Woodchuck Hound). We like floppy eared dogs


Sincerely,
Rihar
I'll be honest with you, I couldn't foster an animal. I would be a complete failure. Beautiful story Rihar. Thanks for the story.
***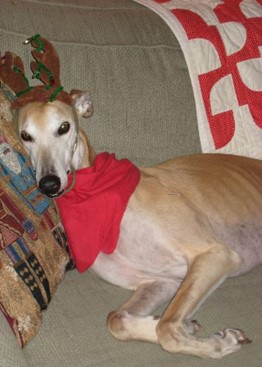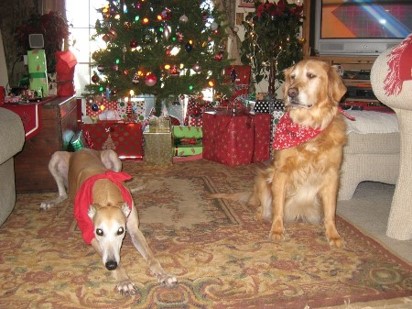 (Photo 1)This is Emma, the dumbest Greyhound that ever graced God's earth. She had a choice between being a Class A racer, or having minimal awareness of life around her. She chose the former. Here she is after sniffing the Christmas eggnog. I had to buy an extra couch when we took her home from the track. Greyhounds take the Couch Potato thing to a whole new level. Sweetest 45mph dumb blonde you'd ever want to meet.

(Photo 2) This is Emma the Dumb, with Annie the Brilliant. Annie worked in the hospital with my daughter for 5 years and knew how to operate the elevators and avoid 3rd Floor Psych. She's pictured here with Emma, embarrassed to be seen with a dog that doesn't even know how to sit. Goldens and Greyhounds. Best dogs ever, in entirely different ways. I miss them so. grammie winger
They look like they lead horrible lives in that Jello-Salad eating home of yours grammie. Every PetMoron needs a couch or three. We appreciate you sharing them with us today.
***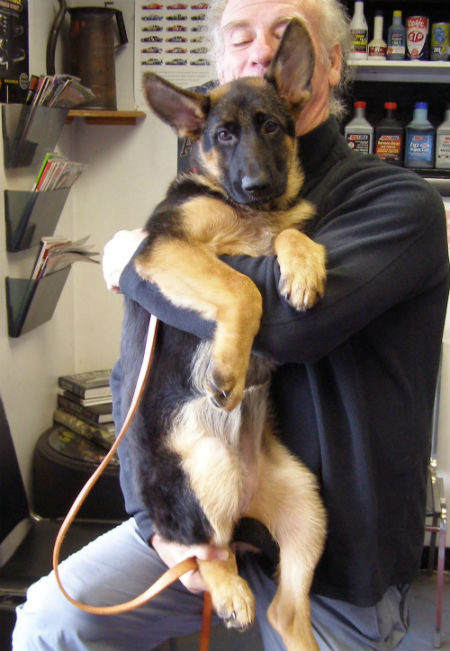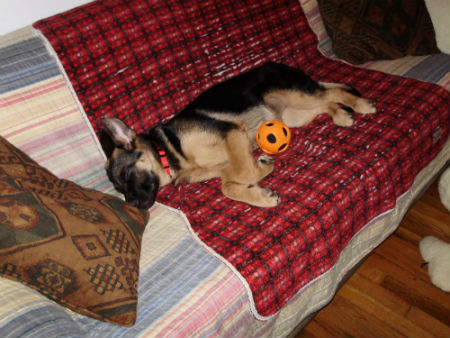 Hello, after my 11 year old GSD Erika passed in March from liver cancer, I watched the local shelters for another, but no luck. So in mid-October, I welcomed Emma, a 4 month old girl.
Around strangers, she is shy and demure, but in the house, she`s Miss Rambo. Housebroken in 2 days, she`s now learning to heel. As I`m retired, we`re together all the time and she rides in the back of the Jeep like a duchess. She hates having her photo taken and knows to move the second the shutter is pressed. Her chew toys end up everywhere! - Manny
First of all, condolences on the loss of your Erika. That is the problem with pets they don't live long enough. But, congrats on the new addition of Emma. The 2nd photo gives it away that she leads a horrible existence. Keep it up.
***

Thanks to all who have submitted photos and links to the Pet Thread.
There have been a number of videos submitted that we can't use. The hamsters and a video from your smart phone are like oil and water. If you have a video please put it into You Tube and forward the link to us here.
If you have photos, links, etc. that you would like to share with us, petmorons at gmail dot com.
Have a great week!!

posted by Misanthropic Humanitarian at
03:15 PM
|
Access Comments