« Saturday Gardening Thread, Veterans Day Weekend [KT]
|
Main
|
Chess Thread 11-10-2018 »
November 10, 2018
Ace of Spades Pet Thread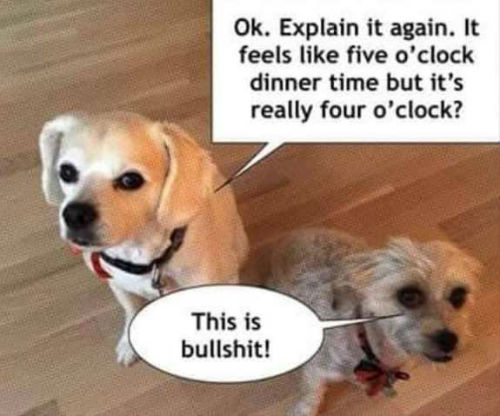 No, these aren't my dogs although mine have uttered the same sentiments after the time change.

By the way, welcome to the almost world famous Ace of Spades Pet Thread. Sit, stay and enjoy the world of animals.
***
A Little of This. A Little of That.
Do you hunt? Do you want a 4 legged hunting companion> Rare bird hunting dogs.
***
Once upon a time I had a dog that was frightened of fireworks, storms, guns, vets and being left alone. I wish I would have had some of these ideas.
***
***
Cats and photoshopping. Hmmmm is this taking things too far? h/t Hank Curmudgeon
***
Meet The PetMorons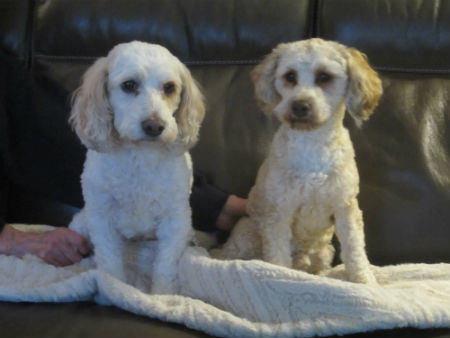 Attached are cockapoodles Maddie (7, female) and Bruno (1, male). Wherever the human goes or what the human is doing, they are right there, staring. She who must be obeyed is the anchor in the photo. Although they don't shed hair on your clothes, a haircut is needed every few weeks. Maddie barks at everything in her vision, and her vision is very good - anyone know a cure for that? - Sputum
Cute pups. How about it Horde, safe & humane ideas for Maddie's barking issues?
***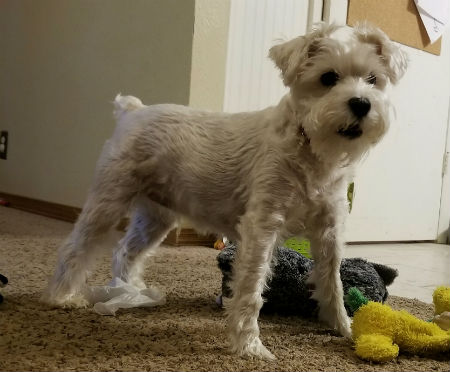 This is The Countess Etta Hildegaard von Dusseldorf, Ruler of Upper Schnauzernia. She is far too intelligent for our own good and though she runs a largely benevolent dictatorship, it is a dictatorship nonetheless.

She despises all those who dare to encroach on the borders of her kingdom such as solicitors and political candidates who canvas for votes but her special ire is reserved for the sinister and underhanded representatives of the postal and parcel delivery industries.

Long may she reign and continue to grace her subjects to her most royal and rancid flatulence. - Lurker Hartmann
***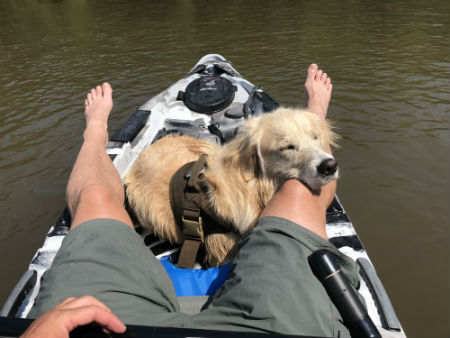 This is Franklin, a mostly English Creme, Golden Retriever. He is about a year and a half old and has not yet outgrown the urge to hump every other dog he sees.

He loves the water, clean or mucky and has become quite the kayaker. The harness helps me pull him back aboard.

The video is us on the family farm. He loves to run around the fields. Franklin on the farm.

He has a few neighborhood friends, but his favorite is his rifle range friend Merlin, who is a bit smaller, faster and more well-behaved. They both get disappointed if they go to the range and the other is not there.

iron308
Mostly lurker

So just how many times has he tipped you over? Adorable pup. Thanks for sharing with us. And you don't have to lurk, jump on in the water is fine.
***
This is Levon. My new English Setter pup. He was 8 weeks old in this picture but is growing like a weed. His mom calls him "No No Bad Dog!" He's a sweetheart and, yes, a handful. - Thomas

What an adorable puppy. He can't be what Mom says!!!! We appreciate you sending in Levon's photo.
***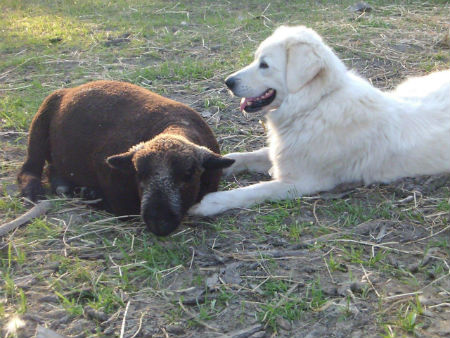 Hey! Here are a few of my derpy Babydoll Southdown sheep. Yes, they are pets and super friendly. They keep the grass under my vineyard trellises mowed. I have 11 of them and they all have funny names and individual personalities, despite being... sheep.

My female Great Pyrenees Sophie, and her BFF Koko. - Deb

We celebrate all pets! Quite the group of lawn mowers you have there. Thanks for sharing with us.
***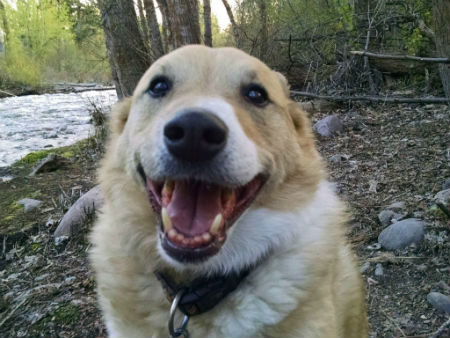 Orson here....owner of Tucker. He was a rescue at six months old, had been found under a bridge in Athol, Idaho. He was a husky/heeler mix, very friendly especially with kids, got along great with cats, was quiet except for his "someone's here" bark, which sounded like he was sure the world was going to end. Good Rocky Mountain dog, once chased a bear off the trail for us. We miss him every day. He had really pointy ears which you can't see because he's got them folded down. down. Thanx so much, you don't know how it made my day seeing his picture on my favorite site. Rock on.

Last week Orson submitted a photo of Tucker but no story, so I asked for the story. Here is Tucker's story.
The lesson here is if you send a photo in of your pet please include a short bio. And don't forget the name you want posted.
And on that note, thanks for all of the submissions this past week. Do you have something you would like to submit? Video? Your pet photo? A neat animal story? Please send to petmorons at gmail dot com.
Have a great week!!


posted by Misanthropic Humanitarian at
03:00 PM
|
Access Comments