« Weird News Dump
|
Main
|
Saturday Gardening Thread, Post-Halloween [KT] »
November 03, 2018
Thread before the Gardening Thread, November 3 [KT]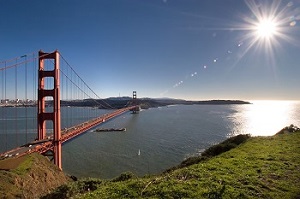 Serving your mid-day open thread needs
Good morning. Today we are visiting the left coast, mostly. The weather's nice where I am, but we face the horrible choice in the senate race between two Democrats -- Dianne Feinstein, who was blasted by the San Francisco Chronicle for her treatment of "the letter" in the Kavanaugh nomination debacle, and a far left type named Kevin de Leon. He has a "professional" (celebrity?) name. His birth name is Kevin Leon. That's who the Chronicle endorses. Of course. The Los Angeles Times endorses Feinstein in its English language edition, and de Leon in its Spanish language edition. Heh.
Anything interesting going on in an election near you?
Here's a reminder that things have been crazy in California, particularly in San Francisco, for a long time.
San Francisco, Jim Jones and Harvey Milk
Rod Dreher recently wrote a piece on the secret history of Jim Jones and Harvey Milk. The 40th anniversary of Harvey Milk's assassination, as well as the Mass Suicide of Jim Jones' followers, is this month. Dreher's piece is partly in the form of an interview with Daniel Flynn, the author of a new book, Cult City: Jim Jones, Harvey Milk, and 10 Days that Shook San Francisco.
Here is part of the author's final summary on why he wrote the book:
Jim Jones could not have killed 918 people without politicians, journalists, and activists running interference for him. They mistook ideology for ethics, a mistake common to fanatics of all stripes. Rather than learn from this mistake, they compounded it by portraying Jones posthumously as someone he was not to protect their ideology, shield their political skullduggery, and absolve themselves from the journalistic sin of performing PR instead of real reporting.

Cult City is a case study in the worst that can happen when powerful people look away from evil because the evildoer shares their politics. This repeats itself in the Jonestown post mortem, which witnesses a massive attempt to suppress the whole point of Peoples Temple: to promote left-wing politics.
The whole piece is full of things they just don't teach us about these events. I remember learning part of this information earlier, and in fact the author has written about these issues before. Flynn blasted the revisionism of Harvey Milk's history in City Journal, back in 2009. Legislation had been introduced to make Harvey Milk's birthday a state holiday:
Sean Penn's Harvey Milk is as real as Toby Maguire's Spider-Man. Who has time for the sordid details of purportedly staged hate crimes and boosterism of America's most prolific mass murderer when there is a gay Martin Luther King to be mythologized? Even the fervent atheist Milk understood the need for patron saints. When confronted by a jaded supporter over his fabricated tale that the Navy had booted him out because of his sex life, Milk responded: "Symbols. Symbols. Symbols." He understood his movement better than his movement did. When the facts didn't fit the script, both Milk and his present-day admirers adjusted the facts. As the elected sponsors of Harvey Milk Day realize, Californians are more likely to remember the celluloid hero they saw depicted by Sean Penn earlier this year than the obscure city official who walked largely unnoticed in their midst three decades ago.
David Thompson goes on virtual visits to left coast universities
Remember Evergreen State College? David has a photo up contrasting two ongoing opportunities for students.
Understanding and Unlearning Whiteness Skills Group Every Tuesday 6-8pm
Women of Color Support & Empowerment Group Every Thursday 1-2pm
There are a bunch of links to discussions of past craziness at this university at the end of the post.
I don't really want to say anything about David's visit to the Body Love Celebration at USC. You'll have to read it yourself. It may not be what you are expecting. And remember that a lot of the good stuff at his site is in the comments.
Video to leave on while you're doing other stuff
OK, Dennis Prager lives in California, but was not in California when this video was shot. He was in Colorado this week. In the video, he is speaking at CSU, where protesters greeted him and those who wanted to listen to him. He starts by inviting them to participate in an exchange of ideas. Remarkably, they do not just start out chanting. They had been personally invited to listen and respond in the Q and A, by young people accompanying Dennis, before the speech started.
The first part of the video, where Dennis dismantles a list of objections to his alleged racism, homophobia, sexism, etc. might help a student you know understand how the left attacks. The topic of the speech is why America need traditional values to thrive.
Hope you get to take a break and do something different this weekend. Got anything planned?

posted by Open Blogger at
11:21 AM
|
Access Comments