« Saturday Gardening Thread, October 20 [KT]
|
Main
|
Chess Thread 10-20-2018 »
October 20, 2018
Ace of Spades Pet Thread
***

Welcome to the almost world famous AoS Pet Thread. It doesn't matter what tribe your pet is from. Sit back and enjoy the world of pets.
***
A Little of This. A Little of That.
Photographic proof that cats can make bad decisions.
***

I'm waiting for Nevergiveup to offer his excellent dental prowess. Meet a cute dog with a hell of an overbite.
***
Man's best friend and vice versa. This particular dog found himself in a predicament. h/t ibguy
Meet The PetMorons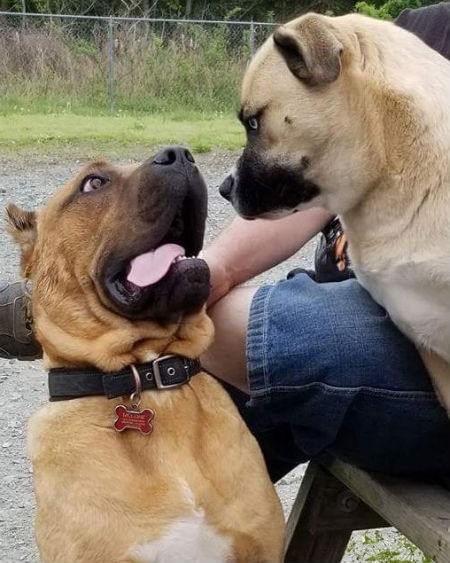 Hello, That Deplorable SOB Van Owen here.
Attached are pictures of Layla's Bark Park buddies Mason (L) and Shiloh (R). These two goofs don't take a bad picture. You can't see it in these photos, but Shiloh has one blue eye and one brown eye that give her a truly demented look. Mason always reminds me of Scooby Doo's less intelligent brother. Great pups, both and always fun to be around.
Van Owen, thanks for the photo. These pups look like they are a blast to be around.
***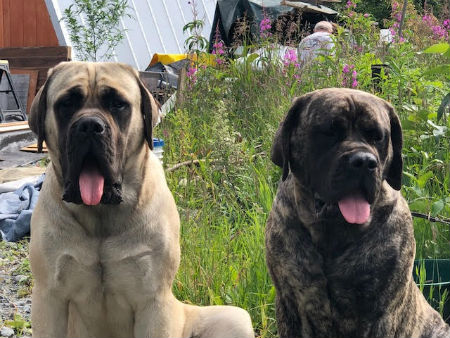 Hi Pet thread!

I wrote in a few months ago and you asked me if it was harder to raise two dogs that are the same age.

I have found that it is really easy to raise littermates. They play nonstop with each other which is awesome and it tuckers them out. The only con that I have found is when they're off-leash, they embolden each other so they will chase bears or coyotes which scares me.

Elsa and Stella just turned 1!! Happy birthday to these beautiful girls! -Erin
Happy Birthday Pups!!!! Try to be good off leash and leave the lions and tigers and bears alone.
***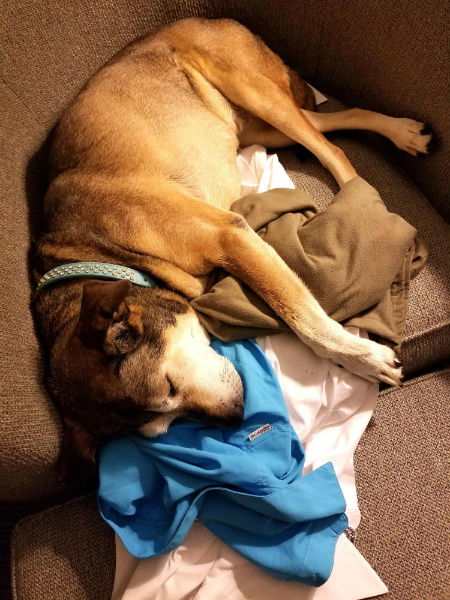 Thanks for all you do in keeping the pet thread going.
Here's a pic of doggy,Maxine. I had to leave her in US when i went overseas 3 yrs ago. Back then, she was 10yrs old, energetic,able to hear well,and loved to go after snakes,rodents,and other critters in NC. I picked her back up a few weeks ago and she would barely give me a sniff. Now,13yrs old,she's deaf, slow and creaky. Breaks my heart and i feel guilty. Ive been spoiling her since and now she insists on sleeping with some of my clothes. I hope she keeps going for a couple of more yrs.

All the best,
fastfreefall
Get rid of that guilt. You're home now and Maxine is loved. Enjoy your time with her!!! And thanks for sharing.
***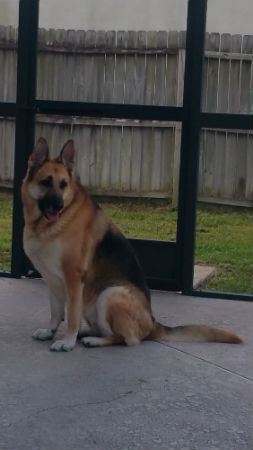 Hello,
Longtime lurker Keith, and I would like to submit a photo of my 7 year old German Shepherd Radar. From her puppy days to now her ears are a dominant feature, and she turns them as she is listening just like the old radar dishes and that is how she came to be named. She is a gentle sweetheart whose bark maybe loud but loves to like everything and everyone. I always look forward to the pets on Saturdays.
Thanks!
You're welcome Keith. We appreciate you submitting Radar's photo. A very splendid looking GSD.
***
This is Stella the berner, the embodiment of love, loyalty, patience, and good cheer since we brought her home when she was eight weeks old. Here she's getting ready for a walk in her spiffy polka-dot rain shoes, a gag gift. You wouldn't know it from her I'm-totally-on-board-with-this expression but she didn't like wearing the rain shoes. Needless to say they didn't last long but while they did, they brought the funny.


Hello to all the pet morons from Stella and her stoopid hoomans! -JuJuBee, just generally being shamey
Booties for doggehs. Cute. Wonderful ensemble for a nice looking dog. Thanks for sharing her photo.
***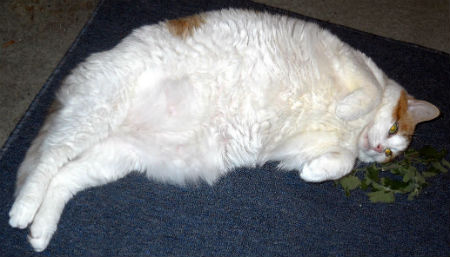 Hi from gp! Oh, the huge manatee! I found 6-week-old Buddy on my stoop the week before the Sep 11 attacks. He's super gentle and sweet, has made close friends with more than a dozen cats over the years. He has an ultra-cute teddy-bear look, and he works it hard when begging for stuff. This pic is from 2012. He's 17 now, slimmer, getting lame in the hips, but still enjoys all his favorite stuff: sunbathing, laptime, eating, and helping make the bed.
Hi gp, thanks for thinking of us and submitting Buddy's photo. Sounds like quite the pal, a pet without thumbs that can make a bed.
***

The Pet Thread received the following after last week's thread was posted.
I normally don't post solicitations for assistance. However it appears that one of our Moron lurkers could use a helping hand.
Here is what I received
Long time lurker asking you all to spread the word about my wife's service dog Chester. I've already shelled out over $3000 in vet bills with more to come but it's been worth it as his progress is amazing . I need help please so here goes. Hi everyone, please click here to support my GoFundMe campaign, Long live chester:

Please take a min and read this and share it if you can please.
Thks Don,Carolyn and Erin.
***
A wonderful group of pets. Thank you all for thinking of us and sharing. It is appreciated.
If you have something you would like to share with us you can reach the pet thread at petmorons at gmail dot com.
Have a great week!!!!


posted by Misanthropic Humanitarian at
03:10 PM
|
Access Comments