« Patriotism Used To Be A Simple And Expected Idea....Not So Much Any More
|
Main
|
Gun Thread: Quarter-Ass Effort Edition [Weasel] »
October 21, 2018
Food Thread: It's A Little Chilly In Here!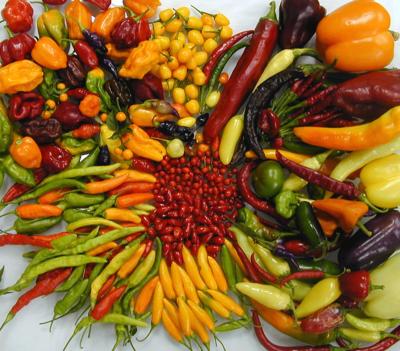 There are people (very, very strange and troubled people) who don't like spicy foods. If you are one of them you may go.
When I think of spicy or hot, I usually think chilies. Sure, pepper and mustard and horseradish (what other foods are hot?) can pack a tremendous punch, and we all use those for seasoning all of the time. But for the sheer variety of heat and flavor, it's tough to beat chilies.
Oh..."Chili?" Chile?" Chile Pepper?" In my stunted brain "chili" is the sauce into which we put meat and carrots and beans to make a wonderful and hearty dish. "Chile" is the fruit of the various varieties of capsicum (which is in the nightshade family!).
I love spicy food, but sometimes when that weird line between spicy and hot is crossed I get confused, because when done well, roaring hot foods can be glorious. I have mentioned before a dish at a local Chinese restaurant that is simply lamb with cumin...and way too much hot chilies. But it tastes so good that even in the throes of that intense heat I am tremendously happy and eat more, knowing full well that it is just going to get more and more painful.
And I think that's the trick...the food itself has to be good, or the heat is wasted and unpleasant. I am nowhere near being an aficionado of peppers, so when I read about the seemingly infinite flavor profiles of chilies my eyes glaze over and I just nod (and nod off). But I'll cheerfully use them in my cooking and simply go by the recipe!
[Don't worry, there is some food pron below the fold.]
******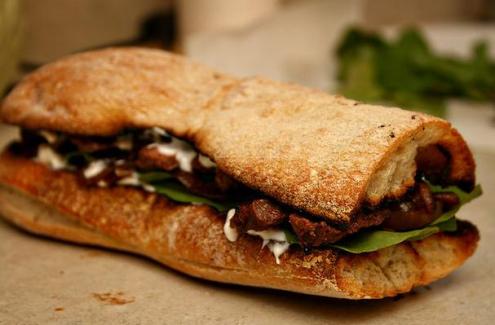 Gutting the bread is a vital step! I think most sandwiches (and almost all Italian deli sandwiches around here) have way, way too much bread. The first thing I ask is that the sandwich mechanic carves out the guts of at the least the top of the loaf.
This one's a bit over-toasted, but I'll allow it.

******
Long-time commenter "Stringer Davis" submitted a recipe to
The Deplorable Gourmet
cookbook that was immensely amusing, but just a tad long for publication. Well, it was sort of a book-length treatise on the wily and elusive cucumber, and its finest use is in the eponymously named
"cucumber salad."
clever...huh! Read it...it's very funny, and it sounds pretty good too.
******
This is a couple of Brit chefs tasting pompous or weird ingredients. They have English accents so they sound smart, and it's amusing. Worth a watch.
******
36 Weird Kitchen Gadgets That Are Borderline Genius
Yeah...maybe not genius. How about..."sort of interesting and I would use them once or twice then toss them into that junk drawer that is overflowing."
I simply don't use kitchen gadgets. That's not to say I don't have any, but I fond that a selection of knives covers pretty much everything I need to do. How about you lunatics? Anybody use a gadget that they can't do without?

******
In general I like spirits with a lot of alcohol. Cask-strength bourbons and whiskeys have that additional bite of alcohol that adds complexity, and they don't lose it when you choose to add some water or an ice cube. So I gravitate toward that sort of stuff, which, unfortunately, makes booze more expensive, because it is taxed in part on alcohol content.
I never noticed "Navy Strength," before, but I will be looking for it! The only high-alcohol gin I can recall is my go-to gin for martinis...Brokers Gin, which is about 90 proof.
[Hat Tip: redc1c4]

******
The original recipe is a bit fussy (as are most of Cooks Country recipes) for my taste, and it is most appropriate for use with leftover mashed potatoes (so I edited it), but it's a good tasting end result, so why not! I didn't link to them because the recipe is behind a wall, but a similar recipe can be found at a dozen different places simply by Binging the title.
By the way, why don't they just say, "pan-fry in vegetable oil until crispy and golden-brown?" And stop telling me to be careful.
Too Many Words!
Cheddar and Scallion Mashed Potato Cakes
Ingredients
2 1/2 pounds of mashed potatoes (cooled)
Salt and pepper
4 ounces sharp cheddar cheese, shredded (1 cup)
¼ cup sliced scallions
1 large egg yolk plus 2 large eggs
2 cups panko bread crumbs
1 cup vegetable oil
Sour cream
Instructions
1. Add cheddar, scallions, egg yolk, 3/4 teaspoon salt, and 1/4 teaspoon pepper to potatoes.
2. Beat remaining 2 eggs together in shallow dish. Place panko in second shallow dish. Divide potato mixture into 8 equal portions (about 1/2 cup each) and shape into 3-inch-diameter cakes, about 3/4 inch thick. Working with 1 cake at a time, carefully dip cakes in egg mixture, turning to coat both sides and allowing excess to drip off; then coat with panko, pressing gently to adhere. Transfer to plate and let sit for 5 minutes.
3. Line large plate with paper towels. Heat 1/2 cup oil in 12-inch nonstick skillet over medium-high heat until shimmering. Place 4 cakes in skillet and cook until deep golden brown on first side, about 3 minutes. Using 2 spatulas, carefully flip cakes and continue to cook until deep golden brown on second side, about 2 minutes longer, gently pressing on cakes with spatula for even browning.
4. Transfer cakes to prepared plate. Discard oil and wipe out skillet with paper towels. Repeat with remaining 1/2 cup oil and remaining 4 cakes. Serve with sour cream.

******
Food and cooking tips, Haggis, Henry Big Boys in .357, Scotch Eggs, thick and fluffy pita and good tomatoes that aren't square, pale pink and covered with Mestizo E.coli:
cbd dot aoshq at gmail dot com
. Any advocacy of French Toast with syrup will result in disciplinary action up to and including being
nuked from orbit.
&topic=world_news">

posted by CBD at
04:00 PM
|
Access Comments