« Food Thread: It's A Little Chilly In Here!
|
Main
|
Sunday Overnight Open Thread (10/21/18 ) »
October 21, 2018
Gun Thread: Quarter-Ass Effort Edition [Weasel]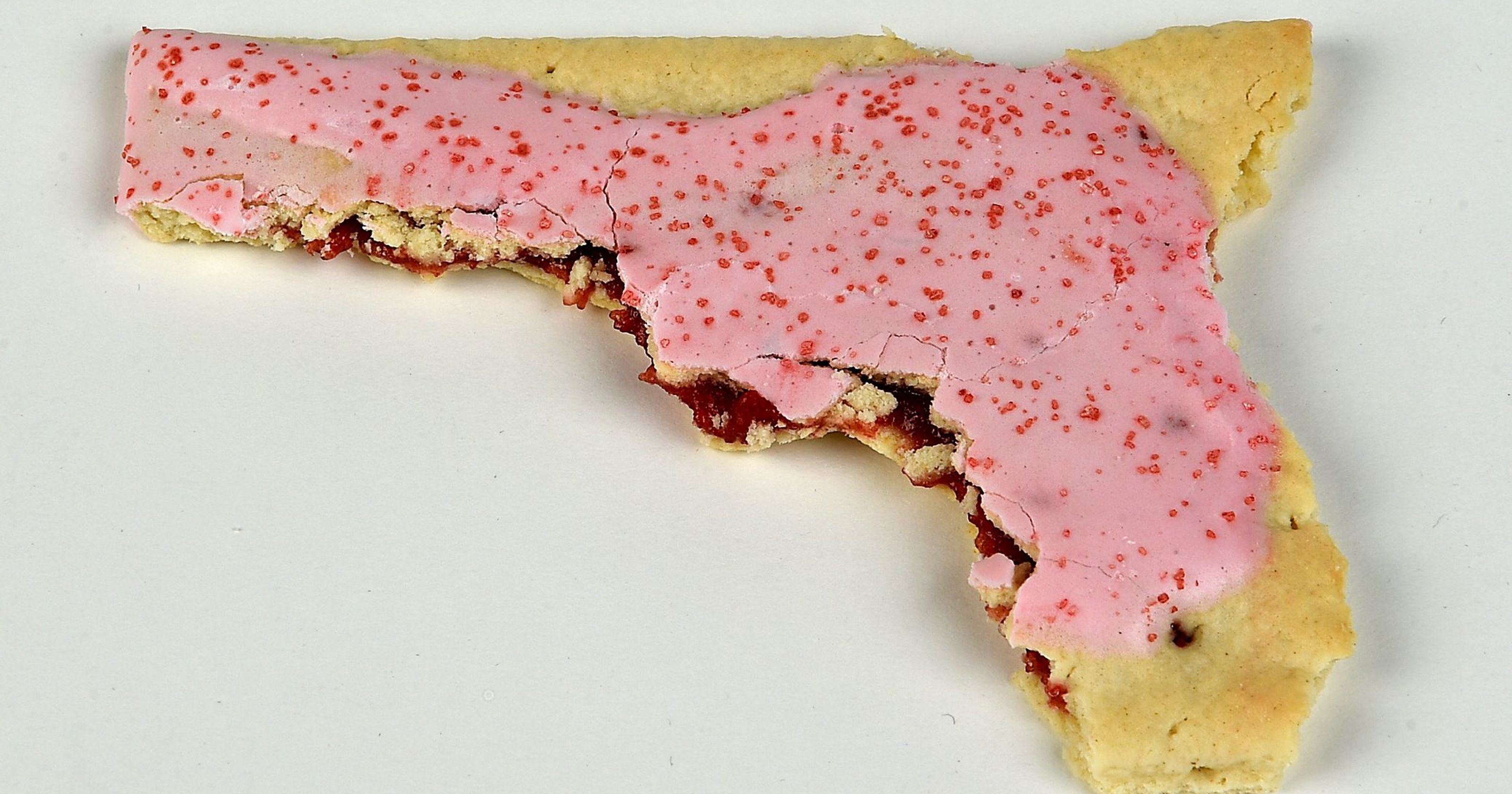 Strawberry Frosted Pop-tart in .45ACP

So some crazy people invited me to a party in Texas this weekend, and by the time you read this Sunday evening I will either be relaxing at home, or sitting in jail. Whichever the case, I will almost certainly need to spend some time explaining to WeaselWoman exactly why we spent two days hanging out with such a collection of reprobates. But never fear - I'm making what can only be considered the absolute minimum effort now to pull together some gun thread content before heading to the airport.
Content!
I guess we need some content, so let's experiment with posting video!
Some of you have seen this material before. The Uzi is a lot of fun to shoot, however, the hanging steel target turns out not to be the best choice with an automatic weapon as the front to back swinging requires frequent pausing while the target is reacquired. Still, if you get a chance to pick one of these up for cheap at a farmers market or in the parking lot of a gun show, by all means do. Also, buy lots of ammo. LINK to video
And speaking of targets, what do you use at the range? When I'm outside just shooting for fun I like steel because it's just fun to hit. If I'm outdoors practicing for a match, I use an electronic target, and we'll have more about this in a future thread. If I'm at an indoor range, I use a plain sheet of copier paper and draw a dot on it with a Sharpie, or use adhesive 1" dots in bright, contrasting colors. I've used the day-glo reactive targets and they work very well, but they seem a little pricey to me. How many of you use steel? What has your experience been with bullet splatter and ricochet?
*******
Astute commenter Mr. C. B. Dildo sends us the following video review of the Canik TP9SF Elite by Colion Noir on his First Mag video channel. It's worth your time, and I may include more of these from time to time when I'm too lazy to do the real work of writing semi-original content. LINK to video
OK, that was fun but now I'm tired of embedding videos, and I'm not entirely certain they're working, so I will just link the last one. Many of you will have seen this in the news, but these guys are simply acting too retarded for the Gun Thread to ignore. Retards at the Range I don't want to get hung up on this but it's just about the dumbest thing I have ever seen. While I have seen some pretty stupid things, never have I seen anything that approaches this level of stupidity. This is epic stupidity.
What's the stupidest thing you have seen at the range?
What's the stupidest thing you have done at the range?

***This Old Gun***
This weeks old gun comes to us from Lurker with a Musket who has absolutely nailed it for this week! I know a bunch of you are very knowledgeable when it comes to weapons of this era, and hopefully you can bitch slap us all with some knowledge on this particular gun.


Musket courtesy Lurker with a Musket
Lurker with a Musket tells us:
This musket belonged to my great-great grandfather, Adolphus, who was in the 1st Regiment New York Mounted Rifles during the Civil War. I'm told it is an 1845 Towers (maybe Powers) but I'm skeptical of that claim because I can't find any information on that manufacturer. It looks a lot like the 1842 Springfield which is consistent with it's .69 caliber smooth bore although my father disagrees (I'd love to learn more if anyone can identify it). At the age of 15, Adolphus walked from New York to Richmond, VA where he enlisted. He eventually ended up marching under General Sherman during Sherman's March to the Sea. After being discharged, Adolphus then carried the rifle, which was taller than he was, all the way back to New York. We believe it was last fired on July 4, 1913. The ramrod was subsequently turned into a fishing rod which is in my possession. My father has the musket itself but has resisted all my attempts to convince, cajole, bribe, threaten or guilt him into giving it to me.
This is just cooler than shit. Thanks Lurker with a Musket!!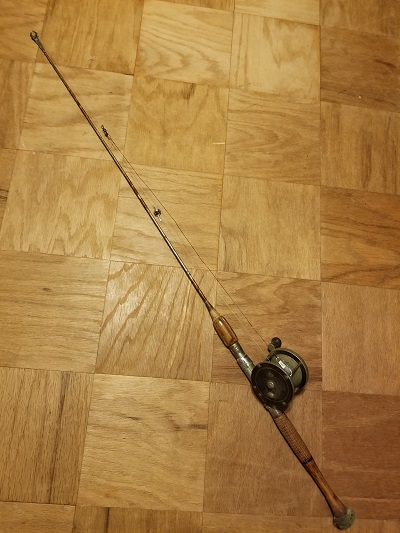 Fishing Rod Formerly Known as Musket Ramrod (FRFKAMR)
*************
Please note the new and improved gmail account MoronGunThread for sending in stories and pictures. Thanks for your patience and please let me know if you have any more trouble (with the email). Again, that's morongunthread at gmail dot com. If you care to share the story of your favorite firearm, send a picture with your nic and tell us what you sadly lost in the tragic canoe accident. If you would like to remain completely anonymous, just say so. Lurkers are welcome!
That's it for this week - have you been to the range?

posted by Open Blogger at
07:10 PM
|
Access Comments