« EMT 10/14/18
|
Main
|
Who's Next On The SJW Hit List: Jesus...Elizabeth I...Sheriff Taylor? »
October 14, 2018
Sunday Morning Book Thread 10-14-2018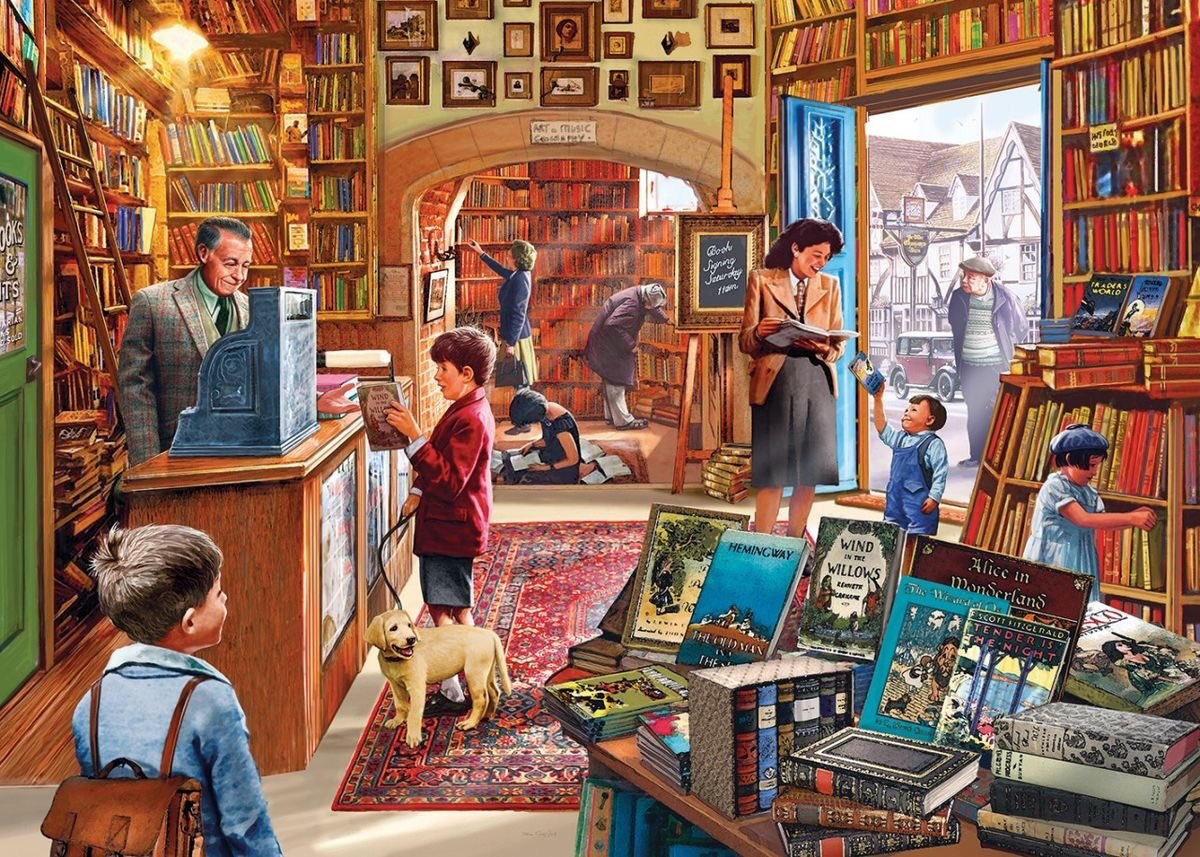 Bookshop
Digital Art by Steve Crisp

Good morning to all you 'rons, 'ettes, lurkers, and lurkettes, wine moms, frat bros, and everybody who's holding your beer. Welcome once again to the stately, prestigious, internationally acclaimed and high-class Sunday Morning Book Thread, a weekly compendium of reviews, observations, and a continuing conversation on books, reading, and publishing by people who follow words with their fingers and whose lips move as they read. Unlike other AoSHQ comment threads, the Sunday Morning Book Thread is so hoity-toity, pants are required. Even if it's these pants, which look more horrifying the longer you look at them, so I suggest you not tarry overlong on the pic. Why anyone would want to wear pants with the face of a bitter old drunk plastered all over them is beyond me.
(h/t SandyCheeks for the ugly pants pic)

It Pays To Increase Your Word Power®
Thaumaturgy is the capability of a magician or a saint to work magic or miracles.
Usage: With Hillary Clinton's ability to appeal to people other than other drunken harridans remaining at absolute zero, the #MeToo campaign undercut by Harvey Weinstein and Bill Clinton, and the Democratic Party's general descent into madness, George Soros was reconsidering spending more money on consultants with degrees from the Sedona Higher Institute of (Applied) Thaumaturgy.
(h/t Zoltan)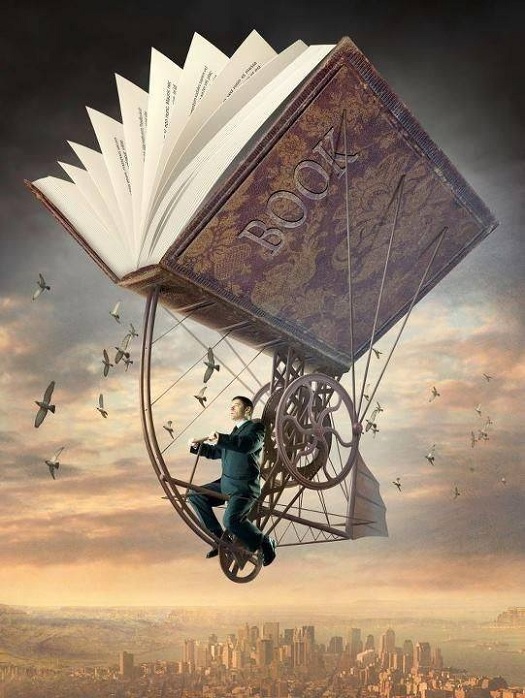 The Goddess of Steampunk
This past Tuesday (Oct. 9th) was Ada Lovelace Day, which is one of those present-day holidays set up to suit the circumstances of the moment, this one to "celebrate women in STEM fields", i.e. injecting progressive ideology into the STEM fields so that actual math gets shoved aside by crap math and actual science is turned to junk science. And all of this does is to insure the mediocrity of any intellectual endeavor or discipline.
Not that Ada Lovelace was anything like this. Even though there is some controversy concerning the significance of her contributions to computer science.
But it did lead me to this comic boo graphic novel that looks like fun, The Thrilling Adventures of Lovelace and Babbage: The (Mostly) True Story of the First Computer. It looks like a lot of fun. Babbage never built any of the machines he conceived, but
The Thrilling Adventures of Lovelace and Babbage presents a rollicking alternate reality in which Lovelace and Babbage do build the Difference Engine and then use it to build runaway economic models, battle the scourge of spelling errors, explore the wilder realms of mathematics, and, of course, fight crime—for the sake of both London and science. Complete with extensive footnotes that rival those penned by Lovelace herself, historical curiosities, and never-before-seen diagrams of Babbage's mechanical, steam-powered computer, The Thrilling Adventures of Lovelace and Babbage is wonderfully whimsical, utterly unusual, and, above all, entirely irresistible.

Moron Recommendation
Captain Hate likes short stories. Let him tell you about Something Rich and Strange: Selected Stories by Ron Rash, an author who I had never heard of until, well, Captain Hate recommended his book of short stories:
They all are centered in the sticks of western North Carolina where Asheville is the closest "big city". Some are contemporary and some go back to the Civil War where loyalties were divided and most people wanted to be left the fuck alone. Rash is an academic, I guess, but I think he just does it as part of his business model and how to support his writing obsession because he seems as far from someone who is slumming it by writing about people he inwardly hold in contempt as you can get. In fact if anything he doesn't have any patience with people who look down on them. The stories are all very readable and gripped me immediately. Some of them popped in and out of my thoughts for days. Very highly recommended.

Posted by: Captain Hate at October 07, 2018 09:26 AM (y7DUB)
___________
The Amazon blurb says these stories have been published in earlier Rash collections. The Kindle edition costs $12.99.
And speaking of short stories, I would recommend Fancies and Goodnights by John Collier, and I first heard about this author from one of my high school English teachers back in the day, and he's a lot of fun. The stories remind me of the old "Alfred Hitchcock Presents" TV series. Or, Twilight Zone, if you prefer. In fact, a couple of Collier's stories were made into Twilight Zone episodes. But you should read the original stories, because, in my opinion, they're a lot creepier.
___________
A couple of years back, there was a moron (some of you may remember Sean Gleeson) who discovered that his father wrote a bunch of short stories. But they didn't find out until after he had passed:
Paul F. Gleeson was a successful Chicago lawyer who died in 2012, at the age of 70. He was also my father. Among his belongings we found a boxful of typed manuscripts from the 1970s and 80s. It turned out they were short stories he had written...

Also in the box were rejection letters from publishers. Dad was unable to get past the literary gatekeepers of those days. Discouraged, he stuck to his day job, and gave up his dream of entertaining the readers of America. The stories sat, unread, for three decades in a dusty heap.
This is like discovering buried treasure. So Sean and his siblings bundled them up and published them as Screams from My Father: Stories by Paul F. Gleeson.
Sean describes his father's stories as
Rip-roaring pulp-fiction tales, with ironic twist endings, like Alfred Hitchcock or Twilight Zone stories.
There's a lot more information at the Amazon link.

Books By Morons
I heard from a buncha moron authors this week.
Moron author Dave Dubrow has just published the 3rd and final installment of his 'Armageddon' series, The Holy Warrior and the Last Angel:
While Hector the Blessed Man fights malevolent Nephilim outside of Creation itself, Ozzie finds himself outnumbered by ravening hordes of demons on Earth. Kyle, the Herald of Armageddon, discovers that being a true Prophet of the Lord is a burden far more terrible than he could have imagined, stretching his faith to the breaking point.

As Hell destroys every last good thing on Earth, where are the angels? Who can save us from eternal damnation when even Heaven is threatened?
This is the series that started out with The Blessed Man and the Witch and then the sequel, The Nephilim and the False Prophet.
Also, Dave has an offer for you morons:
As is always the case, if any AoS readers are interested in reviewing this book or the first two books in the trilogy, The Blessed Man and the Witch and The Nephilim and the False Prophet, please email me at davedauthor at sign gmail dot com and I'd be happy to send a Kindle-ready copy in exchange for an Amazon review.
And you can't get a better deal than that.
___________
James Dudley has also released the third novel of his Cold War spy trilogy, The Clown Prince of Camelot:
In 1945, a young GI named Tommy Malloy returned to his hometown of Philadelphia, determined to pursue his dream of becoming a comedian. With the support and assistance of the local mafia, his new career was launched in the seediest of late-night clubs.

Seventeen years later, Tommy Malloy is a bonafide star...his high-powered circle of friends includes President John F. Kennedy.

With Cold War tensions running high, the White House approaches Tommy with an unusual request- to help enlist the support of his mob boss friends in a covert scheme to assassinate Fidel Castro.

Tommy enthusiastically accepts, assuming he will simply be delivering messages back-and-forth while eating some amazing Italian food along the way. But dangerous games are afoot, and he soon finds himself in the crosshairs of a KGB plot that threatens to bring down a President and push the world to the brink.
Dudley says:
If you enjoy sensational fictional stories about Russian spies and presidential scandals, well I think I do a much better job of it than CNN.
Hopefully, none of these stories involve Russian hookers and pee. Or Brian Stelter. Ugh.
You can read more of Tommy Malloy's adventures in Dudley's earlier books, The Clown Prince of Kowloon and The Clown Prince of Paris.
___________
Finally, R. G. Ainslee checks in with his third 'Secret Cold War' series novel featuring ELINT Analyst Ross Brannan, The Iranian Intercept
The Secret Cold War Series, by Army Security Agency veteran R.G. Ainslee, continues with a fast-moving adventure that moves from the high Himalaya to the chaos of revolutionary Iran and the wilds of Afghanistan.
NSA sends ELINT Analyst Ross Brannan to Nepal to interview a woman who may have worked with defector J. Andrew Marsden on a ground-breaking air defense concept...Is he working for [the Russians] again? One way to find out — send Ross and the Raven-1 team to Iran. One problem: Iran is on the brink of revolution. All hell breaks loose as the Iranian Revolution heats up. Ross and the Raven-One Team rush to the top-secret site on the Soviet border with Iran. Time is running out. But things are about to get worse, the Soviets have learned of his mission, and will stop at nothing to hunt him down.
The Iranian Intercept: A Ross Brannan Thriller is now available exclusively on Amazon.com in both Kindle and paperback editions.
The book trailer may be viewed at YouTube.com.
More information may be found at rgainslee.com.
The Latakia Intercept and The Ethiopian Intercept are the two previous novels in the 'Secret Cold War' series.
___________
Don't forget the AoSHQ reading group on Goodreads. It's meant to support horde writers and to talk about the great books that come up on the book thread. It's called AoSHQ Moron Horde and the link to it is here: https://www.goodreads.com/group/show/175335-aoshq-moron-horde.
___________
So that's all for this week. As always, book thread tips, suggestions, bribes, insults, threats, ugly pants pics and moron library submissions may be sent to OregonMuse, Proprietor, AoSHQ Book Thread, at the book thread e-mail address: aoshqbookthread, followed by the 'at' sign, and then 'G' mail, and then dot cee oh emm.
What have you all been reading this week? Hopefully something good, because, as you all know, life is too short to be reading lousy books.


posted by OregonMuse at
09:00 AM
|
Access Comments