« Monday Overnight Open Thread (9/24/18 )
|
Main
|
Mid-Morning Open Thread »
September 25, 2018
The Morning Report - 9/25/18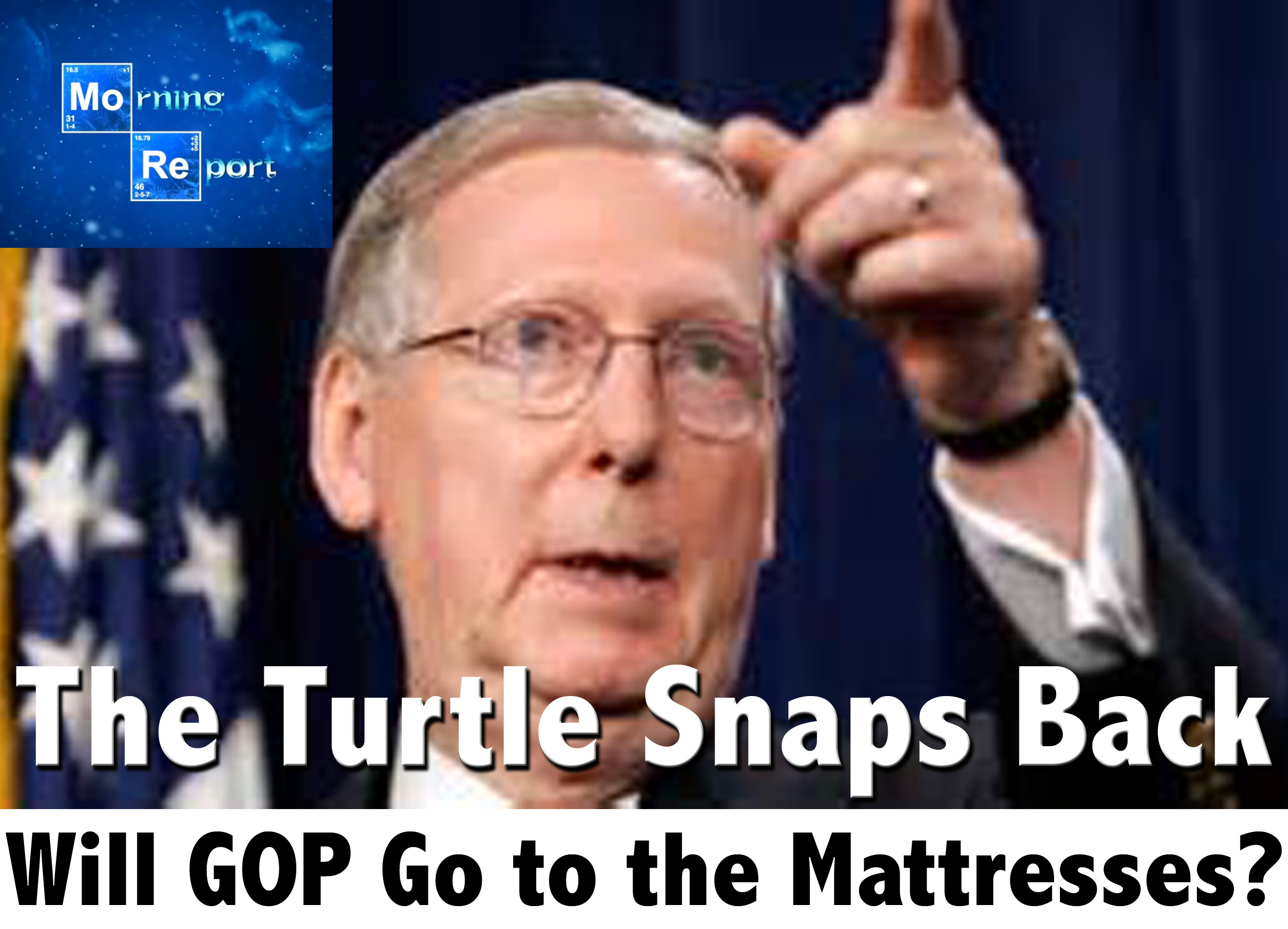 Good morning kids. Tuesday and the unmitigated shit-show that is now, beyond any doubt whatsoever, a coordinated Democrat-Left-Media smear campaign against Brett Kavanaugh continues to suck the oxygen out of the room, and encase decent people in a veritable pool of toxic sludge. Not least of which the nominee, his wife and children. On a positive note, as Kavanaugh stands defiant, refusing to knuckle under and allow this revolting barrage of lies to not only torpedo his rightful place on the Supreme Court but more than likely remove him from the DC Circuit where he now sits and in effect destroy his life and livelihood, the leadership of the GOP as well as the rest of the party shows signs of growing a spine and duking this one out, both in the Senate and crucially on the campaign trail as Wisconsin Senate candidate Leah Vukmir is now showing the way.
And it's a good thing to, since as Rush Limbaugh and others including Sean Davis over at The Federalist correctly surmise, to cave on this will ensure the GOP gets wiped out come the November midterms. I think we all know many of the details behind both the Ford and Ramirez accusations, the salient points of which are both are allied with and themselves strident Leftists and that virtually everyone they say witnessed the activity the claim happened either refuses to confirm them or flat-out denies they happened or that Brett Kavanaugh was anywhere near them at the time and place they allegedly occurred.
But, we are now in the topsy-turvy, Orwellian Planet of the Apes world where political expediency now dictates that you - meaning males, conservatives and anyone opposing the Counter-American Revolution - will be simultaneously charged and convicted of a crime and must bear the burden of proving their innocence; something which history dictates is an impossibility. There are so many things that this touches upon including radical Feminazism and its emasculation of the American Western male, which in turn has been fueled by the indoctrination/brainwashing machine of academia for at least three generations that has in turn, as Abe Lincoln said "eaten away at the vitals" of our society, culture, the notion of the rule of law, and the American identity and ideals. But on a purely tactical level, beyond hatred of Trump and Republicans and the reflexive and historic opposition to any nominee or piece of legislation, Ben Carson nails it, insofar as identifying (as I and others here have for weeks now) that because virtually all of the Left's agenda is rammed down our throats because of political hacks-in-black that occupy the Judiciary. And without the Supreme Court as the final word, much of their power is taken away from them. And in their eyes, that cannot be allowed to stand.
So naturally, as a result of the Media-driven otherization/demonization of we the people, Ted Cruz and his wife were forced to flee a restaurant from a more than likely Soros-funded goon squad. Considering what happened to Steve Scalise, is it any wonder? In semi-related news, Squeaky Fromme-looking unibrowed thugette, and insurrectionist DoJ saboteur Alison Hrabar, who pulled the same vile stunt on DHS Secretary Kirstjen Nielsen a while back is no longer at the DoJ sabotaging the republic. Thats's good to hear but there are hundreds, perhaps thousands of little Eichmanns just like her that need to be purged. But I digress...
Yesterday, Ace covered both the Kavanaughs' interview on Fox as well as Rush's assessment of the political situation. As I said, I think the GOP is growing a spine and it's good to see McConnell and even Lindsay Graham getting fired up and firing back because I think aside from being fed up getting slimed by their colleagues collies across the aisle, they too recognize what's at stake in November if not more broadly for the direction of the nation. As Milton Friedman said, this issue makes it politically profitable for the wrong men to do the right thing. While I'm heartened by this, it's infuriating that it takes so much begging, screaming and cajoling by us for them to get to this point. I wish it wasn't the case but, douchebags like Jeff Flake and Bob Corker notwithstanding, I think Kavanaugh is going to make it, please G-d. And see the link about red state Dems like Joe's Man-Chin who are still not going the McAssKill route and voting "no" just yet. Stay tuned...
And if we're going through this with a nominee that was allegedly politically/judicially palatable for the other side (meh, none of our nominees are ever that to them), wait until some stale kale or a 5 pound Candygram opens up one or two more seats on SCOTUS. As the piece in the sidebar states, things could very well get violent.
Segueing into politics, nothing new to report in the Keith Ellison abuse scandal, but Maggie Hassan in New Hampshire got some 'splainin' to do regarding her covering up of a student sex abuse scandal at Phillips Exeter Academy, thoughts on the GOP's electoral prospects if they cave, Bob "chica-puta-loco" Menendez might have a real challenge on his hands but the GOP candidate has a possible Achilles heel, Joe "diddly" Biden is high on Cory Blucher and Kamala-Toe as well as purple drank, Kirsten Jello-Brain is a lying slag, and the Los Angeles jail system is conducting a voter registration drive... among prisoners.
Speaking of Democrat voter drives, Yale of all places released a shocking study that shows what we all know - that there are upwards of double or triple the number of illegal aliens living here in the USA. One of them, one of Nancy Palsi's shining examples of humanity (aka an MS-13 subhuman fiend) was convicted of butchering 4 people with a machete. Meanwhile, in First Amendment and Fake News News, Brian "thumb/tater" Stetler, get this, calls out Mark Levin for fake news while Daniel Greenfield covers the under-the-radar yet just as vile smearing of Ron DeSantis. And in Mueller-gate news, confusion reigns as to the fate of Rod Rosenpenis, who supposedly quit yesterday yet is still slated to meet with PDT on Thursday. And, if he does ankle, the successor overseeing the Mueller probe is going to be Solicitor General Noel Francisco. Perhaps he might be the one to shut down Mueller? Or is he a Deep State stooge like all the others? IIRC, there was some resistance to his nomination but I will have to confirm that before delving deeper into prognostication.
On the global scene, the President was at the UN General Assembly where he crowed about the Korean diplomatic breakthrough, while the administration wants another summit before the new year. Elsewhere, 5 nations are vowing to go around the US in oil deals with Iran. Block the Straits of Hormuz or sanction the crap out of the 5. Meanwhile, the threat of an EMP attack is alarming the experts who urge immediate action to shield our vulnerability.
From hither and yon, a Chi-Com university expelled a student for "unpatriotic" comments; so I guess Janet Napolitano is advising them, eh? The FBI is reporting violent crime was down in 2017, links about triumphant Trumponomics as well as trillion dollar deficits, toxic feminazism, a shocking report about Fidel Castro's thugs torturing our POWs in Vietnam and lastly, friend of the blog and Morning Report Christian Toto on the press covering for Tubby Riefenstahl's box office poison as well as his hypocrisy in his real life. Christian's site Hollywood In Toto is one you should bookmark. Excellent insights into the politics of showbiz.
Anyway, links from around the world, across the nation and up your street. Have a better one and remain blessed.


KAVANAUGH CHARACTER ASSASSINATION


posted by at
07:19 AM
|
Access Comments