« Cute ONT
|
Main
|
Mid-Morning Open Thread »
September 21, 2018
The Morning Report 9/21/18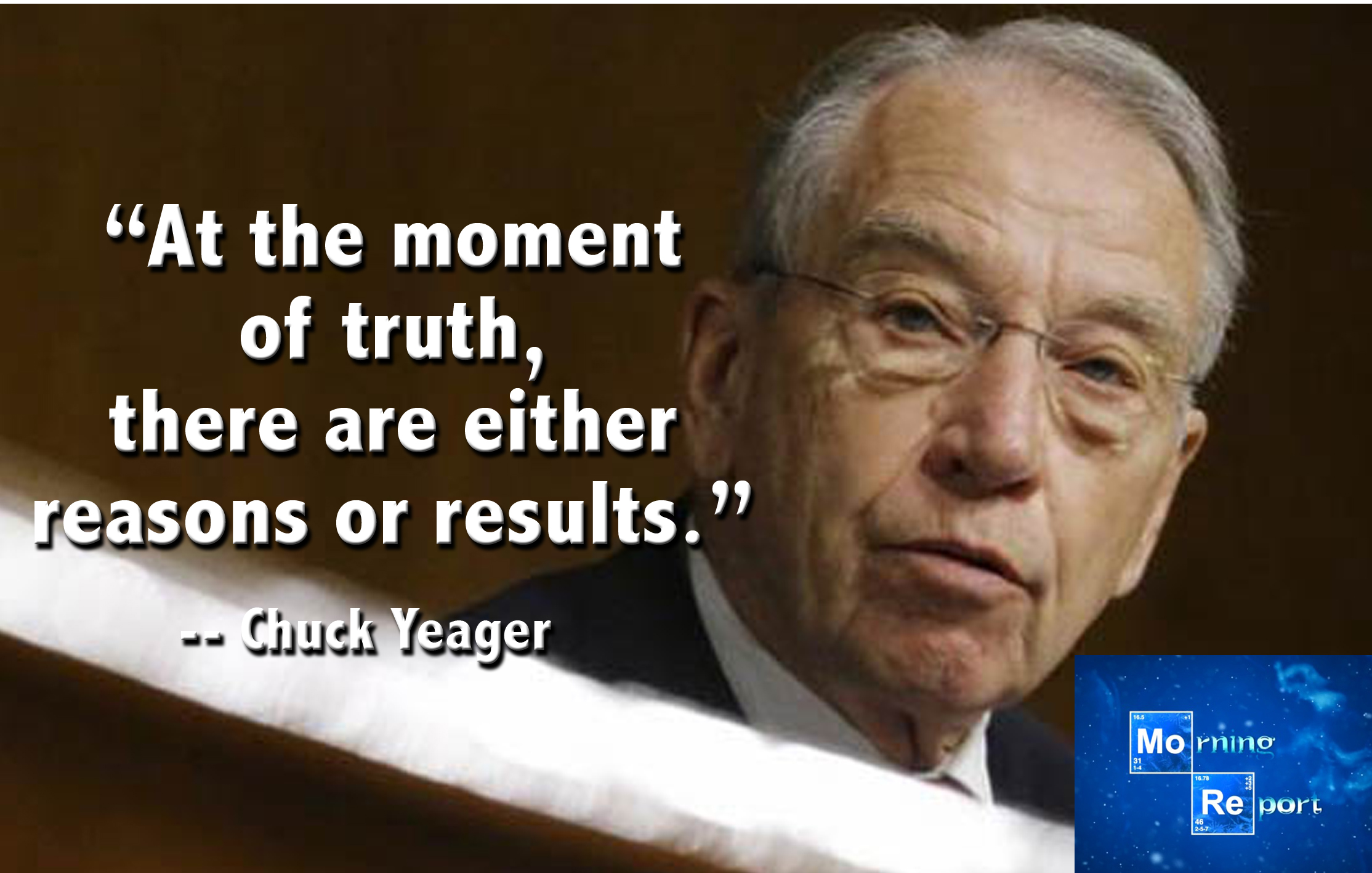 Good morning kids. Friday is here and as I hit the post button we are a scant 2 hours 8 minutes from the magic 10 o'clock hour where we will learn whether or not the lying stooge planted by the Dems will come before the Senate Judiciary Committee and lie some more at a Monday hearing or not. What surprises the Democrat-Left-Media complex may or may not have up their collective skirt, such as new witnesses and/or "victims" to inflict on us or demands of a change of venue, the continued pressing for an FBI investigation into the nominee, an investigation as to why the FBI won't investigate the nominee, what questions the Accuser/Liar will be permitted to be asked of her and by whom, only agreeing to be deposed when there's world peace, etc. etc. to me are wholly irrelevant, headline-generating though they doubtless will be.
The only thing that I am waiting to find out come 10:00 this morning is will Chuck Grassley step up to the plate and do his duty as the chairman of the Senate Judiciary committee and as an honorable, decent, law-abiding man if the Dems attempt to continue to abuse Brett Kavanaugh, his family, the American people who elected the President who nominated this man and in so doing, sabotage the will of said people, the proper functioning of government and the rule of law?
With everything we have been forced to endure not only with this shameless and shameful spectacle, but for decades now, not only with Justice Clarence Thomas but with virtually every single judge or political appointee nominated by a Republican president since Ronald Reagan if not Richard Nixon, it is high time that the GOP under Senators Grassley and McConnell and the entire majority in Congress swat this garbage down and say "enough!"
At the risk of being repetitive, the Supreme Court, along with lower courts represents perhaps the most powerful weapon by which the Democrat-Left cements much, if not all, of its unpopular and anti-constitutional policies into permanent, eternal, immutable law. Even after at least 50 years of controlling the media and brainwashing several generations of the citizenry via the schools, they know that they cannot achieve what they want via the ballot box without lying to the electorate (and that may yet change considering the internal struggle between the stealth Trotskyites and the bust-out Khmer Rouge factions within the Democrat party). Couple this with the fact that they are still licking their wounds over 2016 and voila.
They will not accept rejection because they cannot accept rejection (I wont't go into a diatribe about elitism, the Frankfurt school, progressives and the Fabian socialists but many of you understand how that fits in, and it's not needed). The long march towards what was seen as the inevitable overthrow of America as founded and fundamentally transforming it into some sort of socialist "utopia" has been stopped cold by the election of Donald Trump. Thus the insane lie that he with the help of the Russians stole the election, along with the usual anti-American, anti-free market, anti-Judeo Christian bromides has so infected the Left that those who manufactured the propaganda believe it.
Their will-to-power is such that we are seeing the putative political leaders vomit up mind-bogglingly insane, hate-filled rhetoric as they rage against we the people who have rejected them, and as the President's policies are succeeding beyond what anyone had hoped for and in stark contrast to the previous 8 years and to the conventional wisdom of the Acela Corridor/Ivy League/Coastal Elite weltanschauung. But I digress...
What it all boils down to is the Democrat-Left-Media Complex is now naked in its ambition to recapture the reins of power at whatever the cost - even if it means , fomenting violent confrontation, destroying the rule of law, common decency and the norms and customs that hold the threads of our society together. And those threads are gossamer thin to begin with.
Despite all of this, the mindset of the GOP Establishment is such that it either a) does not recognize the mortal danger that this nation is in because its members, especially the older ones, live in a time warp and view the rhetoric as mere politics b) don't care about what the Dems are doing because they're bought and paid for by big corporate interests and just go along to line their pockets, or some combination of both.
If I want to be optimistic, I can say that Grassley's letter to the Accuser/Liar and her lawyers, amounted to an ultimatum and that that this Feinstein-engineered stunt was the last straw. And when even loud and proud anti-Trumpers like Jeff Flake and Bob Corker say enough's enough, then that gives you an idea that they are not amused by this. But on the down side, I have to recognize that whether for the reasons above or whatever, it's just not in the nature of the GOP to be confrontational. Will some stunt pulled either late today, in time for the weekend panel shows, or even on Monday be enough to make the GOP cry uncle?
This nomination, right here and right now, especially 2 weeks before the Supreme Court begins its new session and 7 weeks out from the midterms is beyond crucial; it's for all the marbles. Chuck Grassley must stand firm and draw a sharp line in the sand. If the Democrat-Left is allowed to prevent Brett Kavanaugh from taking his rightly deserved place as an associate justice on the SCOTUS, it will be perhaps a blow to the civil society and the American system that we can really never recover from.
Senator Grassley, come 10:00 o'clock this morning, if the Accuser/Liar and/or her representatives have not met the conditions laid out in your letter in order to hold Monday's hearing, and/or make further demands outside what is laid out in your letter, you must immediately dismiss the accusations and call for a vote within the Senate Judiciary Committee as to the nomination, yea or nay, of Justice Brett Kavanaugh, and if the yeas have it, then advance to the full Senate for a vote to consider the matter.
Obviously much of the other buckets we have include items that touch on this insanity. Most importantly, Brett Kavanaugh's wife and kids are now getting death threats but no word yet if Eric Swallows-all has said "boo-hoo," Cory Spartacus Blucher wrote an op-ed years ago admitting that he attempted to cop a feel off of a drunk high school classmate, Maizie Hirono eagerly took money from an admitted Dem wife-beater, Tammy Baldwin nixed a fundraiser featuring Ford's shyster lawyer, Doomberg was invited to speak at a Lefty women's group just a few days after defending pervert harasser Charlie Rose, Sheldon Whorehouse is a whore, Kirsten Jello-Brain is an idiot, Mark Levin rails against the totalitarian Left, Soros needs to be deported to Hungary and Rush Limbaugh comments on Frank Luntz warning that this whole thing could be Midterm poison for the Democrats.
Meanwhile, at a rally in Vegas, PDT urged rally-goers and those watching against complacency in the Midterms, wants the vote on Kavanaugh without delay and railed against Congress for an insane budget which has no provisions for funding the border wall; way to go GOP.
I'll gloss over the rest as I know you're itching to comment in the run up to 10:00AM, Tubby Riefenstahl is threatening to go to Canada if us evil right-wingers torpedo his latest propaganda porn flick, homes built in New Orleans by Brad Pitt's foundation are falling apart, and a fine essay about the President and what we're up against.
Hold on kids. Tick tock tick tock...

Anyway, links from around the world, across the nation and up your street. Have a better one and remain blessed.
KAVANAUGH CHARACTER ASSASSINATION
UPDATE: Link to Melania's Spokeswoman fixed

posted by at
07:52 AM
|
Access Comments