« Weird News Dump
|
Main
|
Saturday Gardening Thread [KT] »
September 15, 2018
The Big Eraser [KT]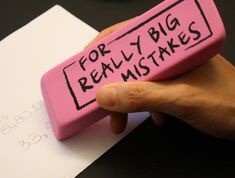 The Really Big Eraser
I've noticed something a little weird about the Left lately. They seem to be obsessed with destroying PEOPLE for failing to meet their behavioral and attitudinal standards, and will never let anyone forget a mistake, not matter how small. Well, unless the person in question is one of the "chosen". One misstep lives forever. But they seem bent on erasing IDEAS which offend them.
Erasing Scientific Inquiries
One recent example of the Left erasing scientific inquiry was when Brown University published a note about a study concerning "rapid-onset gender dysphoria" and was attacked by a howling mob of activists. They apologized and retracted the note.
Of course, this is not the first time something like this has happened. And many researchers have avoided researching certain topics for fear of activating the mob.

Heather MacDonald Fights Back
The College Fix reviews a new book by Heather MacDonald, The Diversity Delusion: How Race and Gender Pandering Corrupt the University and Undermine Our Culture.
"The Diversity Delusion" rebuts many of the Left's sacrosanct narratives with piles of facts, studies, anecdotes and observations. It would serve as a fantastic tool for any young college student seeking to address their peers' grievances with data over feelings.
MacDonald also managed to get a piece written in TIME:
"You have blood on your hands. You're a murderer," shouted one of the protesters at Judge Brett Kavanaugh during the Senate hearings of his nomination to the Supreme Court. This apocalyptic rhetoric had been espoused before -- at none other than the Yale Law School, . . There, a group of alumni and professors circulated an open letter declaring that selecting Kavanaugh "presents an emergency -- for democratic life, for our safety and freedom, for the future of our country." People "will die" if Kavanaugh is confirmed, the letter announced.
Whoa.
Taught by a metastasizing campus-diversity bureaucracy to believe that they are subject to an existential threat from circumambient bias, students equate nonconforming ideas with "hate speech," and "hate speech: with conduct that should be punished, censored and repelled with force if necessary.
MacDonald will be speaking at a DOJ Forum on Free Speech in Higher Education on September 17.
Erasing Knowledge from Libraries

Richard Fernandez:
The fire which destroyed as many as 20 million artifacts in Brazil's national museum was caused perhaps by the most trivial of accidental circumstances. The Brazilian culture minister's explanation that the blaze was likely caused "by either an electrical short-circuit or a homemade, paper hot-air balloon that may have landed on the roof" was greeted by riots because mischance does not satisfy the human urge to blame someone when things go wrong.

ut catastrophes can happen for no discernible reason. Historically natural disasters have vied with human malevolence in the destruction of libraries. . . .
The destruction of 20 million Brazilian records, tragic as it might be, pales in comparison to the potential loss of the digital libraries upon which our world depends. The 21st century is generating libraries at an unimaginable rate and they are by no means safe. . . .
Some data is even thrown away in real time. Twitter CEO Jack Dorsey explained how they could ban anyone they wanted. "Not even President Donald Trump is immune from being kicked off the platform if his tweets cross a line with abusive behavior. ... The Twitter CEO also denied a Wall Street Journal report that he personally intervened to keep far-right conspiracy theorist Alex Jones and white supremacist Richard Spencer on the site." If it was decided someone should go then off they went; it was as simple as that. The archivists rule.

Today's librarians no longer operate out of ivy covered buildings in bucolic campuses with collections of a few millions. They now operate on an unimaginably gigantic scale using hardware scattered across continents. For the most part the public don't even know who they are. Yet these librarians wield enormous power: the effect of their decisions on access, erasure or alteration of digital data are identical in impact to fire and earthquake on earlier paper.

Their power is even greater because digital libraries, unlike physical ones, can not only be destroyed but changed continuously. . . .
Read the whole thing. Thoughts?
Maybe one challenge is that they don't want us to remember where we came from. Maybe we should make some time to remember.

Note: This is the Thread before the Gardening Thread.
Serving your mid-day open thread needs
Take care if you are near fire, flooding or other hazards. Hope you have something good planned for the weekend.

posted by Open Blogger at
11:34 AM
|
Access Comments