« Saturday Gardening Thread [KT]
|
Main
|
Chess Thread 09-08-2018 »
September 08, 2018
AoSHQ Pet Thread [KT]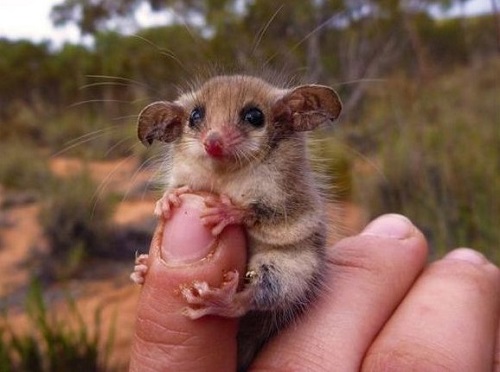 Good Afternoon! Take a break and relax for a while in the world of animals. This isn't the almost world famous Ace of Spades Pet Thread, but Misanthropic Humanitarian will be back next week if all goes according to plan. If you sent him photos last month, they should be appearing the the next few weeks.
We got some great photos this week, and interesting information about PetMorons. We even have a hero cat today!
From a lurker (mostly), Satrose:
We lost two beloved pets this spring two months apart. The first was our 14 yrs old Maine Coon cat Purrsephone. The second, two months later was our 7 yr old white GSD Luka. Needless to say it has been a sad spring/summer here in San Antonio.

BUT - I was thinking this week on how wonderful our pets were, and how much we were blessed while they were with us. Which brought to mind my daughter, and how much she loves our cat. (She loves all our pets, but she is the "cat woman" of the house).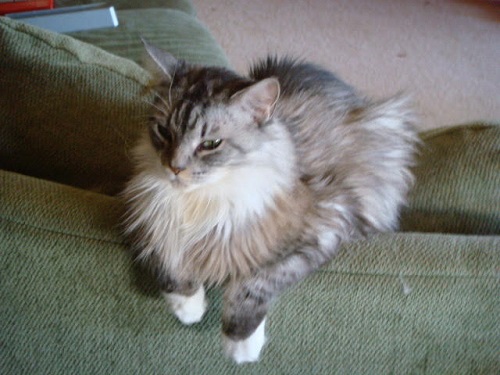 Purrsephone
In fact, she did a chapel talk at her school about our cats that I would like to submit.

Background: At my daughter's school, all the seniors must give a chapel talk in front of the entire school, about 500 people. At the end of the year, the faculty vote on who had the "best" chapel talk, and the winner is awarded a pretty good scholarship. Most of the talks are pretty standard, "I did a mission trip to xyz and it changed my life", "participating in sports gave me a new perspective", etc.

My daughter talked about - cats. The feral cats we had at one time around the house, and our cat Purrsephone. As you will see in the video she is not a smooth speaker. She is on the autism spectrum, and has trouble with social interaction. The fact that she went to a regular high school and did so well was an amazing feat. But more amazing - she won the scholarship!!! That happened in 2016, and she is now in college. We have had some ups and downs (who doesn't ) but I am still so proud of her for listening to her own voice and giving that talk.

Here is the link (I put it on youtube for relatives to see)
Clove, the last feral cat
Lovely cats. I enjoyed your daughter's talk, too.
From BossyBarb:
The puppy is Leo. He is a 9 month old goldador. 1/2 Golden retriever 1/2 yellow lab. He will be the best dog once he stops his puppy chewing stage.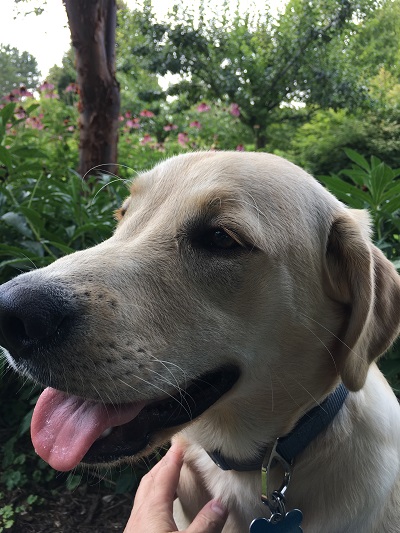 This is our Dowager Princess Kitty Darla, who crossed the Rainbow Bridge last week. She was our oldest garden kitty, and the only one to have spent more than a few weeks in the house (dog issues), where she liked to sleep in the bathroom sink.
She found us when she was an older kitten, about the same time as two kind of mean male cats. Maybe someone dropped her off. Don't know. Anyway, she was generally prim and proper, though friendly. She liked to snuggle, but was not much into playing. She caught an occasional gopher, which seemed out of character. She got along well with the other cats. They knew she was the princess.
Readers of the Gardening Thread may remember that she had an unnatural attraction to giant turnips.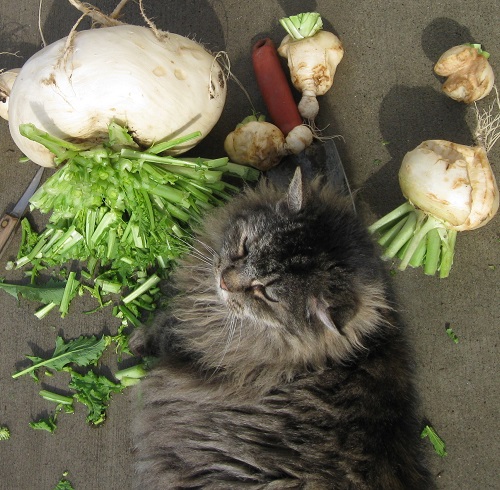 From east of suez:
This lovely siamese mix is Blue. She appeared in our back yard one day when she was little more than a kitten. My darling bride started feeding her. It took several months before she would consent to being touched.

She is now an inside pet, and adores my wife, but is still quite feral.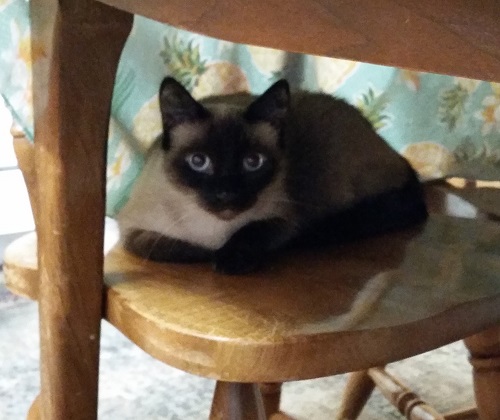 A cat of mystery.
From long-time lurker Patrick in North Carolina:
Just thought all the morons would appreciate the attached photo of Leona. She is a 3-year-old German Shepherd.

She's as agile as smaller dogs, and loves her flying disc (big plug here for West Paw Designs out of Bozeman, Montana for their rubber discs).

Pic taken 01 September.

Enjoy!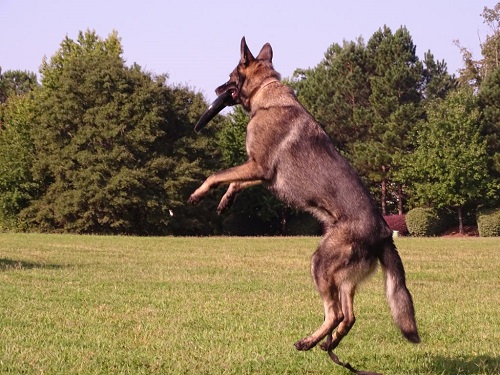 Thanks for the action photo. Fun.
From long-time lurker, rare poster Scont:
This is my best buddy Bill, a rescue that I have had the privilege of sharing my home with for 17 years. A few nights ago, he earned permanent hero status. About 1:40 am he started pawing at my head, as he sometimes does wanting to be petted. I said "Not now, sleeping. Go away". That usually gets him to stop, but this time he was quite insistent. I then felt a burning sensation in my nostrils when I breathed in. I opened my eyes to a bedroom filled with thick smoke. "Holy Shit! Fire!!" I yelled. My wife and I sprang up and we looked for the source of the smoke. Turned out that she had fallen asleep with a lit cigarette and it dropped onto a towel on the floor, igniting it. Thanks to Bill, no serious damage was done and no one was harmed. This episode brought to mind a conversation we had a few times in the past. She is a dog person. I am a cat person. We have often disagreed as to which make the best pets. More than once, she has said "I bet the cats wouldn't wake us up if the house was on fire, the dogs would". I couldn't resist pointing out to her that it was Bill that alerted me to the danger while her two drooly-faced knuckleheads ghosted us without so much as a whimper and beat feet out through the pet door. From now on, Bill gets extra rations of treats, catnip, and snuggles whenever he wants. A man couldn't ask for a better cat.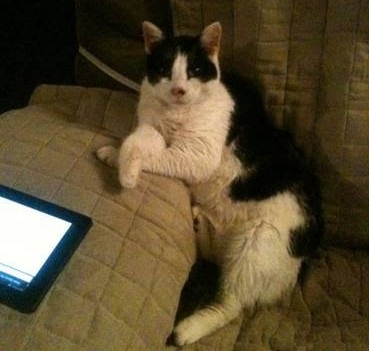 Great work, Bill!
From gp!
I saw 3 guys working on a car, and a kitten was attacking their ankles. They kept having to shove it away and shake it off their pant legs. I pulled over and adopted him. In a few months Tom grew into this gargantuan maine coon love beast. He has the character of the breed: intelligence, mischievousness, stubbornness, astonishing athleticism, and very jealous and demanding of attention. A wonderful addition to my family of foundlings. Here he is in a nepetalactonic stupor.

I hope Mis Hum gets back soon so you can see my Mitten!
What a cat!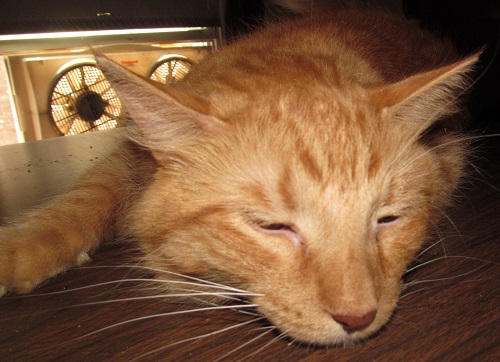 From Butzimom:
Long time Lerker who loves your pet thread. My granddaughter and her new Border Terrier puppy "Indiana Bones". Dogs really do save lives, my granddaughter suffers from severe depression and anxiety. All she wanted was a dog to train for agility competition. Bones has turned Kate into a little girl with a purpose and a smile. They are doing great in training class and will soon enter agility trials. Yea Bones!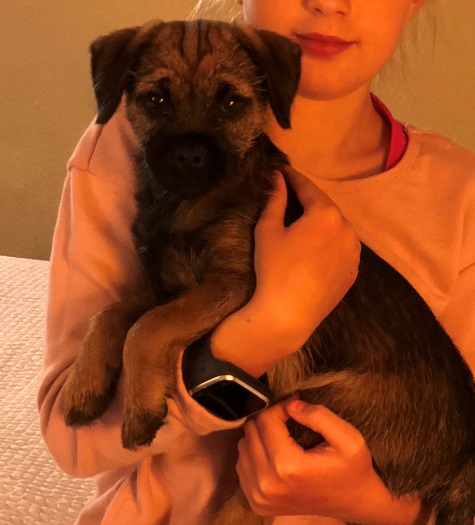 Great story!
It's been fun getting to know some of the PetMorons while Misanthropic Humanitarian has been in another dimension. If I missed anyone in the email morass, let me know. My address is at the bottom of the Gardening Thread.
See ya there next week.

posted by Open Blogger at
03:31 PM
|
Access Comments