« Food Thread: Shut Up And Go Back To Your un-Air-Conditioned Hovel And Eat Your Animal Feed While I enjoy Real Food
|
Main
|
Labor Day Weekend Sunday Overnight Open Thread (9/2/18 ) »
September 02, 2018
Gun Thread [Weasel]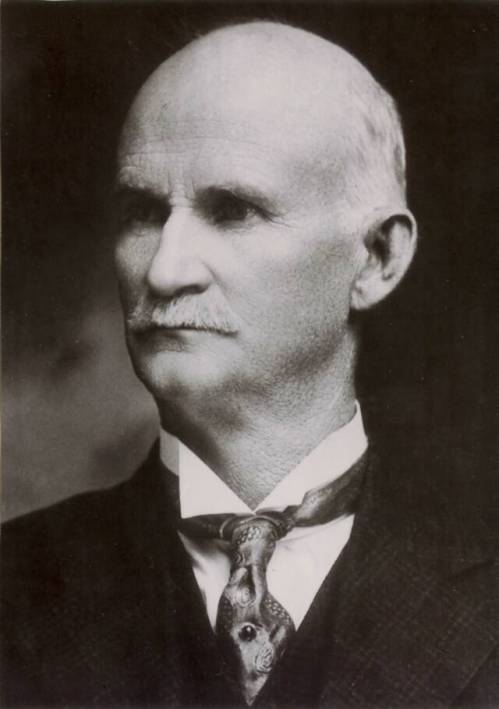 John Moses Browning
Designed by John M Browning, the M1911 and 1911A1 chambered in .45 ACP (Automatic Colt Pistol) served as the country's standard-issue sidearm for 75 years. As with the .38 Special, the need for a larger and more effective defensive cartridge became evident from combat experience gained during action in the Phillipines. Military testing began around 1906 and continued until the Colt - a magazine fed, single action semi-automatic pistol designed by Browning - was formally adopted in 1911. The autoloader design, based on the short recoil principle of operation, has been universally acknowledged for its durability, simplicity and reliability.
Popular bullet weights are 185gr and 230gr, and like all straight walled cartridges, reloading the .45 ACP is fun and generally economical. As a matter of preference I tend to stay away from the upper end of speed and pressure curves, and with this cartridge I look for velocities around 800fps using W231, Bullseye, or a number of other fast burning powders.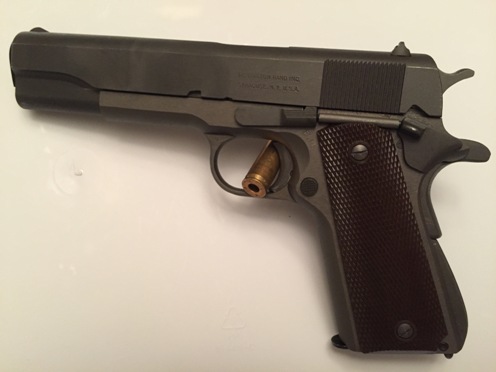 1945 Remington Rand 1911A1
Over the years, countless variants of the same basic design have been produced and remain very popular among shooters today. Millions were produced under military contract before being replaced by the Beretta M9 in 1985 in an effort to standardize ammunition among NATO allies. Production included several other notable wartime manufacturers, including Remington Rand, Ithaca Gun Co., Union Switch and Signal, and Singer.
Volumes have been written about the 1911, the quintessential military sidearm and the standard against which all other autoloading pistols are measured. The example pictured above, one of the last produced by Remington Rand in 1945, has been through the arsenal process at least once and remains a fine shooter to this day.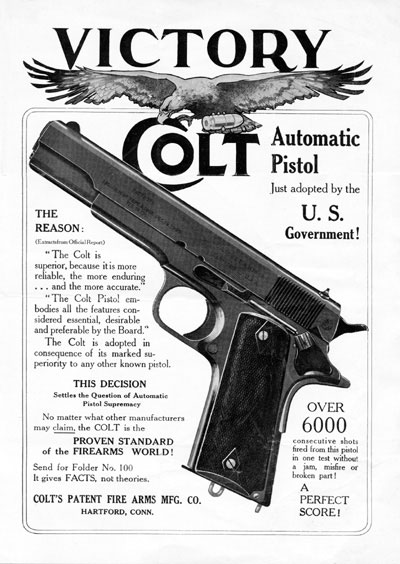 M1911 Handbill
Links:
Essential 1911 Shooting Techniques (instructional video)

***This Old Gun***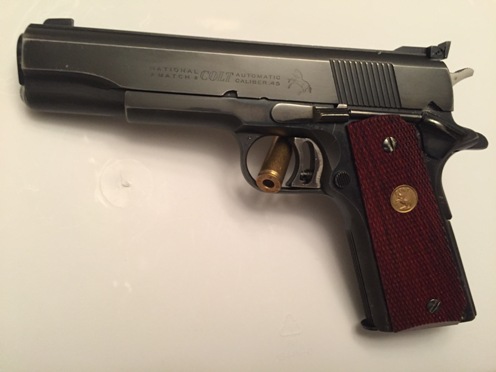 1964 Colt National Match
Based on the same design is this pre-70 series Colt 1911 National Match. Made of premium components and designed for the civilian competition market, the NM designation predates the Colt Gold Cup models marketed later. This pistol shipped to the John Jovino gun shop in New York City in 1964. It is extremely accurate and makes even this shooter look good.
Gun Digest Article: Colt National Match
Mossberg M44
From the collection of Inyo Ranger comes this M44 Mossberg, the Civilian model of an armed forces .22 training rifle. In a great example of a family's firearms being passed through the generations, he writes:
"My sons and I call it "Grandad" since it was given to my Father by his Father in '44. My Father used a similar rifle while taking basic training at the Great Lakes Naval Base in '47. It is the first firearm I ever shot."
Great story and the rifle is in remarkable condition! Congratulations and thanks for sharing, Inyo Ranger!
********
If you care to share the story of your favorite firearm, send a picture with your nic and tell us what you sadly lost in the tragic canoe accident. If you would like to remain completely anonymous, just say so. Lurkers are welcome! Email: guns at happyplacearsenal dot com
That's it for this week - have you been to the range?
&topic=world_news">

posted by Open Blogger at
07:35 PM
|
Access Comments