« Washington Post: Enforcing the law is bad when we say it is, and we are going to quote a lot of Mysterious Gypsy Women and you must totally believe everything they say without question.
|
Main
|
Gun Thread [Weasel] »
September 02, 2018
Food Thread: Shut Up And Go Back To Your un-Air-Conditioned Hovel And Eat Your Animal Feed While I enjoy Real Food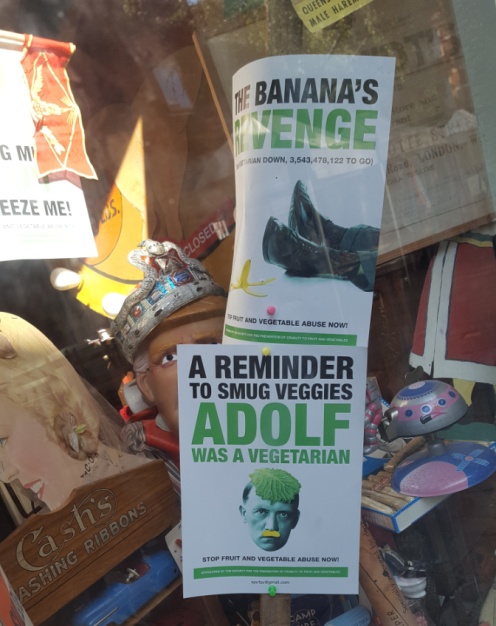 The pushback against the food fascists is a welcome thing. Most people have an aversion to bland, tasteless food, so it is an easy thing to say to oneself..."Self, I like to eat. Why are these people ruining one of the great pleasures of life?"
And the posters are funny, which makes it even better, because food fascists are pinch-faced scolds without a humorous bone in their scrawny bodies.
******
This will be an abbreviated installment, because the dog ate my homework. So talk amongst yourselves about whatever the hell you have been eating and cooking. I'll throw some links and a few (hopefully) pithy comments and call it a day. Yeah, yeah...the Platinum membership people will get the usual content.
******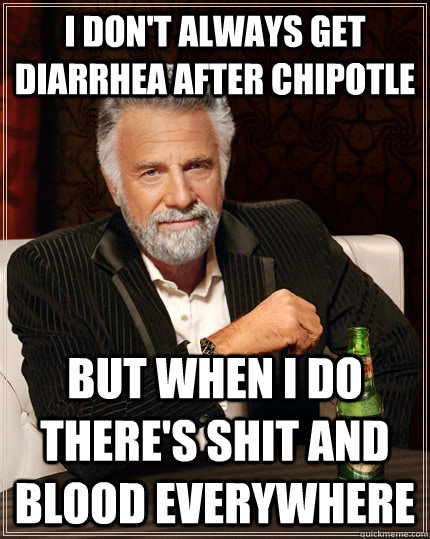 I know that's sort of gross, and I have written about this before, but it made me laugh, mostly because Chipotle is plunging headlong into their new food safety plans without any evidence that it is working, and some startling evidence that they don't have a clue what they are doing. When I go to a commercial food establishment, my expectation is that they have robust processes in place and enforced so that I DON"T GET SICK! That's not too complicated. When I am unsure of the business' dedication to my health, I am quite careful about what I order. So no raw vegetables, no raw or undercooked foods, etc. And when I observe poor food safety technique, like the barista who sneezed into her hand then continued to make the Espresso or cappuccino or whatever, I just walk out.
Sorry, but projectile defecation and vomiting is just not on my bucket list.
'Better think about the consequence of (temperature abuse) actions' Over 700 sick from C. perfringens at one Chipotle

******
I had a couple of foods recently that were incredible expressions of the idea that great cuisine is not complicated. A piece of crispy pork belly that had salt and pepper and nothing else on it, but it was perfectly cooked...a rich balance of succulent meat and soft fat, with a cracklingly crisp exterior. Perfection, and damn it! I should be able to make it, but I haven't yet.
I think I'll start with this simple recipe and just modify it until I get the desired result. Crispy Pork Belly
New potatoes that were parboiled then finished on low heat in a pan with lots of butter. Wow...who knew that plain potatoes could taste so good? The key is the quality of the potatoes and the gentleness of the cooking process. These were not crispy, or even browned. But the intensity of the potato flavor was a revelation.

******
I thought I posted this before, but my cursory search didn't turn up anything. Regardless, I make some variation of it every now and then, and it is both fun and delicious. Not a bad combination.
Caramelized Onion Potato Tart
• 1 large onion, sliced thin.
• Extra-virgin olive oil.
• Kosher salt and freshly ground black pepper.
• 4-5 large Yukon Gold potatoes, washed.
• 2 to 3 tablespoons butter, broken into small pieces.
• 1/2 cup grated Gruyere cheese.
• Chopped fresh parsley for garnish
• parchment paper cut into large circle to fit sauté pan.
Preheat oven to 350 degrees F.
Set a large (non-stick is best) skillet over medium heat and add 4 tablespoons of olive oil. Add sliced onions and cook over medium heat until they are tender and brown all over (10-20 minutes).
Using a mandolin (or sharp knife), finely slice the potatoes into rounds (you can place them in a bowl with a wet towel over the top to stop them from going brown while you work). Place the potatoes into a bowl and season with salt and pepper. When ready, drain the potatoes, add the onions and toss to combine without breaking potatoes.
Add some extra-virgin olive oil to the pan and add the potato and onion mixture to the pan, making sure the potatoes are flat and the onions are evenly distributed. Top with the diced butter.
Cover the potatoes with the parchment paper and press down. Drizzle some extra-virgin olive oil over the top so it doesn't burn and brush it across the paper.
Place the pan over a medium-high flame and cook for 5 minutes, until the bottom is crisped a bit.
Place the pan into the oven on the top rack and bake for about 45 minutes.
When done remove from oven and if necessary run a knife around the edge to separate from the pan. Place a large plate on top of the sauté pan and flip. Remove the sauté pan. Sprinkle with Gruyere and parsley. Allow to cool slightly before cutting into slices.

******
Food and cooking tips, Haggis, Henry Big Boys in .357, Scotch Eggs, thick and fluffy pita and good tomatoes that aren't square, pale pink and covered with Mestizo E.coli:
cbd dot aoshq at gmail dot com
. Any advocacy of French Toast with syrup will result in disciplinary action up to and including being
nuked from orbit.
&topic=world_news">

posted by CBD at
04:20 PM
|
Access Comments