« Truth Or Consequences....Moron Edition
|
Main
|
Sunday Overnight Open Thread (8/19/18 ) »
August 19, 2018
Food Thread: "You can have any color as long as it's black"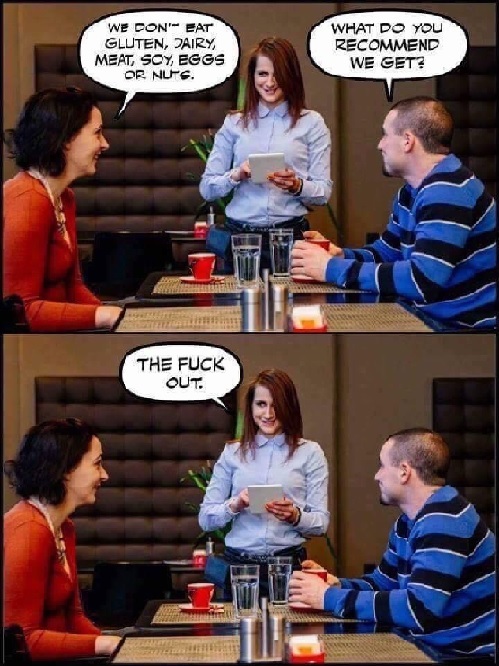 I realize that this is a tortured comparison, but I see in the typical food lunatic a touch of the Colorado bakery insanity. When I go to a restaurant I expect that the business will accommodate me...up to a point. Sure, asking for extra-crispy fries is a reasonable request, but there is a point at which those requests become too time-consuming and expensive for any restaurant to tolerate.
It is a view that places the individual at the center of the universe, and I simply cannot tolerate that attitude. We are a (mostly) free people, but that freedom does not extend to the power to control others.
But back to food...I am usually happy to accommodate guests in my home with specific dietary requirements, but I have a line that I will not cross. If you don't like it...don't eat it.
Lewis Carroll had it exactly correct:
..."don't give yourself airs!
Do you think I can listen all day to such stuff?
Be off, or I'll kick you down stairs!"
That being said, recently we had dinner guests* who brought a home-made gluten-free cake, and it was pretty damned tasty!
*Of course one was a conservative, and both loved baseball...
******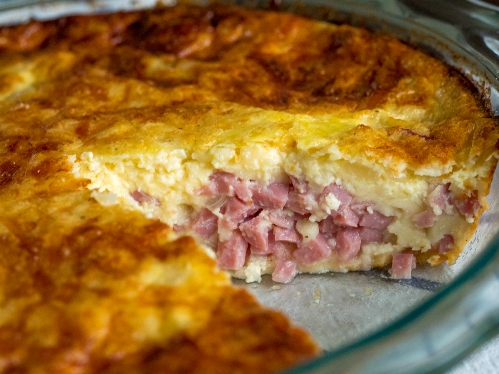 Look, it's just a quiche without a pie shell. But it does sound easy, although what the hell is "dry biscuit mix?" Seriously...I have seen the biscuits in the tins in the refrigerator case, and have eaten my share of them. But is there really a product marketed as biscuit mix? Why? It's flour and baking powder and a bit of salt and maybe sugar. Am I missing something elemental about the complexity of mixing three dry ingredients in a bowl?
Impossible Ham And Swiss Pie
I like dishes like this for large breakfast or brunch gatherings, because they can feed a bunch of people and they don't require the skills of a short-order cook. I like cooking as much as the next guy, but sometimes I want to be able to relax with the people around the table with my breakfast bourbon and wax poetic about the joys of French Toast with butter and salt.
******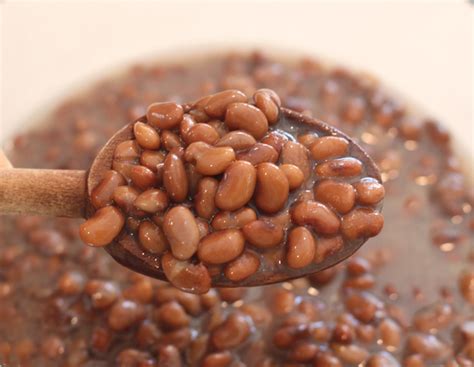 Skip puts beans and vodka on his French Toast, and you give me shit for putting on salt and butter?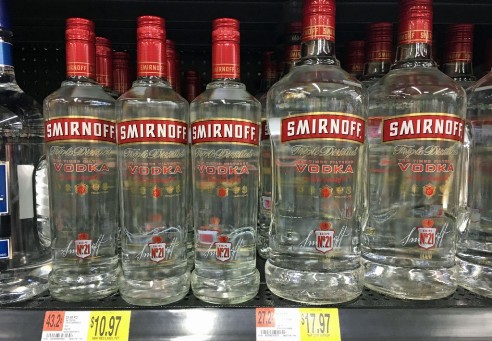 ******
I haven't had the opportunity to mock Chipotle for months! I guess their much-vaunted programs to address filthy, microbe-ridden food didn't work quite as well as they expected. It's one thing to address specific breakdowns in the logistics that allowed tainted ingredients to enter their restaurants, but when multiple attempts to remedy the problem have failed, perhaps it is time to address the overall design of the system. It is obvious that Chipotle does not get it. Their ersatz "farm-to-table" marketing plan is based on a chaotic supply chain that is uncontrollable. There is something to be said for that Sysco or McDonalds semi rolling up to the restaurant. Maybe the ingredients aren't locally sourced and caressed by vegan wood nymphs before harvest, but usually people don't get sick from them. And the current catastrophe is even worse. Unsafe temperatures means that the food safety system within the restaurant broke down.
CDC: Food left at unsafe temperatures led to illnesses at Ohio Chipotle
McDonald's has almost 20 times the number of restaurants, yet we hear about far fewer cases of food poisoning! Why is that?
I will cheerfully eat oysters and beef tartare, love a runny egg in my ramen, and become apoplectic over medium-well pork, but I would think twice before eating at a Chipotle.

******
It's lunch. It isn't an existential attack on your way of life. It isn't someone sneaking into your house and kidnapping your children. It's the shape of your french fries.
Furious customers threaten to attack restaurant owner and his CHILDREN after he changed the shape of his famous $4 french fries
1. Anyone near Waterville Maine? Please spend a few bucks at this place.
B. People are crazy.
III. The owners should buy shotguns.
Four. I like straight-cut fries more than crinkle-cut.
******
I love this dish, which is simply a fancy version of the chopped chicken livers my maternal grandmother made. That, and her cheese blintzes were my happiest memories of her kitchen (everything else was...um...sort of crappy)
Don't bother with the Cognac Gelée unless you really want authenticity. It's nice, but this dish used to be quite rustic until it was dandified by snooty city chefs.
Julia Child's Chicken Liver Mousse
(Adapted from Mastering the Art of French Cooking)
• 2 c. chicken livers
• 2 tbsp. minced shallots
• 2 tbsp. butter
• 1/3 c. cognac
• 1/4 c. whipping cream
• 1/2 tsp. salt
• 1/8 tsp. allspice
• 1/8 tsp. pepper
• Pinch of thyme
• 1/2 c. melted butter
• Kosher salt and pepper
1. Remove any greenish or blackish spots from the livers, as well as any sinew. Cut the livers into 1/2″ pieces.
2. Melt butter over medium heat in a sauté pan until foam has subsided. Sauté livers with the shallots in butter for 2 to 3 minutes, until the livers are just stiffened, but still rosy inside. Scrape into the blender jar.
3. Pour the wine or cognac into the pan and boil it down rapidly until it has reduced to 3 tablespoons. Scrape it into the blender jar.
4. Add the cream and seasonings to the blender jar. Cover and blend at top speed for several seconds until the liver is a smooth paste.
5. Add the melted butter and blend several seconds more. Adjust seasoning.
6. Pack into the bowl or jar and chill for 2 to 3 hours.
Cognac Gelée
• 1/2 c. water, separated
• 1/2 tsp. unflavored gelatin
• 1/2 tsp. sugar
• 1/2 c. dry vermouth
• 2 tsp. cognac
1. Place 1/4 c. of warm water in a ramekin, sprinkle unflavored gelatin and let it stand for about 10 minutes.
2. In a small saucepan heat wine and sugar over medium-low heat for about 5 minutes.
3. Once the gelatin has softened, add the other 1/4 c. of hot water to the ramekin and dissolve until mixture becomes clear. Add the gelatin mixture to the warm wine mixture and mix thoroughly.
4. Remove the saucepan from the heat and add cognac. Let the warm mixture stand until it almost reaches room temperature. 5. Once it has cooled, pour over chilled mousse. Return the mousse to the fridge and chill until the gelée has set.

******
Food and cooking tips, Haggis, Henry Big Boys in .357, gefilte fish replacements, thick and fluffy pita and good tomatoes that aren't square, pale pink and covered with Mestizo E.coli:
cbd dot aoshq at gmail dot com
. Any advocacy of French Toast with syrup will result in disciplinary action up to and including being
nuked from orbit.
******
&topic=world_news">

posted by CBD at
04:00 PM
|
Access Comments