« Deep Down Inside, The Left Is Afraid: Of You, Of New Ideas, Of The Chaos Of A Free Humanity
|
Main
|
Weekend Gun Thread - Open Range Thread »
August 12, 2018
Food Thread: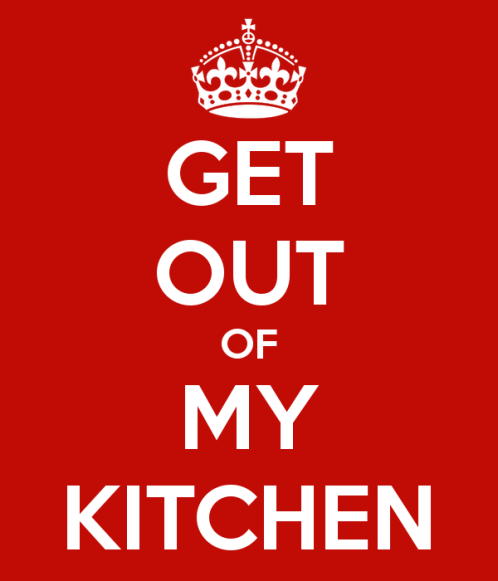 Yes...you.
All of you.
Starting with the person who stacks, willy-nilly, everything into the sink. So genius, how am I supposed to start doing the dishes if the sink is full of pots and pans and knives and cutting boards and that spoon at the bottom that just slipped into the drain, soon to be smacked around by the dispose-all?
Oh, you over there...the one who comes into the house and plunks her large purse onto the kitchen table. You know...the kitchen table on which I have staged the various things I need to cook the upcoming meal. Never mind that the last place it sat was the floor of a restaurant or your car or the unspeakably horrible subway floor. Please...use my kitchen as your personal storage room and ignore the other large room just across the entrance-way. You know, the one with everyone else's stuff in it.
And if you bring food in spite of being told (politely) "no thanks, we have everything covered," then don't take over the kitchen and serve it when I HAVE DESSERT COVERED ALREADY!
Yeah...I am a bit cranky. But I can't be the only one who gets frustrated by seemingly well-meaning but oblivious guests. Just relax and enjoy the company and food, or at the very least the booze. One of the three will be good...I promise!
******
Yes, yes...Jamie Oliver is a pompous ass and a bit of a fraud. But Scotch Eggs are great! I love them, and will order them at every opportunity. They go so very very perfectly with a good beer, I cannot imagine not ordering them. So yes, I will be trying this recipe.
Proper Scotch eggs
I'm not sure about the cheese and pickle to go with it though. That sounds a bit odd...and British...and odd.
******
Is the edible marijuana industry doomed to become a pot full o' pathogens?
Since edibles are widely available -- even on Amazon -- and marketed to improve health conditions, we can assume these products are safe for consumption, right? Actually, no -- they're not necessarily safe. In fact, there's no federal regulatory safety standards for edible marijuana products. Most consumers who are purchasing edibles have no idea that this is the case. It is, quite simply, a "buy at your own risk" market.
Well...duh! What the hell did you think the illicit drug market has been forever? But I just love the idea that all of a sudden these knuckleheads who have been buying drugs for years from sleazy drug dealers are faced with some nasty food-borne illness caused by their wonderful and oh-so-benign marijuana industry.
Pro-tip...just because the store smells like patchouli oil it doesn't mean it's safe to eat their products.

******
I have never heard of this.
How to Make Crab Imperial, the Maryland Crab Cake's Wild Cousin
Yes, I will eat it. Happily. But I do not have access to great crab at reasonable prices, so when I do buy Maryland crab (the second best crab in the world, just behind Dungeness) I prefer to make crab cakes with the minimal amount of everything, just enough to hold together. The crab itself is the star, so why fill it with other stuff.
******
Long-time commenter and fine chef artisanal 'ette sent this to me, along with a recommendation to try absinthe! She did a tasting and discovered that there are significant variations, which to be honest shocked the hell out of me. My admittedly pedestrian palate just tastes the licorice....
How to Serve Absinthe
I want one of those absinthe fountains!

******
One of the joys of modern life is the ability to have high-quality stored food at our fingertips. Last week I was at a loss for what to make for dinner, and didn't really have the time to make something that was time-intensive. But I had frozen Argentinian red shrimp in the freezer, some nice Boston lettuce (the only good thing to come out of Boston) and some other stuff that added up to a sort of Shrimp Louie salad that was immensely satisfying without being a huge chore to make. Next time I will add bacon, but still it really hit the spot.
Poached shrimp (cooked for just a few minutes. Do not overcook!)
Avocado slices
Poached egg garnish
Sliced grape tomatoes (salted and drained)
Lettuce
A Thousand-Island-like dressing that was pretty much just winging it.
Yeah..I'm a real gourmet!

******
Food and cooking tips, tender meatballs, Henry Big Boys in .357, gefilte fish replacements, thick and fluffy pita and good tomatoes that aren't square, pale pink and covered with Mestizo E.coli:
cbd dot aoshq at gmail dot com
. Any advocacy of French Toast with syrup will result in disciplinary action up to and including being
nuked from orbit.
&topic=world_news">

posted by CBD at
04:00 PM
|
Access Comments