« Chess Thread 06-30-2018
|
Main
|
Bonus ONT »
June 30, 2018
Saturday Evening Movie Thread 06-29-2018 [Hosted By: TheJamesMadison]
To Be or Not To Be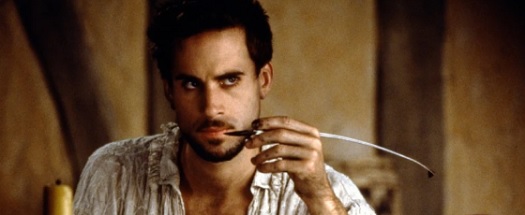 Filmmakers have been making adaptations of Shakespeare for the silver screen pretty much since the advent of the medium. There are adaptations of King Lear, Richard III, The Tempest, and many others that date back to the silent era. It's ripe ground for storytelling because the stories themselves are so good, have stood the test of time, and require little financial investment to get the rights since they're all in the public domain.
Some great filmmakers have taken a stab at some kind of adaptation. Kurosawa famously made Macbeth into Throne of Blood and King Lear into Ran, but in looking back over some of the adaptations I've seen (brought on by a recent viewing of one of the two below films), I've come back some of the basic questions around adaptations. Namely: Is it better to strive for faithfulness or to use the original work as a springboard for another artist's creativity?
With so many adaptations of Shakespeare's work out there, I've focused my thoughts on two films. One of these (Kenneth Branagh's Hamlet) is slavishly faithful to the source material, and the other (Orson Welles' Othello) is not.

The Prince of Denmark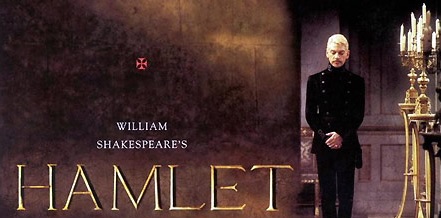 When I was an undergraduate I had a Shakespeare professor who brought up a bit of the marketing of this film in class. The film was marketed as "The Complete Hamlet", and that professor found it an amusing contention. "What complete Hamlet?" he would ask as he made references to the questionable authorship of certain sections and the different folios that Hamlet first appeared in.
However, despite that contention of "completeness", it's obvious that when Kenneth Branagh set out to make his version of Hamlet, he was going to get as much of the Bard on screen as he possibly could. And it looks like he succeeded.
The film is four hours long, contains every plot element and character, and is filled with so many movie stars as to make one gag. Some are better than others (Billy Crystal might be the single best part of the film as The Gravedigger), and some act as distractions more than anything else (Gerard Depardieu has such a tiny role as Reynaldo).
Putting aside the casting choices though, was it the film itself a good idea? Every word of the play on screen?
I'll just say that I do love the film. It's not great, though. Branagh makes some weird choices (especially with casting), and I'm not the biggest fan of him as an actor. He speaks the dialogue well, but some of his emotional choices are odd to me. That being said, though, the question at the heart of this post is: Is the film's decision to use as much of Shakespeare as possible a better choice than cutting it down? Was it a better idea to put the Bard at the center stage than the director's vision (and yeah, I know Branagh is an egomaniac, but in this film it's as much at the service of Shakespeare as it is for himself)?
I'll focus on one element: Fortinbras.

Invasion from Norway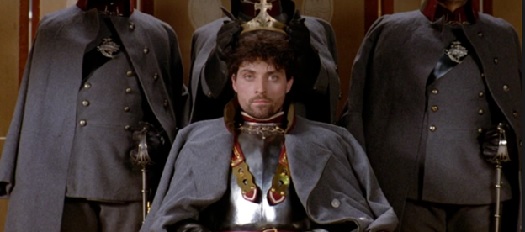 When faced with adapting a three and a half to four hour play for either the stage or screen, one usually needs to find ways to cut that down to at most three hours if not much further. When faced with that dilemma, you have balance the importance of certain elements to the entire texture of the story against being able to tell the story intelligibly over the shrunken run time. So, what to do with someone like Fortinbras?
First, here's my take on Fortinbras. I think he's a vital point in the whole story. He provides a color to the overall theme of revenge in the play. Hamlet kills Claudius and dies himself, destroying the most obvious leadership of Denmark in the process, creating a situation where Fortinbras, Crown Prince of Norway, can just walk into the room and take up the crown. Hamlet not only died in the process of getting his revenge, perhaps a sacrifice he was willing to take to avenge his father's murder, but, in addition to that, Denmark itself as an independent nation falls. That was the greatest price of Hamlet's revenge, the loss of his nation's independence.
The inclusion of Fortinbras makes Hamlet's actions seem myopic in comparison to the damage he wrought on Denmark. No longer ruled by Danes, the country will be ruled by Norwegians. Was that worth it? Hamlet cannot answer because he died due to the poison on Laertes' sword. It's a great coloring to the overall story that I don't enjoy losing in an adaptation.
However, do you need that in order to tell the basic story? Nope. Not in the least. Adding Fortinbras adds something, but the question then becomes for the viewer, was that addition worth it? I think so.

The Moor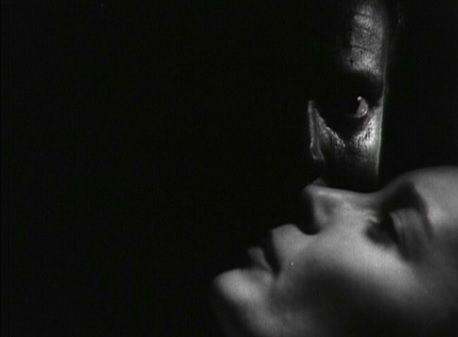 Orson Welles plays Othello the Moor and directs himself, in much the same way that Branagh directed himself and acted in Hamlet. However, unlike Branagh's film, Welles had a devil of a time actually making the thing. It took three years of filming that were often broken because of lack of funding. Welles would jet off to another set to take a job and then use that money to pay for the production further. He actually filmed his part in Carol Reed's The Third Man at this time.
What ends up on screen is much less elegant than what Branagh put together, but I love is just as much.
Branagh was allowed a complete schedule to make his film, and his directing style is much more standard than Welles'. In addition, where Branagh sought to film every work Shakespeare might have put into Hamlet, Welles took the three hour play of Othello and made a ninety minute movie out of it. And I think that Welles and Branagh love Shakespeare equally, but that love manifests in wildly different ways. Where Branagh was slavishly devotional to the text, Welles used the text as an excuse to make a movie.
First, take a look at the below scene from the end of the film:
The first thing that jumps out to me is Welles' uncanny ability to frame things oddly but perfectly. Off-kilter angles that highlight power imbalances between characters, fascinating compositions that draw your eye exactly where it needs to be. The man had a remarkable visual talent.
Second, you'll notice the complete disconnect between the spoken dialogue and the moving of lips. This is a problem with a lot of Welles' later work. One way he cut costs (because people with money were wary to actually give him money) was to film without sound, and he loved to move things around in editing (there are two Director's Cuts, for lack of a better term, of Othello), which ended up having the effect of a lot of what gets said just simply cannot match what the lips are doing.
Moving beyond these more technical considerations of the film and towards the adaptive aspects, it's obvious that this scene is cut down. Shakespeare takes a lot longer to let dialogue flow in scenes than what Welles' put to screen. He cut the text of the play down to its bones and then placed his stamp on top. Watching his Othello, even in its opening frames, it's primarily obvious that this is a Welles film first and foremost and a Shakespeare film second. The film is more about what Welles can accomplish with a camera and performance that what Shakespeare had accomplished 350 years prior.

Is One Approach Better than the Other?
I'm not talking about which film is better than the other. Personally, I think they both miss on greatness but are wonderful watches anyway. No, I'm talking about which approach to adapting Shakespeare do you prefer?
If I had to chose (and since I'm posing the question to you all, I consider that imposition enough to do it), then I would chose Welles' approach. I'd rather have artists fiercely making art that is their own than acting subservient to someone dead for over 300 hundred years. Shakespeare's work will endure in its original form, the written word (which I hate to read, Shakespeare should be watched not read). Do we need another adaptation of Romeo and Juliet that's exactly the text performed as it would have been performed in the 1600s but with women actually playing the roles of women? Or, do we need Baz Lurhmann to take the play and put a decidedly weird and personal stamp on it?
You decide.

Movies of Today
Opening in Theaters:
Sicario: Day of the Soldado
Uncle Drew
Sanju
Next in my Netflix Queue:
A Dangerous Method
Movies I Saw This Week:
Payback: Straight Up: The Director's Cut (Netflix Rating 3/5 | Quality Rating 2.5/4) Poster blurb: "I still don't like the first act, find the second to poorly balance between conflicting tones, but the third seems much improved." [Netflix DVD]
Othello (Netflix Rating 5/5 | Quality Rating 3.5/4) "A work of rough and determined personal artistic vision." [Personal Collection]

Contact
Email any suggestions or questions to thejamesmadison.aos at symbol gmail dot com.
I've also archived all the old posts here, by request. I'll add new posts a week after they originally post at the HQ.
And, please, visit my website.
My next collection of short stories, Mutiny! goes on sale tomorrow in both eBook and print editions!

posted by OregonMuse at
07:09 PM
|
Access Comments