« Sunday Morning Book Thread 06-24-2018
|
Main
|
Hamartia »
June 24, 2018
The Great Divide In America Shows No Signs Of Shrinking -- Part 812: Guns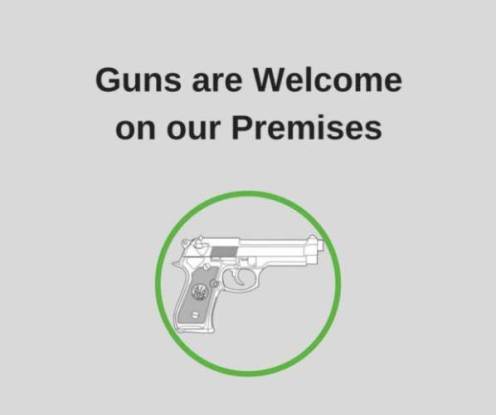 Imagine the ruckus a sign that says, "We Welcome Free Speech," would cause. Or, "We Support Your Right To Be Free Of Government Spying." Yeah...nobody would bat an eye. But a simple sign supporting the 2nd Amendment? Wichita Restaurant Sparks Outrage With Pro-Gun Stance seems to have struck a nerve with the no-nothings and the neo-fascists of the left.
But as the article points out, the really interesting stuff is the immediate extrapolation by the progressives from a simple pro-freedom stance to bigotry. Apparently if one believes that our natural and God-given right to self defense is important, then one is also reflexively bigoted. How and why? I have no idea. But I am sure that there is some hysterical fool spouting leftist platitudes and non-sequiturs who is more than willing to explain it to me, if I can tolerate his halitosis and body odor.
But there's more! Our dear friend and Goebbels look-alike is writing a book! And because he was in public in NYC, he needed to be defended by not one, but two armed guards. It must be nice to be able to afford that protection.
Anti-gun protester David Hogg -- protected by armed guards?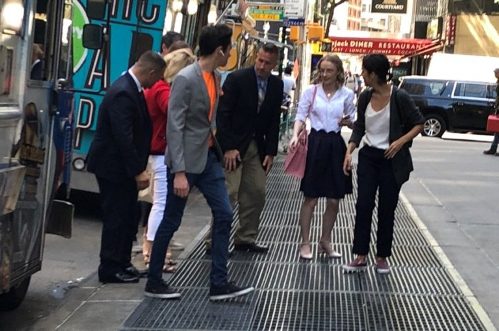 In addition to the striking hypocrisy, this is pomposity on a grand scale. This looks like Manhattan, probably midtown, certainly during the day, and in a crowded area. Yes, NYC is decaying, but broad daylight in Manhattan? Give me a break. The chinless soi-boi is a bit full of himself. Most people in NYC won't recognize him, and the few that do won't really give a rat's ass. He's a minor Twitter celebrity rapidly using up his 15 minutes. What's he worried about? Right Wing death squads wandering the streets of Manhattan?
But the guy who sweeps those streets at 3:00am, commuting from some crappy neighborhood in The Bronx or Brooklyn sure would like some protection, but he can't afford two bodyguards, and the law says he can't protect himself.
Gee...I wonder if Hogg sees the fundamental flaw in that situation.

posted by CBD at
12:00 PM
|
Access Comments