« EMT 06/24/18
|
Main
|
The Great Divide In America Shows No Signs Of Shrinking -- Part 812: Guns »
June 24, 2018
Sunday Morning Book Thread 06-24-2018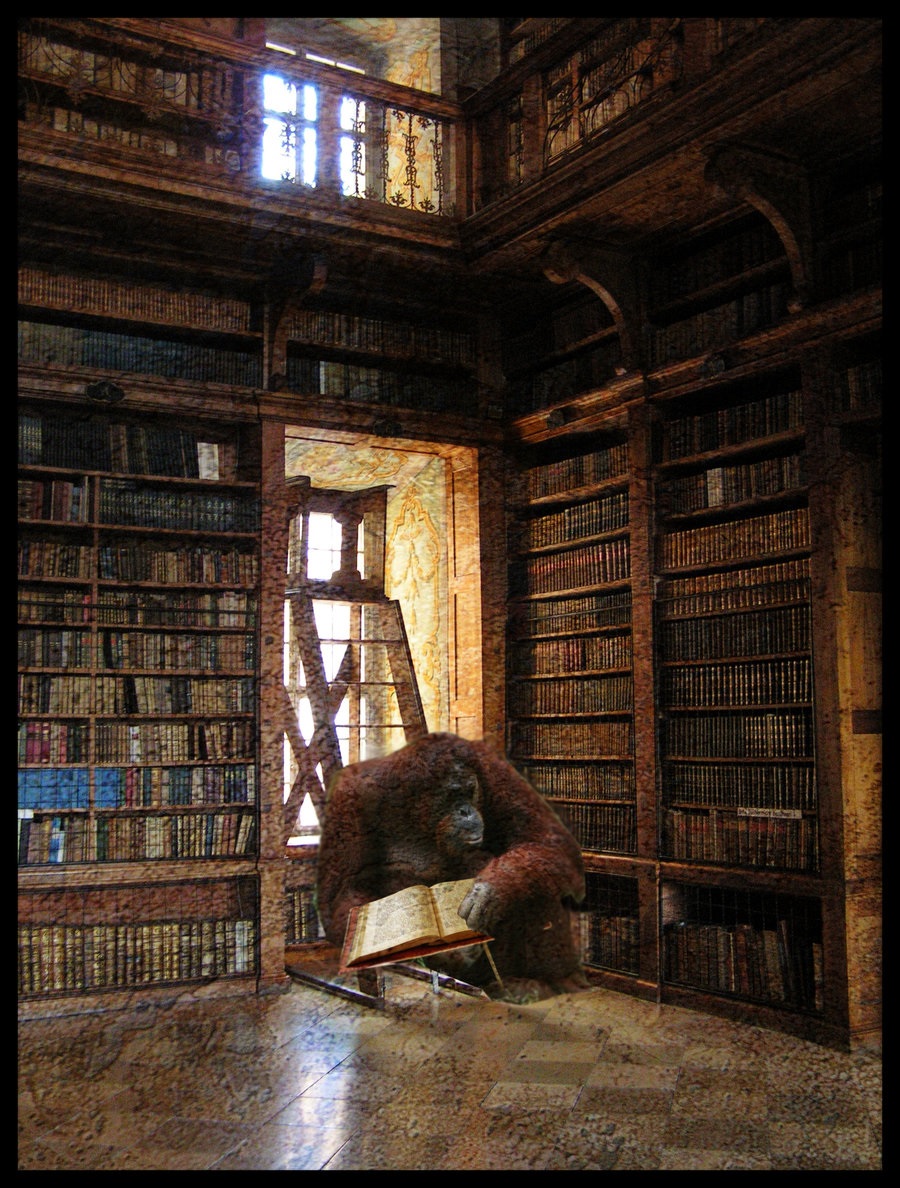 Unseen University Library, Ankh-Morpork, Discworld

Good morning to all you 'rons, 'ettes, lurkers, and lurkettes. Oh, and we've got a new category of readers, escaped oafs and oafettes ('escaped oafs' is an anagram of 'Ace of Spades'). Welcome once again to the stately, prestigious, internationally acclaimed and high-class Sunday Morning Book Thread, a weekly compendium of reviews, observations, and a continuing conversation on books, reading, and publishing by people who follow words with their fingers and whose lips move as they read. Unlike other AoSHQ comment threads, the Sunday Morning Book Thread is so hoity-toity, pants are required. Even if it's these pants, which probably can be used as a flotation device in case of, as they say, a water landing.
By the way, another anagram for 'Ace of Spades' is 'do a feces spa.' You're welcome.

Pic Note
For those of you unfamiliar with The Discworld novels of Terry Pratchett, Unseen University is a college of wizards and the library houses all of their magic books. Of course, with all of that magic packed into such a relatively small space, unpredictable interactions occur which can produce weird effects, such as magic storms, distortions in the space/time continuum, and the librarian (as seen here) turned into an orangutan. He did not seek a remedy for his transmogrification because, all things considered, he liked it better this way.

It Pays To Increase Your Word Power®
VETGANS is a Dutch word for a penguin. It literally means 'fat goose'
Usage: I'll bet you didn't know that Lena Dunham's middle name is 'Vetgans'.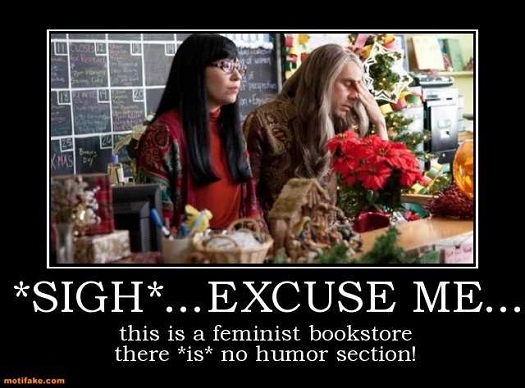 Feminist Bookstore Closes
The punk monkey already covered this earlier this week, but I've got to add my two cents, as well as a hearty Nelson laugh:
A quarter-century-old feminist bookstore in Portland, Oregon is slated to close its doors at the end of this month, and part of the reason, it says, is its "inability to 'reform and re-envision' a space founded on 'white, cis feminism (read: white supremacy).'"
"We cannot continue because we know reform does not work. The current volunteers and board members stepped into and took over a space that was founded on white, cis feminism (read: white supremacy). It's really difficult, actually, impossible, for us to disentangle from that foundational ideology. Volunteers and board members tried to reform and re-envision the organization, and have found it unattainable to do, especially with so little resources. We have experienced this as a very real reminder that reform doesn't work. Patriarchy, White Supremacy, Capitalism cannot be reformed and ever serve the people. Abolition is the goal."
In other words, "we started out as a batsh*t crazy bookstore to serve the needs of the batsh*t crazy community, but because nobody was buying our batsh*t crazy books, the solution was to make ourselves even more batsh*t crazy. Unfortunately, we didn't have enough of that evil cis patriarchal money to fund our further descent into madness."
No word yet on whether the self-admitted irreformable, irredeemable, deplorable cis white owners are going to douse themselves with gasoline and set themselves on fire to atone for their existence. Especially those cis wymyn who have had sex wih an actual man.
So I wish them all a hearty hah haaaah!
(h/t
(((G. Host)))
)

Pushback?
I know nothing about the author Lionel Shriver. A glance through her books doesn't that suggest she's particularly (or even at all) conversative, but every now and then, the enforcement of prog groupthink just hits someone the wrong way, and starts applying common sense to the situation. Such was Shriver's reaction to a Penguin Random House e-mail detailing their diversity goals.
Writing in the Spectator (UK), Shriver acidly opines:
Drunk on virtue, Penguin Random House no longer regards the company's raison d'être as the acquisition and dissemination of good books. Rather, the organisation aims to mirror the percentages of minorities in the UK population with statistical precision. Thus from now until 2025, literary excellence will be secondary to ticking all those ethnicity, gender, disability, sexual preference and crap-education boxes. We can safely infer from that email that if an agent submits a manuscript written by a gay transgender Caribbean who dropped out of school at seven and powers around town on a mobility scooter, it will be published, whether or not said manuscript is an incoherent, tedious, meandering and insensible pile of mixed-paper recycling. Good luck with that business model. Publishers may eschew standards, but readers will still have some.
The reaction is about what you'd expect:
Author Candice Carty-Williams called Shriver's comments "deeply embarrassing" on Twitter, adding: "While this belief of hers can only really come from a place of deep insecurity and fear of becoming obsolete, it also shows that she thinks that people of colour … don't write good books."
I can just imagine Ms. Shriver being interviewed on some BBC programme:
Shriver: Literary quality, not diversity, should be a publisher's chief guideline.
Cathy Newman: So in other words, you hate brown people.
This is not Shriver's first foray against political correctness, specifically cultural appropriation:
I'm not a natural activist, and I'm reluctant to embrace this role, but I am also dismayed by how few writers with any serious reputation are willing to put themselves on the line for free speech. I'm very unhappy that writers and editors are exercising self-censorship, especially with regard to group membership, to [writing about groups to which they do not themselves belong such as] gender, race, ethnicity, disability. If we follow this through, it will be the end of story and someone has to push back against that. Not only do we have to preserve the right to write characters who are different from ourselves, we have to preserve the right to have characters who think things that are unacceptable. I just lost my Swedish publisher...There is a sub-theme in [Shriver's novel] The Mandibles about immigration, and anything that is negative at all about immigration is toxic in Sweden. It's very disappointing.
Like Shriver, I would like to see more authors take a stand for free speech, and against the petty, politically-correct enforcers who run the brick-and-mortar publishing houses. But as she found out, there's always a price to be paid for such insolence. Speak out, and get clobbered.
(h/t Lizzy)

Moron Recommendation
44 This could go in the book thread, the food thread, or in an art thread since it is a cookbook that also has wonderful art all through it. At least in this (below) edition which is the one I own and am recommending.

Italian Food - Hardcover - Illustrated, February 1, 1988

Posted by: geoffb
This book is available in hardcover, paperback, and Kindle.
___________

More than one moron recommended John Julius Norwich's History of the Byzantine Empire. However, the 3 volumes are all quite spendy and your local library may not have them. So, in that case, perhaps you can make do with his Short History of Byzantium:
In this magisterial adaptation of his epic three-volume history of Byzantium, John Julius Norwich chronicles the world's longest-lived Christian empire. Beginning with Constantine the Great, who in a.d. 330 made Christianity the religion of his realm and then transferred its capital to the city that would bear his name, Norwich follows the course of eleven centuries of Byzantine statecraft and warfare, politics and theology, manners and art.

In the pages of A Short History of Byzantium we encounter mystics and philosophers, eunuchs and barbarians, and rulers of fantastic erudition, piety, and degeneracy. We enter the life of an empire that could create some of the world's most transcendent religious art and then destroy it in the convulsions of fanaticism. Stylishly written and overflowing with drama, pathos, and wit, here is a matchless account of a lost civilization and its magnificent cultural legacy.
Used hardcover editions can be purchased for as little as $1.99.

Sale
Moron author Hans Schanz wants you all to know that the seond book of his 'Hidden Truth' series A Rambling Wreck,
...is on sale for $0.99 through next week. Great chance to check out this Georgia-Tech-based science fiction conspiracy techno-thriller that making peoples' Dragon Award nomination lists and was a finalist for the Conservative Libertarian Fiction Alliance Book of the Year.
___________
Don't forget the AoSHQ reading group on Goodreads. It's meant to support horde writers and to talk about the great books that come up on the book thread. It's called AoSHQ Moron Horde and the link to it is here: https://www.goodreads.com/group/show/175335-aoshq-moron-horde.
___________
So that's all for this week. As always, book thread tips, suggestions, bribes, rumors, threats, and insults may be sent to OregonMuse, Proprietor, AoSHQ Book Thread, at the book thread e-mail address: aoshqbookthread, followed by the 'at' sign, and then 'G' mail, and then dot cee oh emm.
What have you all been reading this week? Hopefully something good, because, as you all know, life is too short to be reading lousy books.

posted by OregonMuse at
09:00 AM
|
Access Comments