« Hamartia
|
Main
|
Weekend Gun Thread »
June 24, 2018
Food Thread: The Great Garnish War: Summer Campaign
Looks great, doesn't it? I love big thick sloppy burgers, as long as the bun doesn't dominate. The more the merrier! Fried egg? Hell Yes! Bacon and avocado and cheese and some gloppy sauce and lettuce (not too much) and even a thin slice of tomato. All of that, piled onto a nice juicy patty makes my heart sing.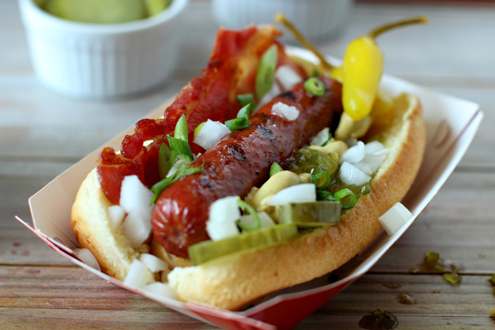 Nope Nope Nope. Too much stuff. The proper clothing for a hot dog is a bun (not too big), some mustard, a bit of chopped onion, and maybe, just maybe, if I am feeling particularly peckish, a thin scattering of sauerkraut. No disgusting pile of sauerkraut that soaks the bun and overwhelms the flavor of the dog. And don't even think about that neon-green relish that is made in a factory in China using slave labor and coal tailings.
And if the hot dog is a really fine specimen, then just the bun and some good mustard. And I am not talking about fancy sausages, I am referring to that glorious creation of American Exceptionalism: the plain skinless frank. Good ones can be found, and they are worth the search. My local place I have raved about (The Swiss Pork Store) has spectacular hot dogs that I can cheerfully eat until I am sick.
Oh...a good corn dog is allowed.
******
You serious bakers are weird!
Winter to summer yeast baking: making a successful transition
This is why I will never be a great baker. If the dough is too dry, I add a bit of liquid. If it is too wet, i add sprinkle of flour. Trying to figure out the proportions beforehand, based on the temperature and humidity is just too much thinking.
[Hat Tip: redc1c4]

******
Yeah...I am strangely drawn to those silly tropical drinks, usually made with rum, that have fruit wedges and straws and umbrellas and are almost always too sweet. This one doesn't look too sweet, and I am definitely going to give it a try, sans the orgeat syrup, which I will replace with almond liquor.
The Scorpion
******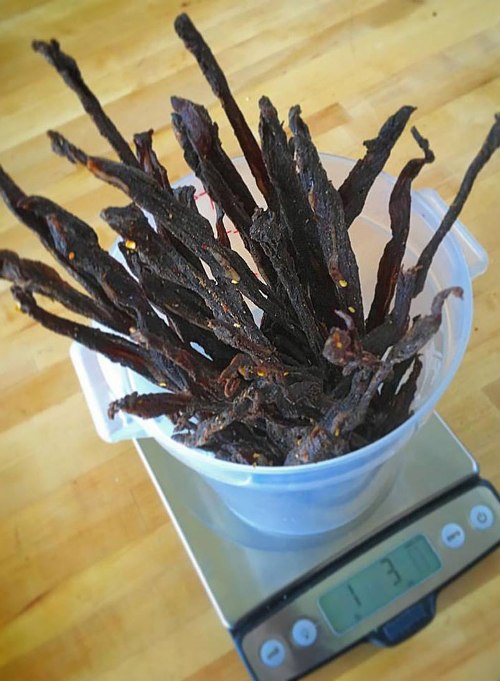 Oh man...I love beef jerky. There are thousands of recipes out there, and many of them are just...eh...but there a some that are fantastic. I haven't tried this one yet, but it looks like it's pretty standard. What sets it apart is the technique. Of course since it's Alton Brown, it's fussy and weird, but it does make sense. Alton Brown's Beef Jerky Recipe. I think it's worth a try. Just send me some and I can be your taster...

******
Did I post this before? I don't remember, and my cursory search didn't turn it up. Besides, it's a really good recipe, and deserves frequent posting.
Don't worry so much about the particular seafood you use. It's mostly texture and volume that is important. For instance, halibut is a fortune, so you can swap it for about the same amount of cod, and it will be different, but just as good.
As for that lobster stock? Well, it does help, but you can replace it with shrimp stock (easy and cheap to make), or in a pinch, bottled fish stock.
I think the timing of this recipe is what separates it from some that I have tried. It acknowledges that you can't just toss everything in and expect it to taste good. Yes...it's more work, but I think that in this case it is absolutely worth it.

Cioppino


9 prawns, peeled with tails left on

12 clams

12 mussels

8 ounces fresh halibut cut into cubes.

6 sea scallops cut in half

1/4 cup olive oil

1/2 cup diced red bell pepper

1/2 onion, diced

1/2 tomato, diced

1 tablespoon minced garlic

¼ teaspoon chili flakes

1 tablespoon chopped basil leaves

1/2 tablespoon chopped oregano leaves

1 tablespoon chopped rosemary leaves

1 tablespoon chopped parsley leaves

3 cups lobster stock

1 cup dry white wine

2 cups chopped tomato (canned)

Salt

Freshly ground black pepper
In a large pot, heat olive oil over medium heat.
Add the onion and red pepper and sauté for five minutes until soft.
Add the garlic, chili flakes, basil, oregano, rosemary, and parsley and cook for 3 minutes.
Add the clams and cook for another few minutes.
Add the diced tomato and cook for another minute.
Deglaze with the wine, then add lobster stock.
Add the canned tomato and bring to a simmer.
Cook until the clams and mussels just begin to open…about three minutes.
Add the prawns and stir, cook for one minute.
Add the fish and the scallops and cook for three minutes.
Taste the broth and add salt and black pepper as needed.
Ladle into warmed bowls and serve with toasted baguettes.
******
Food and cooking tips, tender meatballs, really good jelly beans that aren't just cloyingly sweet, gefilte fish replacements, thick and fluffy pita and Browning Hi Powers:
cbd dot aoshq at gmail dot com
. Any advocacy of French Toast with syrup will result in disciplinary action up to and including being nuked from orbit.
&topic=world_news">

posted by CBD at
04:00 PM
|
Access Comments