« Chess Thread 06-16-2018
|
Main
|
Saturday Overnight Open Thread (6/16/18) »
June 16, 2018
Saturday Evening Movie Thread 06-16-2018 [Hosted By: TheJamesMadison]
Airplane!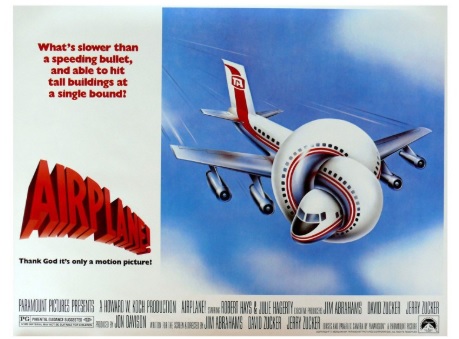 Let's go silly this week, because I'm incapable of serious thought right now.
I've brought up Airplane! before, and just like it's sequel, I'm going to be doing the same thing but only slightly different this time. It's precedent, which makes it okay.
I re-watched both movies a few weeks ago pretty much just cause (is there really any other reason?), and it was a wonderful experience. I hadn't seen the first one in a while, and I had never actually seen the second one unedited (only on television). They're not the greatest movies ever, but they are a good time at the movies.
Almost 40 Years Later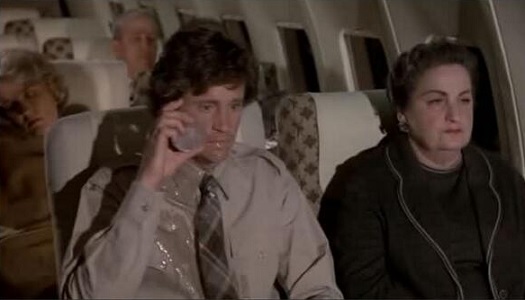 Airplane! is a few years older than I am, so I never saw it in its initial run and most of the cultural references it makes go way over my head. Did I ever see the exact coffee commercial that they play off of? Did I ever watch Leave It to Beaver? Did I know what jive was? Did I know any of this when I first saw the movie off of a TV broadcast when I was about seven?
No, I didn't, but I still found the movie hilarious. Can we say the same of the spoof movies that have come out over the last decade? Have you seen the likes of Disaster Movie, Meet the Spartans, or Epic Movie? I have, and, besides all be dreadfully unfunny, they all require a knowledge of contemporary pop culture just to begin to understand the "jokes". They're not really jokes, they're really just references dropped into the films, inducing an, "I know that thing!" response.
In Airplane!, the movie does use cultural reference points in the film, but it does the work for those gags so they can be appreciated outside of that specific point in history. Let's look at my three questions from above.

The Coffee Commercial
The key to making this gag work is the first instance of it in the movie. The wife essentially plays the commercial out straight. "He never has a second cup of coffee at home." This is a play on a well-known ad at the time for Folgers (XXXX), but that's not the actual joke. It might have elicited a chuckle or two at the time in that "I know that thing!" sort of way, but the actual meat of the joke comes later. "He never vomits at home." That's all it is, just a twist of the familiar into something you wouldn't expect, sold in the exact same tone as the surprise that the woman's husband is having a second cup of coffee. Does knowing the reference help in appreciating the gag? Probably? Is it required? Not at all.

Mrs. Beaver and Jive
The only place I would recognize Barbara Billingsley would be from this movie. I've never seen an episode of Leave It to Beaver in my life, but when she breaks out into jive talk, it's really really funny to me. Why? Despite having never seen an episode of the sitcom or even knowing what jive was, I can laugh genuinely at that gag, and it's because of how the gag is first built and the look of those involved.
There's an earlier scene that establishes jive. The two brothers have a simple conversation with subtitles turning their dialogue into a rather formal form of American English. That scene in and of itself isn't funny, and it's not meant to be. It's supposed to be the point from which actual jokes come from. The second half of how the gag works is Barbara Billingsley herself. Again, I have no cultural touchpoint for her, but she looks and sounds like a nice old white lady. She does not look like someone who would be immersed in black culture enough to not only understand jive, but speak it as well as anyone else. Her breaking out into it, and her complete dismissal of their refusal to accept her help (without subtitles this time) is what leads to the laughs.
Did the ZAZ team know that their movie would still play on TV decades later? That people born years after its release would watch it? I have a feeling that it wasn't all that present in their minds. They were probably not trying to create some cultural touchpoint of their own, but just a movie that they could laugh at and make a buck on. They created a movie that lasted for decades, not because they were trying to do that, but just because they understood what was funny.
Also, the dance number has always been hilarious to me.

Airplane II: The Sequel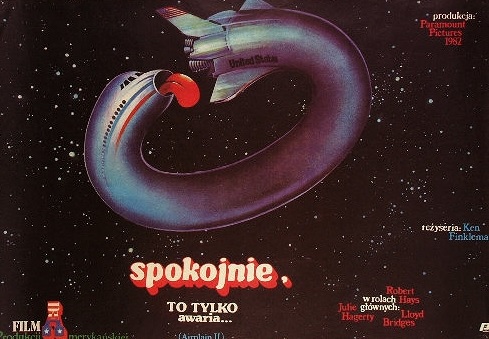 So, I had never seen this movie uncut before, and it had never been my favorite of the two (it's still not). However, I still find the movie quite funny and underappreciated.
The problem, I think, that people have with it is that, yes, it does repeat a lot. But, I feel like what it's repeating is set ups while changing the actual punchlines to the jokes. That keeps the movie pretty fresh to me. It's still built around the same premise (in SPACE!!!!), but there's enough freshness to keep the experience afloat for me.
One of the centers of enjoyment is William Shatner coming in at the end to play Buck Murdock, the commander of the Lunar Base. He plays the same part as Captain Rex Cramer, talking Striker down on how to land, but Shatner plays the role fairly differently than Robert Stack did in the original. Stack is cool and collected, barely hiding is contempt for Striker. Shatner is nearly insane while playing up the Captain Kirk persona to create a heightened version of an already heightened character. There's one point, in particular, where the two do the same thing. At the end of both movies, Kramer and Murdock keep talking to Striker after he's left the cockpit. In the first, Kramer gets incredibly personal, talking about how his father beat him as a child, while Murdock goes on explaining out to land the shuttle on the Moon long after the thing has stopped moving.
The set ups are the same, but the actual content of the jokes are different, and I think it helps make it still work. It's not the most original way to approach a sequel, but I think it's still funny enough to enjoy.

How The Sequel Should Have Gone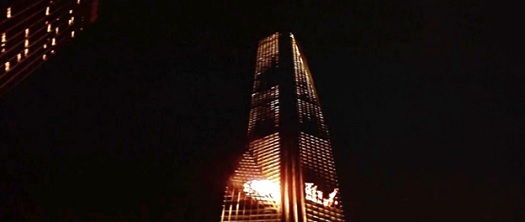 The original creative team behind the first movie (David Zucker, Jim Abrahams, and Jerry Zucker) had no involvement in the sequel. Apparently the studio wanted the movie so soon after the success of the original that the trio (ZAZ) just simply refused to do it, knowing that it would be a disaster. It certainly was that, from a financial perspective. There's a reason there was never an Airplane 3.
However, while I do enjoy what the world got with The Sequel, I do think that those who made it went in the wrong direction.
I think the core of what makes the first movie work was the straight acting mixed with the super serious tone around the actual plot and then surrounded by silliness. It was the conflict between the seriousness of the actors with the ridiculousness of the events. That core could be applied to a lot of stuff, not just movies set on aircraft. In fact, if you step back and view that very specific sub-genre as just part of the disaster genre, it opens up a world of possibilities.
So, here's my idea for the real sequel: Airplane II: Towering Inferno!.
Ted Striker has taken a job at an airline, been promoted so fast that now he's a VP and sits in an office of a tall skyscraper all day. There's a fire, and he has to work with Elaine Dickenson to get out. You can keep a lot of the same cast (it really shouldn't be hard to find an excuse to bring Lloyd Bridges back) as they perform similar roles in a new environment with completely new circumstances.
If that's successful, you follow it up with Airplane III: At Sea! where Striker, tired of all of the disasters he's experienced, goes on a cruise with Elaine and the ship rolls over and they spoof The Poseidon Adventure. That gets followed up by Airplane IV: Earthquake! where Ted moves to LA to try to work for the airline in a new job that keeps him low to the ground, but the city is hit by a massive quake. That then gets followed up by Airplane V: It's a Twister! where Ted moves to the middle of nowhere to escape the disasters that keep following him, but he's hit by a series of tornadoes that chase him around.
Hell, I think people would have been more excited about that list of sequels than the retread they got (which, again, I do like).

Movies of Today
Opening in Theaters:
The Incredibles II
Tag
Next in my Netflix Queue:
Mother of Tears
Movies I Saw This Week:
Angel (Netflix Rating 3/5 | Quality Rating 2.5/4) Poster blurb: "The star is a joy, but the second half drags to the point of pretty much derailing the film." [Netflix DVD]
Lady Bird (Netflix Rating 4/5 | Quality Rating 3/4) "A very easy to enjoy coming of age tale, although I feel like it's missing about ten minutes." [Amazon Prime]
The Magnificent Seven (Netflix Rating 2/5 | Quality Rating 1.5/4) "The affable actors shine very well, but the movie is fractured with a cartoonishly evil bad guy I found entirely uninteresting." [Amazon Prime]
The Bourne Ultimatum (Netflix Rating 5/5 | Quality Rating 3.5/4) "A step down from Supremacy because of the over-familiarity and reuse of a lot of the structure, but still high octane entertainment." [Personal Collection]

Contact
Email any suggestions or questions to thejamesmadison.aos at symbol gmail dot com.
I've also archived all the old posts here, by request. I'll add new posts a week after they originally post at the HQ.
And, please, visit my website.
My second collection of short stories is on sale now in both eBook and print editions.

posted by OregonMuse at
06:55 PM
|
Access Comments