« With Super Bowl Champs The Philadelphia Eagles Largely Opting Out of a White House Visit, Trump Cancels the Event, Taunts Them
|
Main
|
The Morning Report 6/6/18 »
June 05, 2018
Tuesday Overnight Open Thread (6/5/18 )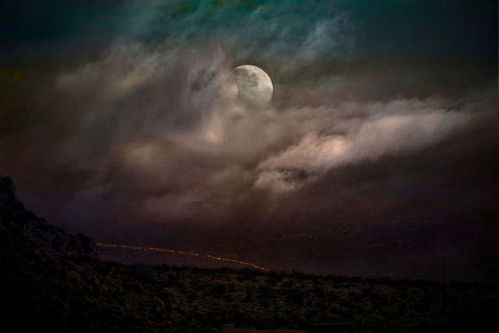 *****
The Quotes of The Day
Quote I

The government is so out of control. It is so bloated and infested with fraud and deceit and corruption and abuse of power. Ted Nugent
Quote II

Democracy is the art and science of running the circus from the monkey cage. H. L. Mencken
Quote III

"We highly recommended always checking the weather before departing on any ocean excursion because conditions can change instantly," Petty Officer 2nd Class Eric Thornton
No shit Sherlock Petty Officer Thornton.
*****
Hey, Mrs. Mis. Hum. how would you like to help me with my memory? Wink, wink.

A new study has found sex can improve people's performance in short-term memory tests.
It adds to the existing research that has suggested sex can improve cognitive function in a number of ways.
Some researchers conclude it is because sex boosts brain cell growth in areas of the brain associated with memory.
Others suggest it's because of the sexual "afterglow" that pumps us full of dopamine and oxytocin.
Either way, sex is probably good for the brain — not that you needed an excuse to have it.
*****

Somehow this has been hanging around in draft. I apologize it didn't get here until tonight.
Donald Trump and Ben Rhodes, chuckle worthy.
*****
We've heard these famous sayings before, "The most terrifying words in the English language are: I'm from the government and I'm here to help."-Ronald Reagan; "It's not tyranny we desire; it's a just, limited, federal government."- Alexander Hamilton.
So why in the hell does the Department of Homeland Security need to collect names and information regarding bloggers, journalists and social media influencers? Are we the U.S.A or are we Mao's China? Pretty frightening shit.

In fact, the Department of Homeland Security has just announced that it intends to compile a comprehensive list of hundreds of thousands of "journalists, editors, correspondents, social media influencers, bloggers etc.", and collect any "information that could be relevant" about them.

So if you have a website, an important blog or you are just very active on social media, the Department of Homeland Security is going to put you on a list and will start collecting information about you. The DHS has already announced that it will hire a contractor to aid in monitoring media coverage, and they will definitely need plenty of help because it is going to be a very big job…

As part of its "media monitoring," the DHS seeks to track more than 290,000 global news sources as well as social media in over 100 languages, including Arabic, Chinese and Russian, for instant translation into English. The successful contracting company will have "24/7 access to a password protected, media influencer database, including journalists, editors, correspondents, social media influencers, bloggers etc." in order to "identify any and all media coverage related to the Department of Homeland Security or a particular event."

"Any and all media coverage," as you might imagine, is quite broad and includes "online, print, broadcast, cable, radio, trade and industry publications, local sources, national/international outlets, traditional news sources, and social media."
Creepy? I have harsher adjectives.
*****

Want to help a child out with his/her/it's self-esteem. Play this video everyday.
*****
So it looks like a couple of people have some 'splaining to do.

Americans were told during World War Two that loose lips sink battleships, but little did we know in the 21st century loose lips can cause other things to go down.

Michael Feinberg is suing a New York CVS pharmacy, claiming his marriage was irreparably harmed when a pharmacy employee told his wife about his secret Viagra prescription, according to Buzz60.
*****
An amazing thing about Gov. Andrew Cuomo (D-NY) He broke his arm patting himself on the back.

Few investments are more famously fraught with failure than making movies. That extends especially to states and localities that attempt to lure filmmakers to their locales via sexy and economically useless subsidies that end up costing far more than they generate in new business activity and tax revenue. As the Tax Foundation reported in 2012, film subsidy programs generate between 7 cents and 30 cents in return for each dollar spent, guaranteeing a massive loss to taxpayer for every tax credit, rebate, or other handout.

In 2014, New York Gov. Andrew Cuomo championed the creation of the Central New York Film Hub near Syracuse with $15 million of taxpayer money. "Who would have ever figured: Hollywood comes to Onondaga [County], right?" Cuomo said at the time, according to The New York Times. "You would have never guessed. But it has."
*****
Mark Steyn spot on today. Spot on in 2006.
*****
If you are heading to Brazil, You might want to consider swimming in the hotel pool only.

Jose Ernestor da Silva (pictured) was attacked yesterday afternoon and had his penis ripped off by a shark as he swam in the sea in Brazil +6
Jose Ernestor da Silva (pictured) was attacked yesterday afternoon and had his penis ripped off by a shark as he swam in the sea in Brazil

A teenager who had his penis ripped off by a shark as he swam in the sea in Brazil has died.

Jose Ernestor da Silva was attacked yesterday afternoon while bathing in waters off the Piedade beach near Recife, on Brazil's north-east coast.

The shark struck just as lifeguards stationed on the beach had told the 18-year-old to come closer to the shore.
*****
Oh-oh, Wisconsin political ads are getting down and dirty.
*****

(The ONT Musical Interlude)
***
***
June 5, 1959, Bob Zimmerman graduated from high school in Hibbing, Minnesota. Zimmerman was known as a greaser to classmates in the remote rural community, because of his long sideburns and leather jacket. via thisdayinmusic.com
*****
Elon Musk's Tesla is busy refunding money instead of making cars.

Presumably, potential Tesla customers could make a deposit again when production is more regular. The potential longer-term harm would be in alienating them so that they choose a different brand of car altogether
Presumably? Fool me once.........
*****

Take that gun grabbers. Another record setting month for gun sales.

The number of gun-related background checks reached an all-time high once again in May, a report posted by the Federal Bureau of Investigation on Monday shows.

In May 2018, the FBI processed 2,002,992 queries through the National Instant Criminal Background Check System (NICS). That's more than any previous May in the system's history with May 2017 holding the previous record at 1,942,677. April 2018 saw more NICS checks than any previous April. March 2018 saw more NICS checks than any previous March.
*****

Playing general contractor has its draw backs. MD man charged with involuntary manslaughter.

Authorities have charged 27-year-old Bethesda, Maryland stock trader Daniel L. Beckwitt with involuntary manslaughter and second-degree murder after worker Askia Khafra died in a fire while building an elaborate 200-foot network of underground tunnels designed to protect Beckwitt from a North Korean nuclear attack.

According to the New York Times, police and firefighters arrived at Beckwitt's home on September 10th, 2017 to find Khafra's dead body in the tunnel complex under it, leading to his indictment on May 31st:

The Trump Derangement Syndrome continues to afflict the left.
*****
Go figure. Little Adolph was a Mamma's boy.

Klara Pölzl was born in the Austrian village of Spital in 1860. Described as "an attractive teenager with abundant dark hair," in her teenage years the mother of the future Fuhrer worked as a domestic servant. When she was 16 years old she was hired by her first cousin once removed, Alois Hitler, and his wife and moved into their household along with another maid.
*****
Listen Matthew Phelan, keep your patchouli greased fingers off my ass wipe toilet paper. And I don't want a bidet either. Go away. Go away NOW.

I want to talk about how magical it is to pass through Oregon's microclimates, to visit a town where it seems to be raining only there, or to break through after a long patch of bad weather into a dissonantly balmy clearing.

But I can't talk about any of these things without first addressing how lazy and short-sighted it is for Americans to allow the Pacific Northwest to be logged routinely for disposable paper products. You know what I mean: the paper cups many of us don't even reuse over the course of a single barbecue, the quilted napkins we rest our phones on because we're afraid of café tables, and yes, the toilet paper upon which we wipe our butts.
If you want to use corn cobs, melon rinds or whatever the Tree Hugger TP of the month club is, knock yourself out.
*****
Being the Misanthropic guy that I am I see humor in this.

An 80-year-old woman's seemingly straightforward obituary took a dark turn that no one could have predicted.

The obituary for Kathleen Dehmlow (Schunk) first appeared in the Redwood Gazette this week. It stated she was born on March 19, 1938, and resided in Springfield, Minn. She married Dennis Dehmlow in 1957 and had two children with him -- Gina and Jay.

The Humanitarian part of me says, that's too bad about this family.
*****

Mother of The Year or Genius Award Winner.

WILLIAMSPORT, Pa. (AP) -- Police say a Pennsylvania woman staged her son's DUI.


WNEP-TV reported Saturday the 38-year-old West Milton woman has told investigators she put her 20-year-old son behind the wheel in February, then called police and said he was high on synthetic marijuana and passed out in the car.
*****
Purchasing a baseball game ticket is an entertainment expense. What this fan did, Tonight's Feel Good Story of The Day.
*****
Tonight's ONT has been brought to you by High School Confidence.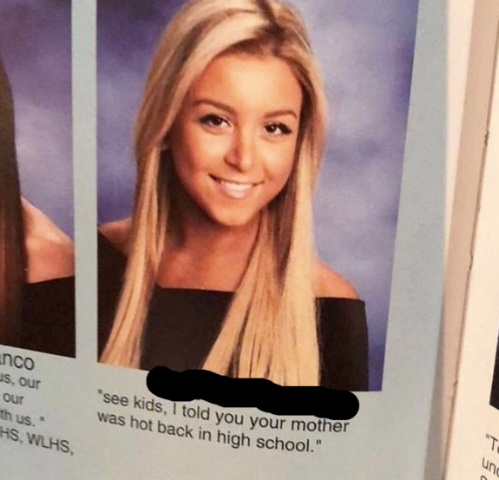 And
High School Self-deprecation.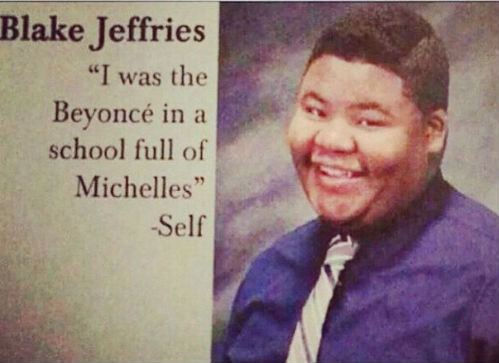 Notice: Posted with permission by AceCorp, LLC. The ONT recommends discontinuing use if the quality seal has been broken. There is no use in upsetting the Status Quo.

posted by Misanthropic Humanitarian at
10:03 PM
|
Access Comments