« Saturday Gardening Thread: Memorial Day Weekend 2018 [KT]
|
Main
|
Chess Thread 05-26-2018 »
May 26, 2018
Ace of Spades Pet Thread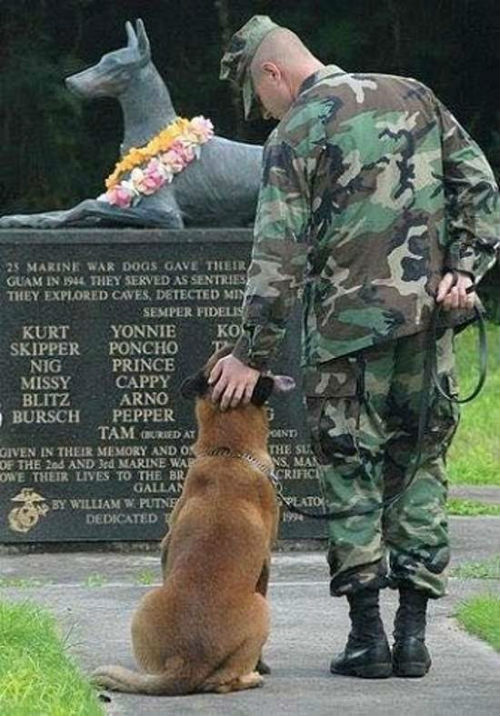 Welcome to the almost world famous AoS Pet Thread. Take a break from your weekend activities and enjoy the world of pets.

***
A Little of This. A Little of That.
As a boy who lived in a rural setting I was use to being chased by dogs on my bike. Never chased by one of these. Horses on the loose.
While we are on the biking kick. Any of you cyclists have an issue with a moose?
Animal rights? Well explain that to the rabbit.

Is life better with a dog? You decide. Be nice.

A cute little Plumber's Helper. h/t redc1c4
***
Meet The PetMorons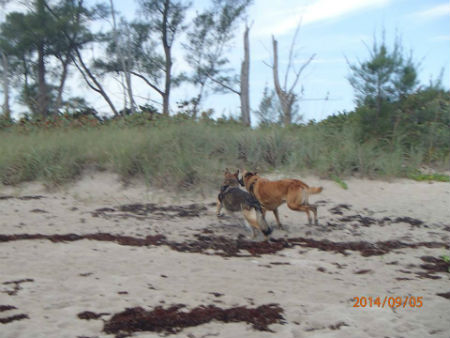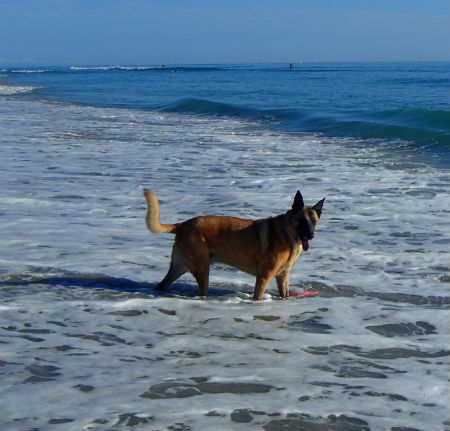 You have posted pictures of my Belgian Malinois, Keeper, and my German Shepherd, Flynn, before. We lost Keeper last year at a little over 13 years old. It was and has been devastating for me. What I didn't realize was how it would affect Flynn. After he was gone, Flynn would not go into the spare bedroom where Keeper slept every night. I tried taking her the dog park where we spent so much time. She would make it through the gate and then just shut down. I could not get her to go any further into the park and she completely ignored any dogs that tried to interact with her. She just sat there facing the gate and wanting to leave. It was heartbreaking. On the anniversary of Keeper's death, I tried again. I took the day off of work and when we got to the park she actually walked in and down to the lake. I got the biggest stick I could find and threw it over and over into the lake for her to chase. We now go every week and she's very excited to get there. The last year has been a difficult transition but Flynn and I are adjusting. Keeper was the very heart of me. He was my protector, my running buddy, and the love of my life. Rest in peace, Baby Boy. The first picture is both of the dogs in better times. The second picture is Keeper's last trip to the beach. The third is a recent pic of Flynn at the dog park.

If this is too long or there are too many pics I understand if it can't make the pet thread.

Thanks, Susie
Your welcome Susie. So, will a new puppeh help? Just an idea.
***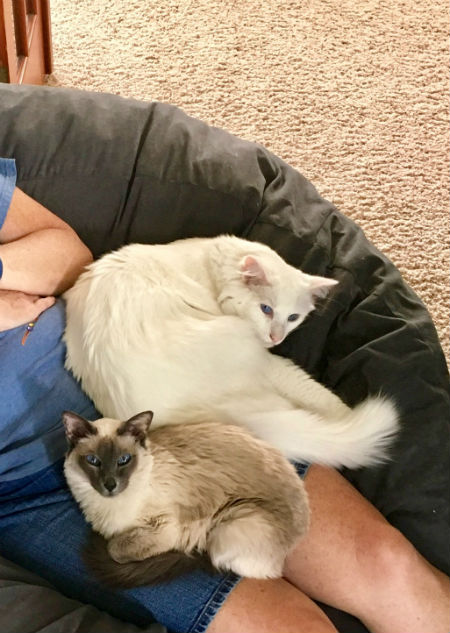 Hello! Long time lurker, never poster, SK here. These are my two beauties, Fleury (the small grey one) and Beam. They are polar opposites! Fleury is a sweet, tiny kitty, weighing around 5.5 lbs. We got her in Canada, and named her for the hockey goalie, Marc Andre Fleury. Beam is a brute who loves only his mom! He weighs in at around 14.5 lbs. He hails from Kentucky and is named for Jim Beam, Kentucky whiskey! They are my pride and joy. Thanks for the Pet thread - I look forward to it all week!

Sarah
Good thing you didn't name that little one Gump Worsley. A nice pair of pets who look like they have the world by the tail. Thanks for thinking of us and sending in this photo.
***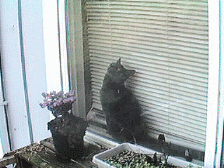 This is my old cat Jack, back when he was young. I'm having him put down tomorrow. He started losing the use of his back legs and now he's losing use of the front ones. He's had a good fifteen years but now it's time. Out of the many cats I've owned, he is the best.

"Throw out the radio and take the fiddle down from the wall."
— Andrew Nelson Lytle, Tennessee, 1930

Teri
So sorry to hear about your loss Teri. The time flies by with a pet.
***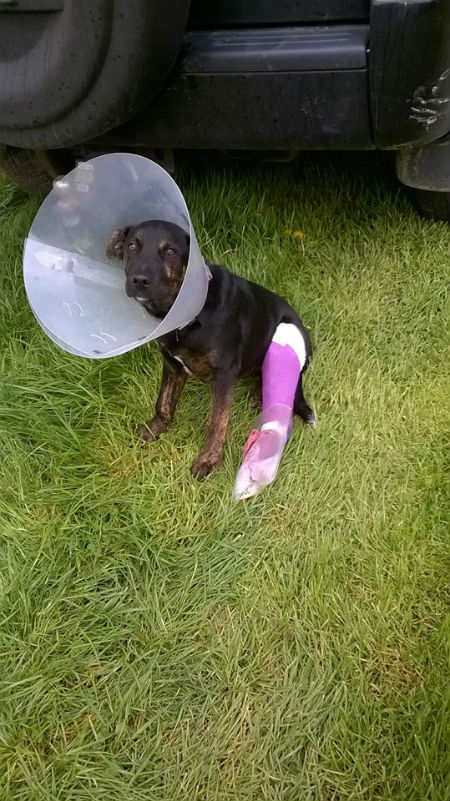 Ol' Busted Leg, Audrey Claire, part German Shepherd, part pit bull, and I had been working on staying the hell out of the road for nigh on two months, but it obviously hadn't taken yet. As I was doing things in the back of the house, she slipped off unnoticed. I heard the screech of tires then a yelp and I instantly knew what happened. When I'd gotten around to the front of the house, the gal who hit her had stopped and was frantically searching around and under car for my pup. I saw Audrey in the drainage ditch sitting up in the tall grass as though nothing had happened. I was relieved - until I saw her leg, mangled and bloody. I fully expected amputation. And I was pissed, both at her for running into the street and myself for not keeping better watch. The gal asked if the dog was okay.

"No. You broke her leg."

"I didn't do it!"

I was stunned, "Well, it sure as hell didn't break spontaneously!" My anger turned from myself and the dog toward the woman. I let her have it with both barrels, calling her the most awful names you can imagine.

I immediately put Audrey in the Jeep and took her to the Vet emergency room. X-rays showed the break was at the growth plate in her ankle, a pretty good place if you simply must have a broken leg. I calmed down and upon reflection, I realized the woman meant it wasn't her fault, not that she didn't do it - simply a poor choice of words at the wrong time. Haven't seen her since.

I've had problems keeping her out of the stream and from rough-housing with Eleanor, her 'sister'. I've had to take her in to have the split changed twice. The first time she dove headlong into the stream and got the splint completely saturated with water. The second time she ran/jumped right the hell out of it! What a true 'Ron!

Anyway, Ol' Busted Leg is doing fine. -Howard
Quite the adventure there. On a serious note did you have pet insurance or did you take a 2nd mortgage out? Thanks for the submission.
***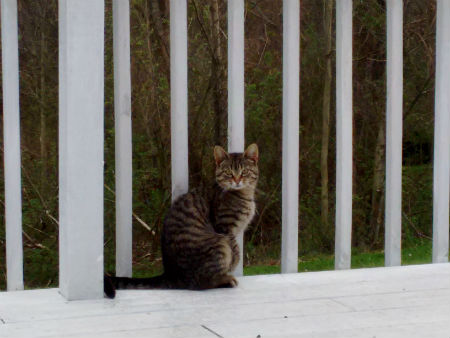 So, here's the latest on our feral cat Assner - who, by the way, was not named for actor Ed Asner. The origin of the cat's name is a silly little story.

Anyway, Assner went in this past Tuesday for her spay procedure and is now recovering before we release her back outside. Sadly, that first litter she had didn't survive. My husband and I searched around the property (with a few tick travelers....rural livin'!) and never found anything, not even remains. There are coyotes around here and relatively close to the house, so they may have fallen victim to a pack, we just don't know.

The neighbor's male barn cat kept calling on Assner, and funnily enough was prowling our yard they day Assner was up at the clinic. I remarked that he (I named him Gomer) was going to be disappointed when Assner recuperated.

As of now, though, I'm keeping Assner comfortable, warm, and fed while she heals up, and in a few days we'll set her free. The picture is pre-surgery, when she was on our deck "talking" to Boots and Smokey. - Victoria

Good luck on her recovery. And good luck keeping the coyotes away. Thanks for the submission.
***
What a group of loved and pampered PetMorons. Thank you for sharing!
Do you have a pet photo you would like to share? Or do you have a tip, story or video related to pets/animals? You can reach us here at: petmorons at gmail dot com
You folks and critters have a great week!!!

posted by Misanthropic Humanitarian at
03:00 PM
|
Access Comments