« The not-so-great debate [KT]
|
Main
|
Ace of Spades Pet Thread »
May 26, 2018
Saturday Gardening Thread: Memorial Day Weekend 2018 [KT]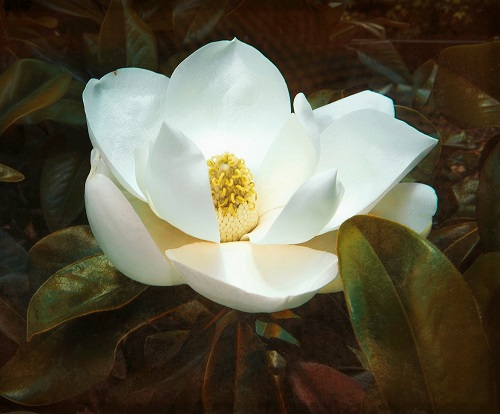 I've been saving the glamorous photo above for a while now. This is the note that came with it. Hope I timed the photo about right:
This may be a bit early as we're still being told to expect what they laughingly call a 'wintry mix' of rain, sleet, ice and/or snow for tomorrow. Damned good thing we have 'global warming,' or we'd really be up a creek. Anyhow: Once this is done with and the WX starts gettin' more - umm - 'seasonal,' these will make their appearance and put their fragrance in the air. When that happens, I shall break out a mint julep and put 'When It's Sleepy Time Down South' on the wind-up phonygraph ... enjoy. Dr No
Hello, friends. While some of us are facing a really big storm, we have some garden topics that might remind us that it is still Memorial Day Weekend. Plus something fun for the kids.
Our Heritage:
I love this photo from Illiniwek: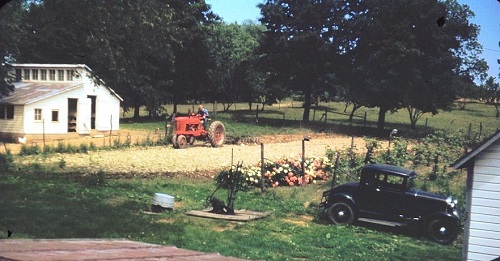 This is one from the old house looking onto the garden as it is disced. One note says 1938, but another note says the well went in in 1941. The chicken house and wash house were in by 1920, I think. The peonies are in bloom. Concord grapes, and early thirties ... Model T?
Peonies remind me of Memorial Day. And Illiniwek still has some growing. They live a LONG time. These are behind some lilies in bud and the camera focus is on the lilies. This scene reminds me of a memorial park. Maybe it's just because it's this weekend: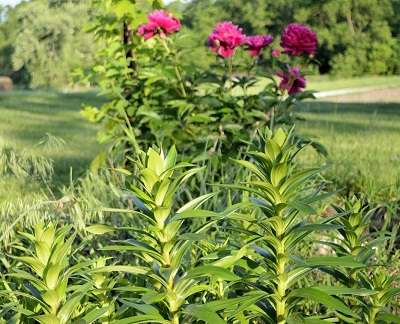 Here's a photo I took during my father-in-law's services at the Tahoma National Cemetery.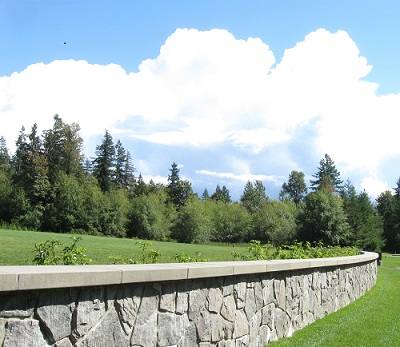 And here is a photo of Illiniwek's everbearing lilacs that just bloomed. "Their best display ever". Some years, growing up, we had lilacs on Memorial Day. I remember being excited when I first heard of re-blooming lilac varieties. Looks like Illiniwek is doing well with his lilac. The re-bloomers may not re-bloom as enthusiastically in the Midwest as is some other places.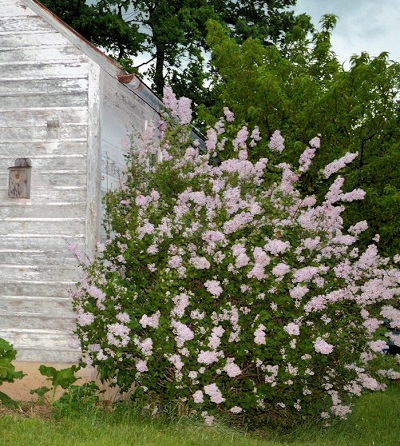 Forget-me-nots and Fairy Gardens
I thought it would be fun to include a close-up of a tiny flower from lurker NadineCharmichael's Fairy Garden. Forget-me-nots just happen to fit in with a Memorial Day Weekend theme. It is often used as a symbol of remembrance.
I never considered myself a gardener until I had kids and thought a veg garden would be fun for them. Found out I liked tending it more than the kids! My new hobby has expanded to include 4 gardens and 2 large containers, and now my husband isn't sure if my fabric-hoarding habit is better or worse than my gardening habit. . .

These are forget-me-nots. I know anything else about them. They're tiny but probably one of my favorite flowers. Simple and sweet and breath-takingly beautiful ("Just like you!" - my husband on the couch.) These are the background in my kid's fairy garden. They seem to thrive on partial shade, average water, clay soil, earthworm castings, and marginal neglect.
So, do you think this is what a fairy's eye view would be?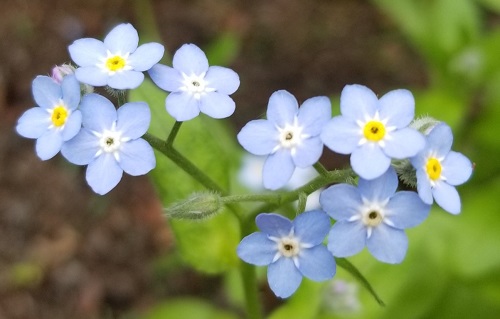 The Official State Flower of Alaska is Myosotis alpestris, the Alpine Forget-me-not. But they grow garden Forget-me-nots there, too. There are other attractive species, but only two real Forget-me-nots are commonly seen in gardens in the Lower 48. The first is M. scorpoides, True Forget-me-nots, Water Forget-me-not or Scorpion Grass. It is a true perennial that can become somewhat invasive in wet areas. The "scorpion" reference has to do with the way the flowers curve. This one starts with pink buds and the flowers then turn blue. See the little scorpion tail?
The other is M. sylvatica, the Wood Forget-me-not. It is grown as an annual or biennial and is available in blue, pink and white cultivars. It tends to self-sow where it is happy.
It took a long time for the Forget-me-not to become the Official State Flower of Alaska. Along the way, proposals were accompanied by the earnest rhetoric typical of new states joining the union. And the typical over-earnest poetry. Usually kind of sweet in a way. Here are the last 4 linwa of Esther Birdsall Darling's poem which accompanied a 1917 proposal:
So although they say we're living

In the land that God forgot,

We'll recall Alaska to them

With our blue Forget-me-not.
The background color of the State Flag of Alaska was chosen by its designer, a 13 year old Aleut boy who later became a diesel mechanic, to represent the sky and the Forget-me-not flower.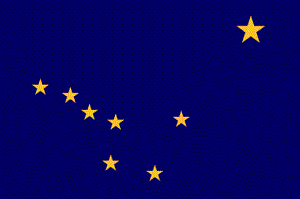 If you visit the mountains of Alaska or Western Canada in summer, you might also see the Splendid Alpine Forget-me-not, Eritrichium splendens, a tiny plant with beautiful flowers that look a lot like garden forget-me-nots even though it is in a different plant genus.
The Giant Forget-me-not is also in another genus, a single species from New Zealand that will grow near the ocean, in salt spray.
I think the flowers of the Giant Forget-me-not look a lot like those of the Chinese Forget-me-not, another plant you can grow in your garden. It may take more sun than true forget-me-nots. Best sown where they are to bloom. Note that the flowers don't have the yellow central ring or white bee guides of the real Forget-me-nots in Nadine's garden. It blooms in late summer in most places, earlier if started indoors or in the fall. It prefers cool summers, not too humid.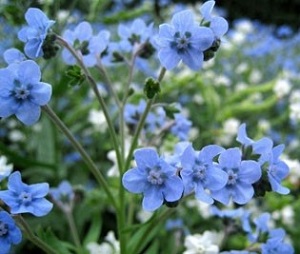 This plant has flowers a little larger than the flowers of real Forget-me-nots, is grown as an annual or biennial, and has a native perennial cousin in the mountains of Oregon and California. There is also a wild relative in the Eastern USA and Canada, Blue Houndstongue or Wild Comfrey (often seen after fires). And a troublesome weed imported from Europe.

Cynoglossum Officinale Common Hound's Tongue or Gypsy Flower, has pinkish or purplish flowers and smells like "rats and mice". Its burrs stick to the wool of sheep, and it can lead to photosensitivity in livestock if they eat the plants. As you may have guessed from the name, this plant was once used to treat a variety of illnesses. And:
By the end of the 1830s, doctors in England were using houndstooth as an antiaphrodisiac to combat venereal excesses.

In 1891, the U.S. state of Michigan identified hounds tooth, along with flea-bane, rag weed, burdock, cockle-bur, and stickseed, as some of the worst weeds in the state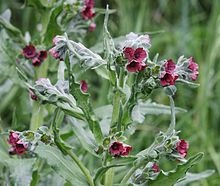 You don't want this one.
NOTE: They're not as bad as the one above, but the seeds of both Chinese Forget-me-nots and regular Forget-me-nots can stick to your clothes and to pets. They can be kind of a pain to remove. You might want to deadhead plants near paths, especially where dogs walk, or even remove the plants after they flower. But they are lovely. Henry David Thoreau wrote that:
the mouse-ear forget-me-not, Myosotis laxa, has now extended its racemes very much, and hangs over the edge of the brook. It is one of the most interesting minute flowers. It is the more beautiful for being small and unpretending; even flowers must be modest.
I like big flowers, but I've always had a soft spot for dinky flowers. Forget-me-nots, violets, Baby Blue Eyes, little Pinks, Viscaria, etc. Maybe we will need to revisit Fairy Gardens again in the future. In the meantime, Mike Hammer included a link to an ever-so-cute fungus in last week's comments. Did you see it?
Have to admit that this is the first time I've thought of "Fairy Gardens" and "Mike Hammer" at the same time.
By the way, this is NadineCharmichael's Fairy Garden. Some kids know they are loved.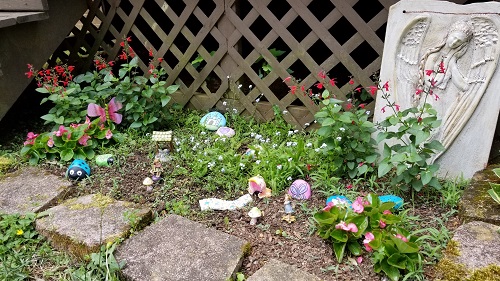 It's in a shady spot with poor soil, so the plants have to be survivors.
The painted rocks are courtesy of my mother, who has quite a flair for that sort of thing, and my kids love moving them all about the yard. The stone angel picture was a wedding gift from long ago. What does one do with a 20lb stone-cast and bronze angel plate? Hide it away for 10 years and then put it in the fairy garden!
Salvias and Hummingbirds
NadineCarmichael's Fairy Garden features a Salvia which I think is S. coccinea, a native to the Southeast.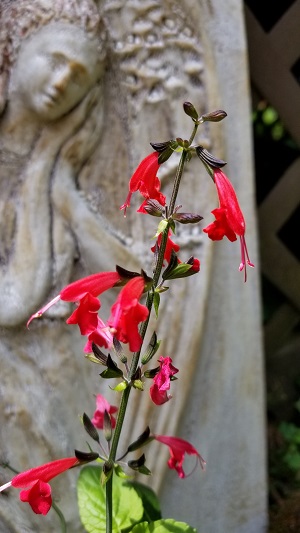 My 1988 edition of the Sunset Western Garden Book lists 12 species of salvia. My 2007 edition lists more than 60 species and cross-species hybrids, plus many named varieties. S. coccinea, one of the three most common salvias in nursery multi-packs around here today, was not listed in the 1988 edition. I am kind of partial to 'Coral Nymph'. Okay, its species name still says "red" but it's not exactly red.
There are also white and lavender cultivars now. One writer described a white cultivar as smelling like a locker room. Might repel some insects. Who knows?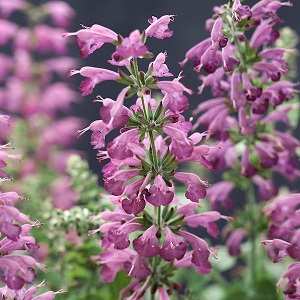 Nadine also has a specimen Salvia that holds its own as a foliage plant.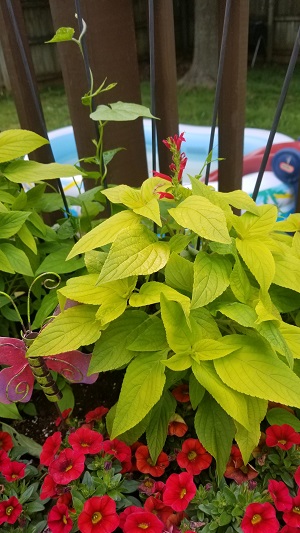 Her specimen salvia, called "Eucalytus Salvia" on the tag, may be related to Pineapple Sage. Do you love the fragrance of Pineapple Sage? Here's a recipe for Peach Jam with Pineapple Sage, no added pectin. And here's one for Blackberry and Pineapple Sage Soda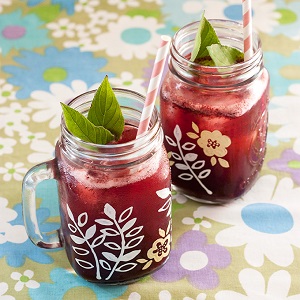 Here's a kid-friendly site with lots of photos of hummers in Arizona and beyond.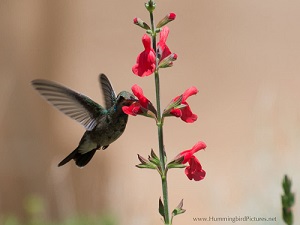 Broadbilled Hummingbird with Cherry Red Sage
Salvias and Hummingbirds seem made for each other. Especially certain species. Ten of them are listed at the bottom of the page. Most of them are rated for USDA Zones 8 and higher (not too cold hardy). Bonecrusher's recent mystery species (we think) makes the list.

The Salvia Study Group of Victoria notes:
We soon learnt about S. guaranitica the hard way - that it has tubers and will not only walk but run if the soil around it's base is disturbed.

The only way we were going to grow it was in a bottomless pot where it wouldn't escape. If it was planted in a garden and began to walk, then it had to be dug out and destroyed - all little bits will grow. It's perfect for planting out large areas, but definitely not for a small garden.
Here's one that's perennial in zones 5 - 9. Marketed for the Midwest. Four feet tall. Looks like a good hummingbird plant to me.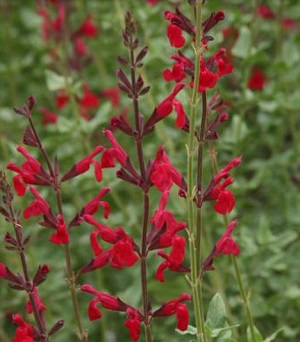 Salvia Splendens doesn't make that Top 10 list despite the fact that it is a fabulous bedding plant, here in Taiwan at an international garden show. Wild designs are possible. Puts out some color.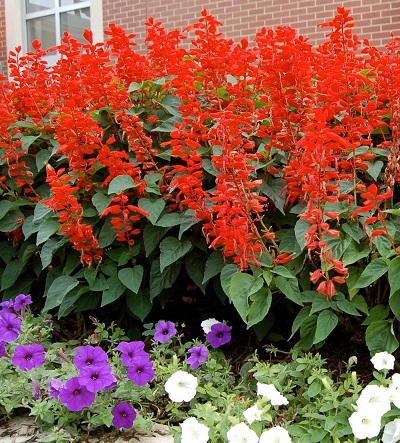 Trees, Bees and Allergies
Gordon sent in an interesting observation recently:
One of those things you never notice since it happens overhead is that bees fertilize maple trees. They are not easy to see but yesterday there were many.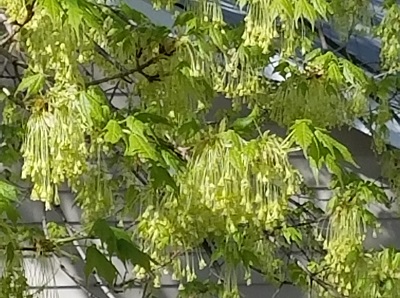 Gordon has accidentally hit upon a long-standing controversy about maple pollination: Are maples pollinated by wind or insects? They certainly attract pollinators. But some maples let pollen fly far on the wind, indicating wind pollination. Some trees are bisexual and some produce flowers of only one sex.
Some maples are rated amore allergenic than others. The Box Elder seems to be the most allergenic of the Acer genus. You can look up individual species of trees you are considering planting, plus more information here.
Expecting trouble with allergies at a picnic this weekend? Any tips for those who are expecting some trouble?

Gardens of The Horde
Linda has written in with a request for tips. She would love to be able to grow some Hygrangeas, if possible. Or some other nice perennials.
Almost all of my yard is heavily shaded, with oak, pine, hickory, and magnolia trees predominant.

I have a few - very few - sunny spots.

What does grow well:

Dogwood - in several spots, copious flowering
Magnolia - only one tree - the one in a very sunny spot - flowers beautifully each spring
Azaleas - multiple bushes, thrive in sun or shade, produce stunning displays in multiple colors
Jonquils - return each year, sun/shade
Roses - in the partly shady areas

I'd like to plant more perennials (OK, I'm basically lazy). I love hydrangeas, but am dubious whether I can get them to establish in my partly shady yard.

I said it's partly shady, but, really, it's MOSTLY shady - and has a very moist soil. I get mushrooms popping up every time there's a halfway good rain.

I live in SC, near Charlotte. Any suggestions would be appreciated.
Sounds like a long-term project. Any ideas for Linda?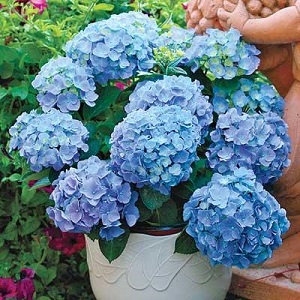 If you would like to send information and/or photos for the Saturday Gardening Thread, the address is:
ktinthegarden
at g mail dot com
Include your nic unless you just want to be a lurker.


posted by Open Blogger at
12:52 PM
|
Access Comments