« Chess Thread 05-12-2018
|
Main
|
Saturday Overnight Open Thread (5/12/18 ) »
May 12, 2018
Saturday Evening Movie Thread 05-12-2018 [Hosted By: TheJamesMadison]
The Accidental Trilogy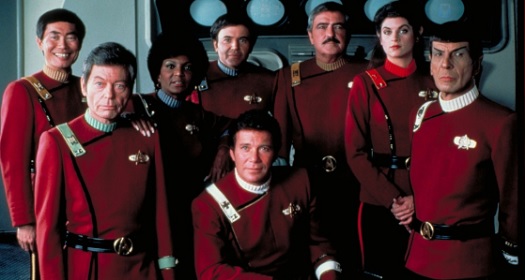 When Paramount looked at the Star Trek franchise after the financially disappointing release of The Motion Picture, they made one important decision. They kicked Gene Roddenberry to the curb in regards to the film franchise. He had producer credits until he died, but he had virtually nothing to do with the movies after that.
The franchise was adrift. There were no multi-film plans. No efforts to build a cinematic universe. No thoughts of creating a trilogy of films to tell one story. But, what did end up happening created one of the most interesting little accidents in film. A trio of movies, in the middle of a whole franchise, that end up telling three distinct stories that also entirely rely on one another.
Paramount has gone so far as to sell the trilogy as a standalone set, but no one was planning that sort of package in the early 80s. Back then, they were just trying to keep Star Trek alive.
Star Trek II: The Wrath of Khan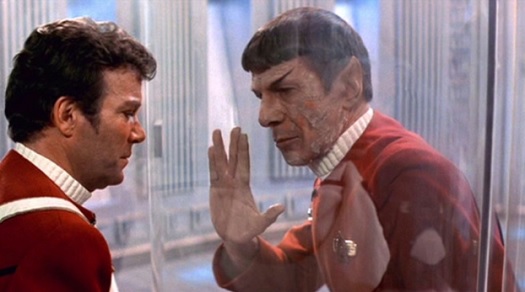 For those of you who remember (which can't be many because no one actually reads the content), I have a soft spot for the first Star Trek movie. It's big and audacious, if not entirely successful. I'd love an alternate universe where that was a huge success and the series continued along those lines, but because it was actually a financial failure, Paramount decided to give it another chance, but only by taking it in a completely different direction.
For the next film, Paramount hired a talented adventure movie director with only one credit (Time After Time) to his name, Nicholas Meyer. The man had never seen an episode of Star Trek before in his life when the studio gave him half the first movie's budget. Meyer took the job, threw himself into The Original Series along with Harve Bennett, and they pulled Khan Noonian Singh out to face the crew of the Enterprise.
There was no plan to tell a continuing story over the next few movies. They weren't even sure if they'd be able to make any more. Star Trek II: The Wrath of Khan was the last gasp of a dying franchise that probably shouldn't have been revived, especially as a big screen event.
And they made what I call a perfect movie.
The acting is surprisingly good. The plot uses science fiction elements, but the story is really driven by the characters themselves. Khan is driven by vengeance. Kirk is driven by survival. Spock is driven by logic. Each one makes decisions that are intelligent and drive the plot forward. Watching Kirk find a way to outwit Khan is always satisfying, using Khan's limited experience despite his superior intellect. And the film has a fantastic goodbye to a beloved character (because Leonard Nimoy wanted out of playing Spock forever).

Star Trek III: The Search for Spock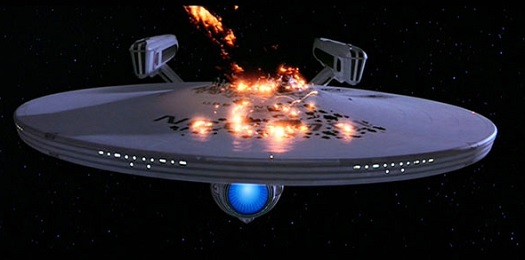 Third second movie in this little trilogy only happened the way it did because Paramount wanted Leonard Nimoy back as Spock so much, that they allowed him to direct. He had directed some television before, but never a feature film. Unfortunately, some of that shows.
III is not a bad movie. In fact, I think it's quite good, but it's still a step down from II. That's easiest to see in the purely visual elements. Simply put, II looked great, despite its budget and III very much looks like its budget and not a penny more. The only parts of the movie, visually, that don't look cheap, are the holdover pieces from the previous movies (in particular, the Enterprise itself). The story itself has more of the feel of a typical episode, despite the Armageddon of the final fight.
And yet, despite the movie's limitations, I consider it to be a solid and good movie. I don't think William Shatner was ever better as Captain Kirk than in this outing. Christopher Lloyd is fun as Kruge, the bad Klingon. And, on top of it all, there are two of my favorite sequences ever in the Star Trek franchise: The Escape from Spacedock, and The Destruction of the Enterprise.
The second movie in The Accidental Trilogy just simply picks up right where the previous film left off, and continues logically (if you consider the Katra stuff logical…I'm on the fence). There's definitely some visitation of some concepts from II, but the additions of David taking shortcuts with the Genesis device are a wonderful addition that takes the original ideas of the device and twists it even further. Not only was the device probably a bad idea in general, but the scientists involved cheated their way there. In a franchise that often fetishizes scientists, it's a great turn, showing them to be as short-sighted as the rest of us.

Star Trek IV: The Voyage Home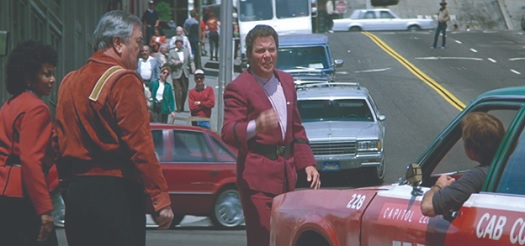 From what I've read, where most Star Trek fans think that II is the best movie (personally, I vote for VI because I must be different), non fans tend to like IV the best, and I think it's easy to see why. The setting is familiar (80s San Francisco), the story is more universal (fish out of water...whales aren't fish, so there's no pun), and it's funny. It's my dad's favorite of the movies.
Also directed by Nimoy (the studio was rather happy with III) who promised that since so many people in his first directorial effort, no one was going to die in his second. It also provided a much lighter tone than the previous two. He mined the concept for all it was worth, getting in jokes about the crew's lack of familiarity with money, unfamiliarity with cursing, and Spock's general disregard for contemporary conventions in pursuit of the mission. Oh, and Scotty talks to a computer mouse (hilarious!).
But seriously, it really is an easy film to enjoy. It still builds off of the previous one (the Enterprise is destroyed and they have to take a Klingon vessel home), and ultimately ends the story (Kirk gets demoted from admiral to captain and regains his command of the Enterprise). The self-contained story of the movie (save the whales!) doesn't fit, but the bookends ultimately do. In terms of the trilogy, it's the weakest entry for its contribution to the overall story, but it's the easiest to enjoy.

And in Conclusion
Well, I find it interesting that three, nearly independently produced, films end up working together so well as a trilogy. Each movie has a distinctive tone and plot, and yet they still flow together very well. It's a testament to how franchise filmmaking can work within a box and still do things unexpected (who predicted save the whales for Star Trek movie?). The creative team didn't see the success of Khan and determine to just repeat it. Instead they built on it to take the franchise in new directions.
It's the sort of creative freedom you can get from mid-budgeted pictures. You don't have to make half a billion dollars to make a profit, so you don't have to get as many people into the seats in the first weekend. It allows for greater experimentation.
Looking back from 2018, I regard it through a period of time that includes the reboot. Now, I do enjoy the reboots, but they feel very much like most other big-budgeted genre movies these days. There's a heavy emphasis on action over anything else. Cut those budgets in half, and the suits aren't as worried about dragging in every dollar possible, and we can see the Enterprise do something other than face off with someone who has a vengeance fetish.

Movies of Today
Opening in Theaters:
Life of the Party
Breaking In
Revenge
Next in my Netflix Queue:
Bullhead
Movies I Saw This Week:
A Hard Day's Night (Netflix Rating 4/5 | Quality Rating 3/4) Poster blurb: "Easy and amusing fun." [Netflix DVD]
Hellcats of the Navy (Netflix Rating 3/5 | Quality Rating 2/4) "It was nice to see future POTUS and FLOTUS in a movie together, but the rest is pure wartime boilerplate." [Netflix DVD]
This Man Must Die (Netflix Rating 4/5 | Quality Rating 3/4) "Interesting and methodical revenge tale." [Netflix DVD]
Executive Decision (Netflix Rating 4/5 | Quality Rating 3/4) "Fun 90s action in an enclosed space." [HBO]
Lolita (Netflix Rating 4/5 | Quality Rating 3/4) [Rewatch] "More a reaction to what Kubrick had gone through with Spartacus than a piece of art on its own, but it's still a good watch." [Personal Collection]
2001: A Space Odyssey (Netflix Rating 5/5 | Quality Rating 4/4) [Rewatch] "Didn't I just watch this movie?" [Personal Collection]
Perfume: The Story of a Murderer (Netflix Rating 5/5 | Quality Rating 4/4) [Rewatch] "One of the dirtiest and most bizarre movies you'll ever see. A fantastic experience." [Amazon Prime]

Contact
Email any suggestions or questions to thejamesmadison.aos at symbol gmail dot com.
I've also archived all the old posts here, by request. I'll add new posts a week after they originally post at the HQ.
And, please, visit my website.
My first collection of short stories is on sale now.


posted by OregonMuse at
07:27 PM
|
Access Comments