« John McCain Former POW Always A POS
|
Main
|
Weekend Gun Thread »
May 13, 2018
Food Thread: Piggo, Pigere, Squealie, Gruntum
(It's A Latin Student's Joke!)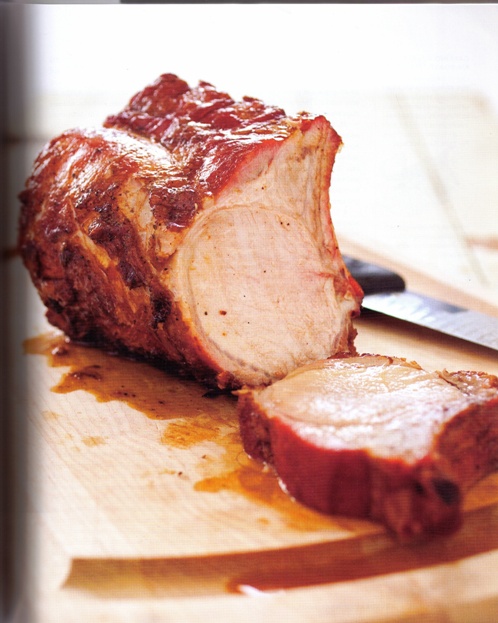 Regular commenter (and fine and inventive cook) artisanal 'ette sent this photo, along with a scan of the simple recipe from The Cook's Illustrated Meat Book. Simplicity works sometimes, and this is a great example. Center cut pork roast, cross-hatched fat, and salted for six hours before cooking. Then cooked on a covered grill in indirect heat with a bit of apple smoke at about 325 degrees until the internal temperature is a perfect 140°

I used a French cut rib roast, about 4 pounds. Was definitely room temp when I put it on, and had done the salt pre-seasoning (not as long because I didn't have the time but long enough).

Roasts off heat at a steady temp, and it turned golden brown like the picture shows. I opted (since it was a roast, so thicker interior) to use Apple chips twice, instead of once. Worked really well. I think I had about 4-5 cups of chips that I soaked and split, waiting for one to burn off, then infusing again. I thought that might work better than all at once. Was incredible. I used Peach chutney and/or Mango chutney along with the meat. We had multiple meals from the roast.
There's that whole "fruit with pork" thing rearing its ugly head!
******
From commenter "golfman," about the kitchen remodel suggestions from last week:
Wow. Sure got a lot of ideas. Seems the Horde loves their kitchens. I copied and pasted two pages of parts of the comments.

Could you express our thanks next week? I'm sure we will incorporate many of the ideas in our new kitchen.

******
A Moron was shocked and disgusted by my dismissal of the Margarita as the pinnacle of Western civilization. He sent this link along, and while I really enjoy the obsessive-compulsive nature of the process, I will direct my mania toward other drinks such as the Old Fashioned and the Gin & Tonic.
Recipe: Margarita
But...damn...he's as nuts as I am!
******
From commenter "redc1c4" comes a link to ancient Roman recipes. Yes, they are weird, but very interesting, and it is clear in which direction their cooking was going.
Antique Roman Dishes
Fun stuff!

******
I made the Chocolate Peanut Butter Cookies that I mentioned recently, and they were a qualified success. The recipe called for a heaping teaspoon of the peanut butter stuffing mixture, but that is a subjective measure that means very little. The batter produced 14 cookies, so why not just divide the stuffing into 14 portions? To me that is easier than trying to figure out how mounded the teaspoon needs to be.
Regardless, I will be making them again. The chocolate cookie was quite good, and the peanut butter stuffing was the correct consistency.
By the way, this is a good example of the utility of annotating your recipes. Whenever I get lazy and forget to jot down a few notes in the margin or correct the computer version, it bites me in the ass. There is nothing quite like trying to reconstruct some unknown modification you made to a recipe while frantically trying to get dinner for your guests on the table before midnight.

******
Dry Rubs: Where To Start And Where To End?
This is a basic dry rub recipe that I posted here awhile ago. I make a few, and I doubt that I have used this one in years. But it is a good start. As I read this morning I saw some changes I would make. For instance, I think it has too much paprika, and definitely too much cayenne. I love spicy foods, but that cayenne would dominate everything else.
3 tablespoons Brown Sugar
3 tablespoons Granulated Sugar
3 tablespoons Paprika
2 tablespoons Kosher Salt
1½ tablespoons Garlic Powder
1½ tablespoons Dry Mustard
1 tablespoon Freshly Cracked Black Pepper
½ tablespoon Cumin
½ tablespoon Cayenne Pepper (optional)
½ tablespoon Ancho Chile Powder (optional)
½ teaspoon Cinnamon (optional)
Dry rubs are as varied as the stars in the sky. And at least one well-regarded (by me) BBQ site, Amazing Ribs, doesn't think that salt belongs in dry rubs. That's nuts! But I will happily eat the product of their recipes, so it's really just personal preference and ego and inertia, all rolled into one.
So...what changes would you make to this basic recipe, and what are your favorite dry rubs?

******
Food and cooking tips, good mustard, Oakland style BBQ sauce, gefilte fish replacements, thick and fluffy pita and Browning Hi Powers:
cbd dot aoshq at gmail dot com
. Recipes for low-carb Pop-Tarts will be deleted with extreme prejudice.
&topic=world_news">

posted by CBD at
04:00 PM
|
Access Comments