« Food Thread: Piggo, Pigere, Squealie, Gruntum
(It's A Latin Student's Joke!)
|
Main
|
Overnight Open Thread (05-13-2018 ) »
May 13, 2018
Weekend Gun Thread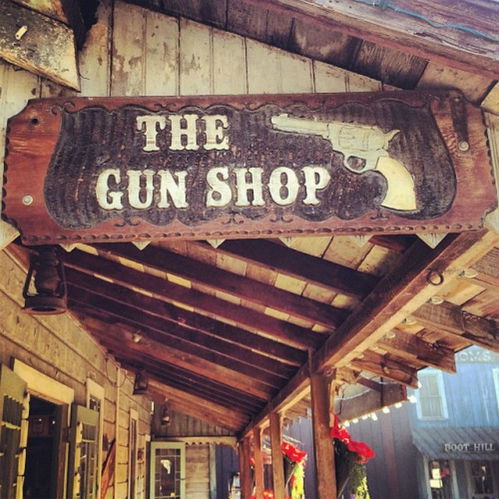 My kind of place.
***
Speaking of, "my kind of place" how does one go about having a place like this? Maybe you could become an international arms dealer. The application for a FFL.

Any Morons out there have a FFL? If so, please tell us about your experiences.
***

I wonder what will happen to her?
***
The Civilian Marksmanship program has some 1911s they wish to sell.
***

Pardon the snark. How is that Australian gun control working out?

A family of seven people, including four children, was found dead Friday in an Australian village in what is being considered the country's worst mass shooting in 22 years, officials said.

Police are treating the incident as a murder-suicide and said they were not looking for any suspects, according to Australian news outlet ABC.
Guns don't kill people. People kill people, including their loved ones.
***
Last week's Weekend Gun Thread we covered silencers. I received the following from Moron Our Country is Screwed who wanted to share some more information with us regarding silencers.
Good morning Misanthropic Humanitarian - Read through your Gun Thread post this weekend (thank you for keeping this going by the way) regarding silencers.

There is a local vet-owned gun shop near me - 2A Tactical -that has a couple of suppressors. He reached out to the Facebook (yeah, I know) community to see if anyone had a decibel meter. He was looking for one that could measure up to and past 150db to measure the sound levels of unsuppressed firearms.

https://www.facebook.com/2ATacticalLLC/ is his FB page.

The company I work force sells decibel meters, however not up to that range. I reached out to Rob @ 2A Tactical to offer to bring an instrument over if he wanted to try it measuring the sound levels of suppressed firearms.

Here is the video: https://www.facebook.com/2ATacticalLLC/videos/1691991387480225/
(that is me standing off to the side holding the meter).

He ran a 10/22 suppressed. All you heard was the bolt cycling.
Then came the very cool MP5 -fired as a semi and full auto. (See video). Notice how relatively quiet they both were.


Thought I'd share the wealth. Use it if you wish.

Thanks again for all your work on Ace's blog.

Regards,

Our Country is Screwed

Spare cleaning patches, .22LR and tips can be sent to petmorons at gmail dot com.

posted by Misanthropic Humanitarian at
07:15 PM
|
Access Comments